When Abuse Victims Commit Crimes
New laws in New York and elsewhere could keep women out of prison for crimes against their abusers.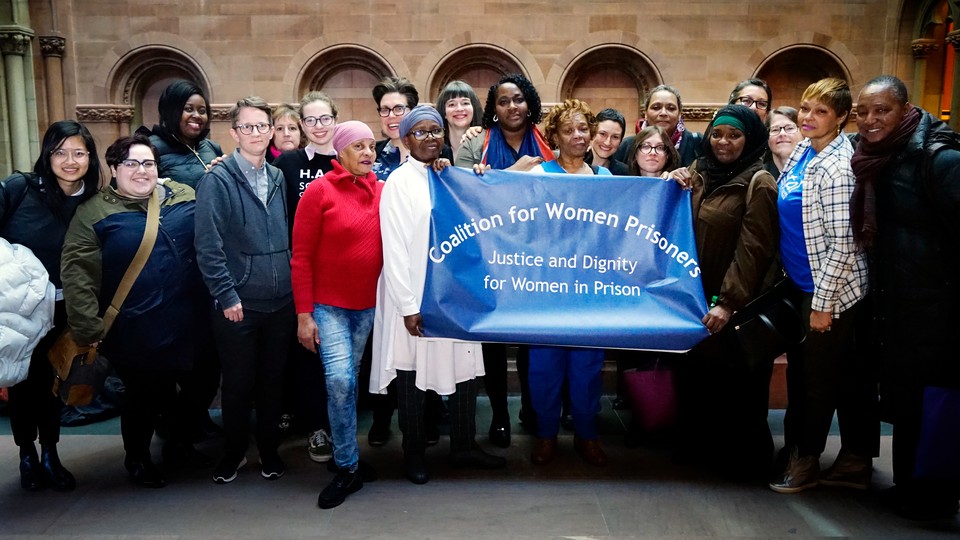 Several of the women on the bus that day spent years in prison for acts involving abusive partners. One told me that she spent more than 17 years behind bars for fatally shooting her boyfriend in the neck while he was choking her. Another told me that when her partner wrapped his hands around her neck and began choking her, she grabbed for the nearest object—a knife—and thrust it. The man died, and she was charged with murder and sentenced to 19 years to life. (The names of these women are being withheld for their privacy. They requested that The Atlantic refrain from contacting their former partners or their families, for fear of retaliation. Their crimes are corroborated by police records.)
Over the past several decades, when many of these women appeared in court, they sometimes encountered judges who were unwilling to consider the role of abuse in their actions. Even when judges allowed defense attorneys to present evidence of abuse at trial, they were generally bound by state sentencing guidelines, which in New York required them to send the women to prison for years, and sometimes decades.
While these women served their prison sentences, views about domestic violence were evolving. As early as the 1970s, feminists had rallied around individual battered women accused of violence. The most famous was Francine Hughes, who set her husband on fire while he slept. Hughes was found not guilty by reason of insanity, but other survivors served decades in prison for their crimes. Many of the groups that emerged to support accused women dissolved after their sentencing.
But in 1999, the Department of Justice released a report focused on past experiences of abuse among people behind bars, which found that approximately half of incarcerated women had experienced past physical or sexual abuse. No government agency tracks how many women are imprisoned for acts stemming from domestic violence, but in some states, researchers began studying this as best they could. In New York, for instance, the Department of Correctional Services found in a 2007 report that in the year 2005, two-thirds of women incarcerated for killing someone close to them had been abused by that person. (Black women experience domestic violence at a higher rate than white women, and are imprisoned at nearly twice the rate.)
This growing body of research expanded public awareness of the role of abuse in women's incarceration, and advocates began exploring legislative avenues to address it. They argued that courts often excluded evidence of abuse or expert testimony that would enable jurors to understand the circumstances of the survivor's crime, resulting in convictions, and then judges' sentencing decisions, based on incomplete information.
When LaDeamMa McMoore was released from prison in 2009, she began attending advocacy trainings run by the Coalition for Women Prisoners. That was when she learned more about recent efforts to draft the proposed New York bill. It would allow a judge to consider whether abuse is directly related to a person's crime and, if so, depart from the state's sentencing guidelines for violent felonies. (The bill does not mandate that a judge do so.) This would extend not only to acts of self-defense but also coercion by the abuser into a crime. If abuse was a significant factor, the judge would have the discretion to sentence that survivor to an alternative-to-incarceration program, which generally provides access to supportive housing as well as services such as drug rehabilitation and mental-health counseling, or allows for fewer years in prison. For survivors already in prison, the bill would allow those who meet certain qualifications to petition the courts for resentencing with the effects of abuse taken into judicial consideration.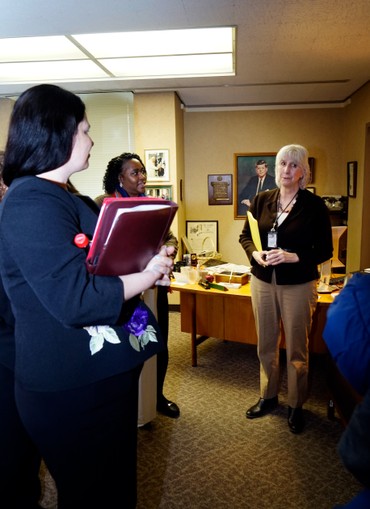 McMoore and other formerly incarcerated abuse victims plunged into advocacy. "This was a campaign that, from the start, centered the leadership of currently and formerly incarcerated survivors," says Tamar Kraft-Stolar, a longtime coalition member and a co-director of the Women and Justice Project, a nonprofit that works with currently and formerly incarcerated women advocating for policy changes. They met regularly to review drafts of the legislation, discussing the bill's language and the implications of each phrase. They included still-imprisoned survivors in the process, sending them drafts and incorporating their feedback. The process took two years. In 2011, the Domestic Violence Survivors Justice Act was introduced in the state legislature.
The women also learned how to talk about their experiences on the radio and with newspaper reporters, to make the case for the bill. Several times a year, they woke before dawn to go meet with members of the state legislature, which, at the time, had a Republican majority in the Senate and a Democratic majority in the assembly. Members of the state's District Attorneys' Association argued against the bill, charging that it didn't consider the rights of crime victims who had not abused the defendant (such as a victim of a robbery that the defendant was coerced by an abuser into committing); they also expressed concerns about the public costs associated with resentencing, among other issues. The bill died year after year, as legislators failed to vote it out of committee.
But over the years, advocates in other states, particularly those where Democrats controlled the legislature, began having success. In 2012, California passed two laws, popularly known as the Sin by Silence laws, to address certain legal limitations imposed on abuse survivors convicted before August 1996, when the state supreme court ruled that expert testimony on battering and its effects could be introduced. The first law allowed imprisoned abuse survivors to file a legal motion challenging their incarceration if their original trial had limited expert testimony about abuse. The second required the parole board to accept and seriously consider evidence of abuse during parole hearings. In 2016, Illinois passed a law directing judges to consider the role of abuse during sentencing. Survivors who are already imprisoned can petition for resentencing if evidence of abuse was not presented during sentencing.
More recently, the #MeToo movement appears to have increased public understanding about not only abuse, but the criminalization of abuse survivors. After Lorena Bobbitt was arrested for severing her husband's penis in 1993, she testified that he had raped and abused her. A jury found her not guilty, concluding she had been temporarily insane, but she was the subject of numerous jokes, and doubts were raised about whether a husband could rape his own wife. (Her former husband, John Wayne Bobbitt, has denied raping and abusing her, but acknowledged having physically "fought" with her. In a separate trial, he was acquitted of marital sexual assault.) Twenty-six years later, her story is being reconsidered as that of a domestic-violence survivor who was dragged through the criminal-justice system, not a crazy, vengeful housewife. "This is about a victim and a survivor and this is about what's happening in our world today," Lorena Bobbitt told The New York Times earlier this year.
In New York's midterm elections last year, Democrats maintained their majority in the assembly and won control of the Senate. In January, Assemblyman Jeffrion Aubry and Senator Roxanne Persaud reintroduced the Domestic Violence Survivors Justice Act. By then, it had garnered the support of more than 130 organizations, including domestic-violence-survivor service providers and crime-victim groups. On March 4, the state assembly voted to pass the bill, sending it to the Senate for consideration.
One week later, McMoore and other coalition members boarded the predawn bus to Albany to lobby senators. At one of their meetings, they learned that the Senate was voting on the bill that afternoon—and that McMoore and two other formerly incarcerated women could watch the proceedings from the Senate floor. As she listened, McMoore felt alternately excited and nauseated, she told me. It was after 6 p.m. when the bill was called; it passed with a vote of 54–7. The chamber erupted into applause. The women, laughing and crying simultaneously, hugged one another.
Last Tuesday, Governor Andrew Cuomo signed the bill into law.
The movement to consider the role of domestic violence in crimes might be expanding to more conservative parts of the country. In February, lawmakers in Oklahoma, which has the country's highest rate of female incarceration and one of the highest rates of domestic-violence homicides, introduced HB 1318, which is similar to the New York legislation. The bill is still in early stages, but growing local and national attention to the state's prison overcrowding and women's incarceration rates has increased support for criminal-justice reform in Oklahoma from the political right as well as the left, which could help the bill along.
While public understanding about domestic violence has expanded, race and class can still influence perceptions of victimhood. And women who allege they were abused continue to face long sentences for their crimes. In 2012, Marissa Alexander was sentenced in Florida to 20 years in prison for firing a warning shot at her husband, who she alleged had abused her in the past. (In a deposition, her husband acknowledged having been physically violent toward her on multiple occasions.) In 2016, Bresha Meadows, a 14-year-old in Ohio, originally faced the possibility of life in prison for fatally shooting her allegedly abusive father. Both cases led to national outcry and advocacy campaigns, and prosecutors later offered plea bargains with more lenient sentences. In April, in Poughkeepsie, New York, Nicole Addimando was convicted of second-degree murder for shooting her boyfriend, who she said had repeatedly abused her. (According to the Poughkeepsie Journal, the prosecutor called Addimando a "master manipulator" who concocted the abuse; he also said that if abuse did occur, Addimando should have left.) A judge could sentence her to 15 to life or 25 to life. But under the Domestic Violence Survivors Justice Act, if abuse can be proved, the judge could also consider meting out a shorter prison sentence or a nonprison sentence such as probation.
McMoore, meanwhile, has been rebuilding her life and reestablishing her relationship with her children. Through her advocacy work with the Coalition for Women Prisoners, she landed a job working with women coming home from prison. She lives in a one-bedroom apartment where her children, now adults, can visit whenever they want. This April marked the 10-year anniversary of McMoore's release from prison. "If you can survive in there," she told me, "you can come out here and do what needs to be done."