The Atlantic Politics & Policy Daily: The U.S. Didn't Get What It Wanted in Venezuela
Will Washington and Moscow escalate their proxy fight in Caracas? Plus: ISIS's leader Abu Bakr al-Baghdadi resurfaces, who's afraid of Chinese tech, and more.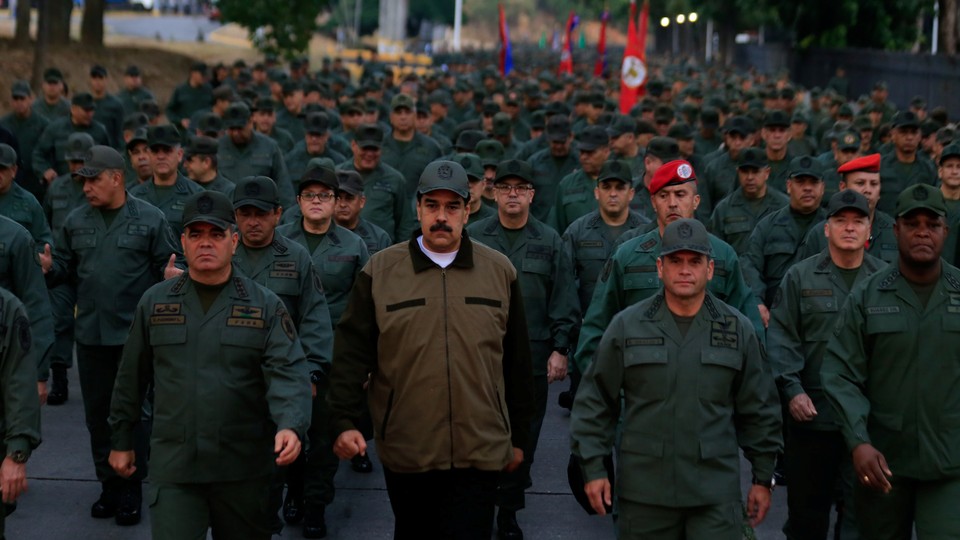 We're trying something new: a once-a-week national-security-focused edition of The Atlantic's signature politics newsletter. We'll tell you what to keep an eye on this week, what our reporters are covering, and why the latest natsec developments are significant.

Comments or questions? Send us an email anytime. Were you forwarded this email? Sign yourself up here.
The Top Story
How the White House Planned for Freedom in Venezuela but Got Bedlam
The Venezuelan opposition leader Juan Guaidó appeared poised to take power for a brief moment this week. It seemed he had wrested control of Venezuela's military from longtime President Nicolás Maduro. The move suggested that a months-long diplomatic effort from the Trump administration that "didn't begin with a tweet," as Uri Friedman wrote, had worked.
Until it didn't: Opponents and supporters of Maduro clashed violently in the streets. On Thursday, Maduro appeared with top military leaders in a show of unity. The week ended in a major foreign-policy blow for Donald Trump, and in particular for his national security adviser, John Bolton. (To get into the mind of Bolton, read Graeme Wood's definitive profile.)
Will Washington and Moscow escalate their proxy fight in Caracas?
This week, look for whether Maduro (with help from allies such as China and Russia) launches a crackdown on opposition leaders, including Guaidó, and National Guardsmen who defected. Maduro's government has a habit of holding back on crackdowns until the world's attention turns away, though the Trump administration has said the United States will consider any moves against Guaidó to be a major escalation.
***
🗓The Week Ahead in National Security
‣ Monday: Michael Cohen reports to federal prison in Otisville, New York, to begin serving a three-year sentence for lying to Congress and a host of financial crimes. Don't expect scrutiny around Cohen's role in the Trump orbit to let up.
‣ Tuesday: Secretary of State Mike Pompeo meets with German Chancellor Angela Merkel in Berlin to talk China, Russia, Ukraine, and Syria. The next day, he'll stop in London to meet with British PM Theresa May and give a speech on the special U.S.-U.K. relationship.
‣ Wednesday: U.S.-China trade talks resume in Washington after reports earlier this week indicated that negotiators were close to reaching a deal.
‣ Thursday: Two years ago, Donald Trump fired FBI Director James Comey. (Time flies when you're waiting for the Mueller report?)
‣ Friday: J. Edgar Hoover was appointed the first director of the FBI on this day in 1924. (Jonathan Rauch argued in 2015 that Hoover's name should be stripped from the nation's top FBI building, citing his "harassment of civil-rights activists" and "illegal surveillance of political dissidents.")
***
🚨 TERRORISM & SECURITY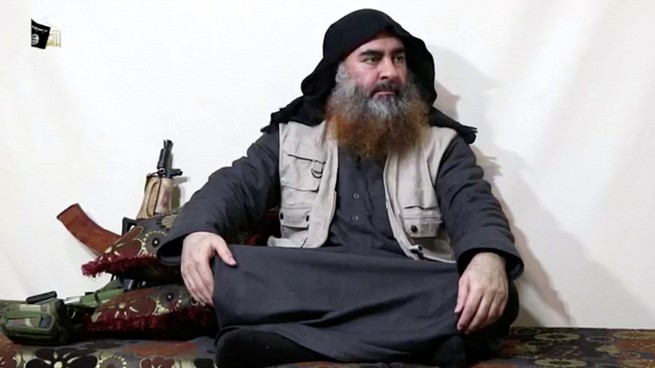 Abu Bakr al-Baghdadi appears in a video released April 29. (Islamic State Group / Al Furqan Media Network / Reuters TV via Reuters)
Putin Deja Vu: On Friday, two weeks after the Mueller report was published in full, Trump and Vladimir Putin spoke for an hour. As David Graham writes: "Trump didn't bother to condemn Putin or complain about [election] interference. He didn't even bring it up." The omission called to mind Trump and Putin's meeting in Helsinki last summer.
Baghdadi's Back: The Islamic State released a video on Monday showing the group's proclaimed caliph, Abu Bakr al-Baghdadi, who hasn't been seen in public since 2014. What's the state of the Islamic State?
When ISIS claimed responsibility for the Easter Sunday attacks in Sri Lanka that killed more than 250 people, it did so in English, Arabic, and a few regional South Asian languages, Krishnadev Calamur reported. Charlie Winter and Aymenn al-Tamimi have a grim prediction: Despite ISIS's territorial defeat, "we should expect more attempts at attacks like these more regularly for the foreseeable future."
🌏 DEFENSE & DIPLOMACY
7,967 sanctions (and counting!): That's the number of sanctions the United States has in place, Kathy Gilsinan found. The U.S. sanctions individuals; it sanctions companies. It sanctions entire governments.
Iran is a common target. U.S. officials threatened that countries still importing Iranian oil will face potential sanctions starting last week, after a six-month waiver allowing those countries to find other sources of oil expires. (Still curious? Here are five things to know about why Washington is upping the pressure on Tehran, how Iran might react, and who stands to gain and lose from the sanctions.)
Time's up for two states: Jared Kushner offered fresh insights on Thursday into the White House's elusive Middle East peace plan. A key quote: "If you say 'two-state' [solution], it means one thing to the Israelis, it means one thing to the Palestinians. So we said, you know, let's just not say it."
This makes Kushner just the latest Trump official who has not unequivocally backed a two-state solution, a long-standing tenet of U.S. peacemaking policy.
Secretary(-in-Waiting) of Defense: The former Boeing executive Patrick Shanahan took the reins of the Pentagon on an interim basis in December, but Trump still hasn't officially nominated him for the post, leaving Shanahan in an "endless limbo," as Gilsinan reported. Will that change this week?
After Shanahan was cleared of wrongdoing in an ethics probe last month, people expected an official nomination. It didn't happen. On Friday, Trump told reporters that Shanahan's nomination will "be discussed next week."
This is to say nothing of whether Shanahan is qualified for the job: Uri Friedman wrote that Shanahan was an "enigma" for leading the Department of Defense with no military experience and just a year and a half in government, while his predecessor, James Mattis, served in the military for decades.
This also happened: The State Department allowed at least seven foreign governments to rent condos at Trump World Tower. (Julia Harte, Reuters)
***
🇨🇳 EYES ON China
A trade-war truce: The United States and China have been in a trade "war" since the U.S. decided last spring to punish China for what Washington views as unfair trade practices.
But even if negotiators reach a deal this week, long-standing differences remain impossible to resolve: "The trade dispute is about far more than tariffs and deficits. It is a contest of two very different national ideologies," Michael Schuman noted in January.
And as Annie Lowrey asked in December, "Does Trump even understand how tariffs work?" (The answer, Lowrey wrote: No, and they probably won't achieve very much.)
Who's afraid of Chinese tech? On Wednesday, the CFO of Huawei Technologies, the Chinese telecommunications giant that has sought to export its 5G technology (which Alexis Madrigal described as "the future of using your phone"), appears in court in Canada. Washington wants Meng Wanzhou extradited to the United States to face fraud charges.
American officials see Huawei as connected to China's national-security apparatus. Huawei executives claim this isn't true. But as Schuman writes, "In China, where the distinction between state and society is, at best, blurred, intelligence services could and would exploit the company's equipment, no matter what its executives promise."
Canada is now itself in the middle of a fight between the United States and China. Watch for whether the judge in Vancouver rules that Washington should handle Meng.
This also happened: China sentenced a second Canadian man to death amid the Huawei feud. (Josh Wingrove, Bloomberg)
---
About us: This edition of The Atlantic's Politics & Policy newsletter was written by Gabby Deutch and edited by Yara Bayoumy, national-security editor, and Shan Wang, newsletters editor.

Were you forwarded this email? Sign yourself up here. We have many other free email newsletters on a variety of other topics. Browse the full list.