The Democrats' Age Divide Is Defining the 2020 Primary
Joe Biden's edge with older voters is his greatest asset so far in the race.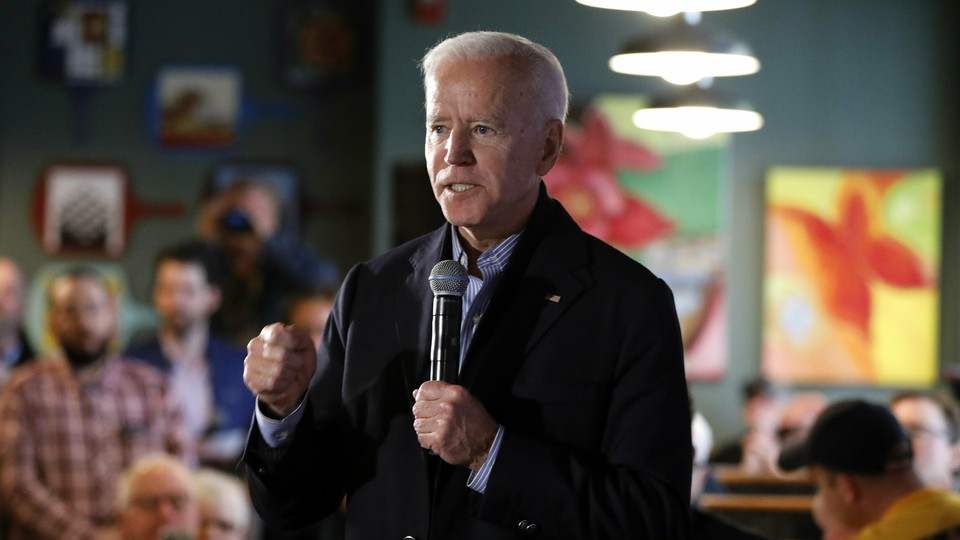 When the progressive tag team of Senator Bernie Sanders and Representative Alexandria Ocasio-Cortez skirmished with Joe Biden this week over climate policy, the altercation pointed toward the former vice president's most glaring vulnerability in the 2020 Democratic presidential race—while simultaneously underscoring the imperative for him to defend his greatest asset.
Biden's most obvious weakness in the crowded contest is that his centrist instincts and policy record, particularly during his 36-year-long Senate career, are likely to regularly spark conflict with younger progressives such as Ocasio-Cortez who are growing far more assertive in the party. His greatest strength is his appeal to older Democratic voters, both white and African American, who are typically more ideologically moderate and more politically pragmatic. For the 76-year-old Biden, that's an acceptable trade-off because voters older than 45 cast fully 60 percent of all votes in the 2016 Democratic primary, according to a cumulative CNN analysis of all the exit polls conducted that year.
It's not hard to see this week's rebuke of Biden from Ocasio-Cortez—which began when a Biden adviser told Reuters that Biden would seek a "middle ground" on climate policy—as a preview of attacks he'll face from more liberal 2020 rivals on many aspects of his record, including policies on crime and financial regulation. In turn, it's not hard to predict that those challenges may cause the biggest problems for Biden among younger voters, who were far more likely than older generations to describe themselves as very liberal in the 2016 Democratic primaries, according to the CNN analysis.
That prospect suggests one of the crucial questions in the Democratic primary will be whether Biden can sustain his big early advantage with older voters. Democrats skeptical of his candidacy generally believe that edge is ephemeral, based mostly on the fact that older voters are more familiar with his long career, especially his eight years as vice president for Barack Obama. Particularly among older African Americans, Biden's support "is all very soft and it is all Obama," says Bakari Sellers, a former South Carolina state representative who is supporting Senator Kamala Harris.
But Democrats sympathetic to Biden, and even many neutral observers, believe that Biden's gray edge will endure. Only a little more than one-fifth of Democratic voters ages 45 and older described themselves as very liberal in 2016; about twice as many described themselves as moderate or conservative. Dick Harpootlian, a South Carolina state senator supporting Biden, told me that older voters are more measured about how far left the party can move and still defeat Donald Trump.
"Older Democrats have seen what happens when we shift to these positions that are untenable," Harpootlian said. "I think older voters would tend to be more pragmatic, and by that I mean simply the assessment going on is, What's the goal of this election? The vast majority of Democrats, I think, are pragmatic about that. Who is our best choice to go toe to toe with Donald Trump in 2020? Clearly, in my mind, it's Joe Biden."
Since Biden joined the race, age has quickly emerged as a significant chasm—dwarfing other, traditional Democratic divides in early polling. In CNN's first national poll after Biden entered, the former vice president drew 45 percent of likely Democratic primary voters older than 45, four times as much as Sanders, his nearest rival. Among voters younger than 45, Biden also led, but only by 31 percent to 19 percent.
Despite the presence of six women candidates, an unprecedented number, surveys have not found a meaningful gender gap in support for Biden—or even a preference among female voters for the female candidates. Early polls have also failed to show much of a difference between college-educated and non-college-educated whites, though that cleavage—what I've called the "wine track" and the "beer track" in Democratic-primary politics—has shaped other contests. Even race hasn't yet been a pivotal factor, with Biden leading among African American voters, despite the presence of two major black candidates: Senators Harris and Cory Booker.
Firehouse Strategies, a Republican consulting firm, has joined with Optimus, a data-analytics company, to poll the three key early Democratic-primary states. The surveys they released in early May showed a stark age divide. In Iowa, they found that among Democrats ages 18 to 35, Biden drew just 17 percent, placing third behind Sanders and Senator Elizabeth Warren. But Biden opened a narrow lead over Sanders with voters ages 35 to 55, and then spiked to 41 percent among those 55 and older, four times the support of his nearest rival, South Bend, Indiana, Mayor Pete Buttigieg.
Similarly, in New Hampshire, the surveys found Biden drawing just 22 percent among those ages 18 to 35 and trailing Sanders. But Biden again pulled narrowly ahead among middle-aged voters and soared to 39 percent among those older than 55, once more about four times the support of his closest rival, Sanders.
South Carolina, which has a large African American population, was Biden's best state in the early polling: He led among all three age groups. But even there, Biden's support grew from 34 percent among voters under 35 to 46 percent among those ages 35 to 55 to 52 percent among the oldest generation.
Other recent public polls in New Hampshire and South Carolina have found very similar patterns. And it's not just these three key states where Biden has an advantage with older voters: In Pennsylvania, a Quinnipiac University poll released Wednesday showed Biden and Sanders running about even among voters younger than 50, but Biden leading him by almost 12 to one among those who are older.
Biden's greater strength with older voters partly reflects the
unusual longevity of his career. If Democrats pick Biden in 2020, he will win
his party's presidential nomination exactly 50 years after he
was first elected to public office, on the New Castle County Council in
Delaware in 1970. As I've written, that would be the longest span between
initial election and first presidential nomination for any nominee in any major
party since the formation of the modern party system in 1828. His rivals
believe that many of the positions Biden took earlier in his extended career—from his opposition to school busing to his support for free trade and tough-on-crime measures—will prove unpalatable today, particularly to younger
voters.
Though age generally has been overshadowed by race, gender, and class in most media analyses of Democratic divisions, it has proved to be a powerful and durable dynamic in the past two Democratic primaries. In 2008, according to a cumulative CNN analysis of exit polls that year, Obama won about three-fifths of voters younger than 30, and led Hillary Clinton narrowly among those ages 30 to 49; Clinton, in a mirror image, led narrowly among voters ages 50 to 64 and won exactly three-fifths of voters 65 and older.
In Clinton's 2016 clash with Sanders, the age divide was even sharper. Sanders won fully 71 percent of voters younger than 30 in the exit polls, and carried that age group in 25 of the 27 states where exit polls were conducted. Clinton won a matching 71 percent of seniors and carried them in 25 of 27 states.
Clinton's advantages were especially pronounced at the intersection of age and gender. In the crucial South Carolina primary that year, she carried more than nine in 10 African American women older than 45, an incredible result, according to detailed figures from Edison Research, which conducts exit polls for a consortium of media outlets. She also won about two-thirds of white women older than 45 in both Iowa and South Carolina, according to Edison, and a majority of them in New Hampshire, a state where Sanders beat her with almost every other group. By contrast, white women under 45 gave Sanders more than 70 percent of their votes in Iowa and New Hampshire, and nearly 60 percent in South Carolina, Edison found.
Clinton's advisers believed that this age gap reflected the contrasting life experiences of older and younger women. Older women, they felt, were more likely to empathize with Clinton's struggle to become the first major-party female presidential nominee, having themselves struggled to achieve opportunity in the workplace.
The question for 2020 is whether Biden's current connection to older voters is as sturdy as Clinton's was in 2016. For now, it's clear that a big part of his advantage with older voters is their belief that he has the best chance of beating Trump. In Quinnipiac's new Pennsylvania survey, 68 percent of Democratic voters older than 50 picked Biden as the party's most electable candidate; the next closest candidates (Sanders, Harris, and Buttigieg) each garnered just 3 percent.
Sellers is one of many younger Democrats who is skeptical that Biden can maintain his big margins with older voters. "Beyond electability, he represents stability, and both older black and white voters appreciate stability," Sellers says. "But it cuts both ways. As much you appreciate that stability, I think you appreciate the vitality of a Pete or a Beto [O'Rourke] or a Kamala. [Older voters] look around the card table and they look across the [tennis] court at their opponent who is 76 or 74 and say, 'I pray to God you never become president of the United States.'"
But Harpootlian predicted that concerns about who can beat Trump will prompt older voters to stick with Biden. "Those younger commentators, I get it: It's their turn," he said. "I was there at the barricades in 1968. I was a driver for George McGovern in '72. I understand what youthful enthusiasm looks like. I also recognize what getting your ass kicked looks like. That's what I think older voters understand."