Joe Biden's Bet That 2016 Didn't Change Everything
In many ways, he's running the same kind of campaign he would have in a pre-Trump, pre-Sanders era.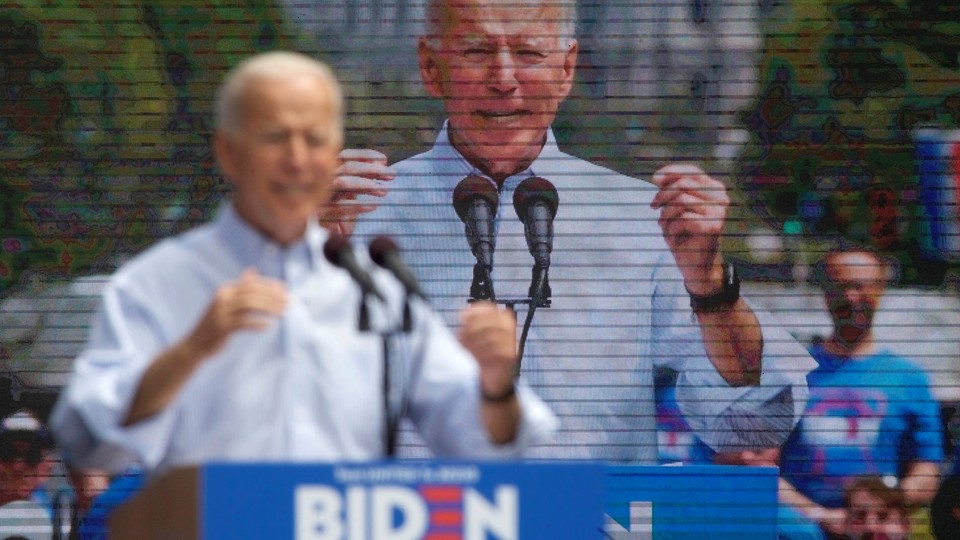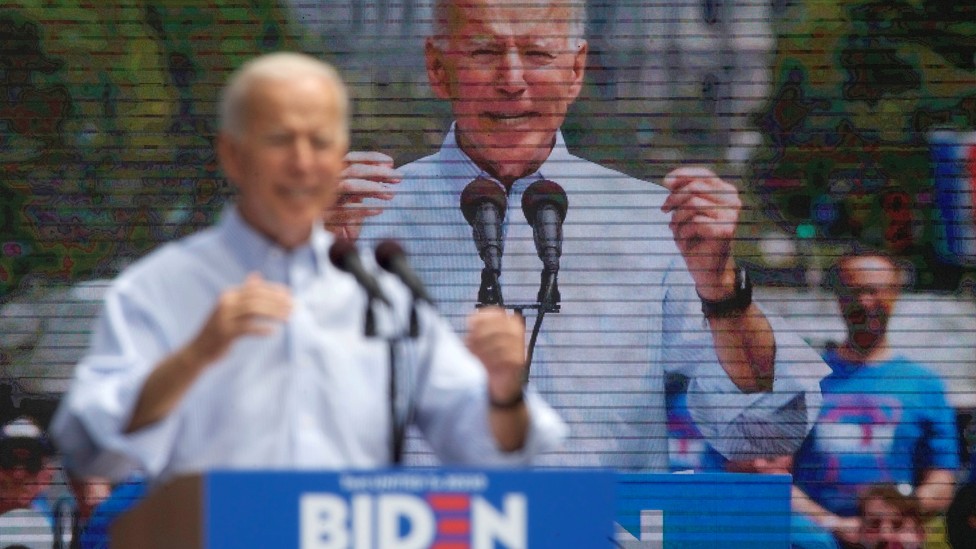 PHILADELPHIA—If the new rules of politics post-2016 were to hold up, the official launch rally Joe Biden held here on Saturday would mean that he is in trouble: The crowd wasn't huge, was largely white and older, and, for the most part, only really got into it when he mentioned Barack Obama or Donald Trump.
Yet Biden's high-and-getting-higher poll numbers, the early fundraising success that has surprised even his own aides, and the enthusiastic responses I heard from supporters who came out on a hot afternoon to see him don't show a candidate in much trouble at all. Biden's campaign is a bet: that in the four years since Trump launched his campaign, the country hasn't changed, the Democratic Party hasn't changed, and politics hasn't changed.
If any of Biden's competitors believed the same thing, they wouldn't be planning killer schedules in Iowa, New Hampshire, and beyond, giving up vacations and time with their family to meet with donors and activists and to have reporters constantly shove microphones in their face. Trump and Bernie Sanders were the breakout candidates of the last presidential election, but unlike most of the other people running, Biden and his aides haven't adjusted to that reality—because they don't accept that it is reality.
Biden's message is very Trump-aware: "If you'd asked me a few years ago if our democracy was at stake, I would have smiled and laughed a little bit," the former vice president said on Saturday. "No more: The threat to this nation, to our democracy, is real, it's clear, and it's present." But the operation he's running seems to track with the kind of campaign he would have put together if he'd run in 2016 (or any of the other half-dozen times he launched or almost launched a bid)—before Trump and Sanders supposedly changed everything.
Biden is not getting into name-calling, a la President Trump. He's not getting into Sanders-style proposals such as Medicare for All. And he's definitely not getting into crowd sizes. The roughly 6,000 people who stood in the sun waiting for him were less than a third of the crowd that showed up for Kamala Harris at her launch in Oakland in January; less than half the number Sanders drew for his first rally in Brooklyn in February; and a full 3,000 people behind the crowd who stood in a snowstorm to watch Amy Klobuchar give her kickoff speech in February. In the heart of Philadelphia, nearly half a century after he launched his national political career just down the highway in Wilmington, Delaware, Biden had roughly the same number of people as those who went to Mayor Pete Buttigieg's kickoff rally in South Bend, Indiana, a month ago.
Ted Kaufman, Biden's longest-serving aide and close friend (who served two years as a senator himself after Biden resigned his Delaware seat to become vice president), smiled in apparent bemusement when I asked him on Saturday what he'd say to those who would see the crowd's makeup and doubt the enthusiasm behind the campaign.
"If you're saying that, you're totally not focused on what's going on here," Kaufman said, as I walked with him toward the spot where he was slipping in backstage. But didn't 2016 show that crowd sizes are a good indicator of support? I asked again. Kaufman looked at me and replied, "Beto O'Rourke." The former Texas congressman was indeed known for drawing large throngs during his unsuccessful run for the Senate. And at this point, he'd be lucky to get a tenth of the support for his presidential campaign that Biden is generating in the polls.
Cedric Richmond, the Louisiana congressman and the former chair of the Congressional Black Caucus, told me the crowd's size wasn't an indicator, with Biden more focused on getting his message out to the TV audience on Saturday. "Trump's the one who cares about crowd sizes," said Richmond, who told me he's talking about signing on as an honorary co-chair of the campaign, an important get for Biden in a primary that features two black candidates and a lot of black voters up for grabs.
Yet once the conventional wisdom about presidential politics has set in, it's hard to break. "Does Anyone Actually Want Joe Biden to Be President?" the feminist writer Jill Filipovic asked in a New York Times op-ed published ahead of Biden's rally, pointedly asking a question that has been circulating among political insiders. It's early days yet in the Democratic primary, but Biden's campaign is discussed in some circles as a self-fulfilling prophecy: that he will win the Democratic nomination simply because he appears the likeliest to win the nomination, that he will beat Trump simply because everyone is talking about how electable he is—not because voters are actually excited about him or the specifics of what he's running on.
But the voters I spoke with at the rally told me they'd support Biden even if they weren't confident he'd win. "I've seen what he does in the office, and I want more of that," said Jackie Jozefisk, a 20-year-old student who'd traveled from Boston to attend the rally, and who was standing in line for the official campaign-gear table, which was full of tote bags and T-shirts (including a $35 special-edition T-shirt with the Liberty Bell worked into the campaign's logo).
Adam Forgie, a 41-year-old seventh- and eighth-grade history teacher from Pittsburgh who was in town for a conference, told me Biden is his candidate, in part, because he has always been for unions and public education. "I'd be foolish not to stand up for my whole way of life," Forgis said, noting that his wife is a teacher too.
"He's got a history behind him," said Tom Brown, a 70-year-old retired telephone-company splicer, though he said he worries about Biden's age. Tracy Beaty, a 55-year-old post-office employee, told me she thinks any Democrat could beat Trump, but she's drawn to how Biden has been talking about unity. Her friend James Gaston, a 72-year-old HVAC instructor, told me his support for Biden is all about gut instinct: "I think I know a winner when I see one."
During his remarks on Saturday, Biden took some digs at Trump, which drew some of the more enthusiastic responses from the crowd. In a bit calling on his work with Obama and the economic recovery after the 2008 collapse, he said the current president "inherited an economy that was given to him by the Obama-Biden administration—just like he inherited everything else in his life. And he's in the process of squandering that, too."
Overall, though, Biden's message was a call for unity. "The only thing that can tear America apart is America itself, and we can't let that happen," Biden said, repurposing a line from his first campaign event, in Pittsburgh, two weeks ago. His wife, Jill Biden, wore a jacket with the word LOVE bedazzled in gold on the back—a fashion statement that contrasted with the jacket Melania Trump famously wore last June, as she went to visit immigrant children at the border, which was emblazoned with the words I Don't Really Care, Do U? on the back.
Biden promised on Saturday that "no one's going to work harder, no one's going to campaign longer to win your support." But at least for the foreseeable future, he's keeping his schedule pretty light. He'll be off the trail the next few days, and while he has fundraising trips to Nashville and Miami next week—followed by a few stops in Texas—no public events are currently attached to either.
Biden's competitors might be keeping more punishing agendas than he is, trying to convince as many voters as possible that they, and only they, can beat Trump. But none of them yet have the poll numbers to show that their way is working better than Biden's.