I Was Wrong About Infrastructure Week
As a driver must survey the damage upon barreling into a pothole, so too must I reevaluate the jagged gaps in my reporting.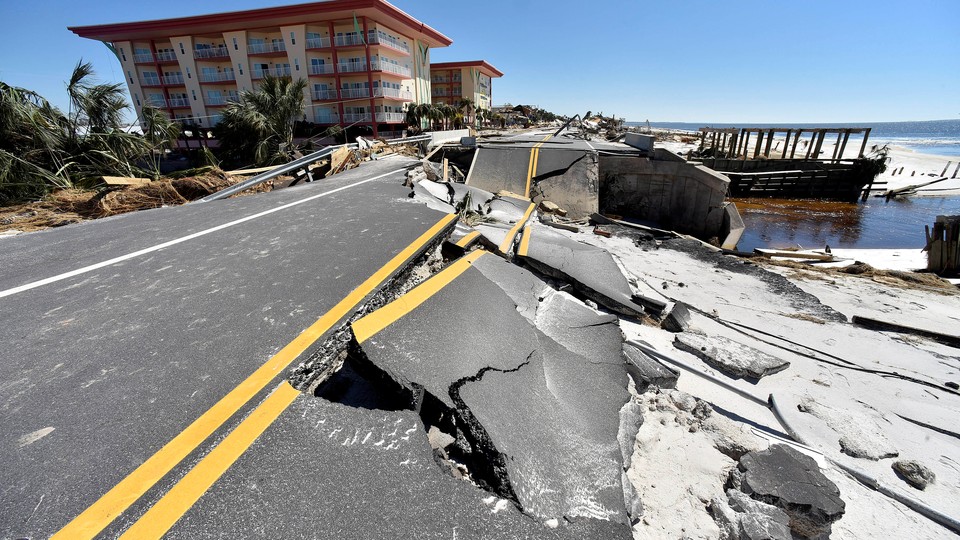 As I write this, my heart crumbles—much like our nation's infrastructure.
It wasn't supposed to be this way. Hadn't I just written that, when it came to the ongoing joke that is Infrastructure Week, the tide was turning? Hadn't I argued that, for the first time in his presidency, Donald Trump looked serious about working with Congress to revamp America's highways and bridges and tunnels? Indeed, I had. But like a New Jersey citizen who believed that the upper level of the George Washington Bridge was once closed because of a traffic study, I was wrong.
I should have expected as much when reporters started sharing photos on Wednesday morning from the Rose Garden, where Trump was scheduled to deliver an update on his negotiations with Democratic leaders on a massive infrastructure package. Two years in, infrastructure has made for one of the longest-running punch lines of Trump's tenure: Whenever the White House announced an upcoming week dedicated to the issue, an agenda related to almost anything but infrastructure was soon to follow.
The first Infrastructure Week, in June 2017, set the tone, when Trump's plan to promote an overhaul of the nation's air-traffic-control system somehow morphed into a public bashing of his own Justice Department. And it was during the third attempt at Infrastructure Week that Trump's former personal lawyer Michael Cohen infamously revealed that he had paid off the president's alleged mistress Stormy Daniels. In other words, as I wrote recently, "Infrastructure Week became a shorthand for the constant churn of the Trump era," making for, at the very least, an amusing meme on Twitter.
It seemed like things had changed. The purpose of Wednesday's meeting with House Speaker Nancy Pelosi and Senate Minority Leader Chuck Schumer was to talk through ways in which to finance a new $1 trillion to $2 trillion bill. They had put this meeting on the calendar three weeks earlier, after Schumer and Pelosi had happily told reporters that all three leaders were on the same page about the promise of a bipartisan deal before the end of Trump's first term.
Oddly enough, though, a preprinted sign positioned in front of a podium in the Rose Garden did not read, say, "The Power of Revenue Restructuring" or "The Surprising Benefits of a Gas Tax," but instead, "No Collusion, No Obstruction."
As I awaited Trump's remarks, I thought about the optimism I'd heard not 24 hours earlier from lawmakers on both the House and Senate committees on infrastructure, who were eager to see what new details would emerge from Wednesday's meeting. "I'm hopeful that we'll avoid getting into an us-versus-them discussion … and come out with an agreement on the size of a package," Republican Representative Rob Woodall of Georgia told me. "Having everyone's enthusiastic participation is what I'll consider a success."
"I like the fact that the last meeting … didn't turn into a circus like they usually have in the past," added Republican Representative Rodney Davis of Illinois. "So we'll see what happens."
I thought about these lawmakers as Trump proceeded to take a sledgehammer to their hopes. He kicked off his speech by railing against Pelosi for accusing him, just before the meeting, of being involved in a cover-up. "I think most of you would agree: I'm the most transparent president probably in the history of this country," Trump said. "The whole thing with Russia was a hoax as it relates to the Trump administration and myself. It was a total horrible thing that happened to our country."
He then listed the number of FBI agents, lawyers, search warrants, witnesses, dollars, and hours involved in the Russia investigation. He accused Special Counsel Robert Mueller's team of contributing money to the Democratic Party, including to Hillary Clinton. He referenced himself in the third person: "They hated President Trump. They hated him with a passion."
"So here's the bottom line," he said, summing up a speech that many—namely, myself—had errantly assumed would be about infrastructure. "There was no obstruction."
Ultimately, he referenced "infrastructure" just five times in the 1,800-word address, mainly to argue that he wants "to do infrastructure" more than Pelosi and Schumer "want to do it," and that he'd "be really good at it." It was a performance on par with those of Infrastructure Weeks past—including the second one, when Trump used an event meant to highlight the federal-permitting process to announce that there were "very fine people on both sides" of the white-supremacist protest in Charlottesville, Virginia.
This White House enjoys castigating journalists for failing to adequately own up to their mistakes. I write this piece to do just that. To atone for my claim that, after a series of Infrastructure Weeks that devolved into discussions of neo-Nazis, porn stars, and a laundry list of the president's personal grievances, Trump was now on track to make good on his campaign promise—to harness his experience as a builder and embark on a full-on upgrade of the nation's railways and sewage systems. As a driver must survey the damage upon barreling into a pothole, so too must I reevaluate the dangerous, jagged gaps in my reporting.
The headline on my previous piece about infrastructure read: "Infrastructure Week Became a Joke. Now It's for Real." It is with regret that I must inform you, dear reader, that Infrastructure Week is still, in fact, a joke.