Health and Human Services and the Religious-Liberty War
Trump's Department of Health and Human Services is pitting religious freedom against abortion and LGBTQ rights.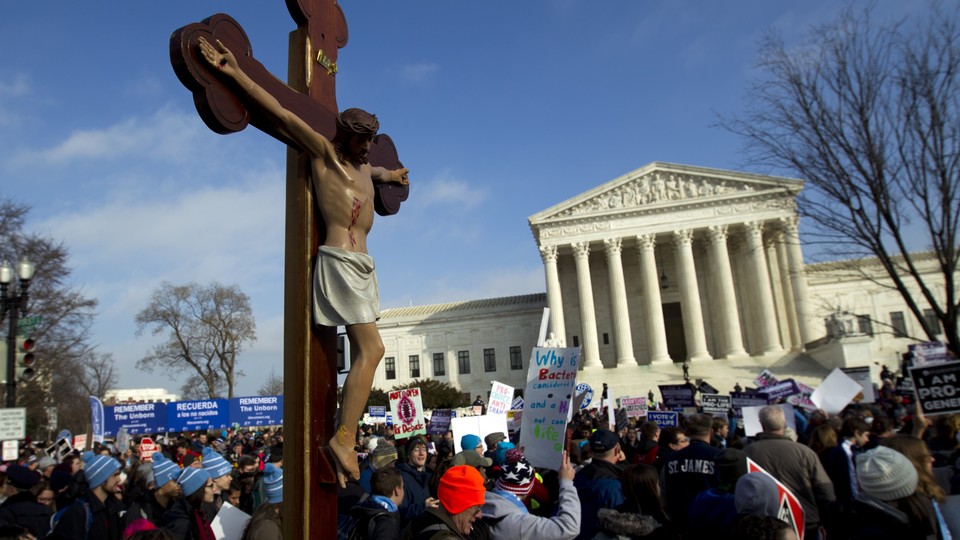 For almost a decade, a battle over religious liberty, abortion, and LGBTQ medical care has been playing out dramatically in the U.S. Department of Health and Human Services. Religious conservatives, who are predominantly Christian and have enormous sway in the Trump administration, have fought to protect their beliefs and practices, which often compel them not to participate in abortion and life-ending medical procedures. At the same time, progressive advocates have pushed for expanded rights for LGBTQ people and women who want access to abortions and birth control.
Last week, President Donald Trump announced a new HHS rule designed to protect the religious liberty of health-care providers. It was the latest signal that this administration is prioritizing issues that matter to religious conservatives, often at the cost of expanded rights for other groups. Watching from the sidelines, progressives fear that these decisions could have damaging long-term consequences, which could be life-changing for people seeking medical care.
When it comes to federal policy, religious liberty is often framed in direct opposition to LGBTQ rights or abortion services—one is protected at the cost of the other. With this new HHS rule, the Trump administration is clearly staking its position as a defender of religious liberty, and the priorities of religious conservatives.
Federal law provides a number of protections for health-care workers who don't want to be forced to perform procedures that violate their conscience, especially when it comes to medical care involving abortion, assisted suicide, or advanced directives. For years, however, conservatives have argued that the government has neglected these legal protections, failing to educate health-care providers or follow up on violations. Roger Severino, the current head of the Office of Civil Rights at HHS, which is charged with enforcing these statutes, argued internally for the creation of new guidelines that would clarify and strengthen these protections. "Conscience and religious freedom has been given second-class treatment for too long," he told me in an interview. "The rule ensures that these fundamental rights are given the same enforcement tools as every other civil right." The rule seeks to clarify the language of existing conscience protections and provide greater education to medical providers about them.
[Read: The man behind Trump's religious-freedom agenda for health care]
Severino cited laws passed by Congress over the past five decades, including the Church Amendments, a series of measures from the 1970s that protect health-care workers and federally funded facilities from having to perform abortions or sterilizations; the 1996 Coats-Snowe Amendment, which bars governments from discriminating against individual physicians and training programs that refuse to perform abortions; and the Weldon Amendment, which provides similar protections. Other laws, including the Affordable Care Act, protect people who object to assisted suicide and advanced directives declining emergency medical care, or who don't want to provide certain kinds of medical counseling.
Under Barack Obama, however, a different set of issues topped the health-care agenda. With legislation such as the Affordable Care Act and various HHS administrative rulings, the Obama administration sought to expand access to birth control, abortion, and medical services for women and LGBTQ people—moves that critics saw as overly expansive assaults on religious rights. This led to extensive legal battles: The Becket Fund, a religious-liberty law firm in Washington, D.C.,  brought several high-profile challenges to the birth-control mandate in the Affordable Care Act, including Burwell v. Hobby Lobby Stores, Inc. and Little Sisters of the Poor v. Azar, which have helped define the battle over religious liberty and reproductive rights in the past half decade.  "A lot of the time, we end up suing the government because they don't enforce these existing rules," says Montse Alvarado, the firm's vice president and executive director. Other agencies have faced parallel legal battles over issues such as LGBTQ students' use of school bathrooms.
When Trump entered office, his administration began systematically dismantling the legal architecture that had been set up by the Obama administration, creating new initiatives designed to defend religious liberty. In 2017, former Attorney General Jeff Sessions wrote a letter instructing all federal agencies to pay special attention to religious-freedom issues, and last year he formed a new religious-liberty task force in the Department of Justice.
The new HHS rule announced last week is one of the most direct repudiations yet of Obama's work to extend protections for women and LGBTQ people through administrative action. In our interview, Severino cited a spike in complaints about violations of conscience that his office has received in the past couple of years, which might be reflective of a broader reality: The text of the rule cites a 2009 survey of medical professionals in faith-based associations, in which nearly 40 percent of respondents said they faced discrimination as a result of their religious beliefs or moral convictions. "We want a profession of medicine that is open to anyone who will unreservedly commit themselves to being willing to care for those who are sick," says Farr Curlin, a professor of medicine and bioethics at Duke University. "There have long been, and remain, principled objections" to procedures such as assisted suicide and gender-transition surgeries, "based on the conclusion that these services are not consistent with the physician's commitment to the patient's health," he says.
[Read: Why Trump's executive order on religious liberty left many conservatives dissatisfied]
Progressive advocates, however,  believe that the new guidelines provide a carte blanche for health-care workers—from ambulance drivers to nurses to physicians—who want to opt out of providing medical care when they disagree with the choices of the patient. And they fear that the new rule will have implications beyond its stated scope—especially for LGBTQ patients. It is "likely to significantly reduce access to care,"  says Jocelyn Samuels, the director of UCLA's Williams Institute, which researches public-policy issues related to gender identity and sexual orientation, "and to erect new barriers to vulnerable communities getting critical access to medical services." With this new rule, she adds, HHS is fundamentally reorienting its mission away from expanding access to health care.
At the very end of the George W. Bush administration, HHS officials attempted to issue a similar administrative ruling to clarify protections for medical workers who opposed abortion, but it was quickly suspended and later rescinded under Obama. Conservatives argued that this was a destructive move, and that HHS officials maintained a purposefully narrow approach to enforcing conscience protections during Obama's tenure, potentially discouraging religious medical workers from filing complaints.
Samuels, who held Severino's job as head of the Office of Civil Rights under Obama, pointedly disputes this claim. "We were open for business during the Obama administration. We had extensive resources on the website that explained to covered entities their obligations under the provider-conscience laws," she told me. "Whatever the perception might have been, in the world at large, that we were not enforcing the law, or that they would not get a hospitable reception if they were to file complaints, [that] was not borne out by the facts."
HHS's new guidelines apply directly to cases of abortion and sterilization, but Samuels and others worry that they will also limit care for LGBTQ people. In the final years of the Obama administration, a new set of legal challenges began to emerge, focused on religious objections to transition services for transgender people. Several queries submitted to HHS during the legally required notice-and-comments process for the Trump administration's new rule raised this concern, but the department demurred, responding that the policy only implements statutes written by Congress, and does not "apply to women, LGBTQ persons, or religious minorities in any way that differs from how Congress applied the terms." Over the past few days, LGBTQ-advocacy groups issued a barrage of alarmed press releases, sometimes getting viciously personal: One, from the group Equity Forward, called Severino a "transphobic bigot." In our interview, Severino responded that he has "dedicated my career to the defense of civil rights for everyone, and I will continue to discharge my duties to the best of my abilities, and to be as fair to everyone as I can be, while respecting the inherent human dignity of everybody, no matter what their walk of life."
[Read: When doctors refuse to treat LGBT patients]
Religion does not always compel people to oppose LGBTQ rights or abortion. "People of faith have a wide variety of views when it comes to issues like abortion and LGBTQ rights," says Elizabeth Platt, the director of the Law, Rights, and Religion Project at Columbia University. In her view, this new rule unfairly favors a conservative interpretation of religion—and of existing federal statutes. "I don't think that people's access to health care and health-care information should necessarily be dependent on their providers' religious beliefs," she says.
The conflict between religious liberty, LGBTQ rights, and abortion access is about to intensify. In the coming weeks or months, HHS is expected to issue a revised version of Rule 1557 of the Affordable Care Act, which extended nondiscrimination protections to transgender people and women who have terminated pregnancies. The Supreme Court is also slated to consider civil-rights protections for LGBTQ individuals in several high-profile upcoming cases; while those cases mostly involve protections provided under employment law, they similarly pit religious liberty against LGBTQ rights.
Advocates on both sides of the conflict between religious liberty and LGBTQ and women's rights recognize that this fight has negative consequences. "I don't think people of goodwill actually want to stomp on religious people or get rid of religious exemptions," says Alvarado, of the Becket Fund. "If you only focus on trying to force people to do things they don't want to do, you're missing out on the needs of that community." As fights along these lines continue to escalate, said Samuels, everyone loses. "The possibilities for dialogue … [are] reduced when you create a perception that … there's a zero-sum game," she said. "The notion that you would not account for the burdens that you are putting on vulnerable people … is distressing from a Cabinet department whose mission is to promote the health and well-being of the American people."