The Rank and File Are Starting to Defy Pelosi on Impeachment
The shift in attitudes suggests that more House members are viewing the party's current investigative strategy as ineffective.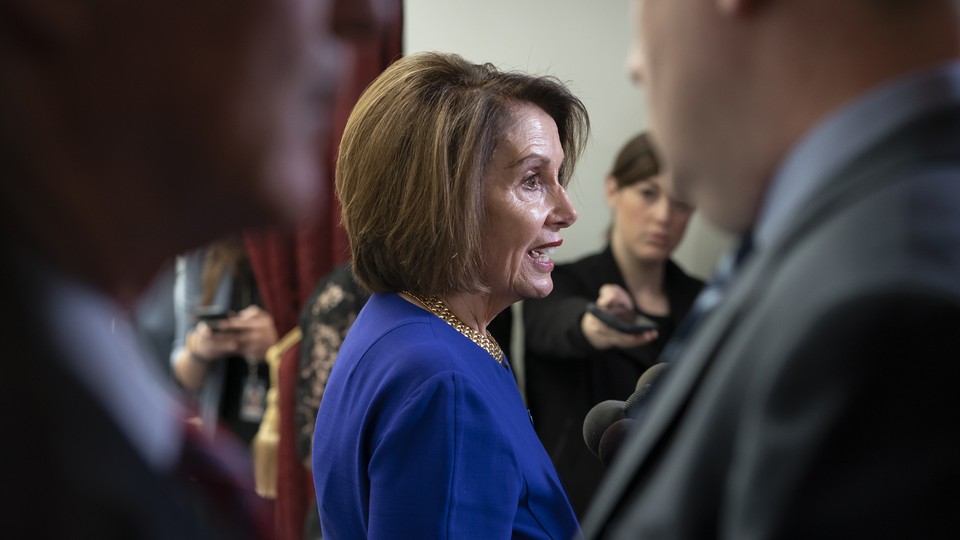 When Special Counsel Robert Mueller's findings were released last month, House Democrats were mostly united in their response: Impeachment shouldn't be their first line of attack. Instead, they vowed to employ the full range of Congress's oversight powers to discern whether the president had obstructed justice—a question Mueller left unanswered in his final report. They demanded to read the special counsel's full, unredacted conclusions. And they summoned a series of key witnesses to testify.
But in the past two days, a slew of Democrats, most notably moderate members of the rank and file, have publicly abandoned that position and announced their support for—or at least their openness to—launching a formal impeachment inquiry into President Donald Trump. While most members of the caucus still publicly oppose impeachment, this swift shift in attitudes suggests that more and more Democrats view the party's current investigative strategy as ineffective—or that recent events have finally given them cover to say what they really think about impeachment.
For weeks, the administration has stonewalled Democrats' oversight efforts, refusing to hand over documents, blocking the release of Mueller's full report, and discouraging officials from testifying. Former White House Counsel Don McGahn's failure to appear before a House panel on Tuesday seemed to be the move that drove many members to abandon course. His no-show followed the weekend announcement from conservative Representative Justin Amash of Michigan that the president should be impeached for his misdeeds, a declaration that helped bring the impeachment conversation back into the news. Party members are feeling "overwhelmed" by the "lawlessness in President Trump and his White House," says Representative Jamie Raskin of Maryland, a member of Democratic leadership.

Some lawmakers may be finding that an impeachment inquiry would more effectively bring their oversight muscle to bear. Representative Harley Rouda, a moderate House Democrat who flipped a longtime Republican seat in Orange County, California, in 2018, told me that he wants to give Trump officials one final chance to fulfill Congress's requests, but that "if they fail to comply by [a certain] date, then I do think we should start the proceedings."
Even the more middle-of-the-road lawmakers who have stopped short of calling for an inquiry are starting to acknowledge the growing appeal of impeachment. Representative Jim Himes of Connecticut, the former chair of the moderate New Democrat Coalition, told me that he still supports Speaker Nancy Pelosi's investigative strategy, but added that there is "no question" that his colleagues' patience is wearing thin. "With every slash the president makes of congressional oversight, he probably convinces a few people that impeachment will make sense," Himes said.
Democrats have been growing more and more irritated with the Trump administration since Mueller released his report. But their frustration didn't fully spill over into public view until Monday night, after it became clear that the White House had instructed McGahn—who emerged as a key figure in Mueller's inquiry—to skip his Tuesday testimony. During a meeting of House Democratic leaders on Monday, Raskin, David Cicilline of Rhode Island, and Joe Neguse of Colorado urged Pelosi to start impeachment proceedings, according to Politico.
After McGahn's nonappearance, at least a dozen House Democrats sounded off about their support for an impeachment inquiry, ranging from progressive lawmakers—whose desire to formally investigate the president for high crimes and misdemeanors is perhaps unsurprising—to more moderate legislators who previously refrained from publicly entertaining such a serious option. House Budget Committee Chairman John Yarmuth of Kentucky, a member of the leadership's whip team, told NPR on Tuesday afternoon that there is "a growing realization in the caucus that impeachment is inevitable. It's not a question of if, but when."
But it's not just that Democrats are hurtling toward the inevitable, Raskin told me. They're recognizing that impeachment is a formalized process, not an outcome. Kick-starting an impeachment inquiry means initiating a fact-finding investigation, but does not necessitate any formal allegations or an impeachment vote, he said. "I've said from the beginning: Impeachment should not be a fetish or a taboo … It's a tool on the table," Raskin said. "We're finally clarifying that decision. That's making a lot of people feel more comfortable about the whole thing."
Pursuing a formal impeachment inquiry wouldn't preclude individual House committees from investigating on their own—but it might help bolster the Democrats' case against the president if and when the two sides end up in court. "Impeachment is obviously one of the most important powers Congress has got. As such, it's going to provide very, very firm ground on which the House can send its inquiry further," says Michael Gerhardt, a constitutional-law professor at the University of North Carolina School of Law. If Democrats begin an inquiry, "they can call for McGahn or anybody else [to testify], and if they refuse to do that, there's no constitutional ground on which to stand."
Jonathan Turley, a constitutional-law professor at the George Washington University Law School, told me that there is "no question" that framing the investigation as an impeachment inquiry would help Democrats in court. "When Congress is investigating for the purposes of impeachment, their authority is at its very apex," he said.
But the growing chorus of angst within the Democratic caucus could portend trouble for Pelosi and other members who want to stay the course. Pelosi and her allies argue that Democrats still have options. In the closed-door meeting Monday night, the speaker reportedly reminded members that they can resort to a process known as "inherent contempt," which would involve levying fines against administration officials. Pelosi also reportedly pointed to a recent legal victory: A federal district-court judge ruled that the president's accounting firm must turn over his financial records to Congress. "We've been in this thing for almost five months and now we're getting some results," she told members.
But rank-and-file Democrats seem to be growing restless, and it seems unlikely that they will be willing to hold this position for much longer. "Can we just get the frickin' information out there?" one aggravated communications staffer to a leading centrist freshman complained to me over the phone. "If you fine someone, what, they pay it and then okay? It's a slap on the wrist."

"I don't get what it does," added the staffer, whose boss hasn't publicly announced support for impeachment and who spoke on the condition of anonymity because he was not authorized to speak with the press.
As cracks in the Democratic alliance grow, so too will leadership's concerns about party unity ahead of the 2020 election. Pelosi and her allies seem to believe that pushing to impeach will all but guarantee that Democrats lose big next year. During a Democratic-caucus meeting on Wednesday morning, five committee chairmen offered updates on their respective investigations into the president and urged members to have more faith in the process. It was a reminder that even for the Democrats who feel most strongly about pursuing impeachment, it's still an open question whether they are willing to confront the most powerful woman in Congress and her leadership allies to do it.
"There's a very big difference between people going on Twitter and on MSNBC talking about how it's time to launch an inquiry and people really sticking to those guns" in a Democratic-caucus meeting, said a staffer to a House moderate who requested anonymity in order to speak candidly.
"Some of these members would be mortified if they got a dressing-down in front of their colleagues by [Pelosi]," he added. "These people want to go to war with Trump, but not with Nancy."