What Happens When an Activist Bullies Anti-abortion Protesters
Health clinics say that staging counterprotests isn't just counterproductive—"it's completely inadvisable."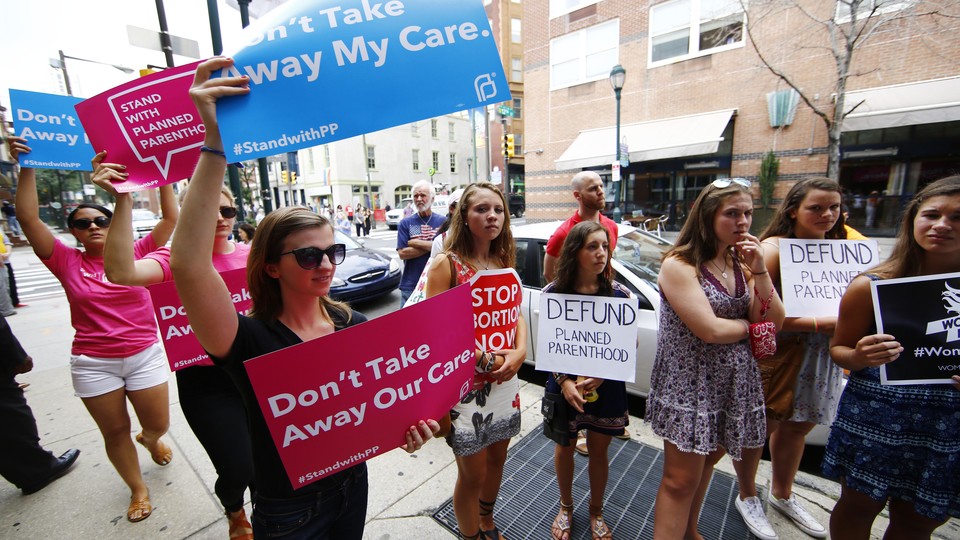 It's been a rough week for Brian Sims.
The Pennsylvania Democrat has been pelted with criticism and demands for his resignation from his state House seat in the days since he posted a video of himself aggressively confronting an anti-abortion protester outside a Planned Parenthood clinic. "An old white lady telling people what to do with their bodies? Shame on you!" Sims shouts at the woman in a clip he live-streamed on Periscope. "Push back against Planned Parenthood protesters, PLEASE!" Sims wrote in a message accompanying the video.
But beyond criticisms of Sims's tone, his tactics run counter to the desires of providers: Many health-care centers offering abortion services don't actually want their supporters pushing back against protesters, a practice they see as counterproductive to patient safety. At the same time, Sims's confrontations highlight an ongoing debate among abortion-rights activists about the most effective ways to influence the national conversation on abortion—a debate that's likely to grow more complicated in the coming years.
"From a distance, protests and counterprotests look the same to a patient who's just coming in to get health care," says Erica Sackin, the senior director of communications for the Planned Parenthood Federation of America. Planned Parenthood, the No. 1 provider of abortion services in America, is a top target for anti-abortion protesters, yet it has a "nonengagement" policy. "Though well intentioned, counterprotests can inadvertently deter patients from getting the care they need," Sackin says.
The eight-minute video Sims posted last week, filmed outside a clinic near Philadelphia's Center City, in Sims's district, shows the lawmaker berating a representative of the local anti-abortion group Sidewalk Servants, which recruits volunteers to pray outside the clinic and hand out information about abortion alternatives to those entering the premises. "Shame on you, ma'am, for standing out here thinking you know what's right for other people's bodies," he told the woman, while she stayed mostly silent and attempted to hide her face. A clip was surfaced shortly thereafter by Live Action, an anti-abortion media organization, that showed Sims confronting a group of teenage protesters in front of the same clinic in April, and offering viewers money to identify the teenagers by name, a practice known as doxing.
Sims's stunts come as state legislatures across the country are considering strict measures to limit abortion. On Tuesday, Georgia Governor Brian Kemp signed a so-called heartbeat bill banning the practice after roughly six weeks of pregnancy, and Alabama's state legislature is considering a measure that would effectively ban most abortions at every stage of pregnancy, as well as criminalize the procedure for doctors.
While he didn't apologize for his actions, Sims acknowledged in a follow-up video that his behavior was "aggressive." "I know that two wrongs don't make a right," Sims said in a video he shared on Tuesday. "I can do better, and I will do better for the women of Pennsylvania." Sims did not respond to multiple requests for comment.
Multiple anti-abortion groups and conservative-leaning media outlets have condemned Sims's actions, arguing that his language and tone were unacceptable, especially for a state legislator. "Anybody who is representing us should not be treating anybody in this way," says Monique Ruberu, a co-founder of Sidewalk Servants. "You have to have a certain decorum to have that sort of an office and a willingness to have a civil conversation with people." Marilyn Musgrave, the vice president of public affairs at the Susan B. Anthony List, a Washington, D.C.–based organization working to elect anti-abortion lawmakers, argued that the protesters weren't trying to intimidate people. "Someone standing and praying shouldn't be threatening to anyone," she says. Hundreds of anti-abortion activists rallied outside the Philadelphia Planned Parenthood clinic on Friday morning as a show of support for the praying protesters.
Planned Parenthood's no-engagement policy, which Sims's behavior challenged, applies to demonstrations large and small. In February 2017, anti-abortion activists coordinated protests at more than 200 Planned Parenthood locations across the country as part of a "De-Fund PP Nationwide Rally." But instead of asking their supporters to counterdemonstrate in solidarity with patients, clinics asked them to stay away and directed them to alternative rallies being held in public spaces.
Their posture reflects that of abortion providers more broadly, who emphasize that their clinics are supposed to be safe zones devoted entirely to health care. "We don't believe the clinic is a place for political protest," says Amy Hagstrom Miller, the founder and CEO of Whole Woman's Health, an organization with locations in several states that's perhaps best known for its eponymous Supreme Court case, in which the justices struck down two abortion restrictions in Texas. "We believe our facilities are there as an oasis for providing pregnant people with compassionate care that is respectful and dignified."
"The larger the group outside, the more confusion there is. The louder it is," says Alison Dreith, a communications consultant at the Hope Clinic for Women in Granite City, Illinois. "When patients are walking into our clinic, they're oftentimes already afraid and confused and going through multiple different emotions." As nearby Missouri has tightened its abortion laws, Dreith says, the Hope Clinic has seen a corresponding increase in both the number of patients and protester activity.
Abortion providers at some of the more heavily protested clinics worry that the presence of counterprotesters only serves to escalate tensions, and even increase the risk of violence. Warren Hern is a Colorado physician who performs abortions in the late stages of pregnancy. Since his office, the Boulder Abortion Clinic, opened in 1975—two years after the Supreme Court's Roe v. Wade decision legalizing abortion—it's been the site of numerous protests, violent threats, and attacks, including gunshots fired through his office window. Hern told me that staging counterprotests outside his clinic isn't just counterproductive—"it is completely inadvisable," he said, explaining that some of the anti-abortion protesters outside his clinic have been armed.
But practitioners' aversion isn't shared across the entire abortion-rights movement—and Sims's confrontations are animating discussion among abortion-rights activists about the form and function of counterprotests. Christine Pardue, who is on the coordinating committee at NYC for Abortion Rights, a grassroots coalition based in New York, says she supports the work of Planned Parenthood, which both operates clinics and performs activist work. But she argues that its nonengagement philosophy isn't effective. It fails "because it is conciliatory," she told me. "It cedes literal ground as well as the moral high ground."
Pardue's organization and like-minded allies believe that counterprotesting is the best way to win the broader abortion argument. NYC for Abortion Rights regularly challenges anti-abortion activists outside a local Planned Parenthood, even though the clinic has asked it not to. "I think we're at the end-times for legal abortion," Pardue told me. "I think we're at a point where we have to say enough is enough—this is how we're going to build a movement."
As states such as Georgia and Alabama challenge the future of Roe, the disconnect between some activists and clinics could widen, with questions about how best to advocate for abortion rights growing more complex as legal cases potentially make their way to the Supreme Court. But from the perspective of health-care centers, their message to counterprotesters won't change: Stay away. "We are not engaged in a war," Hagstrom Miller says. "There are ways to be effective without escalating the noise volume."