Bernie Sanders Tries to Reclaim the Insurgency
In New Hampshire this week, the candidate who became known for turning out thousands pivoted to a series of intimate gatherings.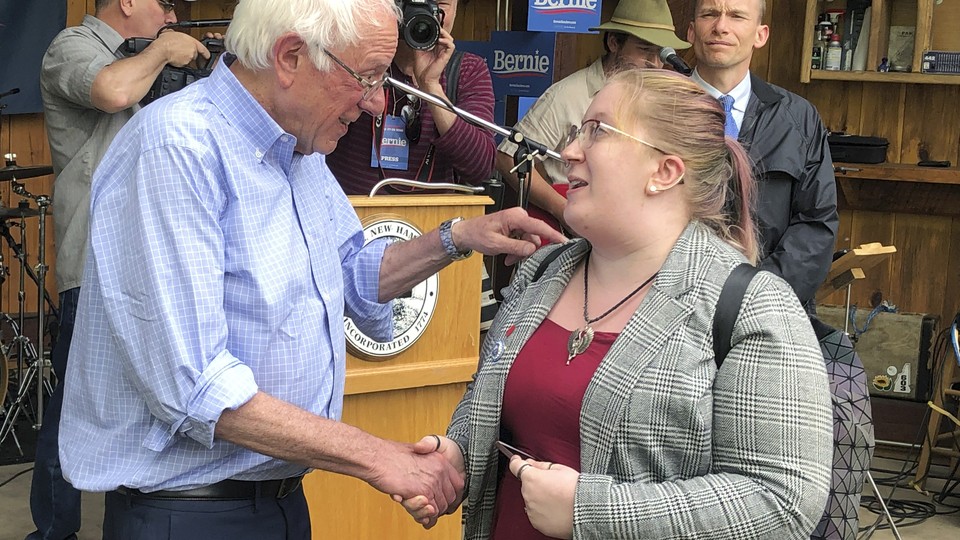 MANCHESTER, N.H.—Bernie Sanders picked a small room for a weeknight rally and didn't come close to filling it. This was, his campaign says, all part of the plan. The new plan. The plan they always figured they'd have to rely on, because that's just how it goes in a long race for the nomination. The plan, at least, that feels much more like the old days.
It's good to be the king, but for Sanders, it's better to be the insurgent. At one event this week, the computer blasting music before he took the stage had a "Bernie/HRC" playlist cued up, a throwback to his surprisingly strong run against Hillary Clinton in 2016 that transformed the once-obscure Vermont senator into a one-name brand. As Sanders himself put it at one of his New Hampshire stops, "It certainly would be cool to become president of the United States, and that public housing they have there in Washington is pretty good for the president." He went on: "I'm not running just to occupy the White House. It would be cool, but I've got a good job now. I am running because I think the time is now to transform this country. I don't want to win and bring us back to the status quo."
For four years now, his campaign stops have been rallies turned into revival meetings and rock concerts, with diehards cheering during their favorite parts of his stump speech and people hawking T-shirts outside the venues. But across seven events over 48 hours in New Hampshire earlier this week, he drew an estimated 2,400 people—total—a number many Sanders aides would have mocked if that had been all who'd shown up for any other candidate. Most of the events were like what a strong congressional candidate could have pulled together.
"We want voters in New Hampshire to know, just because we won by such a large amount last time, we're not taking them for granted," says Carli Stevenson, Sanders's deputy state director and one of the people who organized this swing through the state. "It's more just about being humble and giving people the respect they deserve."
To his credit, Sanders seemed like he couldn't have been happier to be back to this style of campaigning. All through Tuesday, he went on about being "implicitly attacked" by the media because of a New York Times article digging into his ties to anti-American forces in Nicaragua while he was the mayor of Burlington, Vermont, in the 1980s. He teased his upcoming trip to Arkansas to speak on behalf of Walmart workers at the company's annual shareholders' meeting, tearing into the Walton family for piling up billions of dollars while full-time employees go on food stamps.
Some chalked up Sanders's smile to celebrating his 31st wedding anniversary on Tuesday or spending most of Memorial Day weekend with his grandchildren (aside from a rally in Montpelier, Vermont, where he defended his foreign policy). This week was a return to the life Sanders had lived until 2015, riffing in backyard get-togethers about how he'd tried and failed to stop the Iraq War, but turned out to be right all along, subsequently receiving praise from small groups of aging white lefties who helped spread the word that "Bernie" was the real deal. During three events on Monday, Sanders even had his old friends from Burlington, Ben Cohen and Jerry Greenfield, scooping Ben & Jerry's ice cream themselves.
He jokingly threatened to sing ("Nah, that would be a disaster"), and played what one aide called "Professor Bernie" as he turned the microphone around at town halls and quizzed people on how well they knew the Sanders diagnosis for what's wrong with America. ("Give that man an A," he said to the guy in Londonderry, New Hampshire, who, after four attempts from others, answered that universal health care doesn't exist because of for-profit insurance companies.) Then there was the part that lit up staff conversations: "One other thing!" Sanders said in Rollinsford, New Hampshire, grabbing back the microphone after rounding out his speech about all the people who told him he was wrong on the issues in the 2016 race. "If anyone wants a selfie, get on line!" Among those who got one on Monday was a supporter's pet named Bunny Sanders.
Rivals see a campaign that's stagnating. Polls show Sanders's numbers falling, with Senator Elizabeth Warren and others gradually ascending, and the larger Democratic mood toward unity seems to be at odds with his combative style. That may be why the Monmouth University poll last week that measured Democrats' favorability ratings of well-known candidates showed Sanders behind former Vice President Joe Biden, Senator Kamala Harris, and Warren—and, at 44 percent, well down from the high of 53 percent he enjoyed in March. From the outset of the race, the thinking on Sanders was that he was the only candidate who had a floor of support that he couldn't sink under, and his challenge would be to prove that the floor wasn't his ceiling too. Since Biden entered the race, Sanders has hovered just over that floor—much higher than most of the rest of the field right now, but nowhere near what he'd need for an actual revolution.
A month and a half ago, the Sanders campaign terrified mainstream Democrats all over the country. Was he actually going to be the nominee? Would he torpedo any chances of party unity by drawing out the nomination process while a few other, more establishment-friendly candidates were seen as fighting it out without him? For those Democrats, witnessing Biden's surge has been like listening to a mixtape of old Bill Clinton sax solos.
Cohen, finished with his duties scooping Phish Food and Chocolate Chip Cookie Dough—and back to his role as one of Sanders's four campaign co-chairs—urged one of the Monday crowds to make sure they picked up bumper stickers, put them on their cars, and got their friends to do the same. They're "a symbol of the grassroots nature of Bernie's campaign. It is us who are going to get him elected," Cohen said, "if we do the hard work."
Sanders may have dropped from the top, but his detractors seem to forget how far away the primaries are, or that Sanders already has 1 million volunteers signed up, or that his fundraising in the first quarter ($18 million) was far ahead of the rest of the field. He has a massive mailing list that allows his campaign to send out fundraising emails, like the one they sent Thursday ahead of the end-of-the-month deadline, urging people to remember that "every donation made before midnight tomorrow sends an unmistakable message about the strength of our movement."
Still, Sanders's biggest applause lines this week came when he addressed head-to-head polling showing him beating Donald Trump, or his own campaign's polling from this spring showing that he'd do better in the Midwest than other candidates. But Sanders's political dominance has always had an "Is this for real?" sensibility, with even some supporters never quite believing that he could actually win the nomination, let alone the presidency.
On Wednesday afternoon, I called Jeff Weaver, the senator's longest-serving aide and a senior adviser to his 2020 campaign. "He always runs like he's behind, and he is, because no matter how well he's doing in the polls, the powers against him are so impressive and have so many resources that he's always behind," Weaver told me. He was waiting for Sanders to arrive in Reno, Nevada. No charter plane for this one, no gaggle of reporters trailing the candidate. Sanders was back mostly where he started as a senator, showing up like he used to, on a flight into an early-primary state, a top staffer killing time by waiting for him near the slot machines.
"What we're seeing is the vice president had a bump after this announcement," Weaver told me. "Most of the polling shows that it's coming down, and what we're going to see is people taking a hard look at the candidate." There's not much mystery about what he meant: Sanders's team thinks Biden's promise of resetting America to the pre-Trump days sounds a lot better in concept than in practice on issues such as trade and whether to compromise with Republicans.
Pundits and the Democratic establishment missed how Biden took off last time, Sanders and his team believe, and that's exactly what they think is happening once again. Biden, Weaver told me, has "a little bit of Joe-mentum at the moment, but as those of us who have lived through past presidential campaigns can tell you, Joe-mentum doesn't tend to take you all the way to the end."
On Monday evening at his last house party, after the young female folk singer finished and the host told a story about how she's had black ribbons on her home since January 20, 2017, Sanders summoned the glory days. "A lot has changed over the last four years, and New Hampshire has a lot to do with that," he told the audience of about 150. No one believed he could do it, Sanders said, adding, "New Hampshire says, in pretty significant numbers, 'We want bold change.'"
The microphone cut out the moment he said "bold change." Sanders looked at it, frustrated, then shouted the words so the small crowd could hear him.