The Atlantic Politics & Policy Daily: How Donald Trump Is Rethinking America's Alliances
The week ahead in national security. Plus: America was ill-prepared to handle John Walker Lindh in 2001—and is still not quite ready today, and more.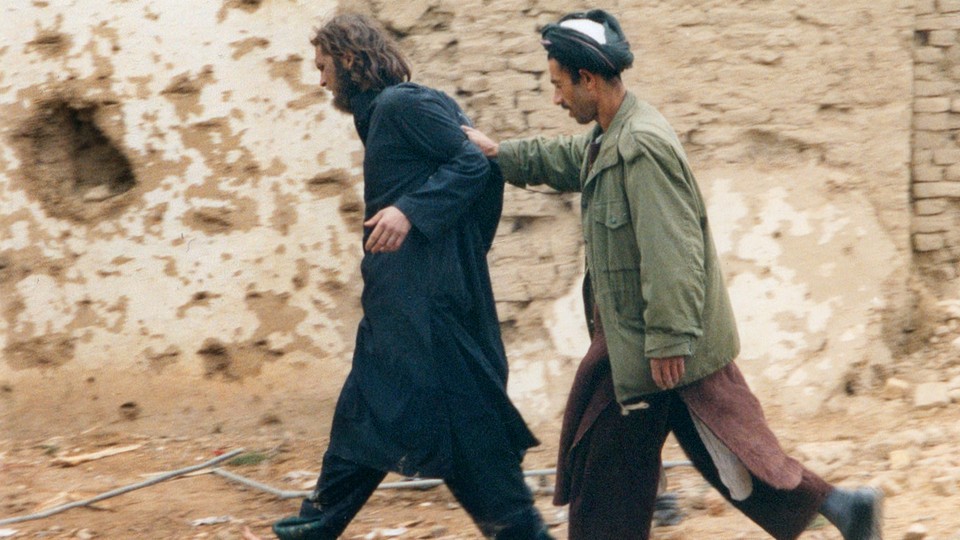 The Top Story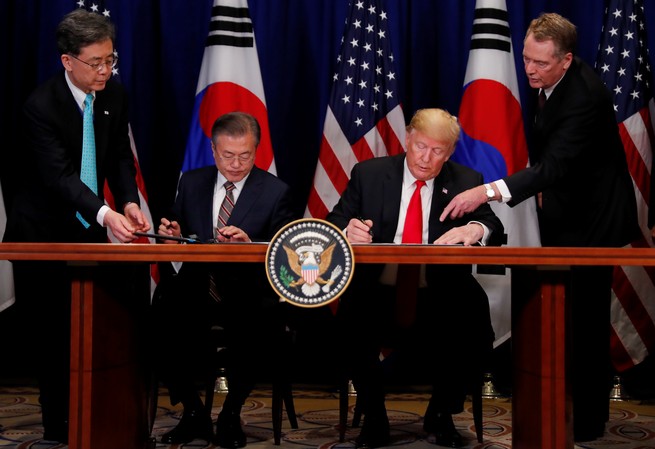 Donald Trump and South Korean President Moon Jae-in sign a free-trade agreement on the sidelines of the United Nations General Assembly in New York in 2018. (Leah Millis / Reuters)
How Donald Trump Is Rethinking America's Alliances
After World War II nearly destroyed the world as America knew—and liked—it, U.S. leaders worked to create a system of alliances with countries that supported an international order led by Washington. That system has always been fragile, but perhaps never more so than now. And Donald Trump might destroy it.
Nowhere is this precariousness more clear than in negotiations between the United States and South Korea over what's called "burden-sharing," or determining how much money and troops each country should contribute to defend against a shared enemy.
"The most likely outcome is that the parties strike some sort of compromise," Uri Friedman writes. "But should the improbable happen, it could prove world-changing."
That would mean their alliance falls apart, and the major line of defense against North Korea's nuclear arsenal would cease to exist. But shunning U.S. allies is dogma for Trump, since long before he entered politics.
"Trump … doesn't seem to buy the argument that animated his Republican and Democratic predecessors: that the defense of U.S. partners is also a defense of U.S. interests in strategically vital regions," Friedman notes.
Trump is in Japan to discuss North Korea with Prime Minister Shinzo Abe, and the U.S. president might go to South Korea next month to meet with South Korean President Moon Jae-in. Will he call on them to contribute more to their own defense? His demand would reveal a fundamental misunderstanding of America's alliances. At least for now, it isn't yet a reality.
***
🗓 The Week Ahead in National Security
‣ Monday, May 27: Japanese Prime Minister Shinzo Abe hosts a summit with Donald Trump during Trump's state visit to Tokyo.
‣ Tuesday, May 28: European Union heads of state attend a dinner in Brussels to discuss the results of the European Parliament elections. (More than ever before, voters faced a stark choice between two competing visions of Europe: that of Italy's far-right Matteo Salvini and that of France's pro-EU Emmanuel Macron.)
‣ Wednesday, May 29: The State Department releases its annual report on international religious freedom. (Here's how faith guides Mike Pence's foreign policy.)
‣ Thursday, May 30: Pence meets Canadian Prime Minister Justin Trudeau in Ottawa to urge the "swift adoption" of the United States' new North American trade plan.
‣ Friday, May 31: Walt Whitman, a frequent contributor to The Atlantic, was born two centuries ago. (In advance of Whitman's 200th birthday, Mark Edmundson explored what Whitman's poetry can teach us about democracy.)
***
🚨 Terrorism & security
(Tariq Mahmood / AFP / Getty / The Atlantic)
The "American Taliban" is back in American society. Nearly 20 years ago, John Walker Lindh flew to Afghanistan and joined the Taliban after converting to Islam as a teenager in California. He became the first American to face charges related to the War on Terror for his support of the group. He left prison this week—and in the next five years, the sentences of dozens of others who faced terrorism-related charges will end. Does the United States have any plan to deal with them once they reenter society?
Not really, Kathy Gilsinan reports. There is no federal program that works to deradicalize people who hold extremist views. There is also little evidence that Lindh has abandoned his views.
In a series of letters he sent to Graeme Wood from prison, Lindh revealed an abiding admiration for the Islamic State, which did not exist when Lindh joined the Taliban. Wood found this concerning. "The only way to release him safely would have been to get a time machine," he noted, "and divert him from jihadism 20 years ago, before he ever became permanently devoted to it."
Mike Pompeo called Lindh's release "unconscionable," and Trump said, "I don't like it at all." But Lindh's lingering sympathy for terrorist groups is no crime, Gilsinan writes: "It's not illegal to hold certain beliefs—and a prison sentence can't be extended just because a prisoner hasn't changed his mind."
This also happened: Julian Assange, the founder of WikiLeaks, was charged with violating the Espionage Act for his role in publishing classified military documents in 2010. (Carrie Johnson and Philip Ewing, NPR)
***
🌏 Foreign policy & diplomacy
The forever war, Iran edition: The main threat driving last week's tensions between the United States and Iran over concerning intelligence not fully explained to the public appears to have passed. But on Friday, Trump made the decision to deploy an additional 1,500 soldiers to the Middle East to protect troops already stationed in the region.
It's not that big of a deployment, but, Gilsinan writes, Trump has now learned the same lesson as his predecessors: "Wanting to get out of the Middle East isn't enough to make it happen."
The forever war, trade edition: After trade talks between the United States and China collapsed earlier this month, both countries raised tariffs on each other. Neither side wants to be the first to flinch. "What happens when tariffs don't do the trick? It's hard to say," writes Matt Peterson. And the conditions that caused the conflict have not changed in the slightest.
The United States has briefly loosened its restrictions on Huawei, but in a few months it will be official policy to punish the Chinese tech giant for the supposed threat it poses to American national security. American tech companies have an opportunity to seize, writes Alexis Madrigal: "American tech needs a new narrative about its importance to the nation, and there is no better position for the companies than as the stalwart defenders against our greatest geopolitical rival, China."
This also happened: Trump plans to use emergency powers to bypass Congress to complete controversial arms sales to Saudi Arabia and the United Arab Emirates. (Karoun Demirjian, The Washington Post)
---
About us: This edition of The Atlantic's Politics & Policy newsletter was written by Gabby Deutch and edited by Yara Bayoumy, the national-security editor, and Shan Wang, the newsletters editor.

We have many other free email newsletters on a variety of other topics. Browse the full list.