The Atlantic Politics & Policy Daily: Why Tensions With Iran Don't Mean Iraq 2.0
The week ahead in national security. Plus: Trump and his hawkish national security adviser don't seem to be on the same page, Huawei 5G fears, and more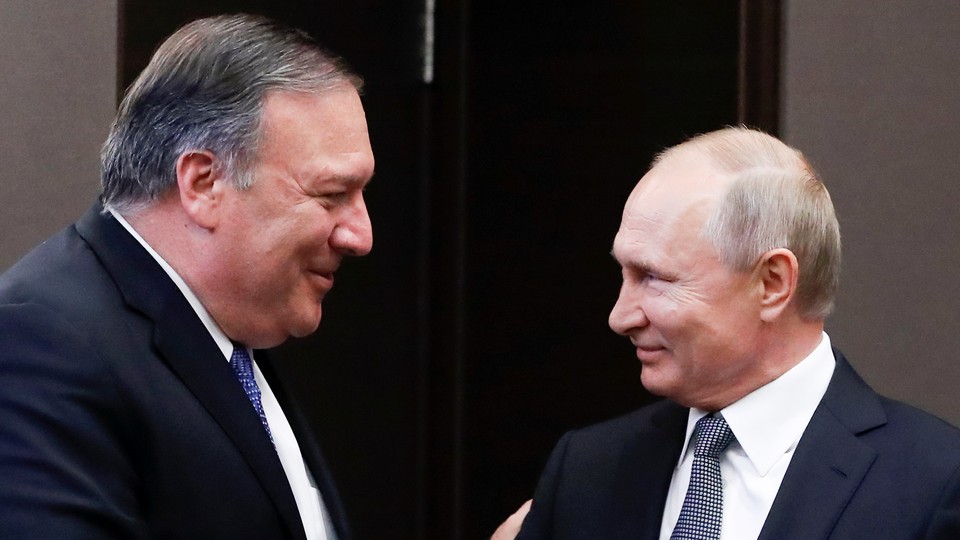 We're trying something new: a once-a-week national-security-focused edition of The Atlantic's signature politics newsletter. We'll tell you what to keep an eye on this week, what our reporters are covering, and why the latest foreign-policy developments are significant.

Comments or questions? Send us an email anytime. Were you forwarded this email? Sign yourself up here.
The Top Story
A soldier carries his gear across the flight deck of the USS Lewis B. Puller in the Arabian Gulf. (Desiree Kling / U.S. Marine Corps / Handout via Reuters)
Why Tensions With Iran Don't Mean Iraq 2.0
Iran's threat to U.S. troops is "serious and imminent," according to Senator Marco Rubio of Florida. "There are legitimate threats … to American lives," John Thune, a South Dakota Republican, said. Congressman Mac Thornberry of Texas said it's not "business as usual."
But what, exactly, are the Iranian threats that prompted the U.S. to move major military assets to the Middle East over the past two weeks? We still don't know. A report from The Wall Street Journal found that Tehran and Washington might have misread each other: Iranian leaders thought the U.S. was going to strike them, so Iran prepared a possible counterstrike. According to The New York Times, U.S. officials grew concerned after seeing photos of Iranian missiles on small boats in the Persian Gulf.
In an interview with Kathy Gilsinan and Mike Giglio, House Intelligence Committee Chairman Adam Schiff didn't deny that the intel is concerning, but he cautioned against responding quickly with an an ill-planned confrontation.
"The American public finds itself in a fog of something short of war, with few ways to assess what could be coming," Gilsinan and Giglio write. This public confusion about unspecified threats feels uncomfortably similar to the lead-up to the Iraq War—with the very important difference that the president keeps saying he doesn't want a war. Another similarity: The U.S. and its European allies are divided about the severity of the threat in the Middle East.
Conflict with Iran feels less likely than it did even at the start of the week, when The New York Times reported that the administration was considering a plan to send 120,000 troops to the Middle East if Iran attacked U.S. assets. (President Donald Trump denied that.) Asked on Thursday if the U.S. would go to war with Iran, Trump responded, "I hope not."
Watch for whether Trump continues to publicly contradict his hawkish national security adviser, John Bolton. Will Trump or Bolton offer any clues this week about the nature of the intel that pushed Washington to gear up for a fight with Tehran? As long as officials keep talking up Iran's threats while Americans remain in the dark, this saga isn't over.
***
🗓The Week Ahead in National Security
‣ Monday: The Senate Armed Services Committee holds its first round of closed-door hearings on the annual National Defense Authorization Act, which sets the budget for the military.
‣ Tuesday: The House Foreign Affairs Committee holds a hearing at 10 a.m. on the Kremlin's use of "tools of malign political influence" to undermine democracy.
‣ Wednesday: Mike Pompeo headlines the Israeli embassy's Independence Day event in Washington. Two years ago today, Donald Trump became the first sitting president to visit the Western Wall.
‣ Thursday: European Parliament elections begin, a test case to measure the far right's reach in Europe.
‣ Friday: Trump and Melania leave for a state visit to Japan. Watch for how Japanese Prime Minister Shinzo Abe will urge Trump to keep the pressure on North Korea.
***
🌏 Defense & diplomacy
America's Jekyll-Hyde Russia policy: Mike Pompeo and Vladimir Putin met in Sochi on Wednesday in an effort to improve relations between the two countries. (Russia didn't look great in the Mueller report.) It was another example of the alternate realities that Trump and his most senior diplomat inhabit: Pompeo condemned Russia's interference in American elections and warned Putin and Russian Foreign Minister Sergey Lavrov not to do so again.
Trump follows a "good cop, bad cop" routine with Pompeo when it comes to Putin, write Kathy Gilsinan and Peter Nicholas: Pompeo presses Putin on the tough stuff, such as Moscow propping up Nicolás Maduro, while Trump makes sure that "relations at the top stay cordial."
Which policy—Pompeo's adversarial stance, or Trump's friendly posturing—is America actually following? "All the uncertainty is part of Vladimir Putin's plan," argues Jim Sciutto.
This also happened: Juan Guaidó and Nicolás Maduro met in Norway to try to resolve the political crisis that has paralyzed Venezuela. (Rick Noack and Terrence McCoy, The Washington Post)
***
🇨🇳 EYES ON China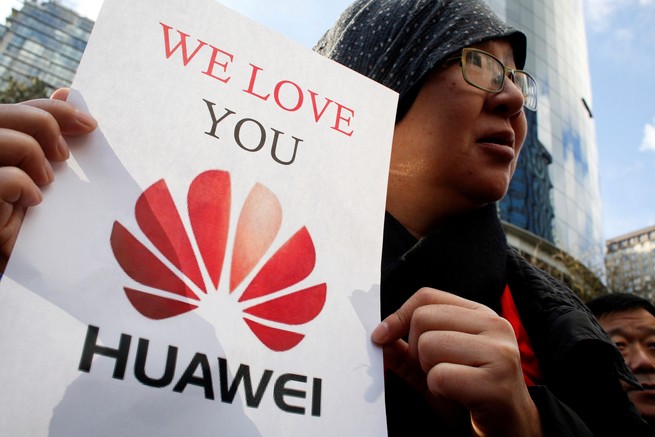 A Chinese tourist holds a sign supporting Huawei outside a court hearing for the Huawei CFO Meng Wanzhou in Vancouver in December. (David Ryder / Reuters)
Slower (but more secure?) phones: We told you that national-security experts are concerned about Huawei's 5G technology, which they fear could allow Chinese officials to conduct espionage on American phones. This week, Trump took action: He signed an executive order declaring a "national emergency" regarding foreign tech—and barred American telecommunications firms from using services owned or controlled by a foreign adversary.
The executive order didn't name Huawei. It didn't need to: China's foreign ministry came to Huawei's defense, and Huawei criticized the U.S. for limiting itself to "inferior" alternatives.
The U.S. can't ignore that "technology gap" forever, writes Thomas Wright, who argues that Washington should respond not by seeking conflict with China, but by focusing on the "vitally important competition" between the countries—which, right now, the U.S. is losing.
All's fair in love and trade wars: Trump insists that the U.S. has the upper hand in its trade war with China because America exports much less than China does. (It isn't quite this simple.) China also confused some observers by responding to Trump's massive tariff hike with a much smaller tariff increase.
But Michael Schuman argues that it isn't just about trade. The dispute leaves China well placed to wreak economic havoc in the U.S. "China has many weapons at its disposal beyond tariffs to make life miserable for American chief executives," he writes.
This also happened: Amid its own economic tensions with the U.S., China offers its support to Iran in its standoff with Washington. (Ben Blanchard, Reuters)
---
About us: This edition of The Atlantic's Politics & Policy newsletter was written by Gabby Deutch and edited by Yara Bayoumy, the national-security editor, and Shan Wang, the newsletters editor.

Were you forwarded this email? Sign yourself up here. We have many other free email newsletters on a variety of other topics. Browse the full list.