Donald Trump's Never-Ending Campaign Keeps Getting Angrier
His rallies and speeches seem untethered from any sort of policy agenda ahead of the 2020 presidential election.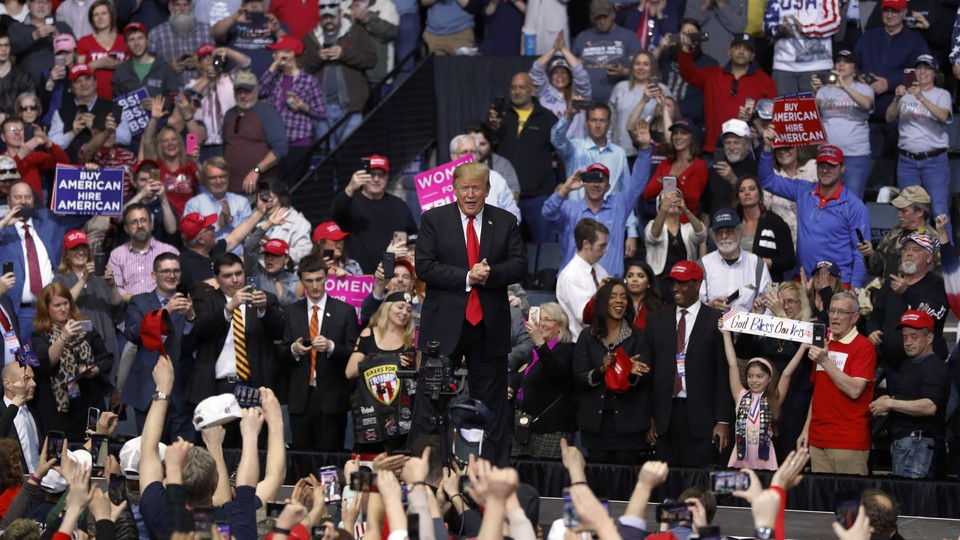 A new president typically comes into the White House ready to spend his time governing and, ideally, binding a nation polarized by the electoral battle that has just finished. Donald Trump upended that centuries-old tradition. The race was over, but the Trump campaign kept going. Even before his full Cabinet was in place, Trump returned to battleground states to renew his attacks on Hillary Clinton and savor his Election Night triumph.
Back home in Washington, some of his aides watched with surprise and a sense of dread as Trump improvised onstage. "You're in the first 100 days of an administration, and you're doing campaign rallies for reelection. It was a very, very, very strange thing," said one former White House official, who asked that his name be withheld so he could speak more candidly.
Omarosa Manigault Newman, former communications director for the White House's Office of Public Liaison, had a similar impression. "We braced ourselves knowing that the rally would bring some inappropriate remarks, attacks on political rivals, or some untruth that we would have to spin about a policy or a decision that the administration had made," she told me. "Rallies meant more work. All the messaging would go out the window, and we would clean up the mess that Donald Trump would start at the rallies."
Halfway through the term, Trump rallies are getting longer, the rhetoric hotter. His grievances are ever more pronounced, with consequences for a political coalition Trump hasn't been able to expand. No one questions that the onetime reality-TV star offers a form of political theater that leaves his base enthralled. "Trump understands that politics is, to some degree, performance art. He's a natural performer—he's a good one, and the crowds love it," said Ralph Reed, the founder and chairman of the Faith and Freedom Coalition.
But Trump's blend of personal attacks and insults, his focus on enemies and preoccupation with seemingly peripheral issues such as the size of his crowds, risk scaring off the suburban voters and college-educated women whom Republicans hope to keep in the fold. The Wall Street Journal/NBC News polling shows that among suburban woman, Trump's job-approval rating dropped from 44 percent to 39 percent from February to March.
Recent appearances seem untethered to any sort of strategy to drive a policy agenda ahead of the 2020 presidential election. Last week, Trump returned to the notion of repealing Barack Obama's Affordable Care Act—an effort that failed two years ago, when Republicans controlled both the House and the Senate.
"The president raised this issue fairly early in his discussion with us over lunch" last week, Senator John Kennedy, a Louisiana Republican, told me. "He spent a fair amount of time talking about it."
Yet the White House put forward no concrete plan for swapping in a replacement that would protect the millions of people insured under Obamacare. Senate Republicans have shown little appetite for reviving the issue without a clear path forward. And Trump, bowing to reality late Monday, abruptly reversed course. He sent out a series of tweets saying that the health-care vote won't take place until after the 2020 election, a gambit that hinges on a trio of uncertainties: his own reelection, Democrats losing the House, and Republicans retaining control of the Senate.
Soon after Democrats won the House in the 2018 midterms, some White House aides spoke hopefully about forging agreement on long-held bipartisan goals. Heady talk about passing an infrastructure package is now receding as both sides dig in for the next election.
Rather than shaping a national consensus, Trump is using his rallies to sharpen differences with congressional adversaries and road-test fresh attacks. He has been heaping scorn on the living and the dead; at Democrats and Republicans; at TV anchors and print reporters; at past presidents, and even at renewable-energy sources. One thing that has escaped the president's wrath: TiVo. "One of the greatest inventions in history," Trump said in a speech last month.
At a rally in Michigan on Thursday, Trump made his first campaign appearance following the disclosure that Special Counsel Robert Mueller did not find that he colluded with Russia or obstructed justice. Trump used the occasion to roll out a new nickname for Representative Adam Schiff of California, who is leading the House Intelligence Committee investigation into his dealings. "Little Pencil Neck, Adam Schiff. Got the smallest, thinnest neck I've ever seen," Trump said. Soon afterward, the Trump campaign started selling "Pencil-Neck Adam Schiff" T-shirts at $28 apiece.
Once again, he blamed the late Senator John McCain for voting "thumbs-down" on the bill that would have done away with Obamacare. He mentioned an unnamed TV anchor who had cried, he said—"not from happiness"—on the night of his election victory. That was an apparent reference to ABC's Martha Raddatz, who has said it was "fiction" that she choked up on Election Night as she was describing how soldiers "defend the Constitution" no matter who is commander in chief.
Wind energy got a comeuppance. "Wind," Trump said, adding, if "it doesn't blow, you can forget about television for that night." Trump pressed the attack on wind power at a Republican congressional fundraiser in Washington on Tuesday night. "They say the noise causes cancer," Trump said of wind farms, according to press reports from the event.
As for Mueller's report—which still hasn't been publicly released in any form—Trump said at the Michigan rally that he had gotten "total exoneration."
That's not the case. In a four-page summary of the report, Attorney General William Barr wrote that Mueller specifically did not exonerate Trump when it came to obstruction of justice.
Trump's description of those behind a Russia investigation that has led to 34 indictments and 215 criminal charges: "Major losers."
Early last month, Trump appeared at the Conservative Political Action Conference's annual meeting. His speech lasted two hours—his longest to date. Prosecutors, he said, were trying to force him out "with bullshit."
"Little Shifty Schiff" was hunting for Trump business records in the hope of finding wrongdoing. "These people are sick!" he said.
He said that the California governor, Gavin Newsom, had told him in a private conversation that he was "one of the smartest people I've ever met."
"That's what he said. Will he admit it?"
Well, no.
"You can't make this up," Newsom told CNN. "We hear what we want to hear."
Anyone remember the small dustup in December 2017 when the Washington Post reporter Dave Weigel tweeted a photo of a Trump rally in Florida that gave the misimpression that attendance was sparse? Trump does. Fifteen months after the episode—after Weigel deleted the tweet and apologized—Trump's umbrage persists. Weigel must have arrived at the arena early, Trump said, "because he doesn't fly private."
Once again, Trump complained about reports that his inaugural crowd was small. Aides tell him that "nobody cares," Trump told the CPAC crowd. "But I care," he said.
There were already signs heading into the 2020 race that key voting blocs were disenchanted with Trump's act. Democrats regained the House in part by making inroads with suburban voters in Pennsylvania, Virginia, and other battleground states.
Sarah Chamberlain is head of the Republican Main Street Partnership, made up of dozens of Republican members of Congress. Last month, she took part in a discussion with suburban women living in South Carolina. One takeaway, she said, was that while the women generally liked Trump's policies, they objected to his rhetoric, in particular his criticism of McCain. "I would ask him to tone it down," Chamberlain said. "Whether you like him or not, he [McCain] has gone to rest. His family is in mourning. He has a widow. He has children. Let him be at peace."
Sherrie Gibson, a former vice chairwoman of Colorado's Republican Party, said that the GOP has lost ground in suburban districts, and that the White House might consider sending the president's daughter Ivanka on the campaign trail to help bring back disaffected women voters. "We need to focus on the positive outcomes that he's had versus the tweets and some of the stuff that the media gets riled up about," Gibson said.
Other parts of Trump's coalition appear to be unmoved by the president's tone. Evangelical Christians may not like the name-calling, but they're pleased to have a champion in the White House, Reed said. "Some of Trump's insults and attacks on his critics may offend the evangelical sensibility. But for too long, evangelicals saw their leaders smeared, caricatured, and called every name in the book," he said. "So part of them feels their team has been playing by Marquis of Queensberry rules, and therefore losing."
Explaining Trump's anger, past and present White House aides said he was unnerved by the Mueller investigation. He needs space and time to vent, and rallies provide a kind of cathartic release, they said.
Inside Trump's reelection campaign, aides see value in the rallies. It's not just core Trump voters who are showing up, they said. At a rally in El Paso, Texas, in February, half the crowd consisted of new or sporadic voters, said Tim Murtaugh, the Trump campaign's communications director.
"We're talking about attracting new voters, not just about energizing the base," Murtaugh said.
With the probe now over, Trump has a chance for a reset. There's a viable path if he wants to seize it. He could open talks with Democrats about rebuilding the nation's aging roads and bridges. Let go of the grievances that suffuse so many of his tweets and public statements. Rededicate himself to the 2016 campaign themes that attracted even some of Obama's voters.
All that may be too much to expect. Trump is 72 years old. With no training as an actor, he starred in a much-watched reality-TV show. With no background in elective politics, he won the presidency on his first try. He's now two years into the job, and the mortal threat posed by the Mueller investigation is gone.
So, why second-guess himself?
"He's cycled through a number of advisers who tried to keep him on a traditional track," said Ryan Williams, a former spokesman for the Republican Mitt Romney. "He's shaken free of staff constraints, and now he's confident in his ability to do the job and doing whatever he wants. I don't foresee huge changes in his behavior."