The NRA Convention Is Trump's Happy Place
The president ingratiated himself with the gun lobby—and tore up an Obama-era arms treaty for dramatic effect.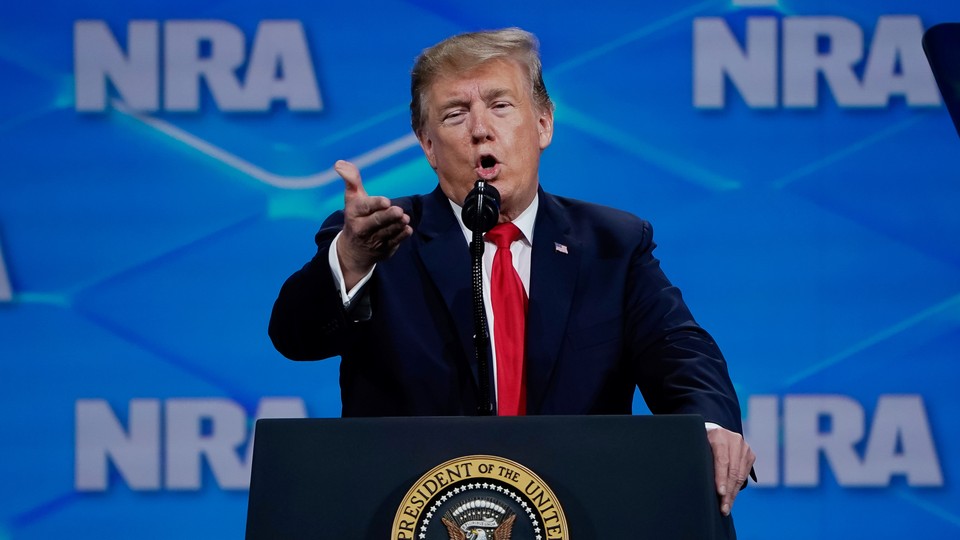 Donald Trump won't turn his back on the National Rifle Association—he gets too much joy out of its members.
Despite speculation earlier in his presidency that he could inch his party away from the clutches of the NRA, the president showed on Friday that he is more aligned with the organization than ever, capping off a slow-by-the-standards-of-2019 week by addressing the group's national convention in Indianapolis.
Just before noon, Trump entered stage left to thunderous applause and Lee Greenwood's "God Bless the U.S.A." He seemed in high spirits—grinning, clapping, pointing to fans in the 10,000-person crowd.
He appeared, in other words, at his happiest.
"I'm a champion for the Second Amendment and so are you," Trump said. "It's not going anywhere. It's under assault. It's under assault, but not when we're here. Not even close."
There was a brief time when many believed that Trump might, just might, take a different tack from Republican presidents past on the issue of guns. In February 2018, following the mass shooting at Marjory Stoneman Douglas High School in Parkland, Florida, in which 17 were murdered, Trump convened a bipartisan group of lawmakers at the White House to discuss solutions to the gun-violence epidemic. "We have to do something about it. We have to act," he opened the meeting. "We can't wait and play games and nothing gets done." In the days after Parkland, the president advocated for strengthening background checks and banning bump stocks (which were finally outlawed at the federal level late last month). He proposed raising the minimum age to purchase semiautomatic weapons from 18 to 21. And when one GOP senator seemed skeptical, Trump accused him of being "afraid of the NRA."
Trump had followed a playbook familiar to many politicians in the aftermath of a mass shooting, expressing outrage and an urgency for solutions. And then, as the weeks passed, he continued following that script, growing quieter on the issue and meekly equivocating on the modest gun-control measures he'd once pushed for. The shock of the shooting wore off; the national conversation moved on. As Vice President Mike Pence put it Friday in his own speech before the gun lobby, members of the NRA represented the "forgotten men and women" who'd supported Trump—and Trump never forgets who supports him.
To see Trump beaming onstage in Indianapolis, then, was to watch a Republican's relationship with the NRA come full circle. Other than his own rallies, there are few places where Trump gets the enthusiastic welcome he feels he deserves. For this president, uniform praise takes precedence over most things, and especially over the backlash that could come from daring to toe the party line on guns. His lively reception from the NRA, and the pleasure he clearly took from it, sent a strong signal that his party's stance toward guns is more resolute than ever.
In his roughly hour-long speech, the president stayed largely on message. He praised NRA members for standing up for "our God-given rights without exception" and "fighting for the timeless values that have built and sustained our nation." He lauded the Second Amendment enthusiasts as the people taking power back from "the swamp," even as Washington's "bad apples" tried to stop them. "They tried for a coup—didn't work out so well," Trump said, referring to those who investigated his campaign's ties to Russia but ultimately could not establish collusion. "And I didn't need a gun for that one, did I?"
About halfway through his speech, Trump teased that he was taking "another historic step to protect your Second Amendment rights." In 2013, President Barack Obama signed a global arms pact that seeks to limit the illegal sale of weapons. Trump announced that he was seeking an executive order that would both revoke the United States' support for the treaty and withdraw it from the Senate, where it has been awaiting ratification. "We will never allow foreign bureaucrats to trample on your Second Amendment freedom," he said.
While onstage, he signed a letter asking the Senate "to discontinue the treaty-ratification process and return the now-rejected treaty right back to me in the Oval Office, where I will dispose of it." The crowd began cheering. "They all want the pen. Can you believe these people? Should I give it to them?" Trump asked. More cheers. He tossed the pen into the crowd. "Famous pen," he said.
All told, the speech was classic Trump—admonitions of "fake news," riffs on socialism and "far-left Democrats," and a triumphant take on the "collusion delusion." It's no surprise that the president appeared right at home, away from the subpoenas and investigations that threaten him back in Washington, and in front of a crowd who loved him.
That most mass shootings are accompanied by a tacit acceptance that there will be another one has become a refrain of modern American life. Democrats and moderate Republicans alike once wondered whether Trump might be the president who would change that. But on Friday, Trump concluded his address with an homage to the American Revolution and "the shot heard 'round the world." Americans, he said, "already loved our country. And they were determined to defend their rights to the death … In the face of such unbreakable resolve, the king's soldiers had no choice but to admit defeat and failure and retreat." It was as clear a sign as any that Trump had become as romanced by guns as the group to which he was speaking.