Why Trump Is Serious About Herman Cain
The president is ready to nominate the former Godfather's Pizza executive, seeking a more compliant Fed board.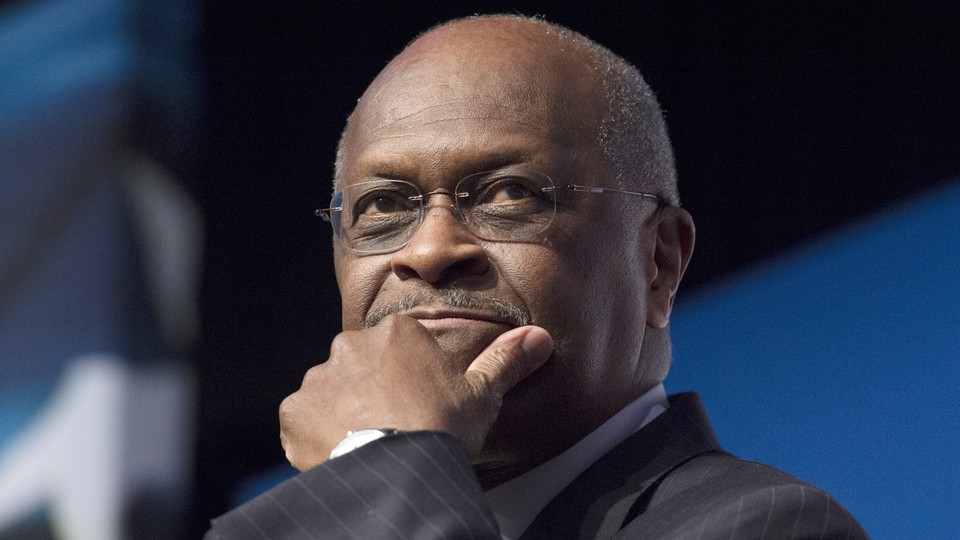 A couple of months back, President Donald Trump privately told aides that he was ready to make a surprise announcement and that he would shake up the nation's central bank with an unconventional pick for the governing board: Herman Cain, best known for an ill-fated presidential bid.
They suggested he hold back. Cain faced sexual-harassment allegations when he ran, in 2012. One aide told Trump that it would be a good idea to put Cain through a background check before nominating him for the Federal Reserve Board. Vetting is still under way, but Trump has settled on Cain and often checks up on his progress. Has Cain gotten his paperwork together? Trump asks. Have any fresh obstacles emerged?
Rumors about Cain's nomination have swirled for months. Over the winter, another aide had told me that Cain's candidacy wasn't "serious." Turns out, it was. What now seems evident is that Trump always wanted Cain for the job, but was at odds with some staff members who questioned whether the onetime Godfather's Pizza executive should have a hand on the economy's rudder.
"Is Herman Cain taken seriously by everybody in the building? Probably not," said the first aide, who spoke on the condition of anonymity to discuss internal deliberations. "But the one guy who matters takes it very seriously."
The one guy who matters isn't happy with the Fed and is making moves to strengthen his grip on the central bank ahead of the 2020 presidential election.
Trump has complained that Fed Chairman Jerome Powell's interest-rate hikes have dampened economic growth, and he seems determined to assemble a more compliant board, even if it means intruding on the Fed's historic independence.
"Well, I personally think the Fed should drop rates. I think they really slowed us down," the president told reporters on Friday.
Powell was Trump's pick for chairman, but he is by no means in the Trumpian mold. More of a nonpartisan institutionalist, Powell was first named to the seven-member Fed board by Democratic President Barack Obama.
Powell and the president see things differently. Consider how they view looming economic threats. In a 60 Minutes interview last month, Powell said that the chief risks were sluggish growth in China and in Europe.
Trump's view of the overriding threat?
Powell.
"Every time we do something great, he raises the interest rates," Trump said in an interview last fall.
Powell was an orthodox choice; any Republican president might have picked him, says David Wessel, director of the Hutchins Center on Fiscal and Monetary Policy at the Brookings Institution.
But Cain and another prospective Fed nominee, Stephen Moore, deviate sharply from the norm, he says. Both are Trump loyalists.
Moore advised Trump during the 2016 presidential race. He co-wrote an op-ed piece last month that praised Trump's "pro-growth policies" and blamed the Fed for both stock-market gyrations and interest-rate hikes—aligning himself with Trump.
Cain served on the board of directors for the Federal Reserve Bank of Kansas City in the 1990s. As a candidate in the 2012 election, he famously embraced a "9-9-9" tax plan that scrapped the current system with one based on flat taxes.
He now heads a political action committee, America Fighting Back, whose purpose is to combat the "vile and uncalled for propaganda" directed at Trump and to promote the president's agenda, the group's website shows. Federal election records show that the committee spent about $147,000 in pro-Trump television ads last year.
"It's like suddenly [Trump] woke up and discovered that if he wants to control the Fed, he actually has some power in putting people on the board," Wessel says. "There's some merit in having a diversity of backgrounds on the Federal Reserve Board. But the president is not looking at these people [Moore and Cain] because he thinks the Fed needs a diversity of views. He looks at these people as his delegates to the Fed."
Just how much sway should a president have over the Fed? This question has long bedeviled central-bank chiefs. Inside Congress, even some Republican lawmakers worry that Trump is undermining the Fed's autonomy.
One Republican senator, speaking on the condition of anonymity to talk more freely, told me: "There are a lot of Republican senators who think it's a terrible mistake—a mistake of gargantuan proportions—to allow the Federal Reserve to be politicized. I don't like this whole business of putting people on the Fed for their political beliefs."
Trump, the senator added, "ought to leave Powell alone."
In his 60 Minutes interview, Powell rejected the notion that Trump can fire him. He said his term lasts four years, and "I fully intend to serve it."
Janet Yellen, who lost her Fed chair position to Powell in 2017, wrote in an email to me, "I am concerned about the Fed's independence and have been critical about President Trump's criticisms of the Fed."
In a speech in Tokyo in 2010, then–Fed Chairman Ben Bernanke warned that a Fed board subservient to election-minded political leaders can damage the economy. He said that "political interference in monetary policy can generate undesirable boom-bust cycles that ultimately lead to both a less stable economy and higher inflation."
Presidents being pols, they've meddled in the central bank's work in a few notable cases, with an eye toward goosing the economy. In his memoir, Keeping At It, former Fed Chair Paul Volcker described "an awkward meeting" at the White House with Ronald Reagan in 1984, an election year. Reagan stayed silent, but his chief of staff, James Baker, told Volcker, "The president is ordering you not to raise interest rates before the election."
"I was stunned," Volcker wrote. "Not only was the president clearly overstepping his authority by giving an order to the Fed, but also it was disconcerting because I wasn't planning tighter monetary policy at the time."
So he walked out, "without saying a word."
Richard Nixon had more success. In 1971, the year before his reelection, Nixon spoke by phone with the Fed chief Arthur Burns and encouraged him to press his colleagues to lower rates. "You can lead 'em," Nixon said. "You always have, now. Just kick 'em in the rump a little."
Assuming that they pass background checks and that Trump follows through on the nominations, Moore and Cain are not certain to win Senate confirmation. Republican senators have thus far been quiet about the possible appointments. But lately they've shown more willingness to stand up to Trump despite his hold over the GOP rank and file.
Trump surprised Republican senators in recent weeks by returning to the notion of repealing Obama's Affordable Care Act. A Republican effort to abolish Obama's signature legislative achievement collapsed in 2017, when the party controlled both the House and Senate.
The Senate Republican leader Mitch McConnell told reporters last week that he had spoken with Trump and dissuaded him from trying again before the 2020 election. "So, I made it clear to him we were not going to be doing that in the Senate," McConnell said.
Nomination hearings could get messy, reviving the sexual-harassment allegations that helped derail Cain's presidential campaign. Cain could not be reached for comment. Defending Cain, the first White House aide lauded his business background and said, "You need someone with horse sense. A lot of brilliant economists don't have horse sense."
But Cain's critics say that the harassment allegations should get an airing. In 2011, Sharon Bialek said that Cain sexually harassed her while she was seeking his help getting a job. Cain has denied the allegations. Ginger White said that she had a 13-year affair with Cain, who has denied a sexual relationship.
Gloria Allred is an attorney who represents Bialek and White. If Cain is nominated, Allred says, "I hope that my clients will be asked to testify."
Both Bialek and White are willing to testify before the Senate Banking Committee, which will consider the Fed nominations, she says. According to Allred, neither woman has yet been contacted by authorities conducting the background checks.
In the end, Trump could drop the Cain nomination rather than risk defeat in the Senate. The Republican senator said that Senate leaders could quietly prod Trump to pull back. Could Cain get confirmed? "I don't think we'll get that far. McConnell will talk to Trump and talk him down from the ledge," the senator said.