The Atlantic Politics & Policy Daily: NATO's Republic
President Trump hosted NATO Secretary General Jens Stoltenberg. Plus: Will recent scrutiny of his overly "affectionate" behavior derail Joe Biden's 2020 ambitions?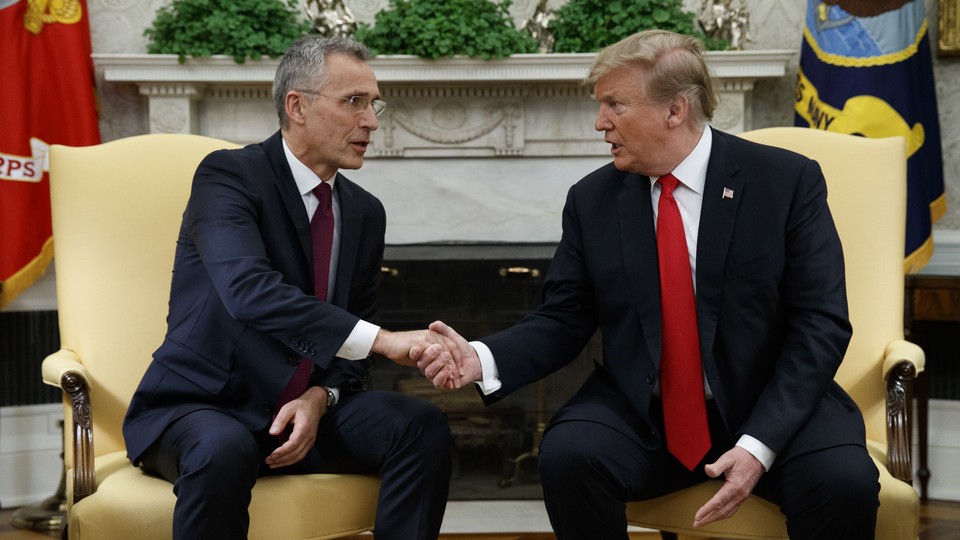 What We're Following Today
It's Tuesday, April 2.
‣ Amid growing tensions between the U.S. and Europe, Donald Trump met with NATO Secretary General Jens Stoltenberg in the Oval Office. Stoltenberg will address Congress tomorrow to mark the alliance's 70th anniversary.
‣ The House Oversight Committee subpoenaed Commerce Secretary Wilbur Ross for records relating to a proposed 2020 census question that would ask respondents about their citizenship status.
‣ A difficult year for North Carolina Republicans got worse when federal prosecutors indicted Robin Hayes, the chair of the North Carolina Republican Party, on fraud and bribery charges.
Here's what else we're watching: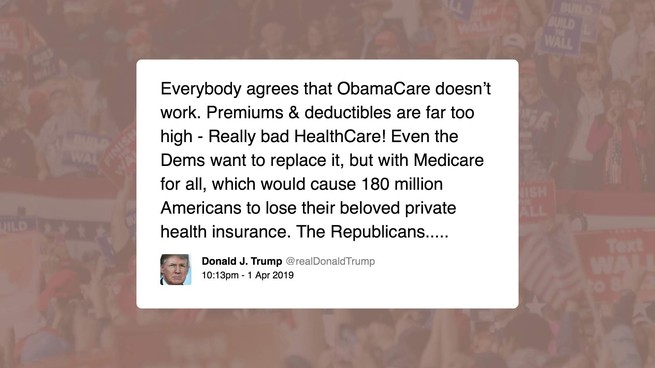 Trump's Health-Care Moves: The president tweeted on Monday night that Republicans will not put forward a plan to replace the Affordable Care Act until after the 2020 elections. The news comes after the White House last week told a federal appeals court that the ACA should be thrown out entirely, a decision that Trump reportedly made against the wishes of his advisers. This is just one of Trump's recent policy moves that have alarmed experts.
Will Biden Still Run?: A second woman has accused former Vice President Joe Biden of unwanted, overly familiar touching; on Friday, the former Nevada state legislator Lucy Flores published an essay detailing a similar encounter. These types of stories aren't exactly new—Biden's tendency to touch and kiss strangers, especially women, has been an open secret for many years. But it's not enough to keep Biden from pursuing a presidential campaign: "Biden is telling people that ... if he decides not to run, it won't be because of Flores's interpretation of a kiss on the back of her head or similar situations involving others who might step forward," reports Edward-Isaac Dovere.
The Second Shift: Half of women report doing housework, compared with just 19 percent of men. To pursue full-time jobs, some women hire domestic workers—80 percent of whom are also women—to help complete household tasks. In her new book, the journalist Megan Stack writes about her personal experience of advancing in her career "at the expensive of other women's labor."
---
Snapshot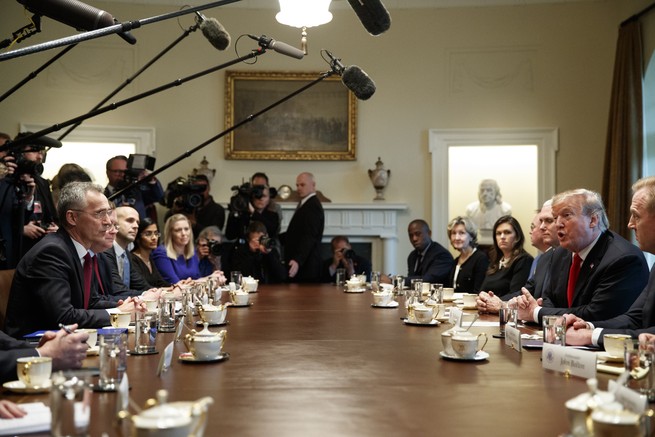 President Trump speaks during an expanded bilateral meeting with NATO Secretary General Stoltenberg. (Evan Vucci / AP)
---
Ideas From The Atlantic
Will John Roberts Block the Triumph of Legal Conservatism? (Garrett Epps)
"In claiming there are no 'Trump judges' or 'Obama judges,' he defended a position that is difficult to sell publicly—and one he does not appear to believe." → Read on.
Lessons of the Real Resistance (Eliot A. Cohen)
"It is one thing to read about a tortured man in a cell. It is another to stand in that cell, even if the events happened long ago, and even if there is no stench of unwashed bodies or overflowing toilet bucket, no crowding of half a dozen in a room that would be cramped for one, no moans of men and women recovering from the torments of the day and anticipating those of tomorrow." → Read on.
---
What Else We're Reading
‣ The Wrong Time for Joe Biden (Michelle Goldberg, The New York Times) (🔒 Paywall)
‣ The Supreme Court's Conservatives Just Legalized Torture (Mark Joseph Stern, Slate)
‣ Too Many Democrats Are Running in 2020, According to Science (Lilly Kofler, Politico Magazine)
‣ A Nation Turns Its Lonely Eyes to …  Pence? (Richard North Patterson, The Bulwark)
‣ YouTube Executives Ignored Warnings, Letting Toxic Videos Run Rampant (Mark Bergen, Bloomberg) (🔒 Paywall)