The Politics & Policy Daily: It's (Finally) Mueller Time
Everything you need to know about the 448-page special counsel's report.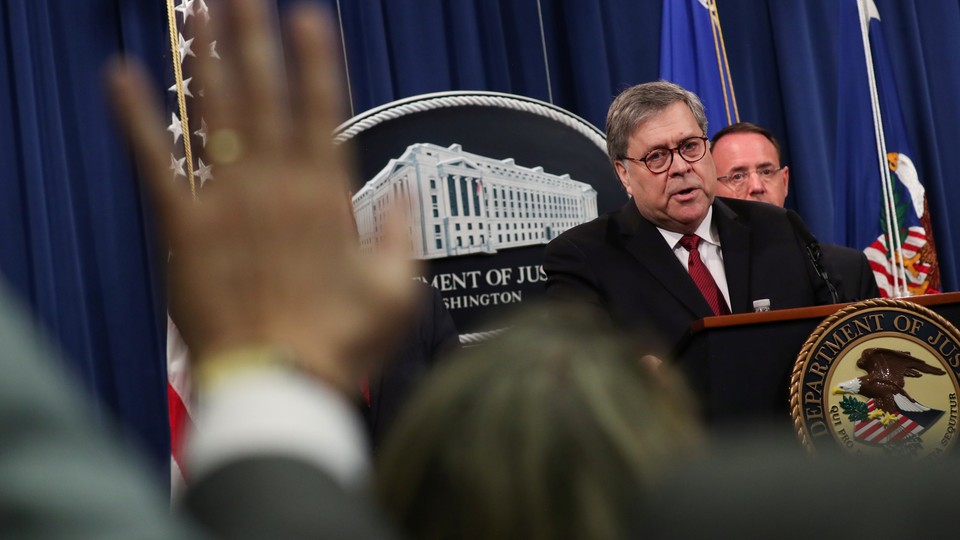 What We're Following Today
It's Thursday, April 18 (and Mueller report time).
Special Counsel Robert Mueller's report is finally out. Mueller's team writes that there are links between Donald Trump's campaign and the Russian government, but concludes that "the evidence was not sufficient enough to produce criminal charges." The report also details that the president attempted to thwart the special counsel's investigation, but Mueller "did not draw ultimate conclusions about the President's conduct." The special counsel determined that he was unable to definitively say whether the president obstructed justice.
The president hit back quickly after the report was released, tweeting, "As I have been saying all along, NO COLLUSION - NO OBSTRUCTION!"
Meanwhile, Representative Jerry Nadler, the chairman of the House Judiciary Committee, formally asked Mueller to testify to the committee, Russell Berman reports. Democrats will likely press Mueller on whether Barr's characterization of the special counsel's findings was accurate—and whether, contrary to Barr's claims, Mueller meant to leave it up to Congress to determine whether Trump obstructed justice.
But "there is sufficient evidence that President Donald Trump obstructed justice to merit impeachment hearings," argues Yoni Appelbaum. "A basic principle lies at the heart of the American criminal-justice system: The accused is entitled to a fair defense and a chance to clear his name … And that, Mueller explained in his report, is why criminal allegations against a sitting president should be considered by Congress and not the Justice Department."
Below, we've excerpted some of the most eye-opening findings from the report, which has been split into two volumes. The first details the special counsel's investigation into Russian efforts to influence the 2016 election, and the second analyzes whether the president obstructed justice.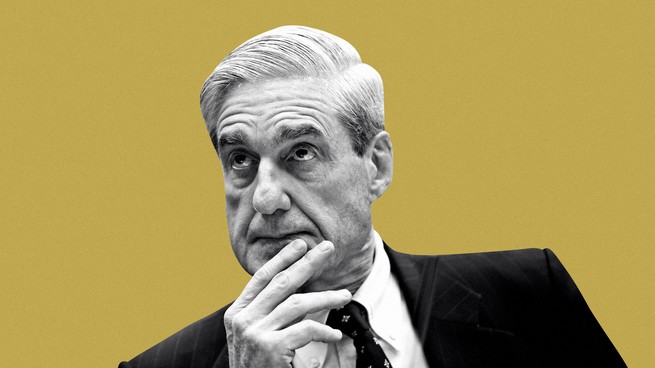 (Katie Martin / The Atlantic)
From the Report
1. The report states that when Special Counsel Robert Mueller was appointed in May 2017 to investigate Russian interference in the 2016 election, "[the] President slumped back in his chair and said, 'Oh my God. This is terrible. This is the end of my Presidency. I'm fucked.'"
2. It continues, "[President Trump] sought to have Attorney General Jefferson (Jeff) Sessions unrecuse from the Russia investigation and to have the Special Counsel removed, and engaged in efforts to curtail the Special Counsel's investigation and prevent the disclosure of evidence to it, including through public and private contacts with potential witnesses."
3. In one instance, in June 2017, Trump told then–White House counsel Don McGahn to direct then–Acting Attorney General Rod Rosenstein to remove Mueller as special counsel. Muller's team writes:
McGahn did not carry out the direction, however, deciding that he would resign rather than trigger what he regarded as a potential Saturday Night Massacre … [Reince] Priebus recalled that McGahn said that the President had asked him to "do crazy shit," but he thought McGahn did not tell him the specifics of the President's request because McGahn was trying to protect Priebus from what he did not need to know.
4. Trump answered written questions from Mueller's team on "certain Russia-related topics," but did not agree to answer questions about obstruction of justice. Ultimately, Mueller's team chose not to subpoena him.
→ Read on for other notable findings from the report.
---
A Brief Timeline of the Special Counsel Investigation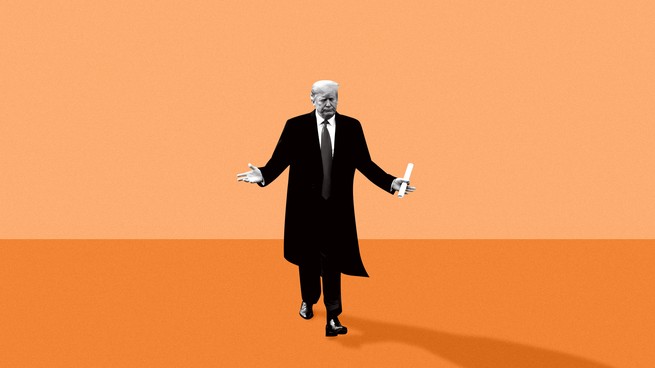 (Chip Somodevilla / Getty / Katie Martin / The Atlantic)
‣ May 9, 2017: President Donald Trump fires then–FBI Director James Comey, at Deputy Attorney General Rod Rosenstein's recommendation.
‣ May 17, 2017: Rosenstein announces the appointment of former FBI director Robert Mueller as special counsel, taking over the investigation into Russian election interference.

‣ June 2017: Reports come out that Mueller has expanded the probe to investigate whether the president attempted to obstruct justice by firing Comey.
‣ July 13, 2018: A federal grand jury indicts 12 Russian intelligence officers for attempting to interfere in the election by hacking Democratic National Committee emails and sharing them with WikiLeaks.
‣ August 21, 2018: The president's then–personal lawyer Michael Cohen pleads guilty to campaign-finance violations and tax fraud, and three months later, pleads guilty to lying to Congress about his work on plans for Trump Tower Moscow.
‣ November 7, 2018: Attorney General Jeff Sessions resigns at Trump's request, a day after the midterm elections.
‣ March 22, 2019: Mueller submits a full report to Attorney General William Barr, after one year and 10 months of work.
‣ March 24, 2019: Barr releases a four-page document of top-line findings.
And One More Thing…
Earlier pieces from The Atlantic cited in the Mueller report's footnotes include:
‣ Why Did Jeff Sessions Really Meet With Sergey Kislyak? (Julia Ioffe, June 2017)
‣ Why Mueller Is Taking Over the Michael Flynn Grand Jury (Matt Ford, June 2017)
‣ Bill Browder's Testimony to the Senate Judiciary Committee (Rosie Gray, July 2017)
---