The Democrats' Plan to Summon Robert Mueller
The special counsel isn't likely to reveal information that his report has kept confidential. But lawmakers could try to press him on any disagreements with the attorney general.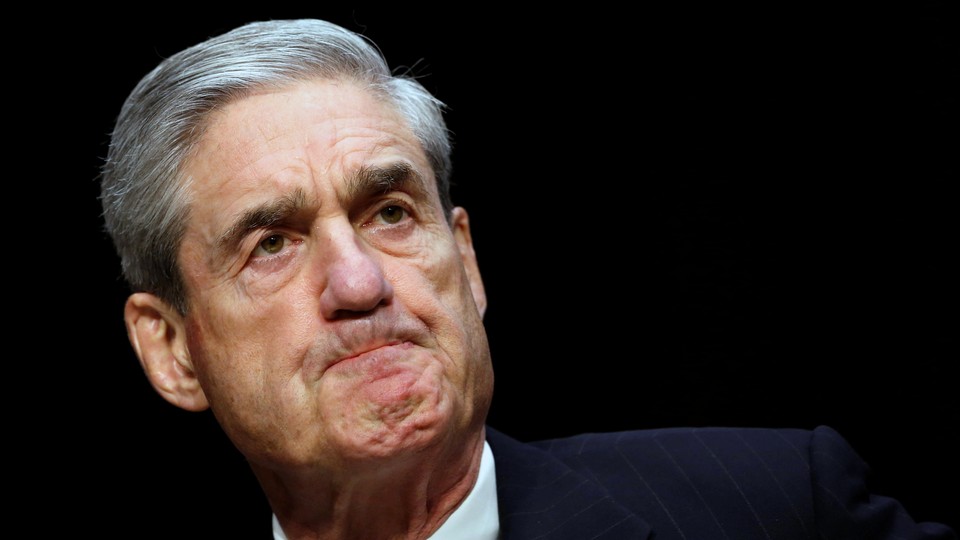 Robert Mueller might not be done just yet.
Democrats have demanded that the special counsel appear in person before Congress to testify about his 448-page report and explain his decision to leave open the question of whether President Donald Trump obstructed justice in the investigation over whether his campaign conspired with the Russians during the 2016 election. An hour before the redacted report became public on Thursday, Representative Jerrold Nadler, the chairman of the House Judiciary Committee, sent Mueller a letter formally requesting his testimony "no later than May 23."
The request could open up a new front in the battle between congressional Democrats and the Department of Justice, which swiftly assumed ownership of Mueller's report after the special counsel handed it in nearly a month ago. An appearance by Mueller before Congress would mark the first words he has uttered in public in the two years since Deputy Attorney General Rod Rosenstein appointed him to lead the probe into Russian interference and possible obstruction by the president. The special counsel was notably absent from Attorney General William Barr's press conference on Thursday morning, ahead of the report's release.
Mueller's spokesman, Peter Carr, declined to comment on whether the special counsel would agree to appear voluntarily, but Barr indicated to reporters that he would not stand in Mueller's way. "I have no objection to Bob Mueller personally testifying," he said.
It was what Barr said in that press briefing—along with his previous characterizations of the report—that Democrats will surely want to ask Mueller about. In his report, the special counsel explained in considerable detail his decision not to reach a conclusion about whether the president committed a crime, and made clear that the report "does not exonerate him." Yet the attorney general chose to characterize the conclusions more favorably for Trump and made his own decision to clear the president of obstruction. "The differences are stark between what Attorney General Barr said on obstruction and what Special Counsel Mueller said on obstruction," House Speaker Nancy Pelosi and Senate Minority Leader Chuck Schumer said in a joint statement on Thursday. "As we continue to review the report, one thing is clear: Attorney General Barr presented a conclusion that the president did not obstruct justice, while Mueller's report appears to undercut that finding."
Nadler said that the report contradicts several statements Barr made in his press conference, including the matter of whether Trump "fully cooperated" with the investigation even as he refused to be interviewed on the obstruction question. "For example," Nadler wrote in a statement, "the Special Counsel concluded that a 'thorough FBI investigation would uncover facts about the campaign and the President personally that the President could have understood to be crimes or that would have risen to personal and political concerns.' Barr excluded this critical finding from his version of events."
Nadler later told reporters in Manhattan that based on his initial skimming of the report, "it was probably written with the intent of providing Congress a road map." Barr, he said, "seems to be trying to frustrate that intent." Whether that road might lead to impeachment is unclear. "That is one possibility," Nadler said.
Asked what he would want to hear from Mueller, the chairman replied: "There are dozens of things we want to hear."
Democrats will want Mueller to clarify what, if any, role he believes that Congress should play, and whether his decision to avoid a definitive determination on obstruction was a nod to the legislative branch's constitutional prerogative on impeachment. At one point, Mueller writes: "With respect to whether the President can be found to have obstructed justice by exercising his powers under Article II of the Constitution, we concluded that Congress has authority to prohibit a President's corrupt use of his authority in order to protect the integrity of the administration of justice."
Barr, however, waved off the suggestion that Mueller was tossing the question to lawmakers in his press conference. "Special Counsel Mueller did not indicate that his purpose was to leave the decision to Congress," the attorney general told reporters. "I hope that was not his view, since we don't convene grand juries and conduct criminal investigations for that purpose."
Mueller is still a Department of Justice employee, although it's unclear for how much longer. With Barr's acquiescence, there appears to be no formal barrier to his appearing before Congress. "The content of his testimony would be a bigger question," says Katy Harriger, a political scientist at Wake Forest University and the author of Independent Justice: The Federal Special Prosecutor in American Politics.
Mueller would be unlikely to reveal in public testimony information that was redacted in the report, but Democrats could press him on whether he disagreed with Barr's handling and characterization of his findings. The New York Times reported earlier this month that members of Mueller's team were frustrated with Barr's initial descriptions of the report, and the attorney general's critics have accused him of whitewashing the investigation and acting more as Trump's personal attorney than the nation's chief law-enforcement officer.
Barr could assert executive privilege to prevent Mueller from disclosing their private conversations, Harriger says. The special counsel would be freer to discuss his own judgments and opinions. "What would limit him in that case is his own sense of what's proper," she says. "He's a pretty straitlaced, by-the-book kind of guy. That almost certainly would constrain some of what he would tell Congress."
Mueller, of course, can now point out that he's already said plenty: Putting pen to some 448 pages of paper, he and his team have compiled an exhaustive account of their efforts—some of which were foiled—to get to the bottom of Russian interference in the 2016 election and its aftermath. Democrats, however, are still looking for more.