The Complicated Friendship of Robert Mueller and William Barr
The special counsel and the attorney general go back a long way, but their bond could be tested by dueling appearances before Congress.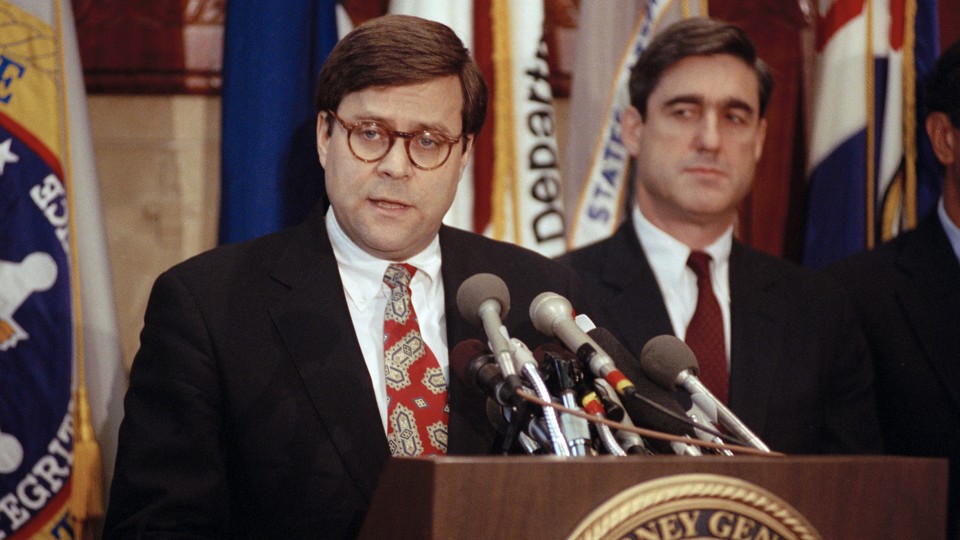 When Attorney General William Barr released Special Counsel Robert Mueller's final report earlier this month, he was presenting the work of a widely respected former FBI director and federal prosecutor—who happens to be his longtime friend. As Barr himself revealed to lawmakers at his Senate confirmation hearing in January, the two men have had a relationship for years. Their families socialize together, their wives attend Bible study together, and the Muellers were guests at the weddings of Barr's daughters.
But Barr's handling of Mueller's report has cast their relationship in a more adversarial light, and it will be tested further in the coming weeks as Democrats seek separate testimony from both men on the central decisions they made at the culmination of Mueller's two-year investigation of President Donald Trump and Russian interference in the 2016 election. Barr will appear separately before the Senate and House Judiciary Committees on Wednesday and Thursday, with Mueller potentially following later in May.
Former close associates of Mueller see the attorney general's characterization of his findings—which was generally more favorable to Trump than the report itself—as undercutting the special counsel, if not an outright betrayal. They were particularly put off by Barr's performance at the press conference he held 90 minutes before releasing the report, which they similarly saw as overly deferential to Trump.
Mueller did not attend, and the attorney general said he didn't talk to Mueller about his decision to clear Trump of obstruction. "That's not two friends collaborating collegially on a project," said Frank Figliuzzi, a former counterintelligence chief at the FBI who briefed Mueller twice a day during their tenure together. "It's almost worse than undercutting Mueller. It's saying Mueller's not even relevant in this."
In a phone interview, Figliuzzi described the dynamic between Mueller and Barr as one of "a boy scout" (Mueller) versus "a street fighter" (Barr). The attorney general himself has acknowledged that he and Deputy Attorney General Rod Rosenstein "disagreed with some of the special counsel's legal theories." Now it is up to Congress to sort through the conflicts and to determine the legacy of the investigation they each had a hand in steering. "Mueller is a guy who plays by the rules, and he was playing by the rules in this report," Figliuzzi told me. "He kind of trusts that the system will take care of itself, and he kicks his report over across the street to DOJ. That's where things go south."
It was Barr who first brought up his decades-long friendship with the man whose investigation he was to oversee, whose conclusions he was to summarize, and whose report he was to present to Congress and the American public. "I have known Bob Mueller personally and professionally for 30 years," he told the Senate Judiciary Committee in January. "We worked closely together throughout my previous tenure at the Department of Justice under President Bush. We've been friends since."
When Barr served as attorney general under President George H. W. Bush in 1991 and 1992, Mueller was the assistant attorney general heading up the criminal division. Both Barr and Mueller were in their 40s at the time, and colleagues from that period describe them as exceptionally smart and well-prepared lawyers who shared an easy rapport with each other, as well as a reverence for the Department of Justice. "Bob has always had this real strong desire to see the rule of law vindicated. That's where the two of them are two peas in a pod," said Paul McNulty, who served as the department's chief spokesman in the early 1990s and later oversaw Mueller as deputy attorney general in the George W. Bush administration.
Barr and Mueller would sit in daily morning meetings in which Barr would often rib the more straitlaced Mueller about cases. "They got along very well," recalled Timothy Flanigan, who was then an assistant attorney general overseeing the Office of Legal Counsel. "Bill had a keener sense of humor than Bob. He'd poked fun at Bob, and Bob took it in good grace."
Mueller, a Marine who became a prosecutor, and Barr, who had worked in policy jobs during the Reagan and Bush administrations, were aligned on the tough-on-crime priorities that were in vogue in the early 1990s. Separately, former colleagues described each of them as the kind of boss who doesn't "suffer fools." But they had different strengths and different personalities. "One's a soldier, one was essentially an intellectual, legal heavyweight," McNulty told me. While Barr was known as a quick thinker who thought through arguments and made decisions rapidly, Mueller was more deliberative and process-oriented. "Mueller could be more down in the weeds," McNulty said, "and Barr was more up above the weeds, looking at the constitutional issue, the big legal issue.
"They disagreed, but there weren't hard feelings. It wasn't personal," McNulty added. "They both knew that the other person was the real deal."
While Figliuzzi suggested to me that Barr had overstated his closeness with Mueller to ease his confirmation, both Flanigan and McNulty said the friendship is real. Flanigan has seen Mueller at Christmas parties at Barr's home over the years, while McNulty said they were "definitely more friends than acquaintances."
Both also defended Barr from the criticism leveled by Democrats and former Mueller associates about the way the attorney general handled the report. "It seemed to me he did exactly what he was supposed to," Flanigan told me. "He followed the statutes. He accurately stated the conclusions." He said it was "odd" that Mueller had failed to reach a conclusion on the obstruction-of-justice question. "It's just not like Bob not to reach a conclusion," Flanigan said. "He's generally not quick in reaching decisions, but he's decisive. To leave that hanging there as sort of a loose thread did surprise me."
Barr's critics, meanwhile, believe he was too quick to clear Trump of obstruction in his initial four-page letter to Congress, released in March. And they were even more incensed by his commentary at the press conference he held before releasing the report itself. The attorney general described the White House as having "fully cooperated" with Mueller, even though the report went into considerable detail about the president's refusal to sit for an in-person interview or to answer written questions pertaining to obstruction of justice. And while Mueller pointedly did not exonerate Trump on the question of obstruction, Barr not only cleared the president, but also appeared to justify his actions by describing Trump as "frustrated and angered by a sincere belief that the investigation was undermining his presidency, propelled by his political opponents, and fueled by illegal leaks."
That explanation "was a little odd," said Robert Anderson, a former longtime FBI leader who served as the bureau's counterintelligence chief under Mueller. "That's not really neutral, just looking at the law. Of all the attorneys general that I served under, that's not part of the conversation." (Mueller declined to comment through his spokesman, Peter Carr, and the Department of Justice did not respond to a request for comment on the criticism leveled against Barr.)
McNulty faulted Barr's critics for quibbling with the way he described the report, saying the attorney general would have been well aware that what he said about Mueller's findings would quickly be checked against the text of the report. "Knowing him and knowing what motivates him, some of the characterizations of him have just been inappropriate and inaccurate," he told me. "If you know anything about Bill Barr, you know that he would care about the accuracy of his words in relation to the truth. So I think he deserves the benefit of the doubt."
Congressional Democrats don't have any plans to afford him that benefit: When they have the chance to question him again this week, the discrepancies between his summaries and the text of Mueller's report are likely to be their juiciest target.
As with so much else over the course of a nearly two-year investigation, looming over the debate about the Mueller report is the oh-so-closely-held opinion of its author. Does Mueller believe that his friend Barr mischaracterized the painstaking, book-length document he submitted? And did he expect Barr to clear the president once and for all, or, as Democrats want to believe, did he intend for Congress to use his findings as a road map for further investigation and possibly impeachment?
Mueller has been studiously silent for two years, saving his conclusions—or lack thereof—for the 448 written pages he handed in last month. He didn't hold a single press conference and was absent for Barr's event last week. He even politely declined to comment when NBC News followed him to his car as he left church on Easter Sunday.
Democrats want answers from him and are insisting that he testify before the House Judiciary Committee in the next month. Barr has said he won't stand in his way, but there's been no final determination about when—or if—he'll appear. "We have not heard about a date yet or received confirmation that Mueller will come in to testify," said Daniel Schwarz, a spokesman for Judiciary Committee Chairman Jerrold Nadler. The Department of Justice, which is handling the request for Mueller's testimony, did not respond to a request for comment on the matter.
As for what Mueller might say, there is broad disagreement. None of the former colleagues I spoke to expect him to divulge information that was redacted in the report, and Flanigan predicted he would open up little daylight between himself and Barr. "I'll be surprised if Bob is ever quoted as saying he disagrees with the way Bill handled this," he told me.
Figliuzzi and Anderson, however, described Mueller as deferential to Congress's oversight role, and they suggested he would find a way to share his views honestly. Figliuzzi recalled that in the rare instances when Mueller was overruled by leaders at the Department of Justice, he would write a confidential memo memorializing his views and send it up the chain. "He wasn't the one who would yell, scream, bang on the desk, and say, 'This is all wrong,'" Figliuzzi said. "Those rare examples were very illustrative of him playing within the parameters he was given, but yet asserting his principles and ethics when necessary.
"I think we'll see that approach in testimony on the Hill," Figliuzzi continued. "He won't necessarily come out and champion a cause without having been asked a question, but when he's asked the right question, you'll see him say, 'Yeah, I don't understand, nor do I agree with, the attorney general's characterization of the president cooperating.'"
It'll be on Democrats to see whether they can prod Mueller into opining about Barr, his longtime friend who is once again, at least temporarily, his boss.
"In a constrained, Mueller, button-down way," Figliuzzi predicted, "it'll be quite explosive."