Amy Klobuchar's Hazy 'Heartland Economics'
The senator from Minnesota is counting on farmers and other rural voters in Iowa, a state she must win.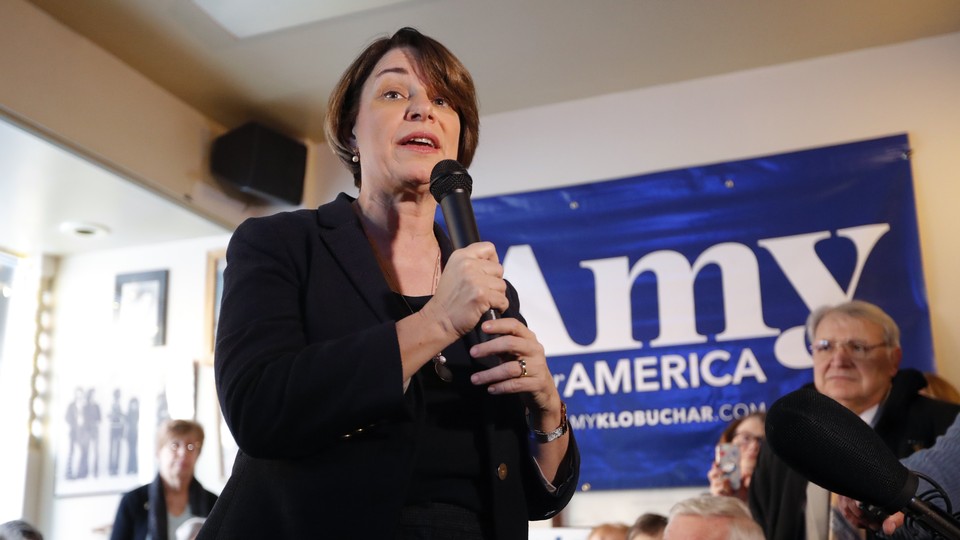 CEDAR RAPIDS, Iowa—Amy Klobuchar is counting on "heartland economics" to win Iowa and make her the candidate of the Midwest—though she's still working through what precisely she means by that, and how it would actually lead her to the Democratic presidential nomination.
The senator from Minnesota touts herself as a tough, pragmatic midwesterner who can take the caucuses by appealing to what Iowa has in common with her home state, and who can reclaim the voters in neighboring states who abandoned the party in 2016 and handed Donald Trump the presidency. Her campaign, she says, is all about heartland economics, the expression she's been talking about since her campaign launch in a snowstorm that made for great pictures, showed off what she likes to call her "grit," helped raise $1 million in a day, and got President Trump to tweet snidely about her and a global-warming conspiracy.
Her pitch is part nostalgia, both for what the Midwest used to be, and what it never actually was—all wrapped in a sense of what, in other contexts, might be described as identity politics.
"Heartland economics," she told me over breakfast recently at the Marriott on the outskirts of town here during a March tour of northeastern Iowa, "is bread-and-butter, commonsense economics."
What does that mean, I asked her?
"It's kind of looking back in time, when the Midwest was driving the economic engine of the country, which it does in certain segments still. It was the Midwest that stood up for people," she said. "So 'heart' is about, you know, the heart of America, the middle of America, but it is also about economics with heart, which means you're looking out not just for the people at the top and the titans, you're looking out for people who are … working the economy. And what the Midwest did, when you go way back to the early 1900s, it was the Midwest that stood up on the antitrust issue, and it wasn't just the farmers and the grangers with their pitchforks, it was also the Chicago strikers with the Haymarket strike and the Pullman strike, and it was really a Midwest issue when you look at it."
She accepted that, of course, Teddy Roosevelt was busting trusts too, but "this is a political movement that started here, and it was a movement that said small farms matter, small businesses matter, entrepreneurship matters, that's the engine, this is why our Founding Fathers moved from England, because they didn't want to be controlled by monopolies and the East India Company, and when they did they got really mad and threw the tea into the water."
She added, "Heartland economics is a focus on rural economics, which is very different in terms of critical access to hospitals, broadband, and making sure that [rural Americans] can have a piece of the action." Just over a week later, she added to this by releasing what she called a "trillion dollar" agenda to modernize infrastructure, which included these issues, as well as improving and replacing roads, expanding public transportation, and ensuring clean drinking water. She then set off on a tour of the rural areas in the western part of the state, which included flood-damaged communities and a stop at the Heartland Forum, an event focused on rural America, which also featured Elizabeth Warren, Julian Castro, John Delaney, and Tim Ryan.
At the heart of "heartland economics" is a core political belief that has a grip on the American psyche. The Midwest is the heartland, never questioned, though it's not where most of America lives, and stopped being representative of the economics or demographics of the country decades ago—if it ever was. Geographically it will always be the middle, but it's not the middle or average in most other ways—nor does the reality for most midwesterners in 2019 look like scenes out of The Music Man. The Midwest has millions of acres of farmland, but so do California and Virginia and Mississippi and Oregon. The region is full of farmers desperate about corporate-agriculture takeovers and now trade wars, thanks to the Trump tariffs, but the pain and feelings of being left behind often have more to do with industries being hollowed out by automation and globalization, and little to do with crops.
The politics of the Midwest are also changing. Last year, along with Klobuchar, Minnesota elected Keith Ellison, an African-American Muslim who is a top Bernie Sanders ally, as attorney general, and sent Ilhan Omar to the House. Wisconsin, meanwhile, easily reelected a very liberal and openly lesbian senator, and Michigan elected Rashida Tlaib to the House. Omar and Tlaib are the first two Muslim women elected to Congress.
Still, Americans put the Midwest on a pedestal. After the 2016 election, journalists and political analysts said the coasts were living in a bubble, blind to what was really going on in the heartland. The conventional wisdom was that Michigan went red because Democrats had lost the white working class, which they very much did. But Hillary Clinton was also 75,000 votes under Barack Obama's 2012 total in the county that includes Detroit, in a state she lost by just 10,704.
Two years later, in Wisconsin, another surprise Trump state, the margins that defeated Governor Scott Walker came from urban Milwaukee, as suburban and rural Republicans bitterly complained that they actually had a truer claim on what people in most of the state wanted.
Klobuchar isn't the only Democratic candidate to emphasize being from the Midwest, but she's the only one who's made it the center of her campaign. When Senator Sherrod Brown of Ohio was exploring running, he talked often about how much he hates the term Rust Belt, and how he was able to win as a progressive in a state that's trending ever redder by emphasizing "the dignity of work."
Pete Buttigieg, the 37-year-old mayor of South Bend, Indiana, is emphasizing new solutions from a new generation in his campaign, though being a Hoosier is part of his pitch. "I feel sometimes like I'm an emissary from the middle of the country, just pointing out that things look a little different in rural communities, industrial communities like mine," Buttigieg said, in a radio interview last week with a San Francisco station, while on a swing through the Bay Area. "I see a lot of well-heeled people, sometimes on the coasts, shaking their heads, asking how people, especially working-class people, who vote for conservatives, 'How can you vote against your self-interest economically; don't you know you're voting against your interests?' If you say that to somebody from that background, where I come from, they could very well turn around and say, 'So are you.' It can come off as a little condescending."
With Buttigieg the only other candidate from the region, Klobuchar has continued to generate interest as the candidate who can really put the Midwest in play. To Yvette Hoffman, the wife of a Minnesota state senator who came with Klobuchar in February to campaign for her on a cold night in Des Moines, "she knows the Midwest because she is the Midwest." Hoffman explained that the roots are in Klobuchar's blue-collar background—a grandfather who worked as a miner, a father who went to community college and worked his way into a journalism career, which she weaves into her stump speech. "Amy's always talking about how you find solutions. She's not putting up brick walls. It's bread-and-butter," Hoffman said. "She can get to people in Wisconsin, North Dakota."
A few steps away, an older woman was gushing about watching Klobuchar work the room at the union hall. "She really speaks the language," the woman told a friend.
Andy McGuire, a former state Democratic Party chair who ran in the 2018 gubernatorial primary, said she encouraged Klobuchar to run, and eagerly signed on as her Iowa state chair. "I'm not sure if that's geographic, or her values, or her spirit of getting it done. But her having these midwestern values—keeping us safe, being honest—those are things that really resonate with people in Iowa," McGuire said.
Klobuchar's campaign in Iowa, which she's betting her entire presidential effort on, is all about reminding people how much she and Minnesota have in common with the state that she jokes she can see from her porch. I asked her what she thought Hoffman meant by saying she knows the Midwest because she is the Midwest.
"The Midwest means that you are someone that loves the Midwest, that happened to be born there and that's where you live, that you are someone that understands that food just doesn't magically show up on a table and have worked in the rural areas a lot, and that you also understand that it's a mix of things … It's not just those farmers in their barns, in the fields, it's all of the businesses that come up out of that industry, and it also makes people more focused on issues that you wouldn't expect, like transportation, 'cause you've got to get goods to market, or the issue of immigration, and how you've got to make sure that you've got workers, if you don't have enough workers in your community. So there's issues you wouldn't expect that come out of the Midwest … I mean, it isn't just rural, it's major urban areas."
She pushes back on the idea that she's making a case just to white voters—though making a case just to white voters is one way to campaign in Iowa, which is almost 91 percent white, versus 3 percent African American, 2 percent Asian, and trickling down to other categories from there. These demographics make it less diverse than Minnesota, where Klobuchar has become the dominant and most successful statewide official, with a population that's 84 percent white.
To beat Trump, a Democrat is going to have to do at least a little better than Clinton in the Midwest—maybe not win Iowa and Indiana and Ohio, as Obama did, but at least Wisconsin, Michigan, and Pennsylvania. It's not happenstance that the Democrats picked Milwaukee to host the 2020 convention.
For her to win the Democratic nomination, she'd obviously have to run well in the rest of the country, too. So what, I asked, would heartland economics mean for, say, an undocumented worker in Miami, who's struggling and wouldn't be eligible to vote, but who probably has family members who would be voting with those interests in mind.
"It is making an argument for immigration that is economic, and Donald Trump refuses to look at the economics of it. The economics of it is that we need workers in our factories all over the country, we need workers on our farms, and we need workers with creative ideas," Klobuchar said. "At least 70 of our Fortune 500 companies are headed up by immigrants. So immigration has been a major driving economic force. And you can't have economics with heart, and neglect 12 million people, and just pretend they're not working in our economy."
That sounds like "heart economics," not heartland economics, I said.
"Well that's fine, you can call it either way," she told me. "I think we're getting a little hung up on this term."
A few days later, Garlin Gilchrist, the lieutenant governor of Michigan, was in Washington, and I asked him what he made of Klobuchar's pitch. Gilchrist is a 36-year-old native Detroiter whose first run for office came after the Democrats' 2016 disaster in Michigan. Last November, he became the first African American and first Detroit resident in decades elected statewide.
"I'm a Midwest kid. I'm from Detroit. When I say that, I mean I'm someone who cares about and respects people and actually comes to the table with [an] honest assessment of what reality is." In that thought is the other big part of how Klobuchar presents herself, as the pragmatic problem solver with a track record of getting things done instead of just talking about ideas.
But proud as Gilchrist is of his hometown and of his state overall, he wasn't sure whether that leads him to what Klobuchar is talking about.
"I don't know that anyone would classify Detroit as 'heartland.' But what I think when I hear people talk about the heartland, they're talking about people who work hard every day, who go to work, want to make sure they can put food on the table for their children, want to make sure their kids have clean water to drink, want to make sure if their kid gets sick they can take them to the doctor, want to make sure they can retire and not have their retirement be swiped out from under them," he said. "If that's heartland economics, then I think that works for people."
Cory Booker was campaigning in Iowa that same weekend as Klobuchar, about two hours away. After making the drive, I asked the senator from New Jersey what he makes of heartland economics.
"I don't know what she means. When I talk about corporate consolidation, I say, that's a problem for folks out here, but I let people know, it's the same problems that people are facing all over the country. For me, it's letting people know we have to have an economy that works for everybody—it's not working for people in farm towns, factories, suburbs, and cities," he said.
Booker makes where he lives as much a part of his campaign as Klobuchar makes it part of hers. He talks about being the only senator to live in a low-income neighborhood of an inner city, on a block where a man was killed by an assault rifle. That's where he announced his campaign, with reporters packed into the small concrete space in front of his house in Newark, also on a bitterly cold day, interrupted at one point by a neighbor calling out to him in Spanish from across the street.
"I think people are happy that I am trying to strike as many unifying themes and let people know what we have in common, and that we are all struggling with common pain, and we need to get to that sense of common purpose," he said.
One of Klobuchar's stops on her Iowa tour was at a Pizza Ranch, the chain that's famous in the state for political events. She talked about fighting corporate consolidation, too, to help out small farms and to increase competition in pharmaceutical prices, and then at the end, eagerly posed under a big pitchfork suspended on the wall of the party room, where she kept a crowd of about 40 going for an hour.
Klobuchar's Trump impression doesn't have much of a Queens accent. "He has said to me before, 'If I would have gone back to Minnesota, I would have won,'" she said, before pressing the point of her own election results running for a third term last year. "I went to every one of those Trump counties that he won, and I ended up winning over 40 of those Trump counties … If you want to win, and you want to compete with Donald Trump, all you have to do is look a little north to where I live. So that's our plan."