Kirstjen Nielsen's Job Prospects Are Probably Pretty Slim
Apart from the president, she was the official most associated with family separations—and that won't exactly endear her to the private sector.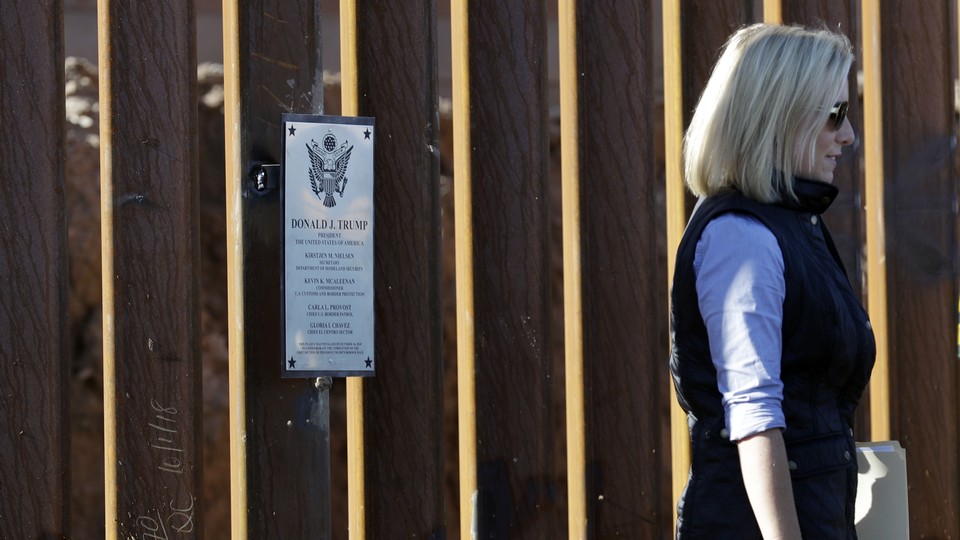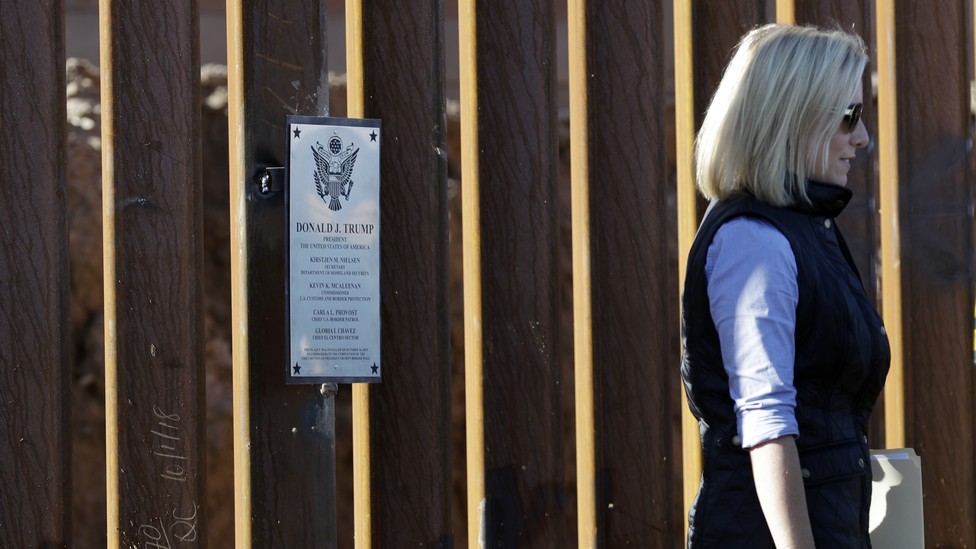 Last May, Kirstjen Nielsen found herself doing what so many officials in the Trump administration had done before her: navigating rumors that she was soon to be fired.
Illegal border crossings were on the rise, and the president was angry. At the time, White House Chief of Staff John Kelly was able to calm him down and reassure him of Nielsen's competence. But the rumors persisted through the spring. So Nielsen, who had been helming the Department of Homeland Security for just five months, started to consider her options.
The career trajectory of a senior administration official who's left government is typically filled with vaunted board seats and positions atop major corporations. But Nielsen and her aides were skittish that neither were in the cards. "She's going to have a real challenge getting on boards," a Republican operative close with Nielsen's team told me this week, explaining the team's thinking at the time. The administration's zero-tolerance immigration policy, which led to the separation of thousands of migrant families at the border, was still fresh in everyone's mind. "It was like, 'We're going to get hung with this,'" said the operative, who, like others I interviewed for this story, spoke on the condition of anonymity in order to discuss private conversations or speak frankly. "So they were thinking even then, 'What does she do after this?'"
The question became moot, of course, because Nielsen and her boss were able to smooth things over. But on Sunday, concerns about life after Trump came crashing back down. Following an Oval Office meeting with the president, in which he vented his frustration over the continued increase in migrant traffic, Nielsen submitted her resignation.
From almost the beginning of this administration, aides senior and junior alike have worried about their job prospects after they've finished working for Trump. Over the past two years, I've spoken with more than a dozen officials who have wondered whether a Fox News contributorship is their only private-sector bet. Some officials made the calculation early on to avoid television as much as possible, fearing that any sort of public profile could torpedo their credibility and attractiveness to future employers. As the face and name most prominently attached (besides Trump) to family separations, arguably this White House's most unpopular policy, Nielsen won't have an easy time finding her place in the job market, according to current and former administration aides, as well as Republican lobbyists and political operatives. If their predictions are right, Nielsen will confirm some Trump associates' worst fears about their attachment to the administration—that they might go, in some cases, from being respected Republican players to personae non gratae.
"Family separations make her completely and totally unhirable," one former senior White House official told me. "I mean, major companies will face employee or shareholder protests over hiring any high-profile Trump person. But for someone who oversaw that debacle, holy crap—it'd be insane." Nielsen's team did not respond to a request for comment.
Many high-profile ex–Trump officials have indeed struggled to land prestigious jobs. Former Chief of Staff Reince Priebus returned to his old law firm. Former Press Secretary Sean Spicer tried and failed to land a Fox News gig. (In February, Spicer signed on as a correspondent for the entertainment-news show Extra.) Those gigs are a far cry from, say, global chief communications officer of McDonald's, the title ex–Obama Press Secretary Robert Gibbs nabbed after leaving the White House. Or senior vice president of Amazon, the role that Jay Carney, Gibbs's successor, currently holds.
"I think it's important to remember that Republicans almost always have a tougher time landing sexy corporate posts" after exiting an administration, the operative close to Nielsen's team said. "But Trump has just exacerbated that to such an insane degree."
On Friday, two days before Nielsen had even resigned, Bloomberg reported that immigration groups were urging Fortune 500 companies not to hire current and former Trump-administration officials who had been involved in family separations. The letter, signed by 41 groups, name-checked officials including Kelly, Nielsen, and White House Press Secretary Sarah Sanders. On Sunday, the groups ran a full-page ad in The New York Times that read: "Attention corporate America: Don't let hate into your boardroom."
According to Washington, D.C., power brokers who have helped administration officials transition into the private sector, the smoothest path forward for Nielsen likely involves a public distancing of sorts from Trump.
"I would probably have her write a very honest, bracing memoir—one that's not really a tell-all, but more about what the challenges are of working for Donald Trump," one of these people told me, noting that Nielsen wields value in that she has worked for past administrations—she was a special assistant in George W. Bush's Homeland Security Council—and can highlight the unique difficulties of serving in Trump's Cabinet. "Her long-term viability both as someone who can work in corporate America and who can credibly be a person in the media, both of which are tenuous propositions at best right now—they depend on her at a minimum explaining what she saw," this person said.
Still, some of the officials and operatives I spoke with said that any dire predictions for Nielsen's future are overstated. They pointed to her pre-Trump reputation as a competent cybersecurity analyst, and said that many corporations would likely be interested in drawing on her expertise. "She knows everything: cyber, privacy, border security, and foreign and domestic threats," said former White House Deputy Press Secretary Raj Shah. "There are tons of corporate executives who understand the value of that expertise and of knowing how policy is made and how procurement works and how to navigate Congress."
And it's true that not every former Trump official has struggled to nab a prestigious title after leaving the White House. H. R. McMaster and James Mattis, for example, both former national-security officials in the administration, have found a home in Stanford University's conservative Hoover Institution, where former Secretary of State Condoleezza Rice is also a fellow. But McMaster and Mattis left the administration with their reputations arguably more intact than Nielsen, and without a public link to a singularly unpopular policy.
The catch-22 that some ex–Trump officials face: Not only do they feel as if they are toxic to potential employers, but they feel blackballed by their former boss and all of his allies, too. According to one current Trump-campaign official, this is what should concern Nielsen the most. Not that she will be forever aligned with a certain policy, but that she will be the bane of Trumpworld—ostracized from the only safety net she might otherwise have.
"Her perceived disloyalty and lack of alignment with her principal will be more damaging," the campaign official said.