Joe Biden Is Running for President
The former vice president has finally decided he's in, and he's announcing in less than a week. Now he just has to finish putting a campaign together.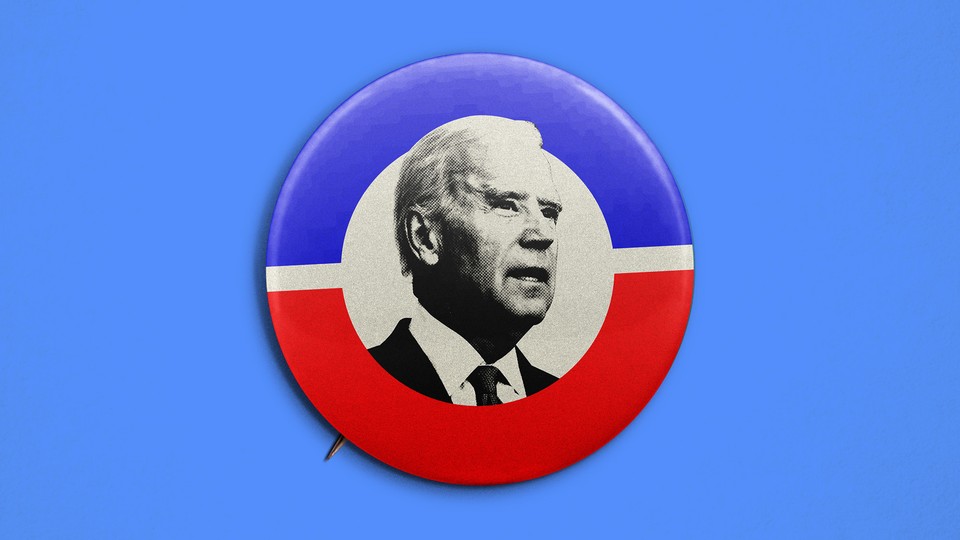 Joe Biden is running. The former vice president will make his candidacy official with a video announcement next Wednesday, according to people familiar with the discussions who have been told about them by top aides.
Seriously, he's actually made a decision. It's taken two years of back-and-forth, it'll be his third (or, depending on how you count, seventh) try for the White House, and many people thought he wouldn't do it, but the biggest factor reshaping the 2020 Democratic-primary field is locking into place.
He wants this. He really wants this. He's wanted this since he was first elected to the Senate, in 1972, and he's decided that he isn't too old, isn't too out of sync with the current energy in the Democratic Party, and certainly wasn't going to be chased out by the women who accused him of making them feel uncomfortable or demeaned because of how he'd touched them.
Biden's campaign will, at its core, argue that the response to Donald Trump requires an experienced, calm hand to help America take a deep breath and figure out a way to get back on track. First, however, the man who would become the oldest president in American history needs to get through a primary—one that's already tracking 18 other candidates, including six senators, two governors, a charismatic Texan wannabe senator, a geek-cool Indiana mayor with an impossible-to-pronounce name, and a guy no one had ever heard of who's already scored a spot on the debate stage by becoming a mock obsession in weird corners of the internet by talking about universal basic income and robots.
The primary, Biden believes, will be easier than some might think: He sees a clear path down the middle of the party, especially with Bernie Sanders occupying a solid 20 percent of the progressive base, and most of the other candidates fighting for the rest. And the announcement comes at a moment when many in the party have become anxious about Sanders's strength, with some beginning to wonder whether Biden might be the only sure counterweight to stop him from getting the nomination. A Biden spokesperson declined to comment.
Biden's announcement video will draw, in part, on footage shot two weeks ago outside his old family home in Scranton, Pennsylvania, where he likes to bring people and tell stories about how his grandfather would sit at the kitchen table, talking about making ends meet. But the campaign is still making key decisions on what will happen next, including whether to go cute for a launch event by doing it on the steps of the Philadelphia Museum of Art, famous for the training montage from Rocky, or go for a powerful challenge directed right at Trump by heading to Charlottesville, Virginia, where the president infamously blamed "both sides" of a neo-Nazi march in August 2017.
Charlottesville was the event that first led Biden to speak out forcefully against Trump, and by going there, he could use the event as a rallying point for "the battle for the soul of this nation" that he's been talking about since Trump refused to condemn the white supremacists that weekend. (Biden's team has also looked at locations back home in Delaware.)
If all this uncertainty seems extraordinarily last-minute for so high profile a candidate, that's because it is. Biden still had not officially made up his mind when the accusations from the women came out weeks ago, and his staff has been scrambling to get ready. Also: He doesn't have any money to pay for any real campaign operations, since he doesn't have an active campaign account. He'll be hoping for a show of force, raising a few million dollars in the first few weeks. Without that, he couldn't even pay for setting up a rally.
Senior staff for the campaign is set. Interviews for new aides have quietly been going on over the past two weeks, and some hires have been made. Calls have gone out to key donors. A wider circle has been told to stand by. There's a lot to get ready, including how to build a series of smaller campaign events that would showcase his strength in retail politics by playing up his interactions with voters—and counter the women who questioned those interactions when they came forward earlier this month.
Getting in next week will give Biden more than two months to fundraise ahead of the next quarterly reporting deadline at the end of June, and keeps him on track for the post-Easter timeline his top advisers have been projecting for the past few weeks.
On Thursday afternoon, Biden was in Boston, where he joined the picketing of the Stop & Shop supermarket chain by the United Food and Commercial Workers, in his third appearance with a union crowd in the past six weeks. Workers there, as when he addressed the International Association of Fire Fighters in March, held up Run Joe Run! signs. "Bankers, Wall Street, and CEOs didn't build this country," he told them as he spoke about the dignity of workers, health care, and good wages. "You did!"
Biden and his team have eagerly been taking in nearly every public poll that has him in first place, convinced those numbers will only grow, despite many Democratic operatives, on opposing campaigns and beyond, who believe he'll start leeching support almost as soon as he declares. Biden's doubters are convinced that he seems better as a theoretical alternative than as someone people would actually support, especially when they start looking at his record closely.
Already the scrutiny has started, with attention to his opposition to school busing in the 1970s, as well as his chairmanship of the Judiciary Committee during Anita Hill's testimony in the Clarence Thomas hearings in 1991, which many women have never forgiven him for, and which he's stumbled over in trying to explain since. "I wish I could have done something," is how he put it in late March, infuriating people who pointed out that he was in charge of the process.
Besides, what's come out so far, in the press and from other campaigns, is only the beginning of what Biden will have to explain. "There is a concentrated [opposition research] dump on him and will continue to be," one person close to Biden said earlier this month, reflecting on the touching accusations and expecting more. But after a few days of intense coverage, which eventually included about 10 women speaking out, the news cycle—and the outrage cycle—tumbled forward. That might change with his announcement.
Biden has been keeping a light public schedule in the past two weeks, as his deliberations reached a logical conclusion. On Tuesday, he was in South Carolina to deliver a eulogy for an old friend, former Senator Fritz Hollings. In his remarks, Biden said that Hollings had taught him about "recognizing that we can learn from the past and build a better future." On the cusp of a campaign in which he'll aim to make his long record in politics a strength, not a weakness, Biden said Hollings had exemplified that "what a man will do in public office is best told by what he's done."
Now we'll get to see what Biden's actually able to do.