Young Activists Are Done With Loyalty Tests. Donald Trump Is Not.
Representative Ilhan Omar of Minnesota is part of a new generation that rejects demands for performances of patriotism, including those related to 9/11.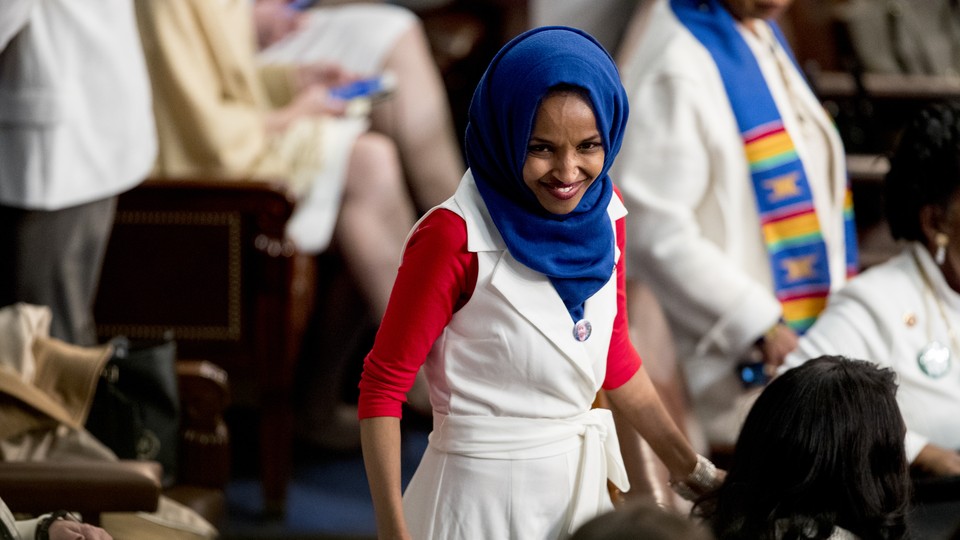 Updated at 1:01 p.m. ET on April 16, 2019.
President Donald Trump has brought the 9/11 loyalty test back to the center of American politics. Late last week, the president tweeted—and pinned—a short clip of Representative Ilhan Omar of Minnesota speaking at an event, where she described the September 11 attacks as "some people did something." The speech was spliced with footage of the Twin Towers being destroyed. Trump's message was clear: Omar did not live up to the standard that has been consistently imposed on American Muslims for the past 18 years—to condemn 9/11 vigorously in exactly the right language at all times.
Omar, however, is part of a new generation of Muslims who refuse to be defined by 9/11. In her speech, she hit back at the idea that American Muslims should be "good" Muslims, whether that means wrapping themselves in the American flag or just blending in and getting along. As Trump tries to paint Omar, and by extension the Democratic Party, as not American enough to condemn 9/11, he's facing a new political landscape—one where young activists aren't willing to take loyalty tests anymore.
[Read: The fight over Ilhan Omar is a fight over the identity of the Democratic Party]
Much of Trump's career has been fueled by 9/11-related conspiracies, and the anti-Muslim sentiment that has grown because of them. Trump spread the false claim that Muslims cheered the 9/11 attacks. He suggested that former President Barack Obama might be a secret Muslim. One of his signature policies, a ban on immigrants and refugees from several predominantly Muslim countries, was widely perceived to be connected to past, inflammatory comments such as "I think Islam hates us."
In the years following the September 11 attacks, as Trump was pushing conspiracies, equal and opposite effects were happening among American Muslims: a growing sense of fear, an urgent desire to distance themselves from violence, and, for some, a resolve to get involved in public service. Above all, there emerged "a loyalty test, which demands that there be unequivocal denunciation of all these horrible tragedies," as Daisy Khan, a prominent Muslim speaker and advocate, described it to me.
Starting in 2009, Khan, along with her husband, Feisal Abdul Rauf, an imam, advocated for the creation of an interfaith Islamic community center near the site of the destroyed Twin Towers, a project dubbed by opponents the "Ground Zero mosque."
The backlash was swift. "We were told, 'Not you, not here, not now,'" Khan said. That experience—the way Muslims were pushed out of the collective American mourning process for 9/11—reminds her of what's happening now with Omar. It's "the weaponizing of 9/11," she said. "Back then, we had just a handful of people on the streets who were part of a network of people who had been fed a lot of disinformation" about their project and about Muslims. "Now it's … the most powerful man in the world."
The loyalty test has not gone away, she added: "I think this is what Representative Omar forgot … The test, the burden, the cross that we have to bear is that at all times, we have to make sure we are voicing [condemnation of terrorism], saying it loud and clear." (Omar's office could not be reached for comment.)
[Peter Beinart: Ilhan Omar's deeply American message]
Omar seems to disagree with this approach to being a Muslim leader in public life. In other parts of her speech, which was delivered in March at an annual banquet for the Los Angeles chapter of the Council on American-Islamic Relations, or CAIR, the congresswoman rejected the notion that American Muslims should bend over backwards to seem unthreatening. "Muslims, for a really long time in this country, have been told that there is a privilege that we are given, and it might be taken away," she said. "We are told that we should be appropriate. We should go to school, get an education, raise our children, and not bother anyone … Be a good Muslim."
But even with all of this work, she said at the time, Muslims have been denied their civil liberties. So she proposed a new model of Muslim political engagement. "I say, Raise hell," she said. "Make people uncomfortable."
Omar's activist approach can be read in two ways. First, it marks a generational shift in American Muslim identity. Young Muslims in their 20s and 30s, including Omar, came of age under the shadow of 9/11. The result is that, as a cohort, they are disproportionately progressive, very involved in activism, and unwilling to play the assimilationist role that many of their parents held. "I often advocate … enough of this 'good Muslim, bad Muslim' thing," says Zahra Billoo, the executive director of CAIR–San Francisco. "Being a good American Muslim means advocating and working for the America we all aspire toward."
Omar's comments also highlight the degree to which cooperating with the loyalty test hasn't worked. Under Trump, American Muslims have been the victims of harassment and hate crimes, and have feared for their safety. Trump's invocation of 9/11 is a way of perpetuating the association between all Muslims and all terrorism. "I do think the way that 9/11 is being used against Ilhan—it's being done to silence her," says Sally Howell, the director of the Center for Arab American Studies at the University of Michigan. "It's being done to say, In reality, you have no right to speak in this public space."
[David Frum: Democrats are falling into the Ilhan Omar trap]
In part as a response to feeling silenced, a new generation of activists who identify with Omar—whether they're immigrants, women of color, or Muslims themselves—is pushing back on demands to perform over-the-top patriotism and remain politically inoffensive. "What we're seeing with Ilhan Omar is her refusal to accept that guilt by association by talking about 9/11 in the same way that anyone who is not Muslim would talk about it," says Sahar Aziz, a professor at Rutgers Law School and a former official in the Department of Homeland Security from 2008 to 2009.
This is part of why Omar has been the center of so many firestorms in such a short time. She has repeatedly been accused of trafficking in anti-Semitic tropes, just as some critics found her comments about 9/11 too glib. This is a symptom of her activist modality: As Omar said in the very speech that Trump tweeted about, she isn't scared of negative reactions to her words, and that has often meant she leans into controversy.
Whether they like it or not, Democratic leaders are being pulled along with her. The party's 2020 presidential hopefuls mostly rallied around Omar after the president's latest tweet, although some were quicker to condemn his statements than others. Meanwhile, Speaker of the House Nancy Pelosi—who announced that she has requested a review of Omar's security protections—has minimized the overall influence of Omar and other left-wing Democrats in the party.
Yet as divisive as Omar's method has sometimes been, her defiance is also a reaction to something real. Since the president tweeted, Omar said in a statement on Sunday, she has received an increased number of death threats, including some that directly mention Trump's comments.
Trump himself is gearing up for a fight. On Monday, he headed to Minnesota for a rally close to Omar's district, where protesters for and against the congresswoman lined the streets. He also tweeted that Omar is the "leader" of the Democratic Party, and told a Twin Cities TV station that he thinks "she's extremely unpatriotic and extremely disrespectful to our country." Long before he was president, Trump believed in the power of the 9/11 loyalty test and related dog whistles. As he's looking ahead to 2020, he clearly sees the advantage in using them again, no matter what the consequences may be.