The Strategic Move That Gave Bernie Sanders a Fundraising Edge
The 2020 Democrats are confronting the cost of campaign-finance purity.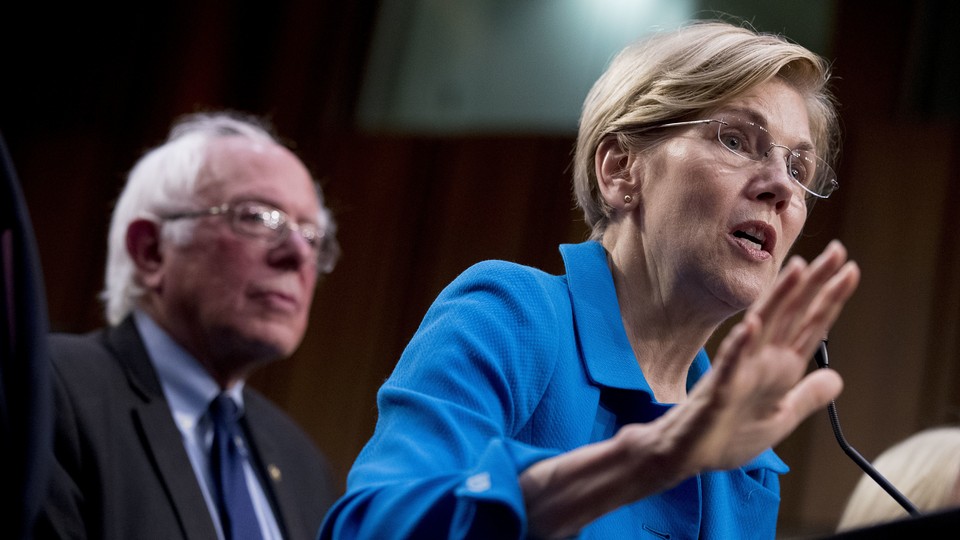 The 2020 race for the White House will undoubtedly be a battle both of ideology and personality. But it is also shaping up as a clash between two opposing forces: the ever-expanding, $1 billion industry that is a modern presidential campaign, and the Democratic Party's move away from the top-down approach to fundraising that has fueled American politics for decades.
So far, the progressive push toward campaign-finance purity is winning, and that's worrying Democrats who believe that the party literally can't afford to leave money on the table if it wants to defeat President Donald Trump next year.
The three most prolific fundraisers in the sprawling Democratic presidential-primary field—Senators Bernie Sanders and Kamala Harris, and former Representative Beto O'Rourke—hauled in just less than $40 million total in the first quarter of 2019. That was enough to easily surpass the $30 million that the Trump campaign added to its coffers. But it represented a steep drop-off from what the top Democratic contenders raised during a comparable period 12 years ago, at the beginning of the last campaign against a Republican incumbent president. In the first three months of 2007, then-Senators Hillary Clinton and Barack Obama and ex-Senator John Edwards combined for more than $65 million.
A few factors could help explain or excuse the relatively pedestrian totals this year compared with the financial windfall of 2007. While the field was large back then, it is far larger heading into 2020, and plenty of donors both big and small are waiting to see how the race plays out before throwing their money behind a candidate. And as big as the field is this year, it is still missing at least one major contender with plenty of fundraising potential: former Vice President Joe Biden.
But perhaps most significantly, the major Democratic candidates are not fundraising nearly as aggressively from the wealthy donors who helped launch the campaigns of Clinton and Obama in 2007—and much of that is by design. Several contenders were noticeably slow to set up national finance networks, seemingly reluctant to spend the important first months of their candidacy wooing wealthy benefactors. Many have also eschewed donations from corporate political-action committees, a move made famous by Obama but popularized among national politicians in 2018. And one of their own seems to be affecting decision making, too.
Sanders, the senator from Vermont whose field-leading $18.2 million haul in the first quarter would have placed him third 12 years ago, is following the same playbook that helped him put a scare into Clinton in 2016: He's relying almost entirely on small donors while railing against the outside influence of "millionaires and billionaires" who have traditionally financed winning campaigns.
A spoiler no more, Sanders is the Democratic front-runner now, and his populist approach toward fundraising is influencing—and perhaps even shaming—his fellow competitors for the nomination. Senator Elizabeth Warren of Massachusetts announced in February that she would forgo high-dollar fundraising events and no longer spend time calling wealthy contributors for cash—a time-honored tactic for major national candidates. Democratic operatives saw her decision as clearly influenced by Sanders, who according to most polls has outflanked her as the candidate of progressive activists.The move might have cost her, too: Warren reported raising $6 million in the first quarter, a sum that Democratic operatives unaffiliated with rival campaigns told me was surprisingly low, considering her national profile and previous fundraising record. (Neither the Warren nor Sanders campaigns replied to requests for comment.)
Most of the top Democratic candidates have not placed similar self-imposed restrictions on fundraising as Warren, but they have lagged in building finance teams in major (read: wealthy) cities such as New York, Chicago, and San Francisco, says Rufus Gifford, who served as Obama's finance director in 2012 and who has been in contact with several campaigns. Gifford sent up the equivalent of a social-media red flare last week when he tweeted that he was "concerned by how little money" the 2020 Democratic candidates are raising.
"I think we need a little urgency here," he told me. "We're going to be running against an incredibly well-oiled machine of over $1 billion. To see some of the biggest stars in our party only raise $5 million or $6 million in a quarter? It's unacceptable. We need to do better."
Gifford said Sanders's success in labeling traditional fundraising "dirty" was a significant factor, leading his rivals to be gun-shy about courting Wall Street and the wealthy-donor community. "Frankly, I think it's a brilliant strategic move if it is strategic," Gifford said, noting that only Sanders has shown that he can rely almost exclusively on small online donors. "You could find yourself in January of next year with Bernie having raised four times as much money as some of the other candidates, who should be legitimate competitors but who have, for whatever reason, decided to have this financial purity test, which I think is silly."
Gifford's concern about the lackluster first-quarter numbers is not universally shared by Democrats. Some have argued that the unusually large—and yet still incomplete—field makes apples-to-apples comparisons with 2007 misguided, and they note that the party's success in raising huge sums of money in 2018 is an indication that the dollars could start to flow more heavily soon. "I just think, overall, people need to relax a little bit," says Stefanie Brown James, a co-founder of the Collective PAC, which raises money for black Democratic candidates across the country. Progressive activists have been urging party donors to prioritize down-ballot races in the aftermath of Trump's election, and that could also be a factor in the slow start to the presidential race, at least on the margins. The Collective PAC, for example, has endorsed the two major black candidates, Harris and fellow Senator Cory Booker, but it has yet to donate money to either of them.
James is with Gifford on the broader question about the future of Democratic Party fundraising: How far should candidates go in cutting off sources of money to shake the perception that wealthy donors and special interests hold sway over their campaigns and policy positions? While Obama swore off donations from corporate PACs, he still courted wealthy individuals employed by the nation's biggest companies. Warren, for one, is taking things a giant step further.
"It feels like a nice symbolic gesture, but is that going to help you win?" James asked. "I know a whole bunch of Wall Street people who are squarely focused on donating money to causes that advance civil rights and justice and equality. And like, yeah, I'm going to take their money because they're everyday people, too."
"I don't know the valor in saying, 'I'm not going to accept donations from a person because they are wealthy or because they work on Wall Street or because they work in corporate America,'" James told me. "The Republicans aren't going to leave any money on the table. I just don't think it's wise to go that far into donor purity."
Warren is not banning wealthy people from writing her campaign a check for the $2,800 maximum contribution allowed under federal law. But by swearing off the methods traditionally used for soliciting those donations, she might end up with far less than she would have otherwise. (She's also not committing to the same prohibition in a general-election matchup against Trump. "This is for primaries," she said after making her announcement in late February. "Look, I do not believe in unilateral disarmament. We need to win.")
The argument in favor of limiting big-dollar fundraising is that to beat Trump in 2020, Democrats need to capture the voters who gravitated toward Sanders in 2016—those who see little difference between the parties and view both as essentially corrupt tools of big business. "I think there's tremendous value in having Democratic candidates who can credibly run against Trump on Trump's ties to corporations and the ultra-wealthy," says Jesse Ferguson, a veteran Democratic strategist who served as a spokesman for Clinton's campaign in 2016. "You can't do that when your ads are entirely paid for by big corporations and the ultra-wealthy."
Ferguson says that accounting for outside spending and the hard-to-quantify free airtime afforded to the president by Fox News, there's little doubt that the eventual Democratic nominee will be outspent by Trump. "It's a question of how bigly," he says. Knowing that, he argued that the party's priority should be its message. "The premium right now is far more on credibility and authenticity than it is on total dollars in a bank account," Ferguson told me. "So I'd rather have a candidate who could credibly take on Trump's allegiance to big corporations and the wealthy rather than a candidate who could go toe-to-toe with him on every ad buy."
The debate playing out now is one that Democrats have been having, off and on, for years: Just how much do voters care about fundraising? "They hate money in politics, for good reason," Gifford said. "But that is not what they care most about. It's way down the list."
For a long time, Democratic candidates lamented the influence of special interests in their campaign rhetoric while keeping their hand outstretched for contributions in the name of winning. That is changing now, but the cost of fundraising purity—in dollars and, ultimately, in electoral results—may yet outweigh the benefits.