The Clintons Are Nervous About 2020
At a gathering in Washington, D.C., over the weekend, Bill Clinton said it is time to fight a battle with "our oldest demons."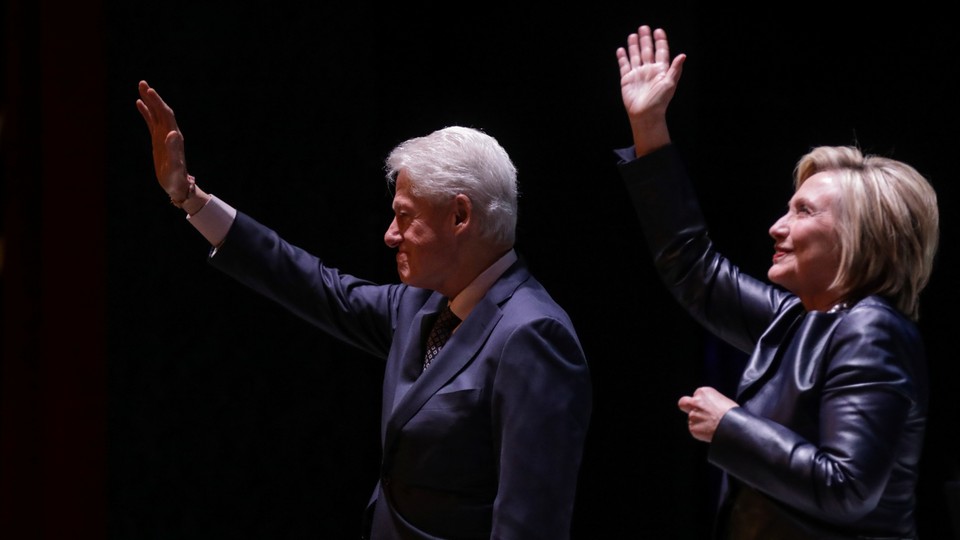 The Clintons are on edge about 2020. Like pretty much every other Democrat in America, Bill and Hillary are nervous that their party's primary field is too large, that it's going to be dominated by the wrong kind of debate, that the candidates will succumb to their worst instincts, and that President Donald Trump will out-bully them anyway.
While Trump was holding a campaign rally in Wisconsin on Saturday night, the once and would-be presidents spent the evening onstage, in the latest stop of the traveling show they've been doing all around the country for a combination of cash and adulation, being otherwise forced into retirement earlier than planned. There's a bit of a farewell-concert-tour feeling to the event—Hillary, tell the story of the Osama bin Laden raid one more time! Bill, do a riff on the 1996 Israeli elections! Remember Arkansas? Look at all the little ways we tease each other in our marriage!
Worries over #MeToo associations kept many campaigns from booking Bill Clinton on the trail during the 2018 midterm election season, and Hillary Clinton has taken on a distinctive role in American politics, as both the jilted savior and the pariah, the embodiment of Democrats' fantasies of how things could have turned out differently, but also of their fears of losing another election they can't comprehend not winning.
But a week and a half after the release of the redacted Mueller report, three days after Joe Biden got into the presidential race pitching a Hillary Clinton–esque campaign rooted in experience and personal offense at what Trump represents, and two blocks from the White House, the 2020 race was clearly on their minds.
"Rather than immediately saying 'I'm for this person' or 'against this person' or looking for every way to possibly criticize people because they have a record," pay attention to who can do the job of president and who can win both the popular vote and the Electoral College vote, Hillary said.
"The thing that bothers me about having 54 candidates, or however many we've got, is someone with rising potential will never hear his or her voice heard," Bill said at one point. A few minutes later, he said friends tell him, "'It could be a raving disaster for us.' But you can't tell. Someone will rise. And you've got to believe in that."
This Democratic primary is the first since 1988 in which the Clintons don't have an obvious preferred candidate, and neither the inner circle nor the dozens of outer circles of the Clinton orbit have moved in any one direction. Private conversations in the VIP room ahead of the event on Saturday night had some people talking up Biden as the Democrats' best hope, according to people there, but others saying they're looking to Pete Buttigieg, the young mayor of South Bend, Indiana, who's splashed onto the scene. And not just in the private reception—I spotted a "Buttigieg 2020" T-shirt in the audience.
Bill Clinton said 2016 was "a manure-spreading election," but added, "We're not going to have that this time." The former president didn't sound so confident about everything else. He said he worried that if Trump can get away with asking Russia to hack emails, China might be looking to get in the game this time, and a 2020 candidate could decide to ask for another foreign attack. "This is how absurd it can become," he said.
Many Democrats are still bitter about what happened in the last election. They can't shake the feeling that they were robbed, and that nothing makes any sense any more. Many of those same Democrats worry they're going to blow it against Trump again. If the Democratic candidates "just want to slime people, we'll never be as good at it as they are," Bill said, referring to Republicans. "Especially the current chief executive—he's good at that."
Both Clintons are clearly frustrated that more hasn't yet come of the Mueller report. In a video made for the event, the comedian Jordan Klepper got Hillary Clinton to read selections from the report, as if for an audio book. This included: "The investigation established that the Russian government perceived it would benefit from a Trump presidency and worked to secure that outcome, and that the campaign expected it would benefit electorally." Doing a rough Trump impression, she also read the part in which Trump panicked about Mueller's appointment.
While Trump was in Wisconsin Saturday night—specifically to counter-program the White House Correspondents' Dinner, which he was boycotting—Barack Obama was a few blocks away from the Clintons in Washington. The 44th president spoke at the National Museum of African American History and Culture, warning that "leaders who feed fear typically are also ones who avoid facts." Meanwhile, a large contingency of the political reporters in town were in the basement ballroom of the Capital Hilton for a subdued Correspondents' Dinner, listening to a lecture by the historian Ron Chernow, and then later, at an after party hosted by MSNBC at the Italian embassy, which happens to be literally down the block from the Clintons' D.C. home.
But on Saturday the Clintons stood before a crowd of their super fans, who'd pay for tickets to sit and listen to them talk. The room wasn't quite sold out, but it did include more than one person who started cheering that Hillary should run again in 2020. "I think what everyone is hoping for is a nominee who will win both the popular vote and the Electoral College," Hillary said, while declining to say anything specific about the field other than that "it's really, really early in the process, and there's so much that is yet to be revealed about each of the candidates. But we have so many very exciting, energetic candidates." There was, however, a pointed mention later in the night about how much better she felt her own record on gun control was than that of her "primary opponent" in 2016—a reference to Bernie Sanders, who's running again after having shifted on this issue, which was a major line of attack for Clinton in the last campaign.
After wandering through several other topics, from Bill's funding of programs in Africa to what to do about gun violence now, they kept making their way back to 2020. Americans know better now, they said. Journalists know better now, social-media companies know better now, Democrats know better now, they insisted, blending spotty optimism about the future with resentment over everything from former FBI Director Jim Comey to The New York Times. Looking up at a screen projecting the famous photo of Obama and Hillary and others watching the bin Laden raid, Bill described the call he got from Obama the next day, before the news went public.
"We got him," Obama said.
"Who?" Clinton remembered responding.
"Hillary didn't tell you?" Obama said, figuring that she had been keeping her husband quietly informed along the way.
That's an example, Bill said, of why it "galled" him when people accused Hillary of being loose with national-security information, as in the email-server scandal. So get it together, they urged the crowd as they finished, because there's still a chance of preventing Trump's reelection. "Do not grow weary," Hillary said at the end of the night, admitting that she sometimes can't bear keeping up with the news herself. Bill added: "There are no permanent victories and defeats in politics, and if you think about it, we are repeatedly called upon in new and different circumstances to refight battles with our oldest demons which lurk inside all our hearts."
People are scared, and they feel like the world is changing and they've been left behind, Clinton said, and he understands that from the people he knows back in Arkansas. He said he gets why that leads people around the world to follow people like Trump, who play up the divisions. But, he said,  "If you want to save democracy, you have to save the core idea that we are all created equal."