Biden Is Betting on Unions. They Might Bet on Someone Else.
The former vice president is leaning on his long-standing alliance with labor as he launches his presidential bid. But most major groups are holding off on endorsements.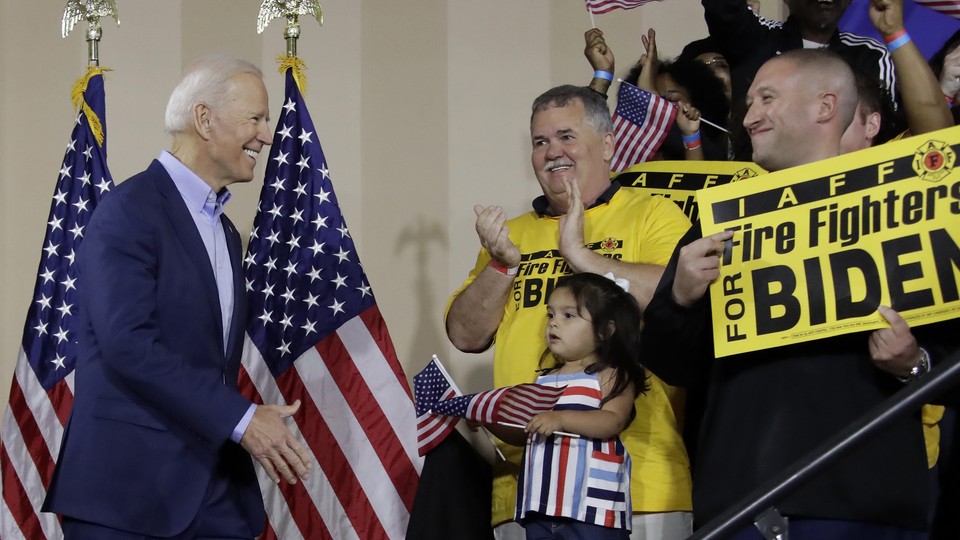 "I make no apologies," Joe Biden told the crowd in Pittsburgh, finally making his declarative pitch after a long and meandering windup. "I am a union man, period."
The sound bite was both a thank-you and a promise. Addressing a live audience for the first time since declaring his third run for the White House, the former vice president had rented a local Teamsters hall and surrounded himself with laborers to formally launch his candidacy—teachers, steelworkers, autoworkers, and firefighters, who had given him the welcome gift of an immediate endorsement.
Biden wants to be the candidate of labor. But does labor still want him?
The International Association of Fire Fighters (IAFF), which boasts a membership of more than 300,000, quickly threw its support to him. The move was a disappointment to President Donald Trump after the union had stayed neutral in his race against Hillary Clinton in 2016. It was also, however, widely expected: IAFF President Harold Schaitberger is a longtime Biden ally who openly pined for him to run in 2016 and anointed him on Monday as the candidate "who has the necessary experience to win, and who has the mettle to win."
But Biden will have to work harder for endorsements from other major unions, which are typically more cautious about diving into presidential primaries and see this year's yawning field of candidates as an opportunity for maximum leverage. Senators Bernie Sanders, Elizabeth Warren, and Kamala Harris in particular have made aggressive plays for labor support and are seen, based on their policies and records, as allies within the broader movement.
"With a field this massive, we're in no rush to settle, and we aren't interested in anything short of a full-throated, unapologetic advocate for the labor movement," says John Weber, a spokesman for the AFL-CIO who offered this warning to the Democratic candidates: "We shouldn't just be a part of your platform. Unionism should be the lens you use to look at the problems we're facing and the tool you'll use to build a fairer economy."
Biden has been speaking the language of unions for years, as he's cultivated his "Middle-Class Joe" image and pitched himself as an embodiment of the working class who can win the Rust Belt back for Democrats. In the lengthy run-up to Biden's formal declaration for president, many of the public speeches he gave were to labor unions. And with Senator Sherrod Brown of Ohio forgoing a White House run, Biden has the longest and closest relationships with union leaders of anyone in the Democratic field.
"You can see that there is a reservoir of goodwill in the union movement for Joe Biden because of [his] decades of work understanding that the American dream is driven through the labor movement," Randi Weingarten, the president of the American Federation of Teachers (AFT), told me by phone on Monday.
Weingarten said Biden was "the go-to person in the Obama White House" on labor issues, and said she used him as a back channel to the president during her highly public disputes with Education Secretary Arne Duncan. "Joe Biden was the one we would talk to to try to get to a fair hearing with Barack Obama," Weingarten said.
Biden's record on issues prioritized by the labor movement is not as pristine as he might want Democratic voters to think. He supported both the North American Free Trade Agreement and the Obama-negotiated Trans-Pacific Partnership, which unions loudly opposed. And his rivals Warren and Sanders have already started hammering him over his support for legislation, backed by the powerful Delaware-based credit-card companies, that made it harder for people to get out from under debt by declaring bankruptcy.
"Has he had missteps over his very long career? Of course. We all have," Weingarten said. "But his heart and soul have been with growing the middle class and understanding that workers don't get a fair deal unless they have a union."
Despite Weingarten's praise for Biden, the AFT isn't close to making an endorsement, and she noted that candidates such as Sanders, Warren, and Harris, among others, "have had long relationships with labor, too." That message of polite neutrality is one that other powerful unions are echoing at this early moment in the race.
"We've had a long relationship with Vice President Biden on lots of issues," says Mary Kay Henry, the president of the Service Employees International Union (SEIU), citing health care as an example. But, Henry quickly added, "it's similar to, frankly, the long-standing relationship we've had with many of the other Democratic candidates."
Biden is, unapologetically, the conventional candidate in the 2020 Democratic primary, gunning for the conventional Democratic voter using a conventional strategy with a fairly conventional message. He's going after the big donors and the big unions, trusting that for all his younger, more diverse, even more exciting rivals bring to bear in the race, having money and labor behind you is still the surest, safest route to the nomination. And it's emblematic of a candidate who is pitching not so much the moon and the stars as a return to normalcy, a decent night's sleep for a Democratic electorate that's been scared wide awake for two years straight.
The "union man" line is one Biden probably used in his first run for president, in 1988. And probably in his first campaign for the Senate long before that, too, some 47 years ago. Like so much else about Biden's bid, it's a paean of the past, trying for a comeback.
The labor movement is bidding for a restoration as well—to its central place in the American economy and to its heft as a political force. The decline of union membership is well documented: In 2018, just 10.5 percent of U.S. workers were members of a union, down from more than 20 percent when the Bureau of Labor Statistics first started reporting the data, in 1983. Progressives argue that the hollowing out of unions—both by long-term economic forces and anti-labor policies enacted by Republicans—is a large factor in the Democratic Party's recent struggles in states such as Wisconsin, Ohio, Michigan, and Pennsylvania. The Supreme Court's 5–4 ruling in the Janus v. AFSCME decision last year was another blow, barring unions from requiring nonmembers to pay dues.
Trump has sought to twist the knife, boasting about his support from union members in his 2016 victory over Clinton and arguing that staunchly Democratic labor leaders are more and more out of touch with their rank and file. "I'll never get the support of Dues Crazy union leadership, those people who rip-off their membership with ridiculously high dues, medical and other expenses while being paid a fortune," the president tweeted on Monday in response to the IAFF's endorsement of Biden. "But the members love Trump. They look at our record economy, tax & reg cuts, military etc. WIN!"
Trump did do measurably better among union households than Mitt Romney did four years earlier, according to exit-poll data, which found Clinton winning the cohort by just eight points. But internal polling from the AFL-CIO showed that the shift among its membership from 2012 to 2016 was caused principally by a drop-off in the vote for Clinton compared with Obama—not a surge in support for Trump. And in an indication that endorsements do carry weight, AFL-CIO polling found that persuadable members identified the union as their most trusted source for political information, Weber told me.
There is less debate about the labor movement's ongoing clout inside the Democratic primary, where endorsements can bring the ground game needed to put a candidate over the edge, especially in early-caucus states such as Iowa and Nevada. "Unions are the best-organized constituency in the Democratic Party," says Daniel DiSalvo, a senior fellow at the right-leaning Manhattan Institute and a political scientist at the City College of New York focusing on public-employee unions.
But they are not monolithic. Biden will draw strength from the unions that skew older, whiter, and more male, such as the firefighters, steelworkers, autoworkers, and the building trades. But SEIU, which represents the service sector, and the teachers' unions tend to have a younger and more diverse membership.
Biden's strategy of courting both union members and their wealthy bosses, while traditional for a major presidential contender, may also cause him trouble this time around. Skeptics of his candidacy on the left noted that in the same week as he stood alongside union leaders to launch his campaign, Biden planned to attend a fundraiser with the chief lobbyist of Comcast and a corporate lawyer whose firm specializes, in part, in helping "employers avoid unionization."
"For Biden to be credible with unions, he'll have to make a choice," says Joe Dinkin, a spokesman for the Working Families Party, a progressive party with deep ties to the labor movement.
For now, Biden is betting that he doesn't actually have to choose between big unions and big donors, that his self-described status as a "union man" will overcome concerns about his closeness with industry. But his insistence on a conventional fundraising path, like his spotted policy record on progressive and labor priorities, does come with a cost. As Biden enters the race, his standing with major unions is similar to his standing in the party more broadly: He may start with an edge, but not by much.