What Barr Told Congress About the Mueller Report
Lawmakers might end up seeing more of the special counsel's report than the public, but they won't get the whole thing.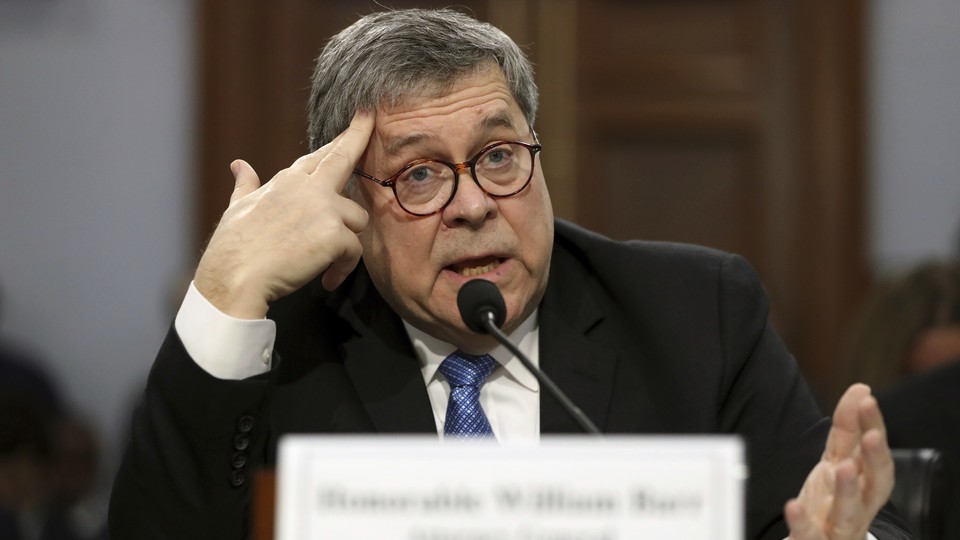 The long-awaited Mueller report will be out "within a week," Attorney General William Barr assured impatient lawmakers in a hearing on Tuesday. Exactly how much of the book-length document either the public or Congress will be able to see, however, remains a mystery.
The attorney general made his first appearance before Congress since he sent his four-page letter read 'round the world on March 24, in which he declared that Special Counsel Robert Mueller had not found a conspiracy between Donald Trump's campaign and Russia, nor had he found enough evidence to either charge President Trump with obstruction of justice or exonerate him of that crime. Barr was due before the House Appropriations Committee to testify on the president's annual budget request, but Democrats used the opportunity to press him on his handling of the nearly 400-page report and his decision to outline its "principal conclusions" in a manner that allowed Trump to claim full vindication.
"I must say," Committee Chairwoman Nita Lowey told Barr at the outset, "it is extraordinary to evaluate hundreds of pages of evidence, legal documents, and findings based on a 22-month-long inquiry and make definitive legal conclusions in less than 48 hours. Even for someone who has done this job before, I would argue it is more suspicious than impressive."
While refusing to further characterize Mueller's findings, Barr offered the lawmakers a few additional morsels that were not previously known. He said the process of redacting the report for public consumption is "going along very well" and that he would release it "within a week"—keeping to his mid-April timetable.
Democrats have assailed Barr's plan for redacting four categories of information, warning that the attorney general could use the excisions to shield damaging findings about Trump from the public. And while lawmakers acknowledge that some information—such as classified intelligence on the Russian government—should be withheld from the public, they have argued that Congress needs the full, unredacted report to exercise its constitutional oversight responsibilities.
On that front, Barr left Democrats disappointed. He suggested that Congress might never see the most sensitive portions of Mueller's report, much less the evidence the special counsel used to arrive at his conclusions, which Democrats have also demanded to see. Democrats on the House Judiciary Committee have already voted to authorize subpoenas for the full report and its underlying evidence, likely setting up a court battle with Barr.
"I don't intend at this stage to send the full, unredacted report to the committee," the attorney general told the appropriations panel. He was responding to a question from Republican Representative Tom Graves of Georgia, who sought to elicit a warning to members of Congress not to leak redacted portions of the report to the public.
The attorney general said it would be "unfortunate" if Judiciary Committee Chairman Jerrold Nadler or some other lawmaker leaked the full report. But he voiced doubts that Nadler would get his hands on it.  "I'm not sure where he would get it," Barr said. "If he got it directly from the [special] counsel, that would be unfortunate. I doubt that would happen."
The special counsel did not assist in drafting either of Barr's two letters to Congress; Mueller, the attorney general said, was given the opportunity to review the first letter before it went out, but declined for reasons Barr said he did not know. Mueller's lack of involvement in that letter is important given a report from The New York Times that members of his team believe the attorney general "failed to adequately portray the findings of their inquiry and that they were more troubling for President Trump than Mr. Barr indicated."
Mueller's team is, however, participating in the redaction process, as are members of the intelligence community and prosecutors working on cases that could be affected by the public disclosure of certain information in the report, Barr said. In his second letter to Congress, the attorney general had outlined four categories of information that would be redacted:
(1) material subject to Federal Rule of Criminal Procedure 6(e) that by law cannot be made public; (2) material the intelligence community identifies as potentially compromising sensitive sources and methods; (3) material that could affect other ongoing matters, including those that the Special Counsel has referred to other Department offices; and (4) information that would unduly infringe on the personal privacy and reputational interests of peripheral third parties.
On Tuesday, Barr told lawmakers that the redactions would be "color-coded" with explanations as to why the information was being blacked out. That could provide a road map for Democrats to challenge the redactions in court, and Barr acknowledged that Nadler could ask a judge to authorize release of certain material redacted because it involves secret grand-jury proceedings. But, under questioning from Democratic Representative Ed Case of Hawaii, the attorney general said he did not intend to seek a court order himself.
Case took issue with the final category of redactions, pressing Barr to explain what legal authority required him to shield information based solely on the "personal privacy and reputational" concerns of "peripheral third parties." The attorney general said that was based on Department of Justice regulations, but he acknowledged that he would be using his own discretion in applying them. "It seems to me that's an exception that you can drive a truck through," Case told him.
By the end of Tuesday's hearing, Barr had opened up some wiggle room: Members of Congress won't get the full, unredacted Mueller report, but they might end up seeing more of it than the public. The attorney general said that once the public version is released, he would talk with Nadler and Senate Judiciary Committee Chairman Lindsey Graham "about what additional information they feel they require, and whether there's a way of accommodating that."
He also said that "under appropriate safeguards," some members of Congress might get a peek at classified intelligence blocked out in the report. A group of lawmakers comprising the leadership of each party and the bipartisan heads of the House and Senate intelligence committees regularly receives briefings on highly sensitive investigations not shared with the full Congress or the public.
Unsurprisingly, Barr's willingness merely to discuss releasing additional information to Congress did not satisfy Nadler. "Congress is—as a matter of law—entitled to each of the categories AG Barr proposed to redact from the Special Counsel's report," the chairman said on Twitter. "Full release of the report to Congress is consistent with both congressional intent and the interests of the American public."
For now, Barr said he was prioritizing the release of the public, sanitized version of the Mueller report. The fight over the rest of it, he seemed to suggest, can wait. That it is about to erupt, however, is no longer in doubt.