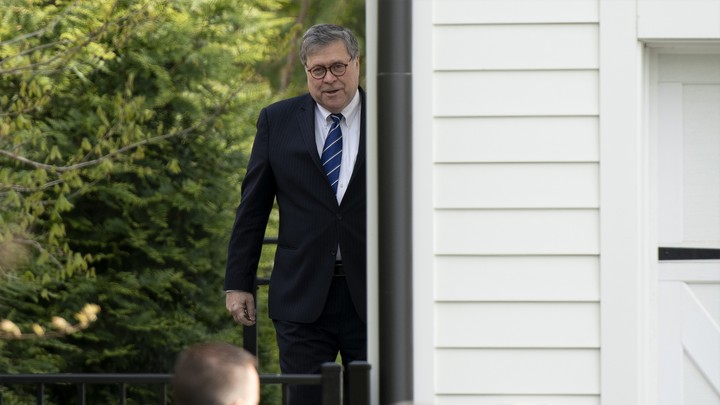 What We're Following Today
It's Wednesday, April 17.
‣ Attorney General William Barr on Tuesday issued an order directing immigration judges to deny some immigrants a chance to post bail, another step meant to discourage immigrants from seeking asylum in the United States.
‣ Barr will hold a press conference at 9:30 a.m. ET tomorrow, the day the final report from Special Counsel Robert Mueller is due to be released.
‣ Sixty medical professionals across five states were charged with involvement in the illegal prescription of more than 32 million pain pills.
Here's what else we're watching:
Mueller arrives at his office in Washington. (J. Scott Applewhite / AP)
The White House Isn't Worried: Mueller's final report is set to be released tomorrow, but in the White House, things are calm. Donald Trump's aides are confident—even serene—in their belief that the full report won't damage the president, and will actually help his case for reelection: "It's unlikely that this will change a single vote in 2020 either way," one senior administration official said.
+ But, argues David Graham, as the report's release date approaches, it's becoming clearer that Trump will commit the same error in responding to House investigations that he did with Mueller: "stonewalling investigators, dragging out the process, and creating a public impression of guilt."
Bernie Sanders Is Not a Spoiler: The senator from Vermont is happy with the way the presidential race has started out. And he's becoming more confident that he will not just win the Democratic nomination, but actually defeat Donald Trump in November 2020. "There's a three-out-of-four chance we are not the nominee," said Sanders's current campaign manager, Faiz Shakir, "but that one-in-four chance is better than anyone else in the field."
+ As always, here's our guide to the 2020 candidates. Some of them seem to have a lot in common ...
Meanwhile, in Brooklyn …: A new group of progressives is looking past the 2020 presidential election. An advocacy group called Future Now is attempting to enact a far-reaching progressive-policy agenda in as many states as possible by 2030. "State legislatures are the most important part of American civic life that's been forgotten, except by the worst elements of politics and vested special interests," the group's co-founder told Russell Berman. "We have decided to focus all of our energy on the least glamorous, often most frustrating part of politics."
---
Snapshot
The Democratic presidential candidate Senator Cory Booker signs Royceann Porter's cast following an Iowa Democratic Party Black Caucus Reception in Des Moines, Iowa. (Charlie Neibergall / AP)
---
What Else We're Reading
‣ D.C. Housed the Homeless in Upscale Apartments. It Hasn't Gone as Planned. (Peter Jamison, The Washington Post) (🔒 Paywall)
‣ The Kiss: What Mayor Pete Means for America (Tim Miller, The Bulwark)
‣ Is Prison Necessary? Ruth Wilson Gilmore Might Change Your Mind (Rachel Kushner, The New York Times Magazine) (🔒 Paywall)
‣ Andrew Yang Is the Candidate for the End of the World (Russell Brandom, The Verge)
We're always looking for ways to improve The Politics & Policy Daily. Comments, questions, typos, grievances and groans related to our puns? Let us know anytime here.

Were you forwarded this newsletter? Sign up for our daily politics email here. We have many other free email newsletters on a variety of other topics. Find the full list here.
We want to hear what you think about this article. Submit a letter to the editor or write to letters@theatlantic.com.
Elaine Godfrey
is a staff writer at
The Atlantic
, where she covers politics.