Japan and Russia Muscle Their Way Into the Trump-Kim Dialogue
Putin is meeting with Kim, and Abe is meeting with Trump. But nobody's quite sure who's influencing whom.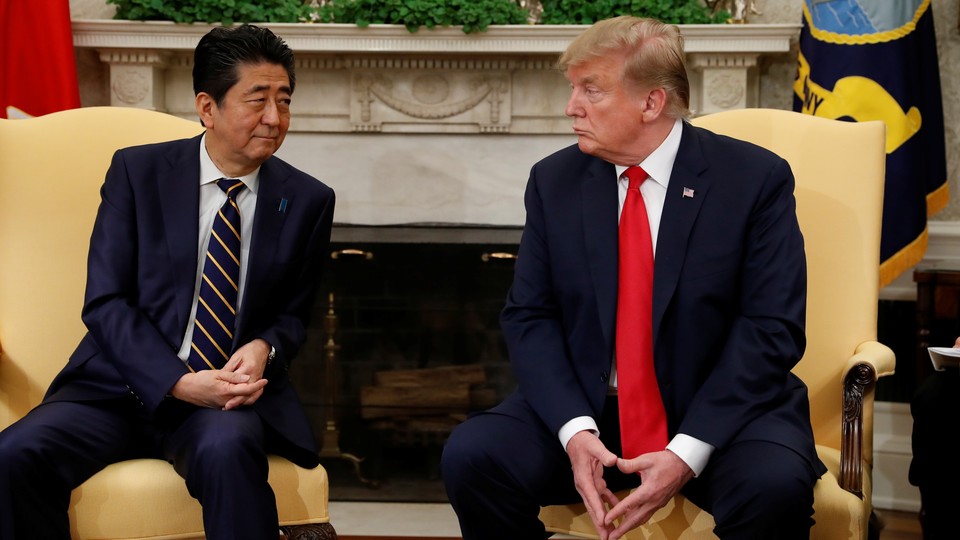 First Donald Trump walked away from a second round of nuclear talks with Kim Jong Un in Vietnam. Now all the traditional powers of northeast Asia—China, Japan, Russia, South Korea—are muscling in to try to assert themselves as more than peripheral actors in this drama.
This week alone, Russian President Vladimir Putin met Kim for the first time in the Russian city of Vladivostok and Japanese Prime Minister Shinzo Abe met Trump at the White House, advocating polar opposite agendas for how to proceed in addressing the North Korean nuclear program.
Neither Putin nor Abe has the clout to single-handedly sway Kim or Trump one way or another, but their renewed involvement points to a new (and yet old) dynamic in the negotiations, which will only further complicate a stalled diplomatic process. As Trump's former national-security adviser H. R. McMaster, liked to say, geopolitics are back with a vengeance.
Perhaps more than any other world leader, Japan's prime minister has sought to advance his nation's interests by nurturing a personal friendship with America's volatile, nationalist, and thoroughly transactional president.
Meeting in the Oval Office on Friday, Trump provided a glimpse into how Abe manages to get through to him. Trump said he wasn't sure about visiting Japan next month to witness the ascension of a new emperor, but was persuaded when the prime minister told him that for the Japanese the event was "100 times bigger" than the Super Bowl.
Abe jetted to New York right after the 2016 election to become the first foreign leader to meet with the president-elect, plied Trump with fancy gold golf clubs and "Make Alliance Even Greater" hats, and wrote what Trump has described as "the most beautiful" letter nominating the president for a Nobel Peace Prize on account of his outreach to North Korea. The Japanese embassy in Washington, D.C., which keeps track of such things, notes that with 29 phone calls and 10 in-person meetings, Trump has met and talked with Abe more times than any other leader. True to form, this week Abe will golf and celebrate Melania Trump's birthday with the president.
Whether this studied, strategic courtship of Trump has proved a wise bet is debatable—not just on trade, where being the president's best friend hasn't insulated Abe from Trump's tariffs and insistence on negotiating a new bilateral trade deal that Japan isn't interested in, but also on North Korea. (In one indication of the unspoken tensions in the leaders' relationship, a Trump-administration official briefing reporters ahead of Abe's arrival spent only four minutes previewing the visit and took no questions.)
The Abe government was the United States' most steadfast partner when the Trump administration was initially focused on pressuring North Korea through international sanctions into negotiating away its nuclear weapons. And for good reason: Kim was regularly test-firing ballistic missiles over and in the waters surrounding Japan, which has lived under the North Korean nuclear threat for years and relies heavily on the U.S. military for its security.
But now that Trump is engaging with Kim (there are also "beautiful letters" from Kim, Trump likes to remind people), Japanese officials have had to repeatedly remind their U.S. counterparts to maintain the pressure on Kim by not relenting on the sanctions regime against North Korea. Trump didn't consult Abe before deciding last year to become the first American president to meet with North Korea's leader, and Japan has struggled to inject itself into the diplomacy ever since. Among the leaders of the countries that engaged in nuclear negotiations with North Korea in the Six-Party Talks of the 2000s—China, Japan, Russia, South Korea, and the United States—Abe is currently the only one to have not met with Kim.
Abe has in the past dismissed nuclear talks as merely a means for North Korea to deceive the world and buy time for developing its weapons program. Now the Japanese government is most concerned about Trump striking a deal with Kim that eliminates the direct nuclear threat to the United States through long-range missiles but leaves Pyongyang with shorter-range missiles that could carry nuclear warheads and other weapons of mass destruction to Japan. (Not to mention neglecting other issues that Tokyo prioritizes and Washington doesn't, such as North Korea's abductions of Japanese citizens in the 1970s and '80s.)
Japanese officials have also opposed the idea, which China, Russia, and South Korea all support, of gradually easing sanctions on North Korea as Kim takes steps to roll back his nuclear program. Japanese Foreign Minister Taro Kono has argued that this "piece by piece" approach doomed the Six-Party Talks.
Officials in Tokyo were likely heartened by Trump's decision in Vietnam to reject an offer by Kim to dismantle his main nuclear facility in exchange for relief from most sanctions, which would have done next to nothing to reduce the threat to Japan. And that summit's collapse has provided an opening for Japanese officials to further make their case in Washington, where Abe has a receptive audience with hard-line administration officials such as National Security Adviser John Bolton.
Offering a glimpse of the message Abe will deliver to Trump, Kono declared during recent consultations in Washington that the U.S. and Japan need to "align" their response when it comes to the complete elimination of all of North Korea's weapons of mass destruction.
In another sign of how the diplomatic landscape has shifted, exactly a year since the leaders of North and South Korea met for the first time at the border between the two countries, Kim headed to Vladivostok to huddle with Putin while South Korea planned celebrations of the anniversary of the inter-Korean summit all on its own.
For the North Korean leader, the Putin meeting was an opportunity to pursue the economic relief he failed to achieve in his summit with Trump. It was also a chance to demonstrate that he is not as isolated as the United States and Japan would like, nor as dependent for support on China—North Korea's only military ally and largest trading partner by far—as Chinese officials might think.
Kim has had a standing invitation since last May to visit Russia, notes Artyom Lukin, an international-relations scholar at the Far Eastern Federal University in Vladivostok. But he only took Putin up on the offer after the Vietnam summit in February, in order to sidestep deadlocked diplomacy with the U.S. and South Korea.
The stakes of the summit were lower for Putin, who was aiming to "symbolically reaffirm Russia's great-power role as a major player on the Korean peninsula," than for Kim, who is in need of something much more vital—an outlet from an international economic blockade, Lukin told me. Putin's "main geopolitical game" is in the Middle East, "where the Kremlin has established itself as a kingmaker and has got real leverage," he said. As part of its "strategic partnership" with China, Russia, which was once North Korea's main patron during the Cold War, "seems to have tacitly recognized that most of East Asia, including the peninsula, is China's sphere of influence," according to Lukin. It is coordinating and aligning its North Korea policies with China's, and "playing the second fiddle to Beijing" in Korean affairs.
Nevertheless, the second fiddle, along with the first, is getting louder these days. The Chinese and Russian proposal for North Korea to halt nuclear and missile tests in exchange for the U.S. and South Korea suspending joint military exercises, which the United States at first rejected as an affront when they proposed it in 2017, is now in effect. It is the only concrete (if fragile) achievement from two summits and a year of diplomacy between Trump and Kim. The status quo, while reducing tensions on the peninsula and keeping North Korea's nuclear-weapons development in check to an extent, also threatens to undermine the U.S. defense alliance with South Korea and American military readiness in the region more broadly.
Amid the fallout from the failed Vietnam summit, Russian and Chinese officials have also been conveying messages from the South Korean government to the North Korean government to not "do anything stupid" such as pulling out of the nuclear talks or testing another missile, according to a senior South Korean official, who spoke on condition of anonymity.
Putin went further during a post-summit press conference this week, outlining his vision for the future of nuclear talks with North Korea. He spoke of a gradual process, defined denuclearization modestly as "North Korea's disarmament to a certain extent," and stressed that North Korea might require security guarantees not just from the U.S. and South Korea but also from Russia and other countries. He expressed openness to relieving economic pressure on North Korea as a means of building "trust" to address nuclear issues. Still, he made no commitment to provide economic assistance to North Korea or to unilaterally relax sanctions.
The comments underscored how the hard-line U.S. and Japanese position on sanctions is at odds with those of other countries in the region. South Korean President Moon Jae-in recently met with Trump to urge more flexibility on sanctions, and the Chinese government seems to share the Kremlin's willingness to consider a phased easing of international sanctions in tandem with progress on North Korean denuclearization.
Putin's remarks were also a reminder that while Russia and Japan couldn't have more divergent views on the way forward with North Korea, they agree on one thing: Kim is highly unlikely to fully give up his nuclear weapons in the foreseeable future. That leads Moscow to push for limiting and reducing North Korea's nuclear weapons rather than aiming for complete denuclearization.
As the Korea scholar and former Russian diplomat Georgy Toloraya observed at a recent conference in Seoul, in regard to criticism of North Korea's piecemeal approach in nuclear negotiations as a salami-slicing strategy, "I don't know why people don't like salami tactics. If salami's tasty, it's eaten to the end. And I've never heard of a case of salami growing back after it's been cut [into] slices." But for now, both the U.S. and Japan clearly disagree.