How to Build Community in an Era of Division
These local groups support individuals and families who are economically vulnerable and socially isolated.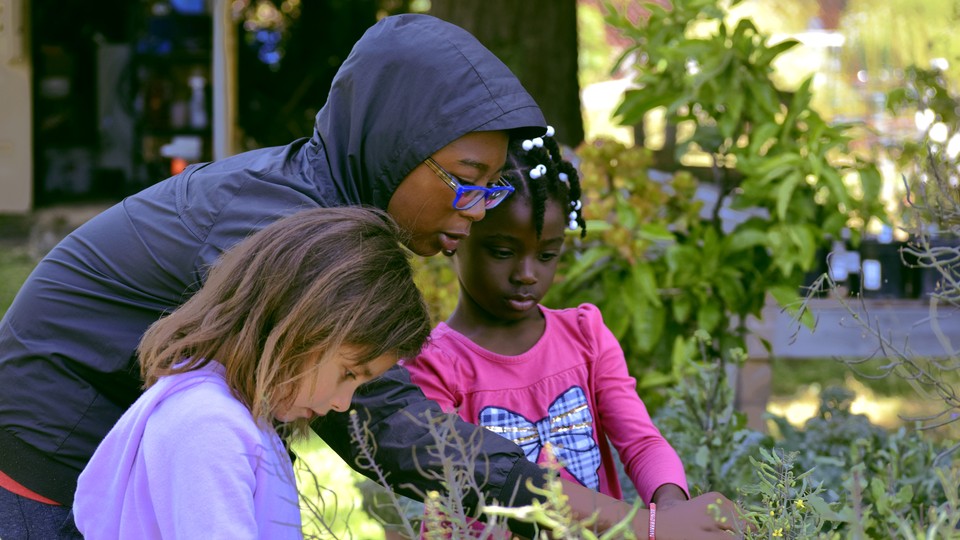 For some of the immigrants who take classes in English and citizenship from Welcoming the Stranger, a nonprofit organization in the Philadelphia suburbs that has served new arrivals from more than 100 countries, the past few years have clouded the sense of welcome they felt when they first came to America.
"A lot of them said they were surprised when they first arrived that America is so diverse and has so many immigrants that nobody really cares if you are an immigrant," says Meg Eubank, the executive director of the 20-year-old group, which operates in Bucks County, Pennsylvania, just outside the city. "But in recent years, with all of this polarization happening, people have now reported that they are worried about speaking out in public because they have an accent, or [that] someone is looking at them and treating them differently because of the way they dress and the way they look."
The heightened political conflict over immigration has created new pressures for the organization and the families it serves. But it has also generated an outpouring of interest from community members eager to support the group's mission of helping new arrivals transition into American life. "We have had so many more volunteers who have signed up to help," Eubank says. "I have so many people who want to teach that I don't have enough placement for them." At a time of intense national division, "people want to step up and do what they can to help," adds Lois Heist, a longtime teacher for the group.
That might be the mantra for all the winners of the fourth annual Renewal Awards, scheduled to be announced Wednesday morning at a ceremony in New York City. The awards, supervised by The Atlantic and sponsored by Allstate, honor grassroots innovators tackling the nation's toughest problems. Each of this year's five winners works to expand opportunity and strengthen connection in communities that remain economically vulnerable and socially isolated, especially in this era of rising racial and political tensions. Evelyn Cantoral, the director of development for Adelante Mujeres, one of the winners, could have been speaking for all the groups when she explained her organization's guiding principle: "We are in it with the community," she says. "We are not about quick fixes, or 'Here is a Band-Aid to patch up this issue.' We really want to get into the trenches with people, find out what they really need, and go for it with them, beside them."
That depth of commitment and breadth of service are defining characteristics of all the 2019 winners:
Welcoming the Stranger provides classes in computer skills, English, and citizenship for immigrants, helping them step into the mainstream of American life.
Adelante Mujeres, in the rural community of Forest Grove, Oregon, provides a comprehensive suite of educational, job-training, and business-development services for Latinas and their daughters, enabling them to assume greater leadership roles in their families, schools, and communities.
The Compton Initiative, working in that small city in southern Los Angeles County, mobilizes 2,000 volunteers four times a year to complete an array of community-beautification and -renewal projects—and in the process builds relationships among neighbors who might otherwise remain distant.
Similar to Adelante Mujeres, New Moms, operating on the West Side of Chicago, offers a range of supports for teenage mothers and their children while also supplying housing and operating a candle business that provides job training and employment.
Acta Non Verba: Youth Urban Farm Project in Oakland, California, teaches young inner-city kids about farming and uses the revenue generated from the crops they grow to fund college-savings accounts for them.
The five winners each received a grant of $40,000 from The Atlantic and Allstate, to be distributed over the next two years. The winners were chosen from more than 9,300 groups nominated by the public. A team of Atlantic researchers and editors narrowed down the selections to 12 finalists. From that list, four general-category winners were selected by a panel of outside judges and through an online-voting process. (Nearly 19,000 people voted in this year's balloting.) Allstate selected a fifth winner for its Youth Empowerment Award, aimed specifically at groups that work with young people; Acta Non Verba won that prize this year.
One striking characteristic shared by this year's winners is that they all offer considerably more services now than when they started, each expanding its operations in response to the needs of the community it serves. New Moms, for instance, launched in 1983 when Ellen Kogstad Thompson, the group's founder, started distributing basic supplies such as baby formula and diapers to homeless young mothers she saw in her Chicago neighborhood. Over time, the group has steadily grown to offer educational and job-training programs, to provide housing for up to 40 young mothers and their children at a time, and to start its own business. More than 70 young women work at its soy-based-candle company, which also offers a steady source of revenue for the organization ($500,000 in the past year).
New Moms partners with employers to find entry-level jobs for its participants and simultaneously provides early education for their children through its daycare programs. "That's what sets us apart," says Laura Zumdahl, the group's president and CEO. "Being able to support parents and children at the same time—that's how you get the ripple effect." After more than three decades, it has built a keen awareness that it's difficult to sustain progress on any single challenge in a family's life without addressing all of them.
"All of the key areas that we support—housing, job trainings, family support—are the aspects of a life a family needs to have stability … to succeed long-term," says Jenna Hania, the group's director of communications and development. "Without housing," for example, "you cannot really focus on much else. If a parent isn't understanding the development of their child, and isn't able to make educated decisions, that's going to have an intense long-term impact. And the same with not becoming economically independent."
Adelante Mujeres has expanded through a similar process. It launched in 2002 with the goal of serving a Latino community that first emerged around Forest Grove in the 1960s to work on nearby farms, but grew over the following decades to fill service, construction, and landscaping jobs as the area added population and development. At first, the group focused on educational classes to help Latina mothers learn English, study for their high-school-equivalency diploma, and develop emotional skills for coping with challenges. The innovative program featured instruction for five hours a day, five days a week, each school day while offering preschool instruction for younger children at the same time.
That two-generation approach helped some of the mothers overcome hesitation that had discouraged them from pursuing their own education. "Some of that was the obstacles on the outside, but [it was] also their own internal obstacles in terms of internalized sexism and [thinking that] their place really is in the home and [that] they are being selfish if they are not dedicating themselves fully to their children and their husbands or their partners," says Bridget Cooke, the group's executive director.
From that initial offering, the group kept iterating: First, it added parenting classes with the participants' spouses or partners. Discussions there revealed that many of the families were hoping to start their own business, prompting Adelante to offer a course in small-business development. When mothers pleased by the preschool program asked for comparable help for their older daughters, Adelante in 2008 created its Chicas program, a weekly after-school session that now serves 630 young women and girls in 23 schools and has a 100 percent graduation rate among its high-school seniors.
The Compton Initiative has also grown steadily from modest beginnings. Its roots extend to the 1980s, when the Emmanuel Reformed Church in neighboring Paramount, California, organized a volunteer-led community-beautification effort to combat blight and crime. In 2006, the leaders of that program reached out to volunteers in Compton, which faced similar endemic challenges, complicated by a rapid demographic shift that ignited tensions between the long-standing African American community there and newly arriving Latinos.
The Compton Initiative's key insight is that restoring a community physically can reconnect it socially. Working with more than two dozen partners—churches, schools, and service organizations—it mobilizes 2,000 volunteers four times a year to undertake about 40 beautification projects across Compton on a single day, from repainting schools to repairing houses. The concentrated outpouring of work from the volunteers has the immediate benefit of rejuvenating buildings and city blocks. But the deeper benefit is strengthening community bonds. "It unifies the block to come out on a volunteer day to meet each other, to build ownership in the community," says Jeudy Mom, the group's director. "If you know your neighbor, if you come out and clean with each other four times a year, it gives you that time to build up camaraderie."
When it was founded in 1999 by a Presbyterian minister, S. Sturgis Poorman Jr., Welcoming the Stranger was a simple English-language class for eight students. Later, the organization added classes in citizenship (for those who wanted to pursue naturalization) and computer skills. Now the group offers 20 different classes three times a year and serves about 300 immigrants at a time, drawn broadly from Eastern Europe and Russia, South America and Asia, as well as some Middle Eastern refugees.
Welcoming the Stranger also organizes workshops on job hunting and helps its students connect with other local services, from community colleges to housing assistance. And like this year's other Renewal winners, it encourages its participants to build community—in this case, through book clubs or coffee-time gatherings outside class. Its ultimate goal is to equip students with the renewed confidence and skills (particularly in mastering English) that will allow them to fully participate in American life. "I've had so many students tell me that [when they first arrived] they felt completely lost," Eubank says. "They felt like a shell of themselves. They were in there, but they can't communicate it—they can't show what they can do. To really feel like you're a part of America, you need to regain your sense of worth and feel like a person again."
Acta Non Verba (Latin for "Deeds, not words") seeks to open opportunities for another isolated group: mostly African American and Latino children in east Oakland. Though just miles from the propulsive economies of San Francisco and Silicon Valley, the children Acta Non Verba serves live in neighborhoods of highly concentrated poverty, with elevated crime rates and little access to fresh food. In 2010, Kelly Carlisle, who had lived in Oakland as a young girl and then returned after spending time in the military and working in corporate jobs in San Diego and Berkeley, had the idea of establishing an urban farm that would simultaneously teach children about agriculture and generate revenue to fund college-savings accounts for them. "In many communities like ours," she says, "agriculture isn't seen as a viable option for a career, for a job, even for hobby farming. For me, that seemed as detrimental as the digital divide, as detrimental as not having access to computers and technology. Not knowing where your food comes from, or the labor it takes to get the food to your plate, seemed as unequal as anything else."
Carlisle won approval from the Oakland city government to operate in a local park and planted her first crop in 2011. Now she trains dozens of mostly elementary-school-age children in the basics of farming through after-school and weekend programs, along with sessions held during school breaks. The group has grown from its small initial patch to add a larger farm in west Oakland, and it recently partnered with the Oakland Athletics baseball team to create a new site at its stadium. Every dollar ANV generates from the sale of its produce is deposited into college funds for the children who help grow it. Operating in a neighborhood that Carlisle says meets the textbook definition of a food desert, the group is "changing the way that folks see produce," she notes. "It's interesting to have folks say, 'I never knew that cauliflower grew like that.' Or 'Those look like real jalapeños.' Well, they are real jalapeños!"
All of this year's Renewal Award winners are operating in the economic and political breaches that have widened in American society over recent years. All are serving groups that either have been mostly bypassed by the past decade of economic growth or have become targets in political debate, or both. And all share the belief that personal connection is the best way to dismantle the walls that are rising between different groups of Americans.
Eubank, from Welcoming the Stranger, says she wishes that the nation's leaders could see the way people from utterly divergent backgrounds interact in her group's programs every day. "You throw people from all these different countries into a room together—I've had instances where we have people from countries that are in active wars against each other," she says. "If somebody could take our classrooms and show the world leaders how this could be done … You see people from all over the world who are listening to each other, they respect each other. And then you have people who end up becoming good friends, or almost like family."