The White House Still Can't Get the President's Tweeting Under Control
His tweetstorm over the past 72 hours suggests that voters can expect many more Twitter tirades as legal and political pressures mount.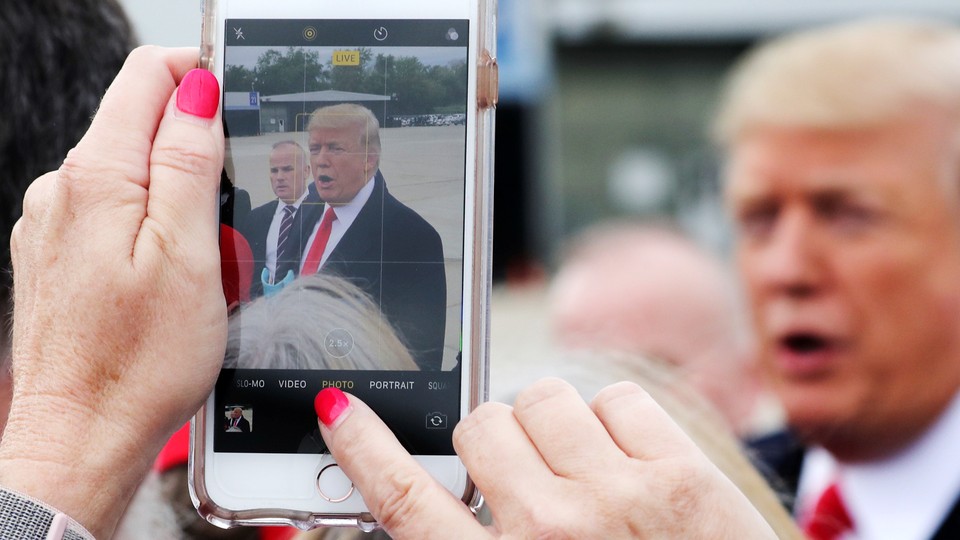 Long before he got into politics, Donald Trump relished the power and reach of his Twitter feed. And not long after he took office, aides recognized the damage that unvetted tweets could inflict, with the president using them to set policy, settle scores, and steer the national conversation.
Worried about misfires, aides have implored him to use social media more sparingly. At times, they've given Trump menus of pre-vetted tweets from which to choose. And they've held what some describe as interventions in the White House residence, with friends and family encouraging him to stop tweeting and praising him on days he's shown restraint.
The push and pull has played out behind the scenes for the past two years. But if the past 72 hours have shown anything, it's that staff still haven't figured out how to corral his social-media habit, and that as legal and political pressures mount, Trump is likely to turn more to Twitter to vent displeasure and discredit foes.
On Friday, Trump sent out a tweet similar to one any of his predecessors might have written: a note expressing sorrow over the gun massacre at a pair of mosques in New Zealand. He offered his "warmest sympathy" while pledging America's unstinting support for a grieving ally. "God bless all!" he concluded.
But that spirit soon faded. Through the weekend and spilling into Monday, Trump spooled out dozens of tweets that amounted to a dark catalog of grievances and frustrations that preoccupy him midway through his term, with the results of the Russia probe looming. Pausing to attend a church service Sunday near the White House, he took seemingly gratuitous swipes at longtime Senator John McCain of Arizona, who died of cancer seven months ago. He suggested that federal agencies led by his political appointees should examine NBC's Saturday Night Live, a comedy show that has satirized politicians for decades. He touted his poll numbers, skewered anchors at Fox News, disparaged Special Counsel Robert Mueller's inquiry, and denounced former and possibly future campaign rivals. Hillary Clinton, he wrote, is "Crooked Hillary"; former Vice President Joe Biden, a "low I.Q. individual."
One of the president's outside confidants on Monday likened the tweetstorm to Trump's free-wheeling speech earlier this month at the Conservative Political Action Conference. That's no accident, said this person, who, like other Trump associates I talked with, spoke on the condition of anonymity to discuss private conversations. Inside Trump's 2020 campaign, two factions are emerging. One wants Trump to act "presidential" and deploy the formal trappings of the White House to his advantage. The other camp wants Trump to reprise the unscripted approach he used to secure his 2016 election victory. That's the political persona Trump intuitively embraces—and it's the one voters are most likely to see going into the next election, this person said.
Many of Trump's tweets came with no clarifying context or connecting thread. It's easy for a reader to get lost—or to at least pine for some sort of annotated guide. When Trump tweeted Sunday morning, for example, that the Democrats had tried to "steal" the 2016 presidential race through an "Insurance Policy," he was apparently referencing a text-message exchange between FBI officials who privately expressed opposition to his election.
In one instance, Trump risked undercutting the consoling message he delivered after the mosque killings. Again focused on Fox News' lineup, the president called for the network to "bring back" Jeanine Pirro, whose show did not air on Saturday after she faced criticism for alleging that Representative Ilhan Omar's "adherence to … Islamic doctrine" might conflict with the Constitution.
As Trump and his staff have sparred over his Twitter practices, the president has contended that they're part of an authentic image. But some aides have worried that his tweets are a form of self-sabotage. In his book Fear, the journalist Bob Woodward described a scene in the Oval Office in 2017 after Trump tweeted that the Morning Joe co-host Mika Brzezinski had been "bleeding badly from a face-lift" when he saw her at his Mar-a-Lago estate. "I know what you are going to say," Trump told then–Chief of Staff Reince Priebus, according to Woodward's reporting. "It's not presidential. And guess what? I know it. But I had to do it anyway."
The president has shown little indication that his instincts have changed. Amid record-setting staff churn, Trump is more and more untethered to the conventions and norms that past presidents have observed, and he has steadily purged the senior officials with the stature to tell him hard truths. John Kelly, a retired Marine Corps general, came in as chief of staff in 2017 with a mandate to bring more discipline to White House operations. But Kelly's clout eroded as Trump made plain that he didn't want a gatekeeper. In December, Kelly was replaced by the budget chief, Mick Mulvaney. But Mulvaney is serving in an acting capacity, meaning he is still auditioning for the permanent job and might be less empowered to tell Trump he's wrong.
Asked about the president's weekend flurry of tweets, Trump advisers said he is acting partly out of frustration, lashing out at a Russia investigation he sees as illegitimate. In one tweet on Sunday, Trump blamed McCain for giving the FBI a "dossier" compiled by the British former spy Christopher Steele alleging ties between the Trump campaign and Russia. "He & the Dems, working together, failed (as usual)," Trump tweeted. (That got the attention of McCain's daughter Meghan, who said Monday: "He spends his weekend obsessing over great men because he knows it, and I know it, and all of you know it—he will never be a great man.") Taking an optimistic view, one former White House official told me Monday that Trump's tweets have by now lost their power to shock—and that voters in the 2020 presidential race won't be swayed by what Trump chooses to tweet.
"Is a single person in the universe going to vote against Trump now because he sent out a tweet about Judge Jeanine?" the former official asked. "We know the answer to that question is likely no." Put another way, as another person close to the president said: "This is who he is."