The Senate Could Embarrass Trump Over His National Emergency
A sufficient number of Republicans are poised to band with the Democrats in opposition to the president's border-wall funding.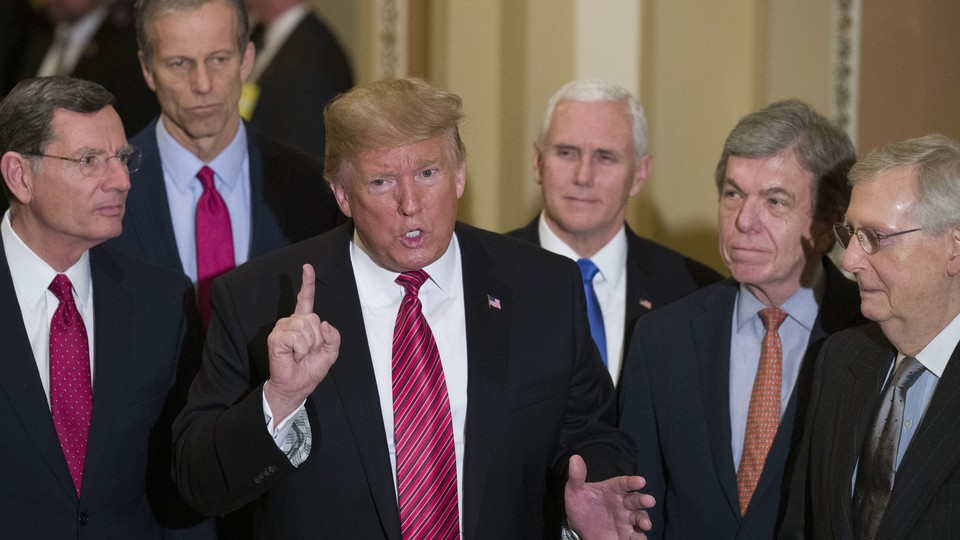 Real power is fear. So said Donald Trump in the thick of the 2016 presidential race.
He's carried the dictum into the White House. Since taking office, President Trump has used fear as a cudgel both to cow top administration officials and intimidate Republican lawmakers loath to see him endorse an opponent in party primaries. To date, he has largely succeeded. Crossing Trump risks alienating a Republican base beholden to him alone. By one count, 35 of the 37 Republican candidates Trump endorsed won their midterm-election primaries.
In light of Trump's grip on the party rank and file, the spectacle unfolding in the Republican-controlled Senate this week is all the more surprising. A sufficient number of Republican senators are poised to break with Trump, and band with the Democrats, to defy the president on policy. And not just any policy, but one that was the centerpiece of his campaign: building a border wall.
On Thursday, the Senate is slated to vote on a resolution—already passed by the House—rejecting the national-emergency declaration that Trump invoked last month to tap billions of federal dollars for wall construction. Republican defections could number anywhere from a handful to the upper teens, White House officials estimate. So far, the GOP senators who have publicly come out in favor of the resolution include Rand Paul of Kentucky, Susan Collins of Maine, Lisa Murkowski of Alaska, and Thom Tillis of North Carolina.
Resigned to the reality that the measure could very well pass, the White House has kept its lobbying muted. Vice President Mike Pence met with a few GOP senators in the Capitol this week. But one lawmaker in the room, who requested anonymity to discuss private conversations, said Pence was mostly listening to their concerns and seeing whether he could sway enough votes to spare Trump an embarrassing rebuke from his own party.
"This is not all hands on deck, pedal to the metal," said one White House official, who similarly did not want to be named. Rather, the goal is "reminding our friends and foes alike what our thought process is here. People can vote their will."
The White House has been quietly making a case to lawmakers that Trump's national emergency is not an end run around Congress's constitutional spending powers, as some lawmakers have alleged. White House talking points sent to Capitol Hill and reviewed by The Atlantic assert that "the President acted well within his discretion in declaring a national emergency at the southern border." They go on to mention that former Presidents Bill Clinton, Barack Obama, and George W. Bush all invoked national emergencies at various points to address crises as varied as the swine flu and political unrest in Cote d'Ivoire. "President Trump's declaration of a national emergency concerning the southern border is fully in keeping with these precedents," the paper reads.
But for some of the lawmakers Trump needs in his corner, that argument falls flat. Republican Senator Roy Blunt of Missouri told me, "Previous emergencies have generally been well within the definition of an emergency. But here's a case where the president has actually asked the Congress to do something, and Congress has chosen not to do it—and the president said he's going to do it anyway."
As senators consider their options—including legislation to rein in a president's power to govern through national emergencies—they say they've heard little from Trump directly. Unlike in past fights, lawmakers haven't been parading into the White House for bouts of televised arm-twisting. White House officials explain that Trump would gain no advantage by investing in a losing effort to defeat the resolution. In any case, Congress isn't the real threat; the bigger danger comes from the courts. Lawsuits filed by blue states and other opponents are likely to at least delay Trump's plans, if not scuttle them altogether.
Speaking to reporters on Wednesday, Trump affirmed he hasn't especially pressured Republicans to vote to uphold his emergency declaration.
"Nobody's beaten up," he said, though he added it would be a "bad thing" to vote to strike it down, according to a White House press-pool report.
Trump met in the afternoon with a group of Republican senators, though the main topic was trade, a White House official said.
And at some level, the Senate vote is primarily symbolic, a chance for at least some crop of Republicans to stand up for the congressional prerogatives laid out in Article I of the Constitution. Should the resolution pass, Trump plans to veto it, and any attempt to override the veto would almost certainly fall short of the two-thirds majority necessary for it to pass.
"It's a foregone conclusion," Senator Rob Portman of Ohio told me. "His veto will be sustained in the House. So in a way, it's an academic exercise in terms of the final result. The question is: Can we make a statement in this process about the proper role of the executive branch and the legislative branch?"
Still, if the Senate Republican vote isn't an act of pure courage, it's not nothing, either. Polling shows that the Republican base likes Trump's move. A Wall Street Journal/NBC News poll last month found that 76 percent of Republicans approved of the national-emergency declaration, compared with only 22 percent who disapproved.
That so many Republicans are considering breaking ranks suggests some might be envisioning a post-Trump world. In interviews, lawmakers openly worried about a future Democratic president invoking the same national-emergency powers to usher in polices anathema to conservatives—perhaps the Green New Deal, championed by freshman Representative Alexandria Ocasio-Cortez of New York. "It does create a troubling precedent," Portman said.
It's too early to say whether the dustup over Trump's emergency declaration might embolden Republicans on Capitol Hill to chart a more independent path. But some Republican analysts argue that the political terrain is shifting. Trump is awash in investigations examining his campaign, inaugural committee, business dealings, and official actions.
The 2020 campaign season has already begun, meaning more lawmakers might be calibrating the extent to which they want to yoke themselves to Trump. "Some of the people up for election are wondering whether just blind loyalty to President Trump's whims might put them in jeopardy," says Craig Fuller, a former chief of staff to then–Vice President George H. W. Bush. In other words, the fear they felt even last year might be dissipating—and with it, the power Trump holds over the GOP caucus.