The Covington Catholic Case Could Turn on 'Actual Malice'
A high-school student's $250 million defamation suit against The Washington Post is an object lesson in the perils of social media.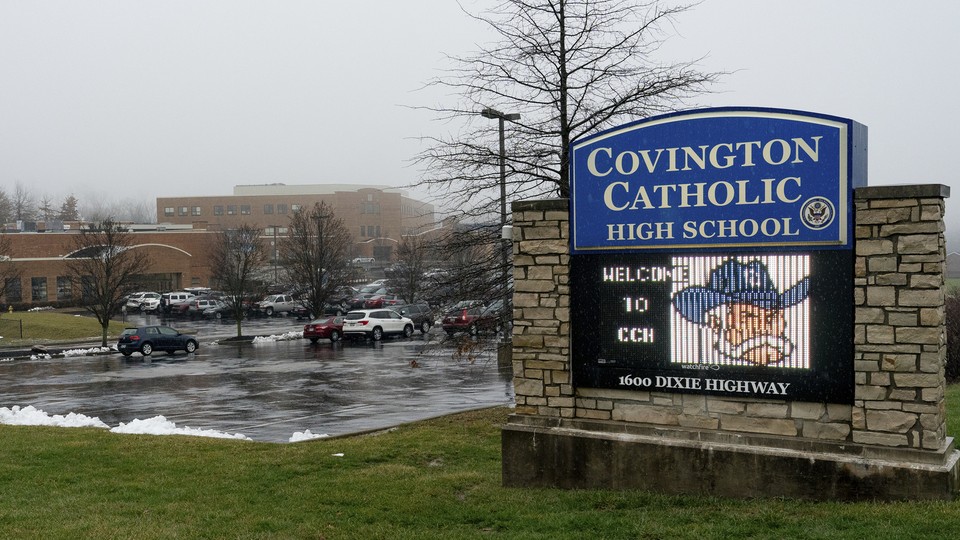 Nicholas Sandmann was an ordinary 16-year-old student at Covington Catholic High School, a school for boys in northern Kentucky, when he found himself standing at the foot of the Lincoln Memorial on January 18. He was wearing a red Make America Great Again hat that he'd purchased as a souvenir, and standing face to face with a Native American protester named Nathan Phillips. Sandmann smiled at Phillips, who was beating a drum.
Sandmann is now suing The Washington Post for $250 million in damages in the wake of a furious national debate over alleged anti–Donald Trump media bias that quickly became an object lesson in the perils of social media and the limits of objective truth without independent, on-the-ground reporting.
Sandmann's suit claims that the Post's linking to a viral video of him and Phillips, and its focus on his MaGA hat and a "relentless smirk," were "negligent, reckless, and malicious attacks … which caused permanent damage to [Sandmann's] life and reputation."
To win his lawsuit, Sandmann must demonstrate that what was written about him was false. He will face what Kristine Coratti Kelly, a spokesperson for the Post, told me would be "a vigorous defense." The newspaper has not yet filed a response to the suit, but it published an editor's note on March 1 saying that its first story has been contradicted by subsequent reporting.
Sandmann's case may turn on whether the "actual malice" standard established by the landmark 1964 case New York Times v. Sullivan applies. The key question here for a judge to decide could be whether Sandmann is considered a public figure, with a much higher burden of proof, or a private one—just another high-school student who, through no fault of his own, found himself in a maelstrom. The experts are divided over how that's likely to be decided.
After the Post and other major news organizations linked to the first video and began reporting on the episode, a narrative soon emerged in which Sandmann and his Covington Catholic classmates were depicted as menacing Phillips and making racist taunts.
The Post reported on its website and in the newspaper on a "tense scene" near the Lincoln Memorial, and noted that Phillips said in an interview that he had felt "threatened by the teens and that they suddenly swarmed around him."
Surrounding Phillips, the Post reported, describing the video images, "are a throng of young, mostly white teenage boys, several wearing 'Make America Great Again' caps, with one who stood about a foot from the drummer's face also wearing a relentless smirk."
The Post did not identify Sandmann by name in its initial report. In its editor's note last week, the Post said, "Subsequent reporting, a student's statement and additional video allow for a more complete assessment of what occurred, either contradicting or failing to confirm accounts provided in that story—including that Native American activist Nathan Phillips was prevented by one student from moving on, that his group had been taunted by the students in the lead-up to the encounter, and that the students were trying to instigate a conflict." The Post's statement also linked to a third-party-investigation report commissioned by the Diocese of Covington and Covington Catholic High School, which the diocese says "exonerate[s] our students."
Whatever story line could be taken from the first viral video was blurred by many others that soon emerged, and by the time they had all been viewed and weighed and scrutinized, a different and more complex narrative existed. "As of this writing, it seems that smiling boy, Nick Sandmann, is the one person who tried to be respectful of Phillips and who encouraged the other boys to do the same," Caitlin Flanagan wrote for The Atlantic five days after the encounter, having watched every video she could find of the moment. "And for this, he has been by far the most harshly treated of any of the people involved in the afternoon's mess at the Lincoln Memorial."
The scene at the Lincoln Memorial that Friday in mid-January was a complicated clash comprising various individuals and groups. In addition to the Native American activists and the Covington Catholic students, a third group was also present, the Black Hebrew Israelites, a sect that believes it is descended from the 12 tribes of Israel. The Israelites posted their own video from that afternoon that lasts an hour and 45 minutes. In this rendering, it is the Black Hebrew Israelites who hurl racial taunts at the Native Americans. The Covington students seemed to have been caught between the two, having gathered to see what was going on as they waited for their bus.
As Ian Bogost, another Atlantic writer, concluded in a deft analysis of the limitations of online videos: "It's tempting to think that the short video at the Lincoln Memorial shows the truth, and then that the longer video revises or corrects that truth. But the truth on film is more complicated: Video can capture narratives that people take as truths, offering evidence that feels incontrovertible."
New York Times v. Sullivan resulted from an advertisement published in the Times aimed at defending the actions of Martin Luther King Jr. The advertisement levied claims—some inaccurate—against the police force in Montgomery, Alabama, and in response, Montgomery Public Safety Commissioner L. B. Sullivan sued the Times for defamation. The Supreme Court unanimously found in favor of the Times, establishing that defamation against public officials (such as Sullivan) must meet the actual-malice standard: publication of information with "knowledge that it was false or with reckless disregard of whether it was false or not."
Sandmann is not a public figure like a politician or a traditional celebrity, but he could be deemed a limited-purpose public figure, a legal distinction for people who have "thrust themselves to the forefront of particular controversies in order to influence the resolution of the issues involved." Or Sandmann could be considered an involuntary public figure who has been thrust into the public spotlight against his will. This can apply to anyone at the center of a public controversy despite whether or not that person willed it.
If Sandmann is determined to be a public figure of any classification, he will need to demonstrate not only that the Post published false statements with negligence, but that it acted with "reckless disregard" for the truth as outlined in New York Times v. Sullivan. "He's a private figure, not a public one," says Lata Nott, the executive director of the Freedom Forum Institute's First Amendment Center, "so he only needs to prove that The Washington Post published the story negligently, meaning that it didn't do everything reasonably necessary to determine whether the story was true or false."
Sandmann's lawyer agrees. "Prior to the incident in question and before the publication of the false accusations against him, Nicholas had zero notoriety within society generally and had not purposely thrust himself into the forefront of a pre-existing public controversy in an effort to influence the outcome of the controversy," L. Lin Wood told me in an email. "Therefore, Nicholas is neither a general purpose public figure nor a limited purpose public figure."
But on this point, there is no unanimity. "Sandmann was a private individual before the recording," conceded William Youmans, a media-law professor at George Washington University's School of Media and Public Affairs. "What the Post will argue is that once the video got out and went viral, he became an involuntary public figure at the center of a news story. The Post only picked up on the story because it was getting wide social-media attention. In other cases, unknown individuals became involuntary public figures just for being at the center of viral social-media content. The children of celebrities can also be public figures. If he is deemed an involuntary public figure because of what he did in front of the camera, his case will be harder to win."
Frank LoMonte, the director of the Brechner Center for Freedom of Information at the University Florida, agrees that the case hinges on this determination. "It's always a perilous gamble to predict whether someone will or will not be deemed a public figure when they had no prior public profile, but if I had to bet, I would say that once your behavior at a public event like a protest becomes a matter of intense national public attention and scrutiny, you probably are a limited-purpose public figure for the purposes of covering that behavior," LoMonte told me.
"If the court rules that Sandmann is a public or limited-purpose public figure, do you think the Post's actions still meet the legal burden for defamation: reckless disregard?" I asked Wood, Sandmann's lawyer.
He responded with a simple "Yes." It's an important answer, because if Sandmann's team wants to win any of the $200 million requested in punitive damages (beyond the $50 million in compensatory damages), they will actually have to meet this higher standard—actual malice—regardless of the public-private–figure determination.
Wood, an Atlanta-based lawyer once dubbed the "attorney for the damned" by the former CBS anchor Dan Rather, rose to national prominence by representing Richard Jewell, the security guard falsely accused of bombing the Atlanta Olympic Games in 1996. He has also represented the former presidential candidate Herman Cain, the family of JonBenét Ramsey, and, recently, a British cave diver whom Tesla CEO Elon Musk called a pedophile on Twitter.
I asked Wood why this case is different. "Nicholas is a private figure plaintiff," he responded. "Thus, Nicholas can prevail in his lawsuit by proof that the Post negligently published defamatory accusations which caused injury to his reputation and caused him to suffer emotional distress. Furthermore, and importantly, Nicholas is minor child. We also contend that journalistic standards required that the media exercise a heightened duty of care to investigate before publishing damning accusations against a child."
Sandmann's complaint, filed in the U.S. District Court for the Eastern District of Kentucky, alleges that The Washington Post is at fault for publishing false and defamatory statements about Sandmann and his interaction with Phillips, the Native American protester.
Beyond reporting, the complaint also says that the Post is responsible for "making the 2020fight Video go viral," a bold claim that might be difficult to prove in court. Nott, from the Freedom Forum, doubts whether the Post would be found liable for linking to the viral video. "It's my understanding that you can't be liable for retweeting something if you're not the original publisher and you didn't add anything defamatory," she told me.
Sandmann's lawyers assert that "the Post did not conduct a proper investigation before publishing its false and defamatory statements of and concerning Nicholas … its unreasonable investigation did not take long, and contrary information did not stop it from publishing its first story in its Sunday newspaper the next day."
The complaint says that the Post's motives were "political." "The Post ignored basic journalist standards because it wanted to advance its well-known and easily documented, biased agenda against President Donald J. Trump … by impugning individuals perceived to be supporters of the President," it says.
Wood thinks that anti-Trump bias plays a pertinent role in the case he's making. "Here, I believe the evidence will support a finding that the Post and many other members of the mainstream and social media mob rushed to attack, vilify and threaten Nicholas because they harbor an anti-Trump agenda and Nicholas was wearing a Make America Great Again cap which he had purchased that day as a souvenir," Wood said in an email.
A few other legal matters might complicate Sandmann's case against the Post.
Sandmann's lawyers are claiming defamation per se, a legal determination in which a defamatory charge is "so inherently defamatory that you don't even need to prove that it damaged your reputation," Nott explained to me. "But I'm not sure if The Washington Post stories really qualify, since defamation per se usually applies to statements that someone has committed a crime, or incest, or has a 'loathsome disease' like leprosy. But I'd need to dive deeper into Kentucky law to be sure of that."
Wood thinks it's obvious that Sandmann's situation clears this bar. "Kentucky law defines libel per se as defamatory statements that tend to expose the plaintiff to public hatred, ridicule, contempt or disgrace, or to induce an evil opinion of him in the minds of right thinking people," he told me. "I think that description says it all."
Nott also pointed out that "in order for Sandmann to prevail in his libel suit against The Washington Post, he has to establish that The Washington Post published false statements of fact, not opinion, that damaged his reputation … The Washington Post could potentially argue that the statements the complaint refers to are matters of opinion, not fact—like whether or not Sandmann was smirking, whether the situation was getting ugly, etc. It could also argue that it did take reasonable care to verify the story before publishing it, and outline whatever steps it took to do so."
Wood parried at this assertion. "Contrary to public perception, the United States Supreme Court has clearly recognized that there is no wholesale First Amendment protection for opinion," he said. "The Post will not find shelter under the controlling Supreme Court standards on opinion enunciated in Milkovich v. Lorrain Journal Co. [sic] wherein … if the 'opinion' is based on undisclosed facts or is based on false facts, the statement is actionable. The Post's damning accusations against Nicholas were based upon false facts which would have been known to be false by the Post prior to publication if it had conducted even a cursory review of readily available information. Under the law, the talebearer is as liable as the talemaker."
He has also made it clear that he plans to sue multiple news organizations, saying last month that he had sent letters to more than 50 publishers and individuals (including The Atlantic) demanding that they preserve all documents relating to their statements and reporting regarding Sandmann and his classmates.
When asked which other news outlets he planned to sue, Wood said, "We are still formulating our [precise] plans regarding complaints against other media entities so I cannot state with certainty the order of the filings. I can tell you that at the present time, our team is carefully analyzing the coverage of CNN, Associated Press and NBC/MSNBC."
In a recent interview on Fox News, Sean Hannity asked Wood if there were "hundreds, thousands of potential lawsuits here?"
"Certainly hundreds," Wood said. "The good news is that we have two and a half years to identify and file lawsuits against the wrongdoers because he is a minor. Nick will turn 18 in July of 2020. We've got two and a half years. We've got a lot of work to do, because the social-media and mainstream mob of bullies was extremely large in number. And they were very vocal."
What impact the Post's editor's note might have on the litigation was also a matter of debate. Wood said it was simply "too little, too late" in a statement to Fox News this weekend.
Kelly, the Post spokesperson, made it clear to me in an email on Sunday that the newspaper does not consider its editor's note a correction. "While we do not accept the characterizations and contentions regarding our reporting of the incident at the Lincoln Memorial, we have taken steps to address the concerns expressed to us," Kelly said. "The full story did not emerge all at once and throughout our coverage, we sought to produce accurate reports. Even the comments of the school and church officials changed, and the Post provided ongoing coverage of the conflicting versions of this event and its aftermath, giving prominent attention to the student's account and the investigative findings supporting it. We thus have provided a fair and accurate historical record of how this incident unfolded."
LoMonte, from the University of Florida, said that Kentucky is one of the states that allows publishers to mitigate damages through corrections, but that "what the Post has published is not a complete retraction, and I'm not sure whether it rises to the level of a correction. It doesn't explicitly say, 'We were wrong about certain facts.' It just says that those facts have been contradicted or can't be confirmed."
Nott said the editor's note "doesn't seem like an attempt by The Washington Post to mitigate defamation damages. It seems like a statement that they didn't engage in defamation at all."
Youmans, from George Washington, said the statement was "carefully crafted to avoid surrendering ground to Sandmann's lawyers."
"It makes the case that inaccuracies in initial reporting were worked out over a series of articles," he said, "hinting at possible defenses and demonstrating the absence of actual malice."