The Democrat Who Wants to Stop the Rage
Senator Michael Bennet of Colorado is quietly and seriously thinking about a run for president.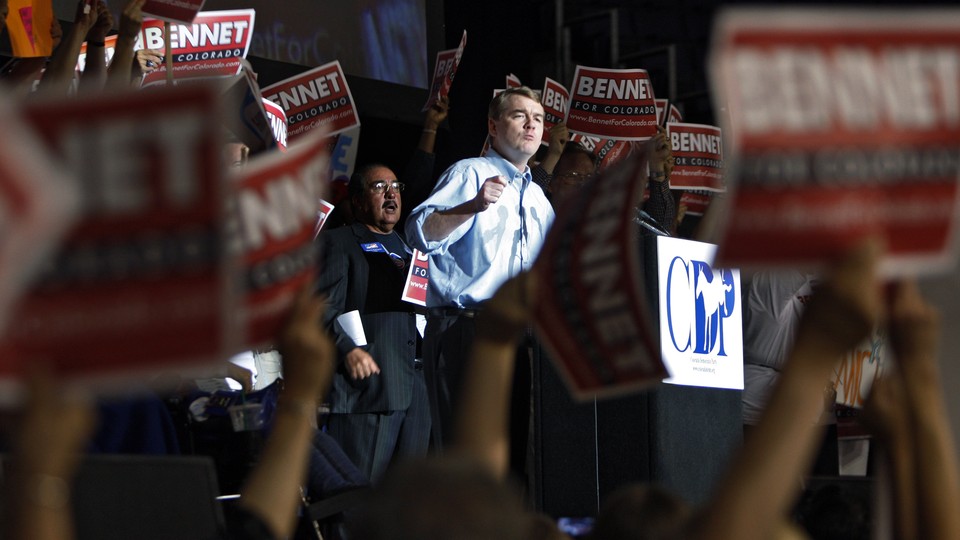 POLK CITY, Iowa—Sitting under a framed ticket from an old Obama town-hall meeting, down in the basement of a farmhouse surrounded by snowy fields of corn and soybeans, I tell Michael Bennet that an Iowa Democrat who'd come to hear him speak compared him to pea soup. Good pea soup, hearty. But still pea soup, in a 2020 primary field that has sizzling fajitas and cake on the table.
Some politicians might have been insulted. Bennet smiles. "There's something to that," he says.
The Colorado senator was here on the last stop of his tour through the northeast part of the state, feeling good about what he heard and what he saw. What began two months ago as a vague notion about running for president had become a long and deliberate thought process. And now, after two and a half days on the ground, he was closer to getting in the race than when he landed.
Bennet's not interested in an argument about progressives versus moderates, though he warns that Democrats shouldn't make it easy for Donald Trump to write them off as socialists (he jumped up and applauded when the president said "America will never be a socialist country" in his State of the Union address, realizing only later that Bernie Sanders was right behind him, scowling in his seat). To Bennet, the presidential race should be about taking stock of what's become of politics in the past 10 or 15 years and thinking about how to actually move forward, in a way that won't just destroy the country even more.
People are tired of the rage Olympics, he believes, and they know in their gut that this approach is not working. He thinks they want something else."If you promise people that you are going to give everybody in America Medicare, that you are not going to have to raise taxes, that you're not going to have to cut health care massively, that 180 million people, 80 percent of whom like their insurance, are going to be willing to give it up, 20 million …" Bennet says, trailing off. "It is possible to write policy proposals that have no basis in reality, and you might as well call them candy. That's what people want, as the song said, but I think that's not where people are. I don't think people believe that stuff. I think they want to see a serious approach to politics and a serious approach to policy."
The noisiest voices in the party want Medicare for all and a Green New Deal. They want to answer Mitch McConnell's Merrick Garland blockade by packing the Supreme Court and getting rid of the filibuster entirely. Learn the lessons of dealing with Republicans in modern politics, they say to other Democrats. Stop showing up to gunfights waving copies of Robert's Rules of Order. That's the way, they say, to ensure that Democrats keep losing even when they win.
No, Bennet says. Nooooo, he would scream, if he were the kind of guy who screamed, aside from the time he did scream and briefly became a viral sensation in January for tearing into Ted Cruz for 20 minutes on the Senate floor. He couldn't stomach the Texas senator's sanctimoniousness about how shutdowns were horrible when he himself had been the ringleader of the shutdown in 2013.
Bennet is on edge. He has been warning of the destruction of democracy for years. He thinks he's more Cassandra than the boy who cried wolf, as he points out when I remind him that in October 2017, he warned that Trump's decision to cancel the protections for Dreamers needed to be fixed immediately. It hasn't been. "These issues are tearing at the heart of who we are," he says.
While there are a lot of senators spending time in Iowa these days, there is no one in the Senate who quite has Bennet's background. When he was appointed to the Senate in 2009, filling the seat of the man Obama picked as interior secretary, he was the superintendent of the Denver school system. He had been the chief of staff at city hall before that, but he'd never run for office himself.
The son of Mayflower descendants on his father's side and Holocaust survivors on his mother's, Bennet grew up going to prep school in Washington, D.C., where his father, Douglas J. Bennet, served as an assistant to Vice President Hubert Humphrey, an aide to Senator Thomas F. Eagleton, and the staff director of the Senate Budget Committee, before becoming president of National Public Radio in 1983 and president of Wesleyan University in 1995. The senator moved to Colorado after law school to follow his wife, a natural-resources lawyer (who enthusiastically joined him for the Iowa swing). His brother, James, is a former editor in chief of The Atlantic and the current editorial-page editor of The New York Times.
Since his appointment to the Senate, Bennet has run in two elections, in 2010 and 2016, but he was so turned off by what he found in the Senate when he arrived that he almost didn't even try to stick around.
He did persevere, and he has earned fans in government and the political intelligentsia. Few people take the job as senator as seriously, they'll say, and no one in Congress puts the kind of premium on educational policy that he, as a former head of a school system, does.
Compare him to Kirsten Gillibrand, also appointed in 2009 to a Senate seat Obama freed up by making a Cabinet pick. She was a House member who'd flipped a Republican seat, strategically maneuvered to get her Senate appointment, and then hustled there and in the media to turn herself into an obvious 2020 candidate. She announced her exploratory committee in the middle of January on the set with Stephen Colbert, and took off on a tour of the first caucus state. Bennet started pondering a run at the end of last year, and the pondering went on for two months before he rather quietly arrived in Iowa for two and a half days of small events.
The 2020 Democratic race so far doesn't seem like a prime breakthrough opportunity for a white man who is more comfortable having a discussion of how "the priorities of Washington have decoupled from people's lives" than riling up a rally.
"I'm not defensive of where I am on the ideological spectrum—I don't think that language is the language of regular people in Colorado," Bennet says.
He is asking a lot of questions as he thinks about actually running: How late is too late to get going? How much of a campaign is realistic for someone who doesn't start out with much charisma or much cash? Do voters actually want to have grounded conversations about the future, especially in the wake of Donald Trump?
Each time Bennet has wondered if there's still space for him, he and his team have decided that they should explore a little more, plan some more stops, and see if there's enough cash to be tapped out of his donor network to make this possible. There's been a lot of talk about platforms and platitudes, they think, but not about the big issues that could make him a counterweight to Trump.
"Part of it is that I haven't spent my whole life thinking about running for president. I'm surprised enough to be in the Senate. I'm surprised to have been in the Senate for a decade. But I have really strong feelings about where we are, and where we went wrong over the last 10 years," Bennet tells me.
Then there is the awkwardness that another Coloradan is already running—and not just any Coloradan, but former Governor John Hickenlooper. When Hickenlooper was the mayor of Denver, Bennet was his chief of staff. It was Hickenlooper who put him in charge of the Denver schools. And Hickenlooper was also considered for the 2009 Senate appointment (some national Democrats are now urging him to run for the other Colorado Senate seat instead of pursuing his long-shot bid for the presidency).
"I don't view him as a rival; I view him as a different voice. And I think the more voices we have, the better off for the country," Hickenlooper said, in the middle of one of his own campaign stops in Iowa, a few hours after Bennet headed to the airport at the end of his swing. "I'm not going to try to point out where I'm better than he is, or he's not sufficient. Totally different backgrounds."
Bennet came to Iowa last week with stacks of books tied together with wide blue ribbon for the hosts of every house party and event he attended: Evicted: Poverty and Profit in the American City, and Frederick Douglass: Prophet of Freedom. The Douglass book played into a talking point he kept trying out about how he thinks the firebrand abolitionist should be considered a Founder for the work he did to finish building the foundation of the nation, and how all people have the chance to be founders in their own way, if they can help make America more of what it can and should be.
"This generation needs to step up," he said, standing on the slightly raised stage at a strip-mall bar in Johnston, pleasantly surprised that 70 people had come on a Friday afternoon to see him. The organizers were surprised too, since the event had been promoted with just two emails and a Facebook post, and it's not like these days there's ever any shortage of Democratic presidential hopefuls passing through the area around Des Moines.
What wasn't clear then, or at any of the other events that drew crowds around that size, was whether people were showing up because they liked him or because he was a curiosity. Since this is Iowa, being curious about some senator passing through and talking about national politics is a perfectly reasonable way to spend a Friday afternoon.
Bennet is finishing his own book, coming out in a few months. He's been at it for about a year and a half, having begun not long after Trump was elected, trying to isolate and diagnose what's wrong with the Washington he happened into, and figure out what to do about it. While most presidential candidates write books to promote their campaign, people who know Bennet say that writing the book was what got him thinking about a presidential campaign in the first place.
He's been known to call the Senate a sociopathic place. He speaks about the "corruption of inaction." He has a joke about how he used to say that the Supreme Court's Citizens United decision, which allowed corporate spending on elections without limits, displayed a seventh grader's understanding of government, but has since decided that's unfair to seventh graders.
He spoke for 40 minutes at the bar, taking questions on arts in schools, health care, how to keep the cost of marijuana down if it is legalized, and closing the prison at Guantánamo Bay. The last question, about Trump's emergency declaration to seize federal money to pay for the border wall, got him going.
"People are bending and breaking rules that shouldn't be bent and they shouldn't be broken," he said. "Institutions that have been nurtured and preserved over generations are being destroyed by the politicians that are in them, and I don't think we can accept that. I think that we gotta go back to a place where tyranny is something that's not allowable in American politics. If you are racist, if you are discriminating against immigrants or other types of people, if you can't pay attention to what somebody else has to say, then you ought to be voted out of office. But the rest of us ought to come together and figure out how to get through this kind of doomsday scenario, where we're wrecking the institutions our kids are going to need to make decisions in the future."
He knows this isn't the most satisfying pitch, but he's starting to see himself as the person who needs to stand up and say it.
"It's not our fault.We haven't been the party that's been causing those problems, but in order for us to truly succeed for our grandkids, we are going to … have to be better than them … And that's going to be tough," he said, finishing up. "No tougher than the work Frederick Douglass did, I can assure you of that."
At a Friday-night house party in Waukee, Tom Vilsack introduced Bennet in terms that the senator is hoping voters see him in. The two had gotten to know each other when the former Iowa governor was Barack Obama's agriculture secretary and Bennet was a member of the Senate Agriculture Committee.
"It's not just about the State of the Union, or ribbon cutting or press conferences. It is about those moments in the presidency when there are life-and-death decisions to be made. It is at that point that you want somebody of substance—that celebrity doesn't matter," Vilsack said, reflecting on what he'd seen of the presidency up close in Obama's Cabinet. "You want somebody who's a thinker, somebody who can question even the experts so that he or she comes up with the right decisions for us."
At this party and a string of other events, Bennet got warm responses. Questions came at him about making the case for the good of government and about campaign-finance reform. But he still seems so uncomfortable in the Senate—would he really like to be president now, I ask him?
"I'm not sure anybody would like being president. Trump does seem to be having a good time, because in his mind it's a reality show all the time, and it's not important to him, I don't think, whether he leaves the country in better shape than he found it," Bennet says. "Whoever it is, we've got to find a president who's capable of leading us to a much better politics than we have right now."