Why Manafort Is Still Talking About Collusion
At his sentencing, his lawyers seemed to be appealing as much to Trump as they were to Judge Amy Berman Jackson—but she seemed to have a message for the president, too.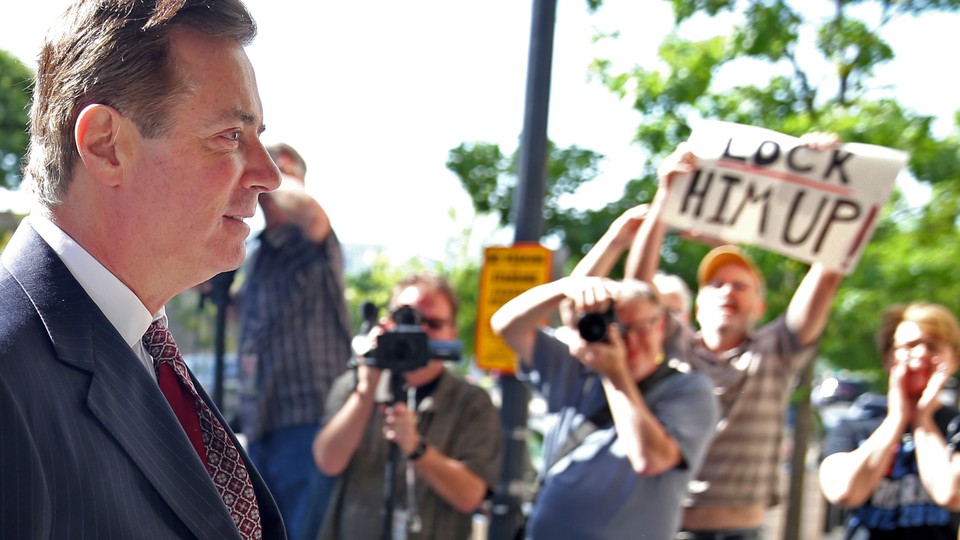 Karma has a sense of irony. In 2012 and 2013, Paul Manafort undertook a covert campaign to support the imprisonment of Yulia Tymoshenko, a former prime minister of Ukraine and the political rival of Manafort's patron, Viktor Yanukovych. Manafort used government contacts and the media to smear Tymoshenko and besmirch her character.
On Wednesday, Manafort was in a courtroom in Washington, D.C., defending his own character and trying to persuade a federal judge to forego or at least limit his own imprisonment. Once a world-bestriding lobbyist, and the former chairman of Donald Trump's presidential campaign, Manafort looked frail and gray sitting in a wheelchair. The proceedings were, in some ways, a mirror image of the sentencing hearing he had last week in Virginia in a separate case. Then, Manafort seemed defiant. Now, with potentially even more prison time on the table, he tried to reverse course, offering contrition.
Judge Amy Berman Jackson evinced little sympathy for Manafort, who has pleaded guilty to charges of conspiracy and witness tampering brought by Special Counsel Robert Mueller, but in the end, her sentence amounted to just 43 months on top of the 47 months Manafort received in Virginia. Because some of the sentence is concurrent and because the Virginia judge granted Manafort credit for time served, he will serve just over six and a half years in prison if he completes the full term.
"This defendant is not Public Enemy No. 1," Jackson said in court. "But he's not a victim either."
Jackson sentenced Manafort to 60 months for conspiracy against the United States, and 30 of those will be served consecutively with Manafort's Virginia sentence. She also sentenced him to 13 months for witness tampering, far below the five-year maximum. Overall, the sentence she handed down falls short of the 10 years maximum she might have given him. (Mueller's team did not request a specific duration.)
Yet Manafort's legal plight only became more complicated on Wednesday. Less than an hour after Jackson's ruling, the Manhattan district attorney indicted Manafort for mortgage fraud and other crimes.
While the outcome of Wednesday's proceedings was similar to last week's, both judge and defendant behaved very differently. In Virginia, Manafort offered no apologies, but received a more lenient sentence from Judge T. S. Ellis III than many observers had expected. Ellis, throughout the case, was more favorable toward Manafort than Jackson was in D.C. Ellis said last week that Manafort had led an "otherwise blameless life" beyond the crimes at hand. On Thursday, Manafort offered an apology and promised to change, but Jackson didn't seem to buy it, and said that "a significant portion of [Manafort's] career has been spent gaming the system."
Manafort's sentencing caps a tumultuous court case for the first person indicted in Mueller's probe. First, Manafort opted for separate trials in Virginia and Washington. But after being convicted on eight of 18 felony counts in Virginia, Manafort agreed to plead guilty in that case and cooperate with Mueller's team. Yet prosecutors eventually concluded (and Jackson agreed) that Manafort was continuing to lie to them, even after striking the deal. They also said he tried to persuade witnesses to lie to the government, even after he had been indicted. For most of his trial, Manafort refused to apologize, but on Wednesday he switched tactics.
"I am sorry for what I have done and the actions that have brought us here. The last two years have been the most difficult I have ever experienced," he said. "As I've sat in solitary confinement for the past nine months, I've reflected on my life and what's important to me." He added that he had "behaved in ways that do not support my personal code." He noted that he is 70 years old, that his wife is 66, and that he is her primary caregiver. (Gone unmentioned was Manafort's reported infidelity.) "Please let my wife and I be together," Manafort said.
Jackson was having none of it.
"It is hard to overstate the number of lies, the amount of fraud, the extraordinary amount of money involved," she said. "The dissembling in this courtroom began with the bond proceedings and it never abated."
Jackson said Manafort's claims of "solitary confinement" were misleading, since he was, in fact, given a private room in jail. She contended that his legal team continuously misled the court, including in a memo issued ahead of the sentencing hearing, and said that while Manafort's plea on Wednesday was heartfelt, he had otherwise repeatedly minimized his actions. She rejected Manafort's defense that failing to make required disclosures under the Foreign Agent Registration Act was a mere regulatory crime, arguing that it constituted lying to the American people. And while Manafort's lawyers claimed that their client wouldn't have been targeted for prosecution had he not taken over the Trump campaign, the judge noted that the Department of Justice had already been looking into Manafort.
"Saying 'I'm sorry I got caught' is not an inspiring plea for leniency," Jackson said.
Perhaps the most intriguing passage in Jackson's remarks concerned the question of whether the Trump campaign colluded with the Russian government to influence the 2016 election—the most closely watched element of Mueller's case. (As I have written, there are multiple cases of Trump aides working with Russians; the only real questions left are the full scope of the operation and Trump's awareness or involvement.) Just as Ellis noted last week that none of that case touched on collusion, Jackson said no collusion case was before her court. But she warned against drawing too many conclusions from that fact.
"The 'No collusion' refrain that runs through the entire defense memorandum is similarly unrelated to the matter at hand," Jackson said. "It's not particularly persuasive to argue that an investigation hasn't found anything when you lied to the investigators."
Manafort's federal cases end without shedding much light on one of the most intriguing but little understood elements of Mueller's probe. Prosecutors say that Manafort shared polling with Konstantin Kilimnik, whom Mueller has also indicted. During a hearing in February, prosecutors said that an August 2016 meeting between Manafort and Kilimnik goes "very much to the heart of what the special counsel's office is investigating." It's still not clear what that meant. In any case, Jackson scolded Manafort's lawyers for harping on collusion in their memo.
"It's hard to understand why an attorney would write that," she said.
But it's not that hard to understand that Manafort's lawyers are playing to a dual audience. They hoped to minimize Jackson's sentence, yet they are also appealing to President Trump, who has the power to pardon Manafort. Trump has repeatedly lamented what he claims is unfair treatment of Manafort, and he has conspicuously declined to rule out a pardon, most recently after the sentencing Wednesday afternoon. Trump falsely claimed last week that Ellis said "there was NO COLLUSION with Russia." By striking a note that resonates with the president—and with Manafort hyping his victimhood—the defense lawyers might hope that they can arouse Trump's sympathy and, with it, get their client off the hook. (The charges in New York, because they were brought under state law, are not eligible for a presidential pardon.)
But Jackson might have demonstrated that she, too, knows that Trump is paying attention. One of her remarks to Manafort was equally a rebuke to the prolifically dishonest president.
"If the people don't have the facts, democracy doesn't work," Jackson said.