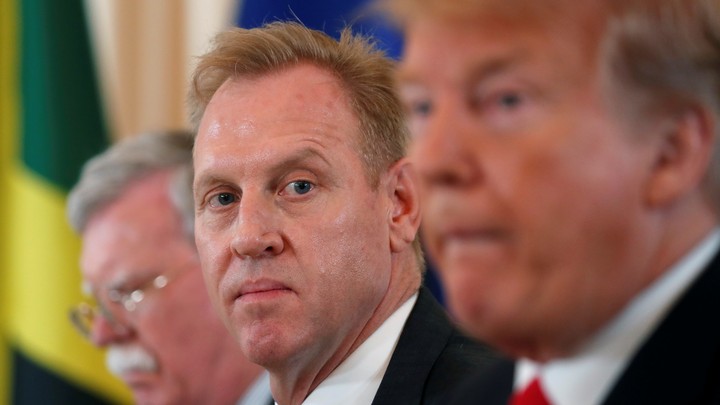 Late Monday night, the Defense Department announced that it was directing $1 billion to help fund a border fence. Tuesday morning, the House Armed Services Committee chairman, Adam Smith, made public a letter saying that his committee would deny the request—right in the middle of Acting Defense Secretary Patrick Shanahan's own testimony to that very committee.
It's not clear that Congress can actually prevent this, but the exchange highlighted the awkward spot Shanahan now finds himself in. He's now the longest-serving acting defense secretary, and has to justify the policies of a mercurial president to a skeptical Congress while under an ethics investigation from his own department. Shanahan spent his career at Boeing, earning a reputation as a problem-solving executive with an engineer's appreciation of detail. He had never served in public life before becoming the deputy secretary of defense under James Mattis. Since Mattis's resignation, though, Shanahan has been thrust into one of the top spots in the U.S. government, and is getting all the glaring spotlight that comes with it.
He's still "acting," too, meaning that he's essentially both doing the job and auditioning for it. Meanwhile, the Defense Department remains without a permanent leader at a time when defense officials and lawmakers alike keep talking about a variety of new and complex threats to the United States, and America's European allies are nervous about U.S. commitments.
Read: America, meet your (acting) secretary of defense.
In an interview with Defense One, Shanahan said that "of course" he wants the job. "I think I can serve the department well," he said. At one point, Shanahan seemed a likely candidate to take over the secretary role permanently, though Donald Trump indicated that he was "in no hurry" to make anything official. Speaking to reporters in early January, Trump noted that both his chief of staff and his secretary of the interior were also serving in an acting capacity, following resignations. "I like acting," he said then. "It gives me more flexibility."
He also liked Shanahan in particular, the White House press secretary said in March, even as she declined to comment on rumors that Shanahan would be nominated. It was Shanahan who spearheaded efforts to create a space force, a presidential priority. It was Shanahan who at one point reportedly characterized the Defense Department internally as "not the Department of No"; he later publicly dubbed it the "Department of Get Stuff Done." It was Shanahan who, according to the White House, briefed Trump on the plane to Mar-a-Lago last week right before the president announced that ISIS had fully lost its territory. (The Kurdish-led forces fighting ISIS announced this a day later.)
Shanahan has also provided continuity to the Pentagon following Mattis's resignation. As the deputy secretary of defense, he called himself the "down-and-in" guy to Mattis's "up and out"—Shanahan would run day-to-day operations in the building while Mattis would deal with the White House and international relationships. One of Shanahan's key roles was assisting in the development of the National Defense Strategy, focused on reorienting the DOD toward great-power competition following nearly two decades of the War on Terror. He continues to promote the strategy, published during Mattis's tenure, as a guiding principle for the department. Elbridge Colby, who worked closely with Shanahan as the lead official in the National Defense Strategy's development, says that Shanahan's work was "crucial in brokering consensus, as well as ensuring the strategy was a hard-hitting document."
"I think he's trying to carry forward what Mattis set out," Colby says. Implementation of the strategy, though, is already proving a challenge, given fights over funding.
Kori Schake: Trump's budget harms national security.
Shanahan's prospects have grown complicated—in part because he's following the president's orders. Trump's sudden December announcement that he intended to bring U.S. troops home from Syria immediately helped lead to Mattis's resignation; under Shanahan, the Defense Department has begun the withdrawal, starting with equipment. Shanahan's efforts to explain that policy generated a confrontation with lawmakers at the Munich Security Conference in February—one that Senator Lindsey Graham, who is close to Trump, later relayed to reporters. "If the policy is that we are leaving by April 30," as the president had directed at the time, "I am now your adversary, not your friend," Graham said he told Shanahan. (A disclosure here: My significant other was in the meeting, but this characterization is based on news reports detailing what Graham said happened.) Trump has since changed the policy, agreeing to leave some 400 troops in the country.
The Munich trip was supposed to be Shanahan's debut on the world stage, following in the footsteps of Mattis, who made numerous trips overseas to reassure allies about U.S. commitments. That first outing was not auspicious; Politico reported that the president grew skeptical of Shanahan afterward.
Another problem surfaced in February, and it also started with the president. The government had shut down for five weeks after Congress refused to fund Trump's border wall. Trump, on February 15, declared a national emergency to get the money anyway. This made the wall the Defense Department's problem, since the president had invoked a law authorizing the secretary of defense to reallocate the funds from the department's budget. Congress howled; bipartisan majorities in both chambers voted to override the emergency; the president vetoed their resolution and pushed ahead. (An attempt to override the veto in the Democratic-controlled House of Representatives on Tuesday failed to get the two-thirds majority needed.)
All of this left Shanahan submitting a defense budget to Congress in March asking for wall money that Congress had already shut down the government over. At a Senate Armed Services Committee Hearing last week, Jack Reed, the ranking Democrat, admonished the acting secretary for not yet having received proposed border-construction projects from the Department of Homeland Security, a month after Trump declared the national emergency. "In the context of something that is supposed to be an emergency, this seems to be a pretty casual sort of approach to the issue," Reed said. Pressed later on whether the situation at the southern border represented a military threat, Shanahan indicated that it did not. "It's a security challenge, not a military threat," said Joseph Dunford, the chairman of the Joint Chiefs of Staff, who was also testifying.
Reihan Salam: Democrats are wrong about defense spending
Then there's Shanahan's three-decade career at Boeing, which was somewhat controversial even before the company became embroiled in two major civilian aviation disasters involving its 737 Max 8 plane. Shanahan signed an ethics agreement when he first joined the Pentagon as deputy secretary of defense, generally recusing himself from decisions related to the aerospace company, one of the Pentagon's major contractors. In response to a question at the Senate hearing last week, Shanahan said he would support an ethics investigation into his relationship to the company. Within days, the Pentagon inspector general announced that it had opened an investigation, based on a Politico report that Shanahan had disparaged a Boeing competitor, Lockheed Martin, which manufactures the much-criticized F-35 stealth fighter plane.
"In terms of the prospects for his confirmation, I would say right now are decidedly dicey," a former senior defense official, who is following the issue closely and who declined to be identified in order to speak candidly, told me. "And I think a lot will depend at this point on how the [inspector-general] investigation comes out and how the investigation of Boeing's 737 Max comes out."
So when Shanahan returned to the Hill on Tuesday, this time to address the Democratic-controlled House Armed Services Committee, he was facing scrutiny not only from lawmakers but from within his own department, due to the inspector general's investigation. Smith hinted at acrimony to come with a statement last week, saying: "We look forward to hearing how he intends to pilfer the military construction accounts, circumvent the intended nature of the law, while simultaneously abusing the trust of the American people." The hearing itself was less confrontational than the statement had suggested. But Smith not only called it "unbelievably irresponsible" to try to fund the border wall through the DOD budget, he also threatened to take away the Pentagon's ability to move funds around for different purposes.
Shanahan passed the milestone of being the longest-serving acting secretary of defense in mid-March (of only three total in American history). Trump might be comfortable with an indefinite "acting" defense secretary, but the position might not be quite so comfortable for Shanahan himself.
We want to hear what you think about this article. Submit a letter to the editor or write to letters@theatlantic.com.