Can a Rust Belt Yogi Save the Democratic Party?
While Democrats debate which voters to prioritize in 2020, Representative Tim Ryan, a potential presidential candidate, argues that they don't have to choose.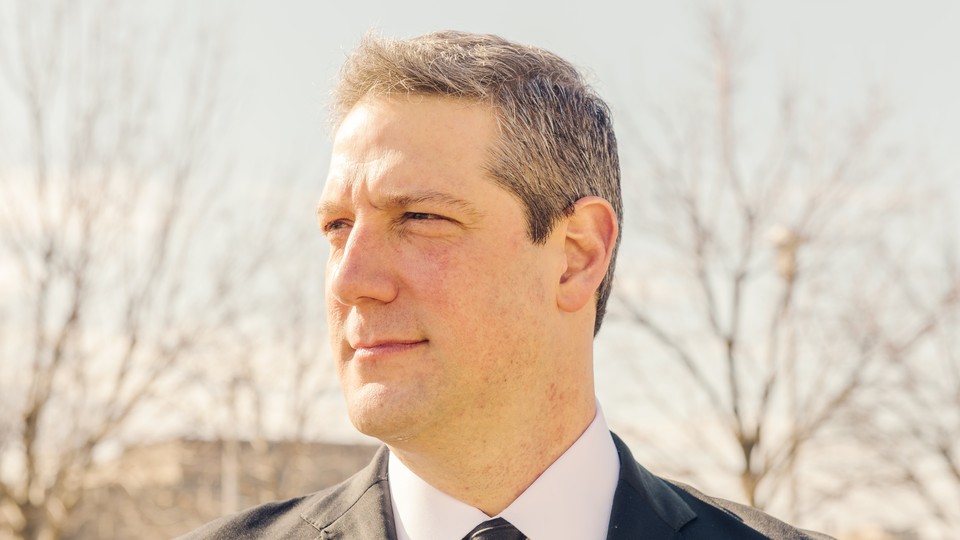 I have never seen a man sweat this much.
It's 6:30 in the morning, and I'm at a small Georgetown yoga studio, stretched out on a mat next to Representative Tim Ryan. The thermostat at the front of the room reads 96 degrees Fahrenheit, and the Ohio Democrat, surrounded by a dozen other middle-aged yogis, has been holding crow pose for the past several seconds. Every time he shifts positions, perspiration runs in thin rivulets down his face and neck.
"You doing okay?" Ryan asks me at one point, with a head tilt that sends a cascade of droplets to the ground.
"I'm good!" I lie.
The congressman has already done a shoulder stand and several complicated, full-body twists, while I have spent the majority of this hot-yoga class nestled deliriously in child's pose, my forehead pressed to the mat. Every few minutes I look longingly toward the door and consider escaping to the lobby where the air is a reasonable temperature. But then I remind myself of the advice Ryan had given me before class: "Whatever you do, don't leave the room," he'd warned, like a coach reminding a player that pain is just weakness leaving the body. "It's bullshit."
Tim Ryan is a man containing multitudes. He is, as his contortions would suggest, a dedicated practitioner of hot power yoga and a meditation evangelist, but he sells himself as a champion of the American worker, and he speaks with the plain, sometimes brusque language of his mostly blue-collar constituents. In Congress, he has endorsed tax cuts for corporations, but he also supports progressive goals such as Medicare for all. And he's a congressional backbencher—a relatively unknown Democrat from a rapidly reddening state. But he says he's "very much looking" at running for president.
Ryan's personal and political versatility translates to his view of the Democratic Party. Contra the ongoing debate over which voters represent Democrats' future—should they still try to win back the white working class, or embrace their emerging coalition of young, diverse voters?—Ryan doesn't see why the party needs to choose. He says he wants to push progressive policies, but believes that an argument centered on the economy is the best way to do it: If Democrats can convince voters that a particular measure is going to make them financially better off, they'll win over Americans of all stripes, from the San Fernando Valley to the Mahoning Valley—and emerge victorious in 2020.
"We need a national coalition of people who say it's 'both and,' not 'either/or,'" Ryan told me in an interview after yoga class. "We don't have to pick." And as for his role in that union, Ryan tells me, "In some ways, I am a bridge."
A campaign like his could help test whether this middle-of-the-road approach can actually work—and help end the Democrats' arguing once and for all.
Ryan tends to pop up whenever there is a broader conversation about the direction of the Democratic Party, a circumstance that is, at least in part, of his own design. He's perhaps best known for his two failed attempts to overthrow Nancy Pelosi as the leader of the House Democrats. He challenged Pelosi after the 2016 election on the premise that the party was neglecting middle America and over concerns that the California Democrat symbolized the party's elite, urban flank. "If you take state and federal officials, Democratic officials, we have the smallest number since Reconstruction," he said in an interview that year on Morning Joe. "If that's not a call for doing something differently, I don't know what is." Two years later, he tried again, but ultimately backed Pelosi.
Since his first congressional election in 2002, Ryan has also repeatedly, and publicly, deliberated about running for higher office, which is useful context for his comments about a White House run. After all, he'd be a long shot for securing the Democratic nomination, given his relatively low name recognition compared with other, better-known candidates, and his lack of a campaign thus far. A presidential bid or flirtation—and the accompanying media coverage—could help Ryan lay the groundwork for an eventual go at the Senate, or it could simply help boost his national profile.
Ryan maintains, however, that a 2020 campaign would not be a vanity project, but rather a genuine effort to advocate for his vision for the party. Though he's been light on specifics, he already has plans to visit Iowa and New Hampshire in the coming weeks.
Ryan is injecting himself into presidential politics at a time when his party faces two distinct paths to the White House, as my colleague Ronald Brownstein recently explained: Democrats can set their sights on nominating a candidate who can energize voters in the Midwest, and win back the people the party lost to Donald Trump in Rust Belt states such as Pennsylvania, Wisconsin, and Ohio. Or they can push for a nominee who can mobilize the growing number of young and nonwhite Americans living in the Sun Belt, in states such as Arizona, Florida, and North Carolina.
But many Democrats say that this is a false choice, and Ryan is one of them. Democrats can sell progressive goals, from universal health care to criminal-justice reform, if they simply root their arguments in jobs and the economy, he argues. Ryan says, for example, that Democrats should package Medicare for all as a "jobs program" that would reduce costs and create jobs for medical professionals. He thinks the Green New Deal could be similarly sold as a boon to job creation. (Although he's opposed to the resolution's federal jobs guarantee, he thinks it could drive employment in the private sector.) And he's said he wants a minimum wage that's higher than the $15 an hour Bernie Sanders and many other progressives have endorsed.
"We have to have a tolerant society that provides opportunity for minorities and people of color," Ryan told me in our interview after yoga, "but that economic message has got to be a really robust component of the Democratic Party." It's this approach, Ryan argues, that will help Democrats upset Trump, by alleviating the economic anxiety that Ryan believes drove the white working class into the president's arms. "[Trump] was talking about their economic well-being," Ryan said. "I think [what] people in the middle that don't pay a whole lot of attention want to know is: Are you thinking about what I'm thinking about every day? Because I'm thinking about paying my bills every day."
Should he run, Ryan would likely position himself as the candidate best able to attract these "middle" voters. In his working-class district in northeast Ohio, roughly 45,000 people filled in the bubble for both Trump and Ryan in 2016. Both men have styled themselves as defenders of blue-collar Americans: Like Trump, Ryan has railed against NAFTA and other trade deals he says are bad for U.S. workers. And theirs were two of the loudest voices criticizing General Motors in November after the automaker announced that it would halt production at its plant in Ryan's district.
"Tim is hard to define at times," says Kathy DiCristofaro, the chairwoman of the Ohio Democratic Women's Caucus and the vice chair of the Trumbull County Democrats. People in Ryan's district wouldn't label him a progressive, she says, "but if you look at his position on policies, I feel that he is."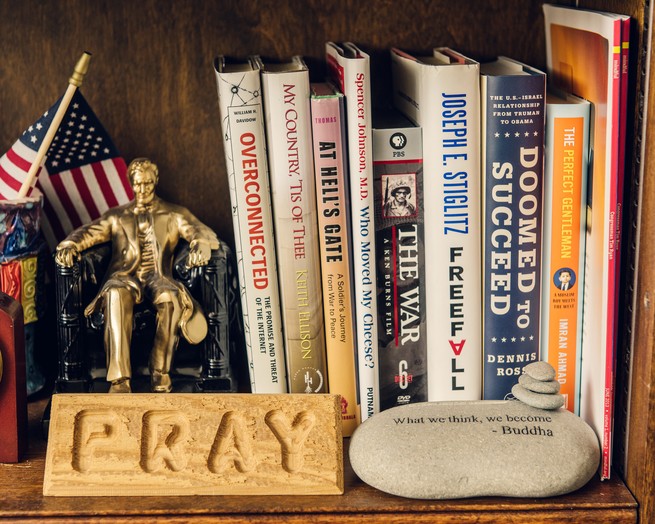 Ryan offers "a vision of hope" to Americans in places suffering from the economic consequences of globalization and automation, says Representative Ro Khanna of California, a leader in the Congressional Progressive Caucus. Khanna is a co-chair of Sanders's 2020 campaign, but he says he strongly believes that people like Ryan have to have a major voice in the party. "We need people who can connect in communities which we lost to Trump," Khanna says.
But where Ryan and his supporters see open-mindedness and independence, other Democrats see opportunism and ideological homelessness.
A practicing Catholic, Ryan was against abortion for years before changing his stance in 2015, explaining in the Akron Beacon Journal how his wife's pregnancy and his own time in Congress had shifted his thinking on the issue. And he enjoyed an A rating from the National Rifle Association for years, but claims to have soured on the organization after the Sandy Hook shooting in 2012. Republican lawmakers and issue advocates have accused Ryan of shifting his views to match the political tides and always squaring up for a higher-office bid.
In Congress, some of his fellow Democrats say his agenda makes him hard to place—and therefore difficult to rely on. Ryan doesn't belong to any of his party's main ideological factions, such as the Congressional Progressive Caucus or the more moderate New Democrat Coalition. In the same month last year, he addressed crowds at both Netroots Nation, an annual gathering of progressive activists, and Opportunity 2020, a conference organized by the centrist think tank Third Way. Ryan has warned his fellow Democrats against coming off as "hostile to business," and he's broken party ranks to support fracking.
"He vacillates back and forth from taking really strong progressive positions to endorsing really right-wing economic positions," said one senior House Democratic staffer aligned with the progressive wing of the caucus, who spoke on the condition of anonymity in order to speak candidly. "There doesn't seem to be a rhyme or a reason to it."
When I asked Ryan in a follow-up phone interview to respond to that criticism, he paused for a few seconds to consider his answer. "I try to be thoughtful and not reactionary," he told me. "We're all caught up sometimes in the politics of our party … but, to say for myself, I have a strong independent streak is something I would be very proud of."
Maybe it's independence; maybe it's opportunism. Or maybe it's just his district: Perhaps the nine-term lawmaker keeps getting elected precisely because of this mismatched agenda. In that way, his own political homelessness would match that of his constituents—the voters who are politically progressive in some ways but conservative in others, and who may once have voted for the country's first black president but decided, eight years later, to give Trump a try. His constituents don't feel acknowledged or valued by the Democratic Party anymore, Ryan explained. "Really, the Democrats haven't always delivered for our area and our community and workers like I wish they would. I've spoken out about that."
Ryan's potential presidential campaign would demonstrate whether a candidate who in many ways defies ideological categorization has something to offer voters who do the same. "Folks aren't asking who will be progressive," says Chris Redfern, who served as chairman of the Ohio Democratic Party from 2005 to 2014. "They're asking who can be good for jobs and who can beat this tragedy of a president."
If Ryan runs for president in 2020, he would face tough competition from other, better-known Democrats trying to appeal to blue-collar workers: candidates like former Vice President Joe Biden or Senator Amy Klobuchar of Minnesota, who many Democratic strategists maintain are the party's best hope for beating Trump.
But each of them will run up against the argument that a campaign focused on jobs and the white working class would neglect the most loyal Democratic voters, especially people of color. It would also leave out important context, ignoring "complex links among American notions of race, gender, and economics," as the former Georgia gubernatorial candidate Stacey Abrams wrote in a recent column in Foreign Affairs.
This debate about the Democrats' best path forward really comes down to a matter of priorities: Progressives such as Abrams aren't rejecting white, working-class voters, but they also aren't making these folks central to their future plans. By contrast, Ryan sees this swath of the electorate as a key segment of the party, one that needs to be acknowledged and given as much attention as other parts of the Democratic coalition.
At a time when Democrats are celebrating a series of historic firsts for women and people of color—and a new level of enthusiasm for progressive causes and candidates—this blueprint for the party could be a tough sell. But Ryan doesn't seem to see it that way.
A few hours after our hot-yoga session, I joined him in the Congressional Prayer Room, a small, sparsely decorated space in the U.S. Capitol building just down the hall from the speaker's office. Ryan used to lead a regular bipartisan meditation session here for members of Congress. But that day it was just us, seated side by side and facing the room's main feature: a tall, stained-glass window of George Washington wearing a blue waistcoat and epaulets, kneeling in prayer.
Politics "has gotten so bizarre and full of unnecessary conflict," Ryan told me, studying the colored glass. "I really don't know if I'd still be doing this if I didn't have a practice." The lawmaker explored the connection between mindfulness and the body politic in his 2012 book A Mindful Nation, which is sprinkled with inspirational quotes from poets and presidents, and describes how a daily mindfulness routine could help conjure "good old-fashioned American values." The volume was reprinted in late 2018—just in time for a potential 2020 campaign—under a new title: Healing America.
Ryan sees this "healed America" as a future place where political divisions between everyday Americans have shrunk, where the middle class is thriving, and where innovation abounds. Given the complex conversations Democrats are having about their priorities, and the general political precariousness of the Trump era, the road to that future place is winding and uncertain. But for Ryan, at least—if not for the rest of his party—it stretches through steel country.