'This Could Have Been Their 9/11 Moment'
A generation of young American Muslims is coming of age in a time when a mass shooting at a mosque is horrifying, but not surprising.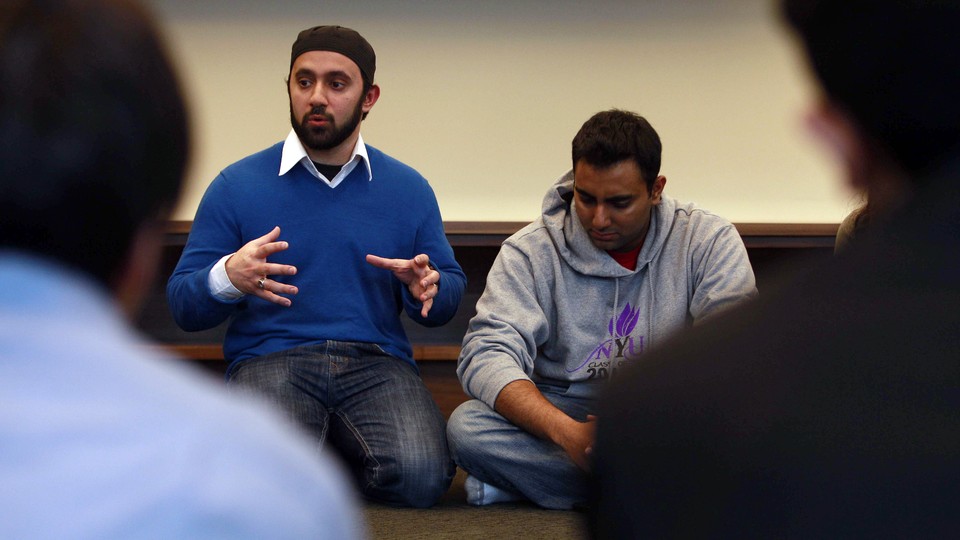 Updated at 11:15 a.m. ET on March 18, 2019.
NEW YORK CITY—The prayer space at the Islamic Center at New York University is like any other college conference room: big windows, tall ceilings, retro carpeting. But when it's transformed for Friday prayers, called jummah, there's a certain familiarity to it too: rows of tape showing worshippers where to sit, a line of chairs dividing women from men, people sitting cross-legged and chatting. This prayer space is similar to the two mosques, thousands of miles away in New Zealand, where 50 worshippers were killed and untold others were injured by a gunman on Friday.
For Mohammed Hojaij, a junior at NYU who serves on the board of the Muslim Students Association, that's what was most sickening as he watched the video of the attack that was allegedly posted by the shooter: "Looking at the carpet, the design, the greeting at the door," seeing how similar it was to the mosque he grew up attending in Dearborn, Michigan, "it was almost a part of me," he said. "I felt it."
To the group of young Muslims who showed up for prayers on Friday, the deadly shooting in Christchurch and the ugly ideology that apparently motivated it do not feel far away. They see similar versions of white supremacy and anti-Muslim rhetoric all around them in America. Many of them are too young to remember 9/11, or were barely even born when it happened; their formative moment is happening now, in the shadow of ascendant white nationalism. Young Muslims are scared and grieving over what happened in New Zealand. But they're also ready to get political.
[Read: American Muslims are young, politically liberal, and scared]
Because New Zealand is located in a time zone 17 hours ahead of New York City's, Muslim students at NYU had the whole brutal day to think about whether they wanted to attend jummah prayers. "It was difficult … to decide whether or not it was appropriate for people to go out," said Hojaij. "It felt like it was almost dangerous—like there was still a threat looming." Asad Dandia, an NYU alumnus who still volunteers at the Islamic Center, told his mother in Brooklyn not to leave her house without him. He was worried that someone might target her, because she wears a hijab and doesn't speak English very well.
In the end, though, people turned out—a lot of people. More than 300 men and women crowded into the space, standing in rows, shoulder to shoulder, to pray. Omer Malik, an NYU senior who serves as president of the Muslim Students Association, said the turnout was as big as he's seen it in his four years at school.
The message shared at the beginning of prayers was emotional. "If you're angry, man, it's okay to be angry. If you feel scared, it's okay to be scared," said Imam Khalid Latif, the executive director of the Islamic Center. "We're going to do what we can to make sure tomorrow is as best as it possibly can be … This is divine promise. Indeed, with hardship, there is relief." The room was completely still as Latif spoke. Several students were crying.
But Latif's message was not just about grieving: He stated forcefully, in a voice edged with emotion, that the New Zealand shooting was driven by a dangerous ideology. "That act is … rooted in the same white-supremacist mind-set that underlies the very systems and structures of the country we live in," he said. "On a globalized level, it is running rampant."
[Read: How white-supremacist violence echoes other forms of terrorism]
In his role as a Muslim chaplain, Latif told me afterward, he is responsible for caring for students, but also coaching them to use their voices. "Our young people have shown over and over that they can be a real catalyst for change," he said. "Organized evil will triumph over disorganized righteousness." In his message to the community, he explicitly encouraged students to get politically active. "We are in the beginning of 2019, and 2020 is ahead. And each one of us has to say to ourselves what our commitment will be," he told the room. "One of the most American things we can do is speak out in protest against injustice in any administration's policy."
The students in the room seemed to resonate with this message. "Because of everything that's been happening in this country since 2016, politically, we've had to come together as a community in the MSA," said Maha Hashwi, a junior who serves on the board of the Muslim Students Association. The students have been working on building partnerships with other groups on campus, added Malik, and they're not afraid to be outspoken about political issues.
They are coming of age in a political environment in which anti-Muslim rhetoric is common; a number of students told me they were devastated, but not surprised, to hear about the New Zealand attack. "We are the generation that's going to do something about it," said Samina Saifee, a sophomore. "We are young, we're passionate, and we understand things in a different way."
From a demographic point of view, Saifee may be right. As recently as 2017, polling from the Institute for Social Policy and Understanding showed that American Muslims as a whole are much younger than other religious groups, with nearly 40 percent of Muslim adults aged 29 and under. They're overwhelmingly sympathetic to liberal and progressive policies.
And they live with a lot of fear: As I reported in 2017, roughly one-fifth of Muslims under 30 have made plans to leave the United States if they need to, and nearly half say they fear being the victim of a white-supremacist attack. The shooting in New Zealand confirmed what many young American Muslims have grown up knowing: White-supremacist individuals and groups want to hurt people like them. In Christchurch, the white supremacist succeeded.
[Read: Trying to be an apolitical Muslim in America]
A growing number of Muslims in their 30s and 40s have become visible leaders in U.S. politics—figures such as Rashida Tlaib and Ilhan Omar, the newly elected Muslim congresswomen, or Linda Sarsour, the Palestinian activist who co-headlined the Women's March. Latif is one of those leaders: He told me that in the wake of the New Zealand attack, he got calls from the New York City comptroller's office and the office of the city's mayor, Bill de Blasio. For leaders like Latif, September 11 was the formative moment for their identity as Muslims in America, and for many, that experience drove them to get involved in politics.
But for the next generation of Muslim leaders, these students who are still in school, 9/11 is something they've only heard spoken about by their parents and other elders. "The young kids, for whom this is the first Islamic center that they've ever been to, their first time making a real community—this is what their first experience has to be, and that's just very unfair to them," said Dandia. "This could have been their 9/11 moment."