Mueller Was Trump's Nemesis—Now He's His Greatest Asset
The president's team is already spinning the special counsel's conclusions as a plus for 2020.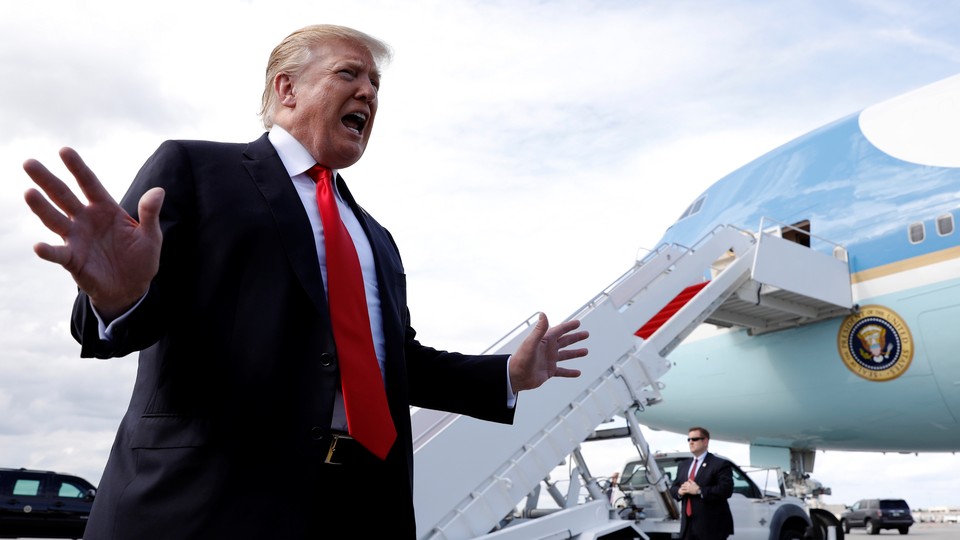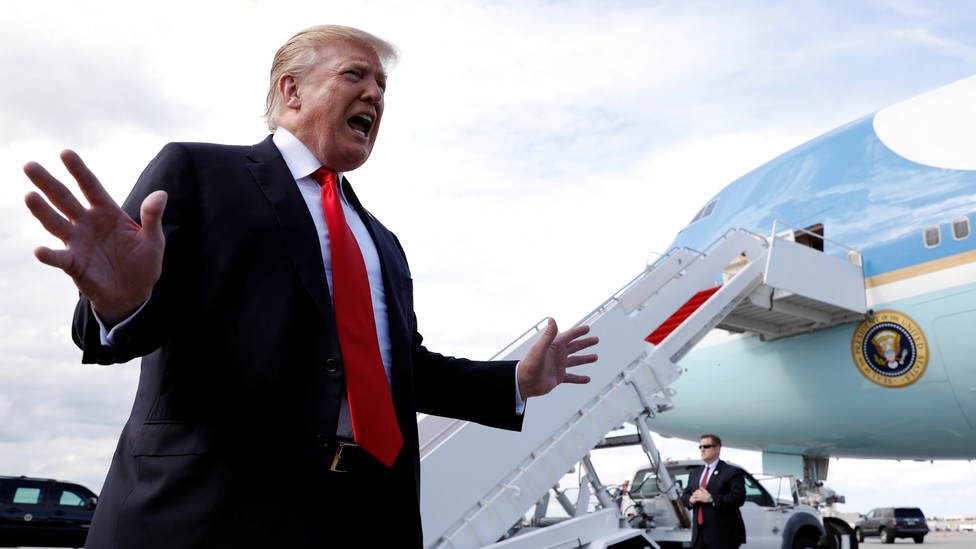 More than 675 days, 19 lawyers, 40 FBI agents, 2,800 subpoenas, and 500 search warrants later, Attorney General William Barr has announced the core finding of Robert Mueller's Russia probe: no collusion. The verdict was quickly celebrated by a White House legal team whose strategy was to treat the investigation more as a public-relations battle than as strictly a legal fight.
In a letter delivered on Sunday afternoon to Congress, Barr summarized Mueller's principal conclusions, marking the end of an inquiry that shadowed Donald Trump's presidency from the start and led to the indictment or conviction of a raft of campaign aides and associates. Barr wrote that according to Mueller, neither the Trump campaign nor anyone associated with it conspired or coordinated with Russians to win the election—despite "multiple offers" from "Russian-affiliated individuals" to assist the campaign. Mueller's findings on whether Trump obstructed justice were far less definitive. Unlike on collusion, Barr wrote, Mueller was unable to make a judgment one way or the other: "While this report does not conclude that the president committed a crime, it also does not exonerate him."
It was enough for the White House, however, to claim victory. If Trump's team had one overarching theory since the special counsel's probe began, it was that Mueller posed less of a legal threat than a political problem. Mueller's conclusions, as explained by Barr on Sunday, appeared to vindicate that approach. Now, in a supreme irony, Trump figures to invoke the Mueller report in his 2020 reelection bid, making the case that an inquiry he labeled a "witch hunt" failed to prove any criminality, said campaign and legal associates, who requested anonymity in order to speak freely.
The initial reaction from the White House was triumphant. "As we already knew, NO COLLUSION! Nothing different from what President @realDonaldTrump has been saying for the past TWO YEARS!!!" the White House's social-media director, Dan Scavino, tweeted moments after Barr's letter was posted online. Shortly thereafter, Press Secretary Sarah Huckabee Sanders offered an official statement from the White House. "The findings of the Department of Justice are a total and complete exoneration of the President of the United States," she tweeted. Soon, the president himself broke his silence. Speaking to reporters before boarding Air Force One for his flight home from Palm Beach, Florida, Trump said, "It was complete and total exoneration. It's a shame that our country had to go through this. To be honest, it's a shame that your president had to go through this."
The coming days and months will show how widespread that interpretation of Mueller's report will be. Trump is hardly out of the woods legally, with congressional committees and other prosecutors at the federal and state levels examining his connections to Russia, his business dealings, and his private charity, among other matters. Indeed, the next two years could be just as busy for Trump's legal team as the past two. But their mission is likely to stay the same: All along, they took the view that Trump had committed no crimes and couldn't be indicted under Justice Department policy. They largely saw their role as preserving Trump's electability—and that included inoculating him from a potentially damning final report from Mueller.
Their methods, however, differed.
At an early point, Trump's lawyers sought to accommodate Mueller, in hopes of bringing the probe to a quick end. That's what Trump wanted. He detested the investigation and wanted it stopped. "It was impeding and interfering with his ability to be president, which was an outrage," Trump's former lead outside lawyer, John Dowd, told The Atlantic. "It's very upsetting when you're in the middle of really important negotiations—trade negotiations and other things. And [Trump] would get asked about it."
One of Trump's complaints was that Mueller had a personal grudge. He has made reference to a 2011 dispute with Mueller over membership fees at Trump's golf course in Northern Virginia. But his lawyers never made that an issue, believing that cooperation was the path to ending the probe. They made witnesses and documents available, avoiding legal showdowns over executive privilege.
In hopes of speeding things along, Trump and his legal team considered giving an interview to Mueller, discussing a sit-down at Camp David at the end of January 2018. But in the end, Trump's lawyers concluded that face-to-face testimony would be too risky. They instead gave answers to Mueller in writing. "I didn't want to put [Trump] in that position," Dowd said, adding that "he does the best he can, but isn't always right on the money."
As time passed, Trump began to recognize that Mueller wasn't going away, and changed tactics. He stepped up efforts to turn public opinion against the special counsel, and clashes among him, Dowd, and Ty Cobb, a White House lawyer who favored a more cooperative approach, became more frequent. Dowd resigned in March 2018, and Cobb stepped down two months later.
Into the void stepped Rudy Giuliani, whose appetite for combat matched that of Trump. Giuliani told The Atlantic that he built his strategy around public polling that showed Mueller was far more popular than the president. "I said we had to defend him legally, but we also have to defend him publicly," the former New York mayor said. In his view, the prospect of a "nasty report" wasn't Trump's biggest concern; it was how popular, or unpopular, he would be by the time of its release. A "mild" report coupled with an unpopular president could have still opened the door to impeachment. But if Trump's approval ratings were on the rise, House Democrats "may not take the risk," Giuliani said.
Giuliani likened what came next to a public-relations campaign: "I said … we've got to go public, and we've got to point out what's wrong with Mueller and what's wrong with the investigation." Trump was all too happy to oblige. His tweets targeting Mueller picked up. Over and over, he described the probe as a "witch hunt." "We will be doing a major Counter Report to the Mueller Report. This should never again be allowed to happen to a future President of the United States!" Trump tweeted in December.
Polling showed that the attacks had some success. A CNN survey in December showed that 43 percent approved of Mueller's handling of the investigation—down five points since October. A Suffolk University/USA Today poll this month showed that 50 percent agreed with Trump's characterization of the Mueller probe as a "witch hunt," compared with 47 percent who did not agree.
Still, not everyone in Trump's orbit liked the assault. Cobb told The Atlantic recently, "My views of Bob Mueller's professionalism and character are well known. I've never been comfortable with the term witch hunt." Giuliani said he knew that others in the West Wing weren't pleased with his more aggressive tactics either. "The White House has been mad at me from the beginning," he said. "Because they wanted to cooperate, cooperate, cooperate. They didn't want to fight back." But Giuliani never cared much about anyone's opinion other than the president's. "Trump has been very happy with it—I don't care about them," he said. "He's my client."
How the White House will respond to Mueller's conclusions and Democrats' reaction in the days to come remain open questions. As anticipation built last week for the release of something, anything, Trump's legal team privately wondered whether a simple announcement from Barr that he had received the report was preferable to releasing its findings immediately. "I'd almost be willing to say, 'Put out whatever you got, because we can answer it,'" Giuliani said.
Giuliani said in an interview on Friday that he had full and condensed versions of an 87-page counter-report ready to deploy the moment Mueller's findings were made public. If Mueller were to accuse the president of wrongdoing, Giuliani predicted, it would likely be for obstruction of justice rather than collusion. "I can't imagine they're going to do anything on [collusion]," he said. "I think if they're going to do anything nasty they're going to do it on obstruction," he added, referencing Trump's dismissal of former FBI Director James Comey, as well as the conversation Comey and Trump reportedly had in which the president asked him to "let go" of an FBI inquiry into former National Security Adviser Michael Flynn. Now, with Mueller having made no conclusion about obstruction in his report, the matter will fall to Congress and its investigations.
Mueller's report looks to become a Trump-campaign selling point. Not too long ago, that would have seemed unfathomable. Trump has spent much of his presidency demonizing Mueller. On Friday, Trump questioned whether the special counsel even had the standing to write the report. No one voted for Mueller, Trump said; why should he get to pass judgment on a duly elected president?
Now, though, an investigation that once seemed to imperil Trump's presidency could conceivably help him prolong it, said close Trump associates speaking on the condition of anonymity. They said that if even Mueller couldn't find wrongdoing, surely none exists. "This is the most powerful investigatory team in the 21st century, tasked with finding out if a candidate for president conspired with a rival to take control of the government. And they succeeded in proving that he didn't," says Michael Caputo, a senior adviser to Trump's 2016 campaign. "It's an incredibly successful talking point and an aggressive campaign message."
Its ultimate success—that is, Trump's reelection—could depend on what congressional investigators and other prosecutors find out. But for now, Trump's legal team is as chipper as it was when it learned that the investigation was over. "It's a great day in Washington. The weather got nice as soon as the report was submitted," Giuliani enthused in a phone call on Saturday. "God loves Republicans. Well, maybe not all of them, but enough."