The Trump Scandals That Have Slipped by Congress
A relentless focus on Russia allowed many other controversies to escape the glare of legislative oversight.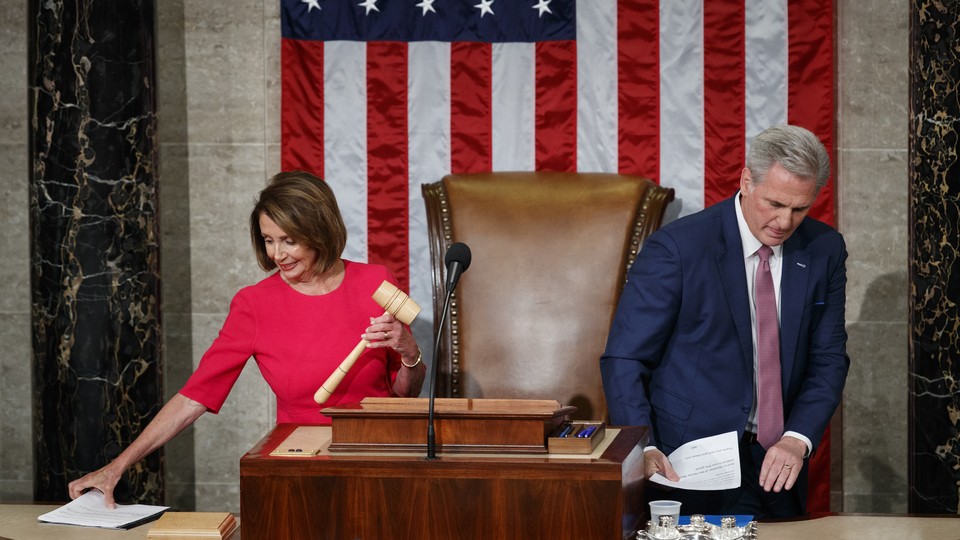 The allegations at the center of Robert Mueller's just-completed investigation, electoral collusion between the Trump campaign and the Russian government and obstruction of justice, were rightly considered the biggest presidential scandal in a generation, and perhaps in all of United States history.
They were also, for the purposes of congressional oversight, a monumental distraction.
Consider the following: The president promotes his corporate brands regularly and in plain sight, while a hotel he owns mere blocks from the White House rakes in profits from patrons, including foreign leaders, with business before the federal government. Cabinet secretaries reportedly violate ethical guidelines and conflict-of-interest rules left and right by spending lavishly on office furniture and official travel, or by failing to properly divest their business holdings. The president's son-in-law obtains a security clearance over the objections of senior officials, and then—along with other top White House aides—conducts official government business using personal, unsecured devices and accounts. The president himself refuses to relinquish his personal cellphone, raising concerns that he is having conversations vulnerable to interception by hackers or foreign governments.
This entirely incomplete list of controversies during the first two years of Donald Trump's presidency is largely unrelated to the Russia probe. Some have been uncovered by journalists and, to varying extents, litigated in the courts or scrutinized by inspectors general. But what they have in common is that none have been the sole subject of a single hearing before Congress.
Individually, in any other administration, each allegation of impropriety or ethical lapse might rivet the nation and generate days worth of headlines, drawing the same horde of cameras and wall-to-wall cable coverage that accompanied the appearances before Congress of Michael Cohen, Trump's former lawyer, or James Comey, the fired FBI director. Yet just as the Russia investigation and its many offshoots have hovered like a dark cloud over the Trump presidency, so have they obscured the many scandals that have escaped the full measure of congressional scrutiny as a result. They haven't been ignored, exactly, but they certainly haven't gotten much attention—an assortment of munchable appetizers overshadowed by the slowly roasting suckling pig everyone was waiting to be served.
Until January, there was a simple reason why Congress mostly overlooked these secondary scandals, and it had little to do with Russia: Republicans in control of the House, staying loyal to Trump, were unwilling to draw attention to issues that could damage the president and cast the party more broadly in a negative light. Democrats vowed to conduct far more vigorous oversight once they took power, but nearly three months into their majority, they have been consumed by the Russia investigation, the 35-day government shutdown, and an understandable desire to focus both legislation and oversight on their own policy agenda. As a result, they have just barely begun to tackle controversies unrelated to Russia.
Here are just a few of the many Trump scandals that have thus far escaped the full glare of Congress:
Emoluments
Government-watchdog groups sued Trump within days of his inauguration on the grounds that his refusal to divest from his business put him in violation of the Constitution's emoluments clause, which prohibits officeholders from receiving profits from foreign governments. Other lawsuits were later filed on similar grounds and are still winding their way through the courts.
Trump, however, has shown zero concern for the appearance that he is benefiting financially from the presidency. The Trump Hotel, opened in the historic Old Post Office in Washington, D.C., with a lease from the federal government, serves as something of a royal court. It's a hangout for Republican lawmakers, lobbyists, and organizations whose patronage there benefits the Trump Organization, while foreign governments have made a show of booking the hotel for their delegations or lobbyists in Washington. At one point in 2017, the Trump Organization told a Republican-led House committee that it would not track all the payments it received from foreign customers, even if that could help the president avoid running afoul of the emoluments clause. And the president himself uses his Twitter feed as a promotional tool for his properties around the world, especially his golf courses.
The emoluments issue might be about to get its day in the congressional sun: Democratic Representative Jerrold Nadler, the chairman of the House Judiciary Committee, recently announced a wide-ranging investigation into the president's alleged abuse of power and flouting of the rule of law. As part of that inquiry, he requested documents from 81 different people and entities, including the Trump Organization and several of the president's business associates.
The FBI Building
This is another project that mixes Trump's business interests with his leadership of the government, and it again involves his prized D.C. hotel. As a real-estate developer, Trump opposed the government's long-standing plan to move the J. Edgar Hoover FBI building in Washington and open up its current site, across the street from Trump's hotel, for private development. The New York Times reported in October that Trump, as president, had personally intervened, after which his administration scrapped plans to relocate the bureau's headquarters—a change that will keep its site from commercial developers who could compete with his business. Though they have not yet held a dedicated hearing on the matter, Democrats have sought information on Trump's involvement, most recently in Nadler's broad request for documents.
But Their Emails
Donald Trump arguably won the presidency in part because his opponent, Hillary Clinton, used a private email account while serving as secretary of state.
Yet barely nine months into the president's term, news broke that not one, but at least six of his closest advisers were doing the same thing. They included both Trump's daughter Ivanka and his son-in-law, Jared Kushner. While Clinton's use of a private server spawned an FBI investigation that might have doomed her chance at the White House, the revelations about Trump's inner circle generated relatively little interest from the Republicans in control of Congress at the time. The then-chairman of the House Oversight Committee, Representative Trey Gowdy, sent a letter to the administration asking it to identify staffers using private email accounts, but despite pressure from Democrats, no hearing was held.
Kushner's Security Clearance
For Democrats, no Trump scandal might be as galling as revelations that the president's top aides were, soon if not immediately after taking office, engaging in the exact alleged conduct that Clinton was so pilloried for. But the more serious security-related controversy is likely the president's decision to grant Kushner a security clearance over the objections of top intelligence and White House officials. An account of the process reported by The New York Times in February suggests that Trump also lied about whether he had intervened. Democratic Representative Elijah Cummings, the chairman of the House Oversight Committee, has begun an investigation into Kushner's security clearance, as well as his use of unsecured email and messaging accounts to conduct official business.
All the Cabinet's Conflicts
Trump's Cabinet has undergone a dizzying amount of turnover in barely one-half of one term. Some Cabinet-level officials, such as Health and Human Services Secretary Tom Price, EPA Administrator Scott Pruitt, and Interior Secretary Ryan Zinke, have resigned in scandal. But a few of the secretaries who remain in office have been mired in controversy too. They include Wilbur Ross, the commerce secretary, who told government-ethics officials that he had divested his business holdings, as he assured Congress he would during his confirmation hearings. But an investigation by Forbes found that he retained stakes in a firm co-owned by the Chinese government and another tied to Vladimir Putin's inner circle.
The scandals surrounding HUD Secretary Ben Carson have been more prosaic. In early 2018, it came out that, on his behalf, the department spent $31,000 on a new dining set for his office at a time when the administration was proposing steep budget cuts. The Washington Post separately reported that Carson allowed his son, Ben Carson Jr., to organize a "listening tour" in Baltimore despite concerns that it would run afoul of federal ethics rules because of the younger Carson's business interests.
The Inaugural Scandal
The latest Trump activity to draw interest from state and federal investigators was the kickoff to his presidency: his inauguration. Prosecutors have subpoenaed records from his inaugural committee as they look to see whether it illegally received contributions from foreign donors or engaged in other types of fraud, such as overcharging vendors or spending money that benefited Trump's family. The widening probe also means, as the Post noted, that nearly every aspect of Trump's career has come under criminal investigation, from his business to his charitable foundation, from his inaugural committee to his actions as president. The inaugural organization will also be getting a closer look from Congress, as it is included among the 81 people or entities from which Nadler has sought documents.