The Atlantic Politics & Policy Daily: Mueller Delivers
One year, 10 months, and six days later, the Special Counsel Robert Mueller has delivered his final report to Attorney General William Barr. What comes next?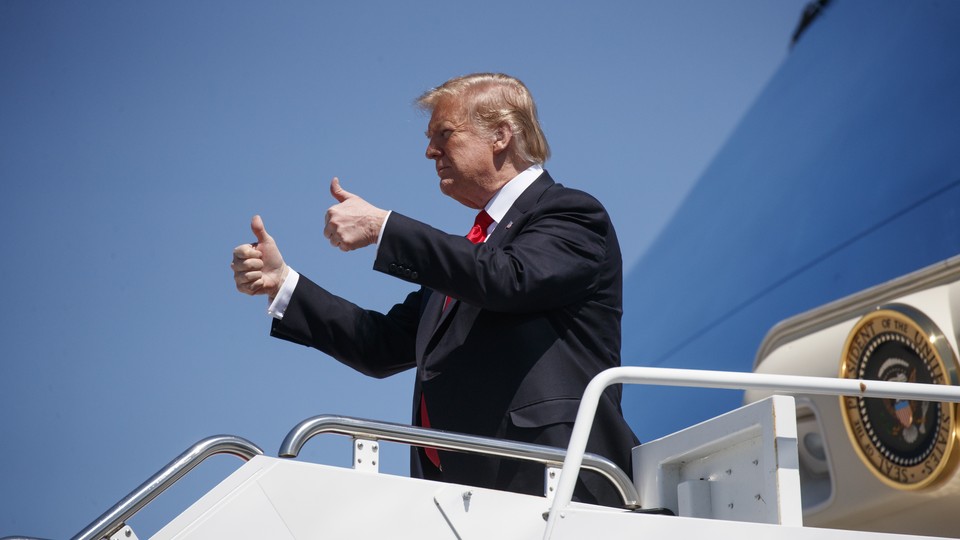 What We're Following Today
It's Friday, March 22. "I write to notify you pursuant to 28 C.F.R. §600.9(a)(3) that Special Counsel Robert S. Mueller III has concluded his investigation of Russian interference in the 2016 election and related matters," Attorney General William Barr wrote in a letter to congressional committee members on Friday.
"Now it's up to Barr to write his own summary of the findings, which will then go to Congress," Natasha Bertrand reports: These are the threads that Mueller has already unspooled (and the lingering questions might now fall to Congress).
The Man, the Myth: Rod Rosenstein appointed Special Counsel Robert Mueller in May 2017 to investigate ties between the Trump campaign and the Russian government. In the years since, Mueller turned into something of a mythical figure to many Americans on the left—someone onto whom they've projected their greatest hopes about Trump's wrongdoings, Megan Garber writes.
(Colin Anderson / Alex Wong / Getty / Paul Spella / The Atlantic)
Decentralized: Medical facilities across the U.S. all have their own method for collecting patient information, which can lead to confused doctors and bad care for patients. And fixing the problem has so far proved impossible.
They're All Running: The Democrat Michael Bennet, a senator from Colorado, is reportedly close to announcing his own bid for the presidency. (Here's our 2020 candidate tracker.)
Victorious?: President Donald Trump announced that he's reversing U.S. sanctions imposed on North Korea just yesterday. White House Press Secretary Sarah Huckabee Sanders said Trump "likes Chairman Kim" and thinks the sanctions are unnecessary. Sanders also told reporters on Air Force One that ISIS territory has been "100 percent eliminated" in Syria. (President Trump has declared victory over the terrorist group before but, then as now, the question remains: Does less physical land actually signify defeat?)
Time's Up: Two months ago, the U.S. announced that it would recognize Juan Guaidó as the legitimate president of Venezuela as part of an effort to pressure the country's current president, Nicolás Maduro, to step down. But with Maduro still clinging to power, the international community's options are dwindling.
---
Snapshot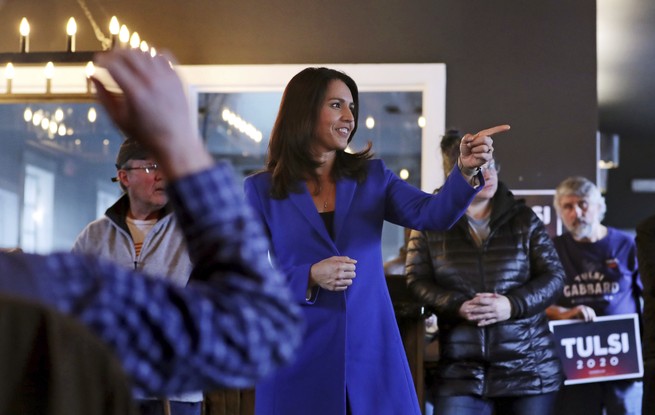 (Charles Krupa / AP)
Presidential hopeful Tulsi Gabbard, a Congressional Democrat from Hawaii, takes a question during a campaign stop at a brewery in Peterborough, New Hampshire.
---
Ideas From The Atlantic
Nobody Knows Anything About 'Electability' (Peter Beinart)
"The irony is that many political commentators think it's easier to have an informed opinion about electability than about policy. It's actually harder." → Read on.
John Oliver's Weak Case for Callout Culture (Conor Friedersdorf)
"One could argue that Oliver was holding Leno "accountable" for jokes he told in the 1990s that now seem cruel and unfunny. But Oliver could've criticized the old jokes while still treating Leno as he treats himself: as an imperfect but not malign comic who told jokes that are regrettable in hindsight." → Read on.
Kavanaugh Went Up to the Line That Sotomayor Crossed (Josh Blackman)
"The Court should resist the urge to wade, or even dip a toe, into partisan squabbles by naming the politicians responsible for legislation, unless, of course, those facts are necessary to resolve a given case." → Read on.
---
What Else We're Reading
‣ Parkland Shooting Survivor Sydney Aiello Takes Her Own Life (Christina Capatides, CBS News)
‣ House Democrats Move to Hobble Primary Challengers (Ally Mutnick, National Journal)
‣ Trump Is a Massive Failure—And Getting Exactly What He Wants (Andrew Sullivan, New York) (🔒 Paywall)
‣ How Twitter's Algorithm Is Amplifying Extreme Political Rhetoric (Oliver Darcy, CNN)
---