The Atlantic Politics & Policy Daily: Brown Out
With Senator Sherrod Brown out of the 2020 presidential race, Democrats may have lost their best shot at winning in Ohio. Plus: The fight over Ilhan Omar.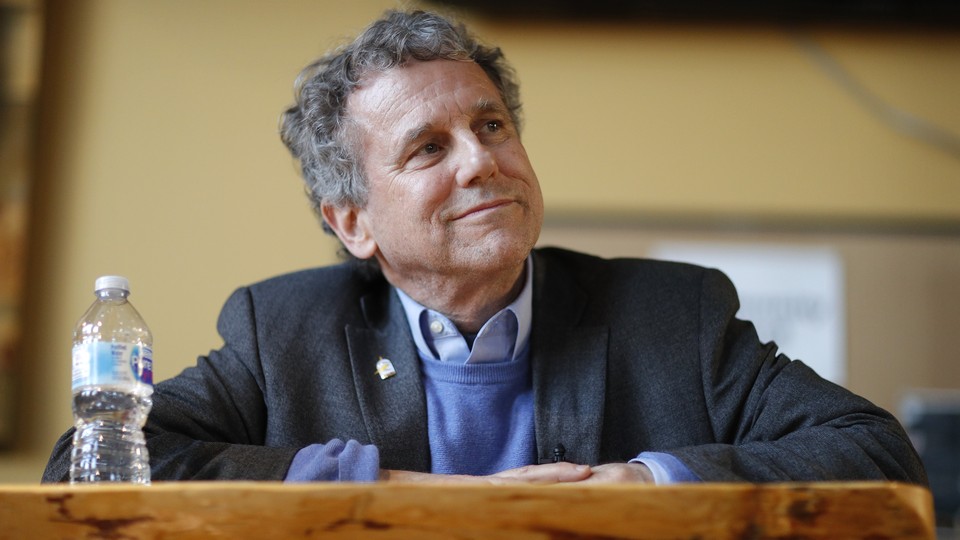 What We're Following Today
It's Thursday, March 7.
‣ Michael Cohen, President Donald Trump's former lawyer and fixer, is suing the Trump Organization, alleging that he was denied $1.9 million in legal fees after agreeing to cooperate with prosecutors.
‣ Paul Manafort, Trump's former campaign manager, who was convicted last year on eight counts of tax and bank fraud, was sentenced.
Here's what else we're following:
Changes in the Democratic Field: Representative Seth Moulton of Massachusetts, best known nationally for his failed attempt to overthrow Nancy Pelosi as speaker of the House, is hinting that he might run for president. If he does, he'll be the only Democrat running with a focus on national security, reports Edward-Isaac Dovere. He hasn't started fundraising or hiring, and has given himself about two months to decide.
Meanwhile, Senator Sherrod Brown of Ohio, who had been touring the country preaching about the "dignity of work," announced that he won't run for president after all. His departure shrinks the field of Democratic contenders, but it might also signal the shrinking of the party's map.
The House passed a resolution condemning anti-Semitism and hate in other forms, with every Democrat voting in favor and 23 Republicans voting against. The vote came in the wake of comments last week from Representative Ilhan Omar of Minnesota, that many considered to be anti-Semitic. In an interview, House Majority Whip James Clyburn defended Omar's comments, saying that because she is a Somali refugee, her experience is "more personal" than that of the children of Holocaust survivors.
Voting Issues: Minority Leader Chuck Schumer is unveiling a proposal intended to expand voting rights across America. Disenfranchisement, he told Vann Newkirk in an interview, is one of the "three biggest issues" facing the country—and one that Democrats will campaign on in 2020, with pushes for universal registration and D.C. statehood. (The other "big" issues Schumer notes are climate change and income inequality.)
Three Little Words: Trump's remarks at the annual Conservative Political Action Conference show that the essence of his 2020 reelection strategy can be neatly synthesized into three words: "I'll protect you." And with those words, the president has confirmed that, even as an incumbent, he is more interested in running on fear than hope, writes Ron Brownstein.
---
Snapshot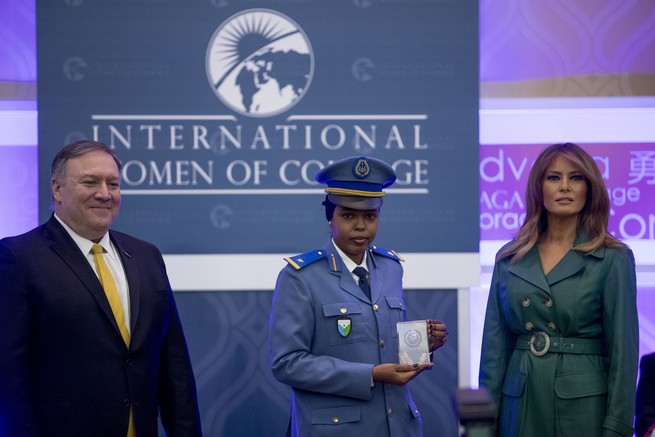 Moumina Houssein Darar of Djibouti poses with Secretary of State Mike Pompeo and First Lady Melania Trump as she is awarded the 2019 International Women of Courage award at the Department of State. (Andrew Harnik / AP)
---
Ideas From The Atlantic
I've Faced the Charge of Dual Loyalty (Rahm Emanuel)
"In 2002, well before Donald Trump and other 'birthers' questioned Barack Obama's citizenship, I had to produce my U.S. birth certificate in my first run for Congress to disprove false assertions about my background and loyalties." → Read on.
Clarence Thomas Is in the Wrong Line of Work (Garrett Epps)
"So idiosyncratic is his approach that he often found himself at odds with the godfather of judicial originalism, the late Justice Antonin Scalia. Scalia, it's been reported, took a slap at Thomas in his famous statement that 'I am an originalist, but I am not a nut.' The conservative legal movement, while praising Thomas on ceremonial occasions, tends to both quote and follow Scalia." → Read on.
Five Unanswered Questions About Paul Manafort (Franklin Foer)
"The collected documents from the Manafort trials make it obvious that prosecutors believe that Manafort attempted, on many occasions, to leverage his leadership of the Trump campaign to salvage his disastrous personal finances. What they have described is a state of desperation, but they haven't fully articulated where, precisely, this desperation led him." → Read on.
Trump Just Gave Himself More Power to Kill in Secret (Conor Friedersdorf)
"The president wants the power to kill people in secret far from any battlefield without having to disclose how often he exercises it or how many innocents die." → Read on.
---
What Else We're Reading
‣ Of Course Democrats Shouldn't Let Fox News Host a Primary Debate (Eric Levitz, New York) (🔒Paywall)
‣ In Search of a New Center in the Culture War (Damon Linker, The Week)
‣ U.S. Cancels Journalist's Award Over Her Criticism of Trump (Reid Standish and Robbie Gramer, Foreign Policy)
‣ Biden's 2020 Plan Is Almost Complete. Democrats Are Impatient. (Jonathan Martin and Alexander Burns, The New York Times) (🔒Paywall)
---