The Politics & Policy Daily: The Barr for Obstruction of Justice
The White House celebrates Attorney General William Barr's summary of the Mueller report. Plus: Michael Avenatti was arrested on extortion charges.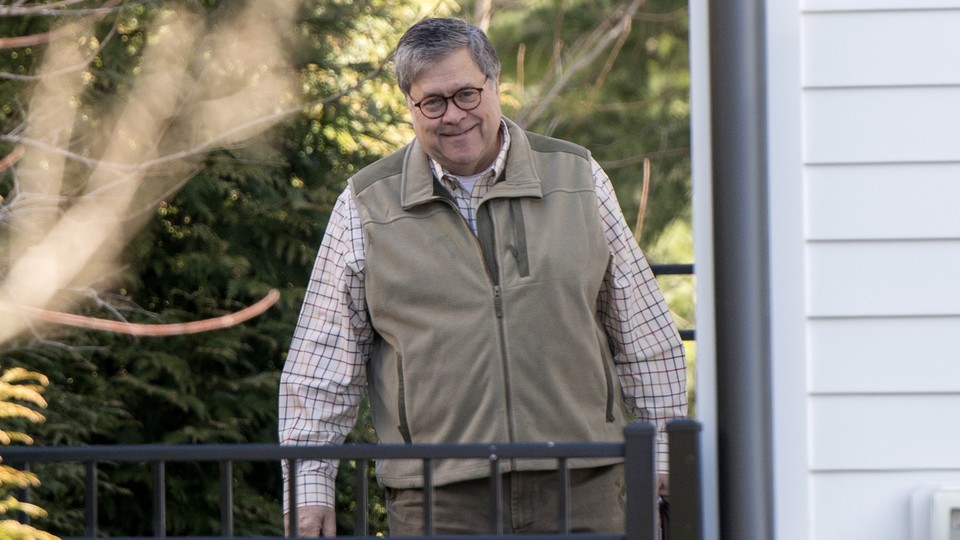 What We're Following Today
It's Monday, March 25.
‣ Senator Tom Udall, a Democrat from New Mexico, announced that he will not run for reelection in 2020. "The worst thing anyone in public office can do is believe the office belongs to them, rather than to the people they represent," Udall said in a statement.
‣ Michael Avenatti, the former lawyer for the adult-film star Stormy Daniels, was arrested on charges that he tried to extort Nike for $25 million. Avenatti was also charged in a separate case, where he was accused of embezzlement and defrauding a bank.
Here's what else we're watching:
Mueller Fallout
Two days after receiving Special Counsel Robert Mueller's final report, Attorney General William Barr presented his conclusions in a four-page letter to Congress: There was no collusion between Russia and the Trump campaign, and while Mueller himself didn't ultimately make a determination on whether the president obstructed justice, Barr said he and Deputy Attorney General Rod Rosenstein decided the evidence presented didn't meet the bar for that crime. Here's what's been unfolding since:
‣ The White House Response: President Trump's team is claiming victory and celebrating Mueller's report as a boon to his reelection chances. "The findings of the Department of Justice are a total and complete exoneration of the President of the United States," Press Secretary Sarah Huckabee Sanders tweeted after Barr's letter was posted online. The president himself reacted shortly after:
(via Twitter)
‣ The $Resistance: Meanwhile, the pundits, commentators, and entrepreneurs who were banking on Mueller discovering the smoking gun that would remove Trump from office have been disappointed. With the report finalized, writes Ian Bogost, "the Mueller-industrial complex is quickly collapsing."
‣ The special counsel's Russia probe is over. Other investigations remain. There are multiple legal inquiries surrounding the president and his associates, including an emoluments case that might head to the Supreme Court. And many other Trump-related controversies could have been investigated by Congress instead, reports Russell Berman.
The U.S. and Israel: Speaking at the American Israel Public Affairs Committee's annual conference, Vice President Mike Pence criticized recent comments from Representative Ilhan Omar of Minnesota, saying that "anti-Semitism has no place" in Congress and questioning her position on the Foreign Affairs Committee. Omar has recently sparked controversy for comments that some perceived as perpetuating anti-Semitic tropes.
Also today: President Donald Trump, joined by Israeli Prime Minister Benjamin Netanyahu, formally signed a declaration recognizing Israel's sovereignty over the Golan Heights, reversing decades of U.S. policy.
---
Snapshot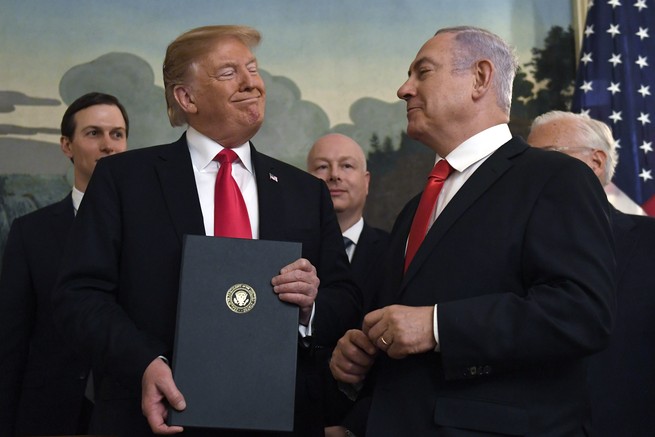 President Trump smiles at Israeli Prime Minister Benjamin Netanyahu after signing a proclamation in the Diplomatic Reception Room at the White House. (Susan Walsh / AP)
---
Ideas From The Atlantic
The Mueller Probe Was an Unmitigated Success (Franklin Foer)
"Even if the actual Mueller report is anything like the attorney general's summation of its contents, Russiagate will go down as one of the biggest scandals in American political history." → Read on.
Barr's Summary of Mueller's Report Raises These Questions (Ken White)
"Though Barr emphasized that he and Rosenstein had been involved in evaluating the status of the investigation for months, and that they consulted the Office of Legal Counsel and other Department of Justice experts, this conclusion reflects startling and unseemly haste for such a historic matter."  → Read on.
What the Mueller Report Has Not Answered (David Frum)
"[Trump] was the beneficiary of a foreign intelligence operation, but not an active participant in that operation. He received the stolen goods, but he did not conspire with the thieves in advance." → Read on.
We Drew Congressional Maps for Partisan Advantage. That Was the Point. (Ralph Hise and David Lewis)
"'I propose that we draw the maps to give a partisan advantage to 10 Republicans and three Democrats, because I do not believe it's possible to draw a map with 11 Republicans and two Democrats,' one of us said in 2016, as the North Carolina legislature drew new congressional maps." → Read on.
Where #MeToo Came From, and Where It's Going (Catharine A. MacKinnon)
"The #MeToo mobilization, this uprising of the formerly disregarded, has made increasingly untenable the assumption that the one who reports sexual abuse is a lying slut." → Read on.
---
What Else We're Reading
‣ Trump Might Not Be Guilty, But Neither Is the Press (Jack Shafer, Politico Magazine)
‣ Buttigieg Surges to Third Place in New Iowa Poll (Chris Mills Rodrigo, The Hill)
‣ Eager to Court Jews (And Fracture Democrats), Republicans Push Bills on Anti-Semitism (Glenn Thrush, The New York Times) (🔒 Paywall)
‣ Dems Freeze Out GOP on Bipartisan Bills (Melanie Zanona and Sarah Ferris, Politico)
‣ The Ghosting of the Democratic Centrists (Josh Kraushaar, National Journal)