The Atlantic Politics & Policy Daily: A Loss So Fundamentally Cruel
Forty-nine people were killed in mass shootings at two mosques in New Zealand. Plus: President Trump signs his first veto.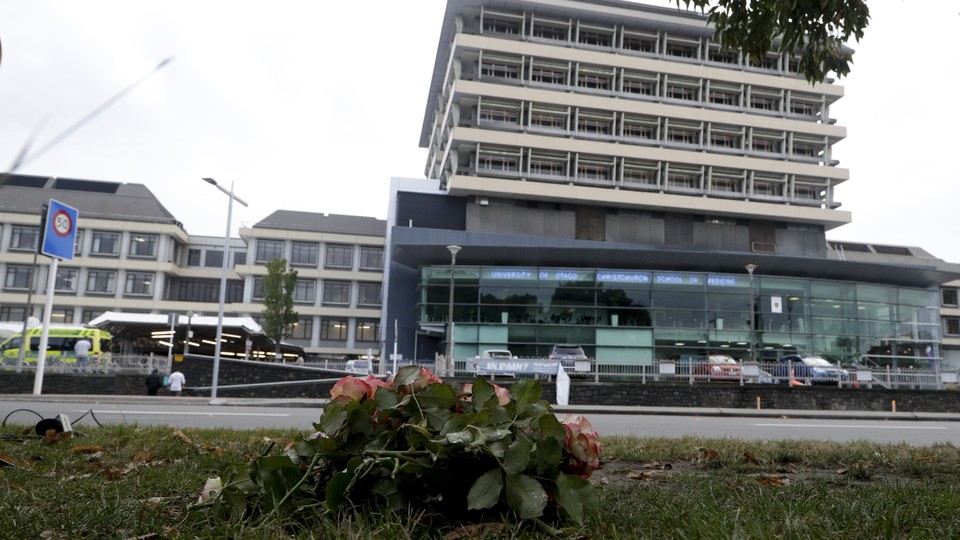 What We're Following Today
It's Friday, March 15.
At least 49 people were killed in mass shootings at two mosques in Christchurch, New Zealand, the deadliest in the modern history of the country. The suspected gunman posted a 74-page manifesto on the extremist chat room 8chan before his attack (which he appeared to have live-streamed), invoking far-right language on the erosion of "whiteness" and citing "a future for white children" as a goal.
‣ Friday's attacks were the first mass shootings in New Zealand since six people were murdered in 1997 in the North Island town of Raurimu, more than two decades ago. A sobering fact: In that same time, at least 90 mass shootings have happened in the United States.
‣The Christchurch shootings mirror recent attacks by other terrorist groups. The emphasis on mass killing, the weaponization of social media, and the fixation on perceived threats to the identity of the group the attackers take as their own are shared threads. But none of this can "fully explain a violence so fundamentally senseless, and a community loss so fundamentally cruel," writes Kathy Gilsinan.
‣ J. M. Berger warns how news organizations dangerously amplify the impact of extremist manifestos by sharing them.
‣ Adam Serwer examines the deep American roots behind the seemingly fringe conspiracy theory of "white genocide" in the April issue of The Atlantic magazine: "When Americans abandon their commitment to pluralism, the world notices, and catastrophe follows."
Here's what else we're watching:
VETO!: As expected, President Donald Trump vetoed the Congressional attempt to block his declaration of a national emergency, and leading up to the Senate's rebuke on Thursday, seemed to care very little about trying to win over Congress.
A Candidate for the 'Middle': You might not have heard of Representative Tim Ryan, but the Democratic congressman from Ohio—who's also an avid hot-yoga practitioner—is seriously considering running for president. Elaine Godfrey spent some time talking to the potential candidate about what he thinks he can bring to the national conversation. "Should he run, Ryan would likely position himself as the candidate best able to attract ... 'middle' voters. In his working-class district in northeast Ohio, roughly 45,000 people filled in the bubble for both Trump and Ryan in 2016."
More on Manafort: Trump's former campaign chairman Paul Manafort has been sentenced to more than seven years in prison for crimes uncovered during the course of Special Counsel Robert Mueller's probe. But all of Manafort's convictions have been for financial crimes—and Mueller might still have more dirt on him, reports Natasha Bertrand: "Prosecutors might have more ammunition to go after the 69-year-old on matters that go directly to the question of a conspiracy with Russia."
Who Will Pay?: After eight years of civil war, Syrian President Bashar al-Assad is still firmly in power. But much of the nation is destroyed, and no country is particularly keen to help rebuild it, writes Krishnadev Calamur. Russia, an Assad ally, can't afford to help, while many Assad adversaries can afford to, but won't.
Trump Towers, Never Built: The Trump Castle. The World's Tallest Building. The World's Tallest Building, Take Two. The World's Tallest Building, Take Three. These are all the Donald Trump construction projects that were never realized.
---
Snapshot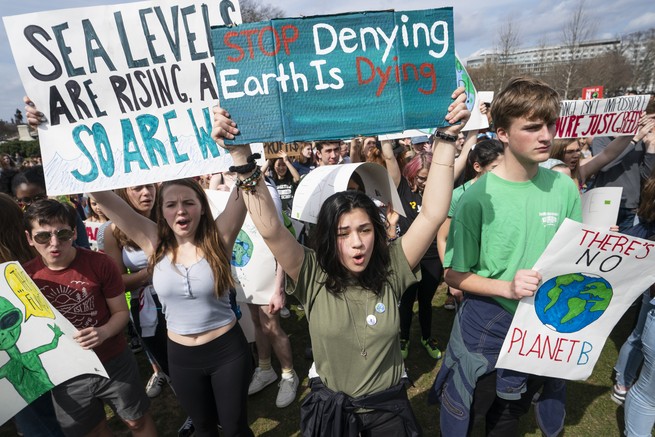 Young demonstrators join the International Youth Climate Strike event at the Capitol in Washington, D.C. Students around the world took to the streets to urge action on climate change. (J. Scott Applewhite / AP)
---
Ideas From The Atlantic
A Repulsively Casual Terrorist Manifesto (Graeme Wood)
"What we should learn as this particular manifesto is forgotten is that even if specific texts prove unmemorable, the potency of ideas is enduring and chronically underestimated. Is there any doubt that the ideology that inspired the Christchurch terrorist is a global pestilence, and that any response that fails to apprehend it as an ideology is inadequate?"→ Read on
Will the U.S. End the Death Penalty? (Carol S. Steiker and Jordan M. Steiker)
"As the footprint of the American death penalty continues to shrink … it becomes less plausible to believe that the death penalty serves any social goals, particularly deterrence. From a constitutional perspective, when the death penalty cannot be tied to any social good, its imposition by definition becomes unnecessary and excessive."→ Read on
Elite Colleges Don't Understand Which Business They're In (John Fabian Witt)
"The core of a university's real mission is to produce and disseminate ideas; sorting and ranking applicants is just a means to an end. To fixate on the 'best people' is like urging Human Rights Watch to maximize 'likes' on social media instead of stopping human-rights abuses, or urging General Motors to value next year's J.D. Power ratings over its long-term profits." → Read on
Secular Democrats Are the New Normal (Peter Beinart)
"Today's white liberals don't only talk about faith less than their predecessors did. They talk about it in a strikingly different way."→ Read on
---
What Else We're Reading
‣ The Strongmen Strike Back (Robert Kagan, The Washington Post) (🔒 Paywall) 
‣Kentucky Farmers Gamble on the South's First Organic Hemp Cooperative (Austyn Gaffney, Southerly)
‣Unlikely Journeys: Reading the Memoirs of a Crowded Democratic Field (Jake Bittle, The Baffler)
‣The Argument That the President 'Cannot Be Indicted' Is Surprisingly Weak (Kim Wehle, The Bulwark)
And One More Thing ...
In a kinder corner of the internet: Julie Beck interviews a group of women who met in the comments section of a women's blog a decade ago, and became friends in real life.
---