Joe Sanberg Dares Trump to Call Him a Socialist
The multimillionaire investor says the Democrats' progressive agenda is best for jobs and economic growth.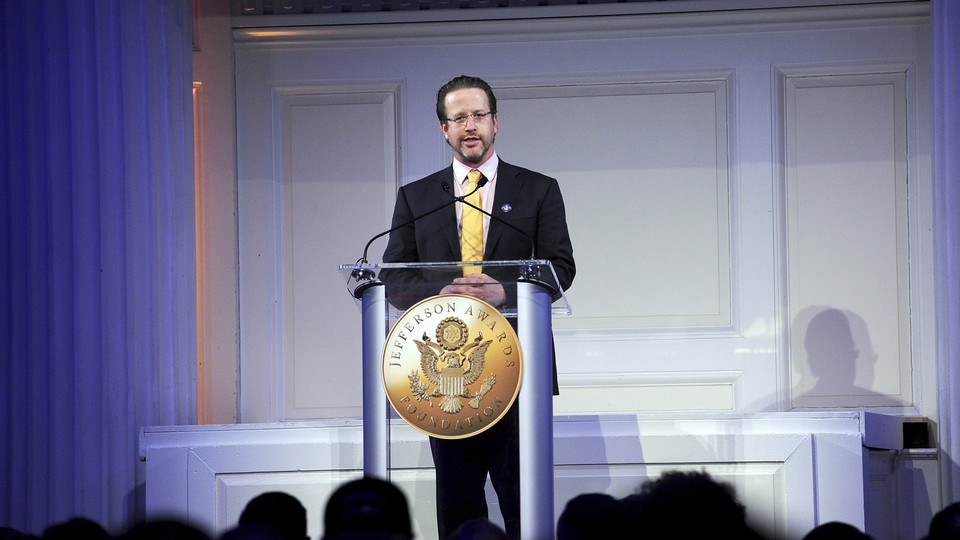 AMES, Iowa—Joe Sanberg thinks there just might be a long-shot presidential campaign for him if he can roll his unique attributes together: growing up poor, succeeding in business, making millions on Wall Street, embracing progressive values, and celebrating his Jewish heritage.
Medicare for all, the Green New Deal, increasing corporate regulation, and investing in food stamps and Medicaid to help the poor are the kinds of issues that chased Mike Bloomberg out of the race and Howard Schultz out of the party. Sanberg's twist: He thinks the policies coming out of his party's left are actually the best ways to spark growth.
"Imagine how many businesses or inventions haven't been conceived in America because of people's dependence on employer-provided health insurance," he argued in a column for The Nation last week. "Medicare for All will give more people freedom to take the risk of being an entrepreneur by removing the risk that they will lose their health insurance in the process."
And he dares President Donald Trump to call him a socialist.
"I've got to make the case on behalf of our party that our progressive positions are moral, and also the smart thing for our economy," Sanberg said, standing in central Iowa at an event with Senator Cory Booker of New Jersey. He admitted later that he's gotten serious about running for president again because of Trump's clear preview of a 2020 campaign all about calling Democrats socialists. "Good luck to them if they want to call me a socialist, because businesspeople aren't socialists," he told me.
Before he was a multimillionaire, self-made investor, and entrepreneur, Sanberg, 39, grew up in Orange County, California, near Disneyland, as one of two sons of a single mother who did substitute teaching and editing, but was forever behind on bills. He learned young to hate the people who said hard work was all it took to get ahead.
Sanberg was a scholarship kid at a prep school who got into Harvard and went for a career on Wall Street that would pay him the most money right out of school. After the better part of a decade at Blackstone, he quit, made his way back to California, and hit it big as the founding investor in Blue Apron, the online meal-delivery company. He then became the founding shareholder in Aspiration, a financial-services company that specializes in socially conscious investments.
"Coming from poverty and at the same time being able to create wealth—he understands how they're interconnected personally," said Representative Ruben Gallego of Arizona, a close friend who bonded with Sanberg at Harvard, where they were poor kids amid a sea of classmates with yachts and their names on buildings. "A lot of these politicians are talking on a theoretical level."
For the past five years, Sanberg has been funding a nonprofit he created called Working Hero, which has helped 2 million low-income people a year get more cash back on their federal income. After creating the nonprofit, he founded the Working Hero PAC, which lobbies and backs candidates who support anti-poverty efforts.
This year, to deliberately inject Working Hero's tax-counseling services into the presidential race, he opened chapters in Iowa and South Carolina. Following up on the event he did with Booker, Elizabeth Warren will appear at a Working Hero event during her swing through Iowa this weekend.
Even though Republicans under Donald Trump seem to have abandoned their traditional objections to deficit spending and government intervention in corporate affairs, Sanberg believes Democrats are still largely allowing the GOP to set the terms of the economic debate and frame it as a clash between the conservative party of small government and growth, and the socialist party of big government and welfare.
For all the economic ideas from the left that have become early litmus tests in the Democratic primary race, the only real argument for growth is coming from Washington Governor Jay Inslee and his pitch that renewable energy and environmental cleanup are job creators. He talks about raising the minimum wage in Washington and having the most robust state economy in the country.
Sanberg thinks only a successful entrepreneur who's also a progressive can make those arguments on a broader scale with any success. He thinks increasing the minimum wage will do more than corporate tax breaks to stimulate the economy. "I'm so sick and tired of Republicans calling us socialists," Sanberg said at the event with Booker, at which his nonprofit worked to help people file tax returns and receive the $3,000 they're eligible for under the earned-income tax credit. "The true socialists are Republicans, because they have socialism for monopolies, and then competition for the rest of us, fighting like crabs in a bucket over scraps."
To be sure, he has a name-recognition problem. No one knows who Sanberg is. But he's hoping the right mix of attributes could make him an appealing, interesting alternative—like Pete Buttigieg, the mayor of South Bend, Indiana, whom he also knows from Harvard—to the better-known candidates.
Bradley Tusk, a Democratic operative who went to work for Bloomberg and then became an investor himself, said that Sanberg might actually be the exact wrong mix right now.
"Feels like he may have the worst of both worlds—all of the personal history progressives hate (i.e., someone who's made money) and support for ideas that are now much harder to advance post-Mueller," Tusk wrote in an email. "Running to advance the far left platform without having the credibility to win over left wing voters seems like a tough combination."
Tusk added, "He doesn't need to run for president to have an impact."
Last week, Sanberg bounced between Iowa and South Carolina, then headed back home to California to announce that Leonardo DiCaprio was joining his company as an investor as part of a new initiative barring money in its accounts from being lent to fossil-fuel companies.
Sanberg said he won't make a final decision about his own presidential plans until April 15, when Working Hero's focus culminates on tax day. Days later, he'll head back to Iowa and South Carolina to host Passover seders—he'll do the Iowa one in Ames and invite Steve King, a local congressman who's become famous for his apologetic attitude toward white nationalists.
Whether or not he runs—and if he does, he said, he won't self-fund—Sanberg said he's determined to try to push Democrats to a different way of talking about poverty and economics.
"When we were growing up, we used to think that your view of whether you were conservative or liberal was about how you should help people, not whether you should help people," Sanberg told me.
The same way some working-class voters felt forgotten by the Democrats and gravitated to Trump in 2016, Sanberg said, every day now there are people who fall behind on their mortgages, their student loans, even their grocery bills.
"So much of our politics tells everyone that they're middle class … But when you live paycheck to paycheck, when you're waking up in a cold sweat in the middle of the night, that's not middle class, that's poverty," Sanberg said. "Somewhere along the line, the definition of poverty was stolen by the statisticians. We need to reclaim as Democrats the definition of poverty for those who live it. Poverty isn't what the statistics say—poverty is the lived experience of real people in America."