The Myth of Joe Biden's Working-Class Support
Beyond two failed presidential campaigns, the former vice president has never run a race on his own outside Delaware.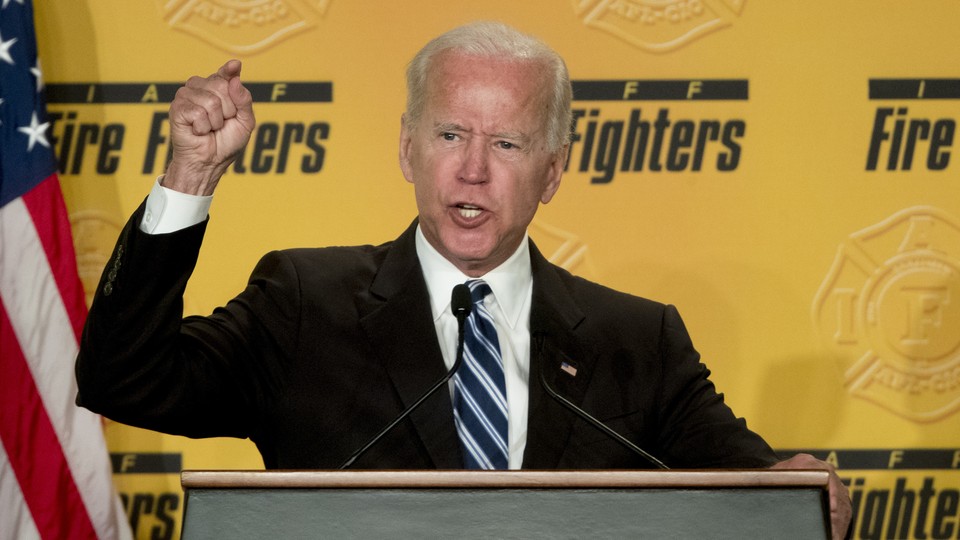 People always talk about Joe Biden's special connection to the white working class, those vaunted lost voters throughout the industrial Midwest whom Democrats are desperate to get back if they want the White House again.
No one has any proof that this connection gets anyone to vote for Biden, or vote at all.
The idea that he can win white working-class votes is part of every calculation about Biden's likely 2020 run, in public and among his inner circle. It has become automatic filler in conversations and news stories about how he'd measure up against the rest of the Democratic field and how he might perform against Donald Trump, or which states he'd put in play. It was part of why Barack Obama put him on the ticket in 2008 and how Hillary Clinton deployed him in 2016, and it defined which districts he was asked to campaign in during the 2018 midterms.
So is he the working-class juggernaut, ready to roll over the 2020 field of candidates on the backs of union members and people scraping to get by? Maybe. No politician speaks as viscerally about the working class as Biden does, from his own experiences growing up to the causes he fought for during his decades in government.
Just go back to that August day in 2016 when, after endorsing Hillary Clinton in Scranton, Pennsylvania, he took her to the house he grew up in to show her the kitchen where his grandfather used to sit and stress about finances. He was soon bounding around the neighborhood shaking hands, trying to draw people into conversations, while Clinton was left standing on his old front lawn deflecting a question about why so many in the area were supporting Trump.
Or last year, when Abby Finkenauer's congressional campaign persuaded him to make a trip to Iowa, despite his attempts to avoid stoking presidential speculation by appearing in the state. Finkenauer insisted to his team that he could make the difference in swaying suspicious swing voters to back a Democratic woman in her late 20s (she won, narrowly).
Or maybe the idea that he's a magnet for white working-class votes is yet another bit of conventional political wisdom that's about to be blown apart. Beyond two previous presidential runs that barely got off the ground, he's never run a race on his own outside Delaware, and the last competitive race he had there was his first one, when Richard Nixon was president.
"We strongly believed that he would be a help in the industrial Midwest, and we used him there a lot," said David Axelrod, the top Obama adviser who helped bring Biden onto the ticket in 2008. Whether he was, in the end, a help in the industrial Midwest, Axelrod said, "that's so hard to say."
"Watching him campaign, it does strike me that he could campaign in all 88 Ohio counties and break through with people," said Ohio's Democratic Party chairman, David Pepper. He added, "I think people are too quick to make a set of assumptions about one candidate and assume that others couldn't do it."
While Biden is a tighter demographic fit for the white working-class voters whom the Democrats want to win back, the last Democrat to comfortably win the Iowa caucuses and go on to win Ohio, Indiana, Wisconsin, Michigan, and Pennsylvania in a general election was a half-Kenyan, half-Kansan from Chicago by way of Hawaii.
Biden certainly wanted to believe on Tuesday morning that he was reaching people in their guts, looking out from the stage in the basement of a Capitol Hill hotel at the International Association of Fire Fighters union convention, which has essentially pre-endorsed him, handing out free Firefighters for Biden T-shirts to members after the speech. It was a crowd full of Run Joe Run signs and chants from a mostly white crowd. He spoke emotionally about collective bargaining, fair pay, standing up against the people who want to warp the country toward the rich, and the crowd responded.
"I appreciate the energy when I came up here. Save it a little longer—I may need it in a few weeks," he said. With an introduction by his wife and a cheerleading introductory video, the event was a dry run for what a campaign announcement might be like. "Be careful what you wish for," he said. "Be careful what you wish for."
He's enjoying his coquettishness, answering questions with a smile and a wave, or a little comment while taking selfies in the crowd after and saying, "We'll announce that pretty soon." The union's president, Harold Schaitberger, seemed pleased after working the crowd with Biden. "His voice is more than connecting with the neighborhoods," he said. "He really connects with the individuals."
Schaitberger said Biden "absolutely" delivered votes for the ticket in 2008—a campaign in which Jim Messina, an aide on Obama's 2008 campaign and his 2012 campaign manager, called Biden "a crucial touchstone for these white working-class voters in assuring them Obama was on their side and shared their values."
Pressed to identify where those votes were, Schaitberger said, "It's not like physically where they were; it's like who were they." He said he wasn't going to get into saying there were any states Obama won that he would have lost without Biden on the ticket, and he'd never polled his members to see whether they shared his own love for Biden.
"I've just watched him and this for so long—maybe it's my own personal bias. I've seen this, felt this, been on the trails with him. And I see how workers and people react," Schaitberger said.
Bill Russo, a Biden spokesman who was at his side backstage and working the crowd at the firefighters' event, said he doesn't see the support as a question.
"Joe Biden has fought and will fight for policies that treat working people with the respect and dignity they deserve, and they in turn support him," Russo said. "He believes there is no distinction between pursuing progressive policies and speaking to the real concerns of working people. It's why he is able to campaign for candidates from Conor Lamb in Pennsylvania to Andrew Gillum in Florida—because working people know they can depend on Joe Biden."
John Anzalone, a pollster who has been advising Biden on a 2020 run, pointed to a Harvard-Harris poll from last month that showed that three-quarters of people who said they'd support Biden don't have a college education, and that he's winning 42 percent of non-college-educated voters—as opposed to the closest runner-up, Bernie Sanders, who had 22 percent. Likewise, Anzalone noted that Biden was leading among non-college-educated voters with 30 percent in a Monmouth University poll that came out earlier in the week.
There's no way to actually measure whether Biden has moved or motivated voters in the past, but Anzalone said he feels that the polls are a strong indication that he did.
"Biden has consistently had comfortable leads with non-college voters in public polls because he has a real connection with them," he said. "They think he is both authentic, cares about them, and understands their lives and problems."
One former 2016 Clinton operative remembered Biden's numbers in Pennsylvania as being "supernaturally high," and above anyone else's in other battleground states as well. Of course, Clinton went on to lose Pennsylvania, as well as all the other states in which she had Biden campaign.
"Clearly that didn't translate. But I don't think most surrogates translate, so that's not any evidence that he's not effective when his name is on the ballot," the operative said. He warned that could change, as Clinton's own support among working-class voters changed in 2008, if and when Biden, and his record, are being attacked directly as a candidate himself.
Axelrod agreed.
"There is credence to the theory that were he the nominee that he could close off the industrial Midwest in a way that perhaps some others couldn't. The challenge is you have to run a very long gauntlet to there," he said. "The one thing polls can't do is project what the world's going to look like a year from now."