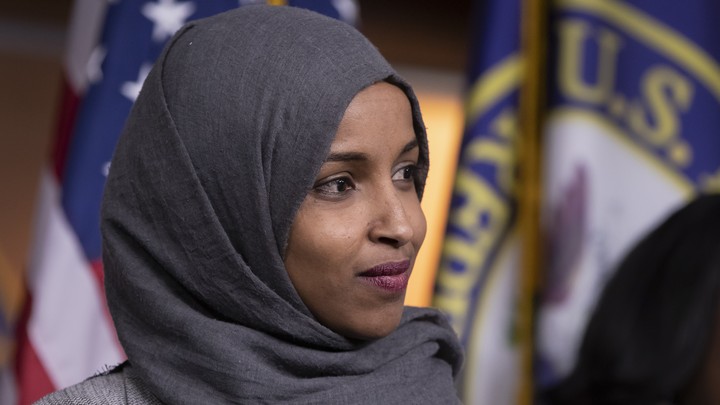 The U.S. House of Representatives voted on Thursday to condemn anti-Semitism, along with a litany of bigotries against Muslims, immigrants, Asian Americans and Pacific Islanders, LGBT people, and members of other religious minorities. The resolution followed a week of drama in the Democratic Party, with members clashing over yet another controversial comment on Israel by Representative Ilhan Omar of Minnesota. In a recent panel discussion, she suggested that pro-Israel political groups in Washington "push allegiance to a foreign country," seeming to echo the classically anti-Semitic allegation that Jews are more loyal to other Jews or to Israel than to the United States.
Thursday's resolution was an attempt at compromise between House members who believe Omar has repeatedly dabbled in anti-Semitic tropes, and those who feel she has been unfairly berated for criticizing and singled out because she is black and Muslim. The resolution specifically condemns intimations of dual loyalty wielded against Jews in discussion about Israel, along with similar accusations made against Muslims in the wake of 9/11. This week, a poster connecting Omar to the September 11 terrorist attacks was displayed outside the West Virginia House of Delegates during a state GOP event.
While this vote passed 407 to 23, with unanimity from Democrats in attendance, the party was really voting on something much bigger: how to balance competing visions for the future of the party. The debate over Ilhan Omar reflects the radical shift happening in the Democratic base. The party's young, multiethnic, definitively progressive wing has demonstrated its power to steer the country's conversation on Israel and Palestine. Muslim political leaders have helped make this happen. Omar and her colleague from Michigan, Rashida Tlaib—along with activists such as Linda Sarsour, who helped lead the national Women's March—have emerged as visible symbols of American progressivism. These leaders are pushing a vision of the Democratic Party as the unambiguous champion of the marginalized. Several 2020 Democratic presidential candidates, including Bernie Sanders, Kamala Harris, and Elizabeth Warren, have expressed their support for Omar.
And yet, the firestorms over Omar's Israel comments show that the party doesn't have the tools to smoothly negotiate competing claims of marginalization, especially when it comes to Jews, Muslims, Israel, and Palestine. As the progressive wing of the Democratic Party continues to gain power and push for changes to American policies on Palestine, this problem of conflicting identities and convictions will return again and again, testing the Democrats' ability to live up to their claim as the party of the marginalized.
In November, Omar and Tlaib became the first Muslim women ever elected to the U.S. Congress. Especially among young Muslims, their election was seen as a triumph, demonstrating that women like them—a Somali refugee and a Palestinian—have a place in America's halls of power. Both women quickly emerged as vocal champions of an issue that many American Muslims care deeply about: dismantling the strong American alliance with Israel and defending the rights of Palestinians.
Although neither Tlaib nor Omar represents a predominantly Muslim congressional district, their politics reflect a major change in Muslim political identity in recent years. According to the Institute for Social Policy and Understanding, American Muslims tend to be much younger and more religious than other Americans. They are racially diverse and very progressive; they strongly support causes such as Black Lives Matter and immigrant rights. This is a big change from even two decades ago. "The first wave of the post-9/11 responses [was] to emphasize the Americanness … of the American Muslim community—a willingness to wrap ourselves in the flag, and to swear fidelity to the country," says Omid Safi, the director of the Duke University Islamic Studies Center. "A shift has taken place where, increasingly, American Muslims … are expressing themselves in the language of being … unapologetically pro-justice."
Compared with the past, American Muslims are also more politically involved—and willing to advocate vocally for Palestinian rights. "There was almost no conversation years ago … by any mainstream Democrats about the policies of any Israeli administration that was in power at the time," says Dean Obeidallah, a Muslim comedian who hosts a show on Sirius XM and has family in the West Bank. And "up until a few years ago, there were almost no Muslims involved in politics. We weren't there as human beings, to be a counter-narrative. Now we're active."
In terms of numbers, Muslims make up a small part of the Democratic Party—after all, they only account for roughly 1 percent of the American population. But especially under the Trump administration, support for Muslims has been a central part of the Democratic Party's identity. Politicians have pledged to fight the president's so-called Muslim ban, Islamophobic rhetoric, and attacks on immigrants. "I think Donald Trump woke everyone [up]," Obeidallah says. "His open bigotry has spurred people to get active, and understand that the stakes are too important to sit out." Democrats' rush to defend American Muslims from perceived and real political attacks is central to its claim as party of the marginalized.
The inconvenient flip side to being that party, however, is that Democratic leaders actually have to listen to its putatively marginalized members. In recent weeks, as Omar has repeatedly made comments that alarmed some American Jews, claiming that support for Israel is "all about the Benjamins" and seeming to flirt with the trope of dual loyalty, left-wing groups have vocally defended her, claiming that supposed fear of Omar's anti-Semitism is being wielded to undermine her criticisms of Israel. Established Democratic leaders, including House Speaker Nancy Pelosi, have distanced themselves from Omar and called on her to apologize. But progressives have revolted on Twitter and in backroom meetings, delaying the House resolution on anti-Semitism that Democrats promised earlier this week. "We are not just to be paraded symbols of diversity," Safi says. "This is our House. This is our country."
Pelosi seemed a little shaken as she addressed the House floor on Thursday. "I salute all our members for demonstrating the courage to have this difficult conversation," she said. "Disagreeing sometimes, but never questioning the patriotism or motivation of anyone with whom we serve." Notably, Omar did not address the floor.
This is a huge shift in power and posture from just a few years ago, when a former representative from Minnesota, Keith Ellison, was accused of attacking Israel and supporting Louis Farrakhan, the notoriously anti-Semitic leader of the Nation of Islam. Ellison, who is Muslim, was also called out by top Democrats, prominent Jewish leaders, and pro-Israel groups. But he didn't get the same powerful upswelling of support—the progressive, largely pro-Palestinian wing of the Democratic Party didn't have nearly as much power. Today, if Democrats' support for Muslims "remains at the level of token celebration when it's convenient, and then immediately throwing them under the bus, well that's one option," Safi says. "I think most American Muslims would say we have no interest in being part of that."
As the Democratic Party tilts left, it faces hefty liabilities, which the controversy over Omar has powerfully illustrated. In progressive activist circles, support for Palestine is often part of the price of admission, along with support for LBGT rights and causes such as Black Lives Matter. This can foster a lack of sensitivity around language that tends to alarm American Jews, progressive and otherwise, including anti-Semitic tropes around Jews' love of money, outsize influence on banks and governments, and divided loyalties. "We carry some responsibility on the left for not acknowledging that anti-Semitism just exists in American society," says Eric Ward, the executive director of the Western States Center, which trains Jewish and Muslim leaders on anti-Semitism and Islamophobia. "It is not simply a phenomenon of the right, nor a phenomenon of the left. It is in the air we breathe. If we aren't conscious of it, we will sometimes act out anti-Semitism, in the same way that we may act out sexism or homophobia or racism."
Anti-Semitism highlights the tension inherent in Democrats' effort to be the party of the marginalized: Sometimes defending one group can come at the expense of hurting another. In general, it can be difficult for Jewish fear to be heard in progressive spaces. "We live in a society that is based off of the binary race definition of black and white. Most Jews are not people of color," Ward says. "For the left, it has become very difficult to understand that there are people in the United States who aren't people of color, yet still face a form of racialized bigotry." On Thursday, several members of Congress, including the Democrat Eliot Engel of New York, criticized the fact that the House resolution grew over the past two days to include basically every form of discrimination against minorities, rather than specifically addressing anti-Semitism. The 23 Republicans who voted no ostensibly did so for this reason. Steve King, the Iowa representative who has been accused of supporting white nationalism, voted present.
The difficulty of any group being heard is exacerbated in conversations about Israel and Palestine, an issue that many Jews and Muslims see as a central part of their identity. Often, "Muslims and Jews come in with the biggest and best of intentions," says Aziza Hasan, the head of NewGround, a group that facilitates Muslim-Jewish dialogue. But they "start to realize and uncover that [with] some of the things we say, we unknowingly walk into tropes and histories that we weren't aware of."
While this round of the ongoing Omar controversy has seemingly come to a conclusion, the underlying conflict is going to remain urgent for Democrats, especially in the lead-up to the 2020 election. "Part of the genuine, multiracial, multireligious coalition-building of today is recognizing that African Americans, Jews, queer folk, women, poor folk, Native Americans, Muslims, Hispanics—all of us have experienced a kind of marginalization," Safi says. "At different points in time, the Trump regime is going to target one or more of us, or even try to pit us against one another."
Many Jews and Muslims, across the spectrum of positions on Israel, have worked hard to form relationships and better understand the nature of Islamophobia and anti-Semitism in America today. But others are more interested in calling out their opponents. "Being able to talk through and seek deeper understanding with integrity and honesty, with respect, isn't in fashion—it's literally … not expedient," Hasan says. "My biggest worry is that if we are so focused on winning all the time, where is that going to lead us … ? … We're going to be a minority-majority country here pretty soon, and we need to figure out how we're going to interact in society."
If nothing else, the Democrats will have to figure out how to negotiate the differences in their coalition on Israel and Palestine to avoid losing more days to headlines blaring another trope: "Democrats in disarray."
"Whether it is antiblack racism, whether it's Islamophobia, whether it's anti-Semitism—it has no place within the halls of Congress. And we should have a party that is strong enough to hold one another accountable without demonizing one another, and without disparate treatment based off of race or religion or gender," Ward says. "Two years [and] 44 days of Donald Trump find the political left in this country rearranging deck chairs on the [Titanic] … throwing each other overboard."
We want to hear what you think about this article. Submit a letter to the editor or write to letters@theatlantic.com.
Emma Green
is a staff writer at ​
The Atlantic
, where she covers politics, policy, and religion.