The Atlantic Politics & Policy Daily: Thrown for a Hickenlooper
The former Colorado governor is running for president. Plus, Jerry Nadler's House committee demands documents from Trump's sons, son-in-law, and dozens more.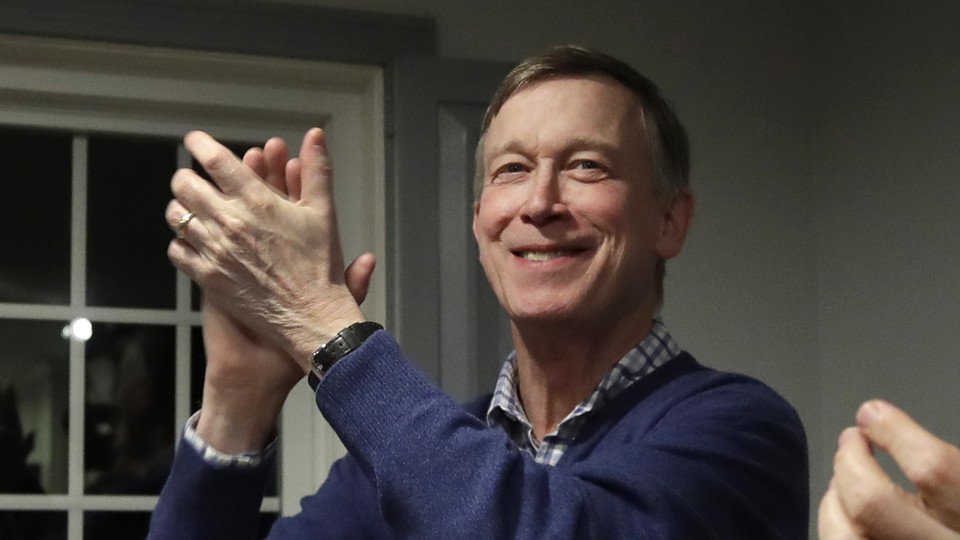 What We're Following Today
It's Monday, March 4.
Senate Majority Leader Mitch McConnell said that a resolution to block President Donald Trump's national-emergency declaration will pass the Senate after Senator Rand Paul joined the growing number of Republicans who have said they will vote for the resolution, but that he doesn't believe lawmakers can override a presidential veto.
As I said to my colleague Yasmeen Serhan—who is in London covering the Brexit debate—the U.S. and the U.K. are both mired in political turmoil at the moment. "Two great democracies, two messy situations."
Jerry Nadler's Big Move: The House Judiciary Committee asked more than 80 witnesses and entities to hand over documents as part of a massive investigation into possible obstruction of justice, corruption, and abuse of power by Trump and his administration. This probe could be the most revealing one yet, writes Natasha Bertrand. The move marks a shift for the committee's chairman, Representative Jerry Nadler of New York, who has for a long time spoken cautiously about the president's alleged crimes—and whose committee would oversee any potential impeachment proceedings.
2020 Developments: Former Attorney General Eric Holder said today that he won't throw his hat in the ring for the presidency, but former Colorado Governor John Hickenlooper announced that he will. The cooperation-focused businessman joins a field of roughly 30 potential and current Democratic candidates. That field includes New York Governor Andrew Cuomo, who said he might jump into the race if former Vice President Joe Biden doesn't end up running.
How Politically Prejudiced Is Your State?: A polling and analytics firm made a list ranking the most—and least—politically open-minded counties in the United States. Some states, such as Texas, show a mix of prejudiced and nonprejudiced counties, whereas Florida is very consistent—and fairly prejudiced—from place to place. The study found that the least politically prejudiced place in America is Watertown, New York. See how your county compares.
Trump at CPAC: The president spoke for more than two hours at the annual Conservative Political Action Conference in Maryland over the weekend. These are the seven most bewildering moments from his long address.
---
Snapshot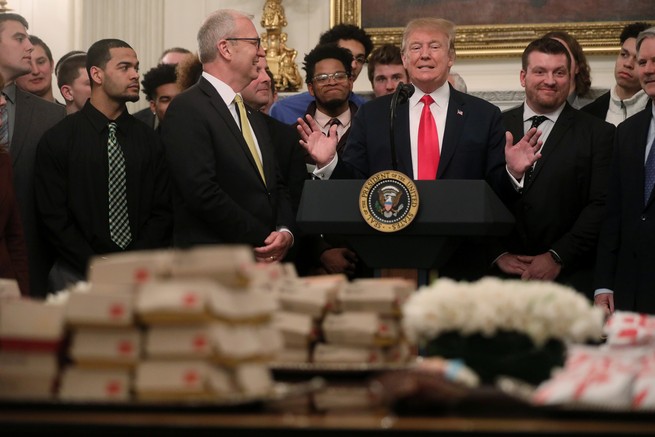 President Trump speaks behind stacks of McDonald's hamburgers and Chick-fil-A sandwiches as he welcomes members of the 2018 Division I FCS national champion North Dakota State University football team at an event in the White House. Jonathan Ernst / Reuters
---
Ideas From The Atlantic
The Deep Fakes Are Coming (Amy Zegart)
"Congress's annual worldwide-threat hearings are usually scary affairs, during which intelligence-agency leaders run down all the dangers confronting the United States. This year's January assessment was especially worrisome, because the minds of American citizens were listed as key battlegrounds for geopolitical conflict for the first time." → Read on.
A Game of Chickens (David Frum)
"A lot depends on this vote, for the U.K. and the world. And the deciding factor might turn out to be an unexpected hero: the American chicken." → Read on.
Michael Cohen Reminds Us Why Trump's Birtherism Matters (Bob Bauer)
"We had plenty of warning when Trump's birther routine became an irresistible sideshow. Then this carnival barker hit it big, packed them in, and took the conning and the racism right up to the executive suite." → Read on.
---
What Else We're Reading
◆ The Making of the Fox News White House (Jane Mayer, The New Yorker)
◆ How Democratic 2020 Candidates Describe Their Own Policy Priorities in 10 Words or Fewer (Philip Bump, The Washington Post)
◆ When Did Everyone Become a Socialist? (Simon van Zuylen-Wood, New York)
---