The Atlantic Politics & Policy Daily: She's (Also) Running
The senator from New York officially enters the 2020 race. Plus: Beto O'Rourke's campaign reports that he raised $6.1 million within 24 hours of his announcement.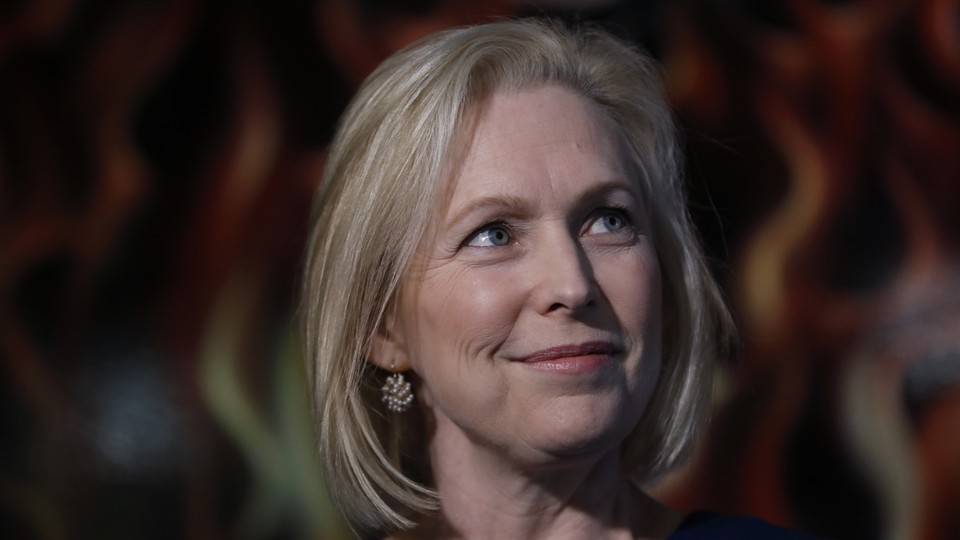 What We're Following Today
It's Monday, March 18.
‣ Historic floods are engulfing midwestern states, including Nebraska, Iowa, and Missouri, after a bomb cyclone and high levels of melting snow and ice caused rivers to overflow their banks.
Here's what else we're watching:
On the Campaign Trail: At Beto O'Rourke's latest events, the candidate's celebrity status seemed to make up for his inability to answer attendees' specific policy questions, Edward-Isaac Dovere reports from Iowa, where he has been chasing around the many 2020 presidential-primary candidates. (O'Rourke hauled in $6.1 million in donations within the first 24 hours of his announcement, his campaign said today.) Meanwhile, on Sunday, Senator Kirsten Gillibrand officially launched her presidential campaign, although to many it might have felt like she's been running for months.
Here's the full cheat sheet on who else is in the race.
All the Wrong Nuclear Options: Since his candidacy, one of President Donald Trump's primary foreign-policy planks has been dismantling the Iran nuclear deal. And when he withdrew the United States from the deal last year, he seemed to have succeeded. But with State Department officials fighting among themselves over how strictly to sanction Iranian oil, the Trump administration might be sabotaging itself: Its attempts to undermine the Iran deal might end up preserving it in the long run. And as the administration tries to avoid saving the nuclear deal it wants to kill, it's also losing a handle on the nuclear negotiations it hoped would be successful. North Korea is threatening to completely withdraw from denuclearization negotiations with the U.S.
Formative Moments: "Young Muslims are scared and grieving over what happened in New Zealand. But they're also ready to get political," writes Emma Green. Green attended Friday prayers with students at the Islamic Center at New York University after the white-supremacist attacks on two mosques in Christchurch, New Zealand. Many of these students were born after 9/11, or are too young to remember it—"their formative moment is happening now, in the shadow of ascendant white nationalism."
---
Snapshot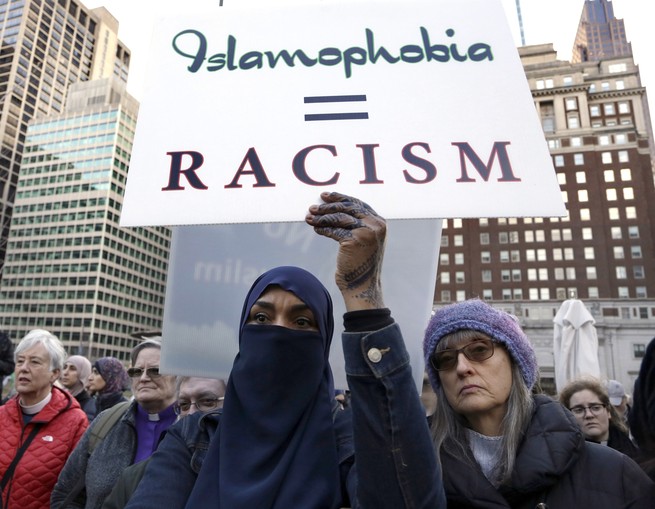 An interfaith gathering is held in Philadelphia on March 16, 2019, to mourn the Muslim worshippers killed during the mass shooting in Christchurch, New Zealand. (Jacqueline Larma / AP)
---
Ideas From The Atlantic
A Racial Pattern So Obvious, Even the Supreme Court Might See It (Garrett Epps)
"Even amid law's cratered landscape, sometimes a specific case presents facts simply beyond belief; sometimes the 'system' stands revealed as nothing more than one human being tormenting another because he can. For me, such a case is Flowers v. Mississippi, a death-penalty appeal to be argued before the Supreme Court on Wednesday."→ Read on.
Trump's Continuing Attacks on John McCain Reveal a Worrisome State of Mind (Peter Wehner)
"These grotesque attacks once again force us to grapple with a perennial question of the Trump era: How much attention should we pay to his tweets; and what exactly do they reveal about America's 45th president?"→ Read on.
How Hate Groups' Secret Sound System Works (Joan Donovan)
"The extra attention that these ideas gain in the aftermath of a violent attack isn't just an unfortunate side effect of news coverage. It's the sound system by which extremist movements transmit their ideas to a broader public, and they are using it with more and more skill."→ Read on.
It Could Happen in the U.S. (Talal Ansari)
"The president seems incapable of denouncing violence against Muslims with energy or sincerity. In this way, he is profoundly American. Muslims here are regularly dehumanized. Even their religion is delegitimized as not a religion, and some have gone so far as to state that adherence to the Muslim faith may be incompatible with the U.S. Constitution." → Read on.
Bernie Sanders Thinks He Can Vanquish Health Insurers. He's Wrong. (Ezekiel J. Emanuel)
"At least four different approaches to health reform could truthfully carry the Medicare for all label. Sanders's plan is the best known, but it's also the most politically impractical. It ignores the brutal history of repeated defeats for all Democratic health reform proposals that try to abolish private health insurers." → Read on.
---
What Else We're Reading
‣ 'Middle-Class Joe' Rakes in Millions (Holly Otterbein and Marc Caputo, Politico)
‣ Flawed Analysis, Failed Oversight: How Boeing, FAA Certified the Suspect 737 Max Flight Control System (Dominic Gates, Seattle Times) (🔒 Paywall)
‣ Ta-Nehisi Coates Is an Optimist Now (Eric Levitz, New York) (🔒 Paywall)
‣ A DNA Test Might Help Exonerate This Man. A Judge Won't Allow It. (Joseph Neff, The Marshall Project)
‣ Schools Do a Terrible Job Teaching About Slavery (Arika Herron, Indianapolis Star) (🔒 Paywall)
And One More Thing ...
Space Bud: What would it be like for dogs to go to Mars? New art from NASA imagines astronauts and their best friends standing atop the planet's red dunes. Marina Koren explores what sending a dog into space might look like—and it's probably not what you think.
---