Elizabeth Warren's New Fundraising Rule Is More Than a Gimmick
Her pledge to skip high-dollar events could be even more damaging to her competitors than it is to herself.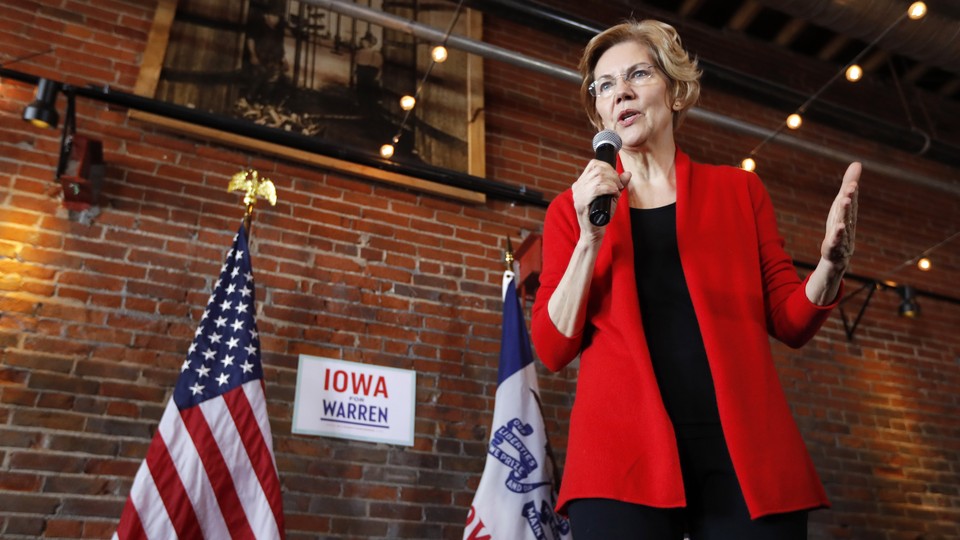 Rejecting donations from corporate political-action committees has become a trend among Democrats. Roughly 180 of them took the pledge ahead of the November midterm elections, and it quickly caught on among members of the 2020 field, including Senators Cory Booker, Kamala Harris, and Kirsten Gillibrand, who assured their voters that they're prioritizing small-dollar contributions.
But now Elizabeth Warren is upping the ante, rejecting an entirely new pool of donors on top of corporate PACs. The Massachusetts senator recently announced she would no longer participate in the high-dollar fundraisers and phone calls with wealthy donors that typically permeate a presidential campaign, and on Monday she challenged other candidates to do the same. It's a decision that could be much more consequential than the PAC-money promise: It could be way more damaging to her campaign coffers, and to those of any other Democrat compelled to match her pledge.
"A reason we saw candidates take the no-corporate-PAC pledge is … that money is only designed to buy influence and access," said Adam Bozzi, the communications director for End Citizens United, a Washington, D.C.–based group working to reverse the 2010 Supreme Court decision. Warren, he said, is "taking it to the next level."
In an email to supporters, Warren explained that instead of holding events specifically for wealthy donors, or offering them special seats or photo opportunities in exchange for donations, she will focus her time on local events and town halls. "My presidential-primary campaign will be run on the principle of equal access for anybody who joins it," she wrote in the message, adding that the move will help her "build the kind of grassroots organization we need to win the general election."
The pledge is somewhat imprecise: Warren will still accept checks from individual wealthy donors up to the legal maximum of $2,800, and her rules won't preclude her from holding other fundraisers—just not the kind with a high financial barrier to entry. And she's left herself an out for the general election, writing in her email to supporters that if she becomes the nominee, she'll "do what is necessary" to match Republicans financially.
But at least for the next year, Warren is cutting off a funding stream that's likely more lucrative for candidates than the one from corporate PACs is. That's primarily because corporate-PAC contributions typically don't constitute a big portion of candidates' funding. Disavowing corporate PAC money is an easier promise for them to make, simply because it isn't likely to cost them much. In a primary race, "corporate PAC money is trivial," said Andrew Mayersohn, a researcher at the Center for Responsive Politics (CRP), a nonpartisan group that tracks the effects of money on public policy. By contrast, funding "from big donors is always going to be in the millions."
It's hard to say exactly how much of a financial hit Warren will take. She has reportedly already had some trouble achieving her online fundraising targets. But aides estimate that, as Mayersohn suggested, she'll be leaving "millions" on the table.

They aren't necessarily exaggerating. Presidential candidates can raise massive amounts of cash at high-dollar fundraisers like the ones Warren is avoiding. Spending an evening dining with Hillary Clinton at the Studio City, California, home of George and Amal Clooney, for example, cost supporters $100,000 a couple during the 2016 primary. Raising $27,000 got supporters of the Republican presidential candidate Jeb Bush access to a private reception and a two-day retreat at the Bush-family compound in Kennebunkport, Maine. At first blush, these entry fees would seem to defy campaign-finance limits. But it's perfectly legal to hold these kinds of highbrow, high-dollar fundraisers if the proceeds are going to a joint-fundraising committee—which means that the money raised from the event is divided among multiple candidates, committees, and/or political-action committees.
The pledge isn't that much of a leap for Warren, because she wasn't doing a lot of high-dollar fundraising to begin with. While she has an extensive donor network and has taken part in donor calls in the past, she hasn't had one since announcing her exploratory bid in December. And she invested more in direct-mail outreach and online fundraising than she did in in-person fundraising events in the last election cycle, according to the CRP. "It's totally possible [that Warren's campaign] determined that holding these fundraisers is not a good use of her time anyway, so why not get some good PR out of this?" Mayersohn said. Steve Israel, the former New York representative and former chairman of the Democratic Congressional Campaign Committee, told me Warren's decision was "commendable," but added, "I'm not sure she would do it if she didn't assess that it puts her at a strategic advantage."
Other Democrats have dismissed the move outright as a kind of gimmick to frame her low fundraising numbers in a positive way. "It's blatant expectations-lowering," one aide on a Democratic presidential campaign told Politico. Some Democratic campaign staffers have also criticized Warren for giving herself an out in the general election. (Warren's campaign declined to respond to the criticism.)
But even if Warren weren't regularly courting wealthy donors, or is using the pledge as a smoke screen, it's still significant, because it could put her at a financial disadvantage relative to other candidates and could further alienate her from contributors she may need in a general election. The move will increase the pressure on her campaign to secure more small, individual donations, a potentially tough task in a field that's growing more and more crowded by the day.
Her team argues the pledge will free her up: "This is more time we can spend traveling the country, including the early [voting] states, grassroots organizing and talking to voters," said one Warren aide, who spoke on the condition of anonymity in order to talk freely. Warren has experience pulling small-dollar donations: More than half of her campaign contributions throughout her career have been $200 or less, CRP reported. But she's never fundraised this way on the scale of a presidential campaign.
Progressives, at least, seem thrilled that she'll be more dependent on small donations. "Deciding to put all your eggs in the small-donor basket is impressive and different, and raises the stakes for other [candidates]," said Lisa Gilbert, the vice president for legislative affairs at Public Citizen, a progressive think tank and advocacy group in D.C. "It's taking a leap and thinking you can win anyway."
Indeed, Warren's decision could put pressure on her fellow presidential contenders to respond with a similar ban on pay-for-access events, especially if it takes on the kind of progressive cachet the corporate-PAC pledge has. Swearing off these kinds of fundraisers would be especially difficult for the candidates who have historically relied more on larger individual contributions than on small donors, or candidates who are largely unknown. Warren has a "huge list [of donors] she's built over multiple cycles," said Joe Trippi, a longtime Democratic strategist who has advised many gubernatorial and congressional campaigns, including those of California Governor Jerry Brown and Senator Doug Jones of Alabama. "There are a bunch in this race who aren't well known with the grassroots yet. To say they can't [run if they do large-dollar fundraising events], it'll be nine or 10 people who can't run for president."
So far, it doesn't seem likely that many of the 2020 candidates will echo Warren's pledge; for some of them, the big-ticket fundraisers have already begun. Harris, for example, has held several big-donor events since announcing her candidacy, and will reportedly attend another this month at the home of the Star Wars director J. J. Abrams. Gillibrand is reportedly slated to attend a fundraiser hosted by a top executive at Pfizer, one of the world's largest pharmaceutical companies, with tickets costing up to $2,800 a head. I contacted the campaigns of some of the most high-profile candidates who've taken the corporate-PAC pledge—including Harris, Gillibrand, Booker, and Vermont Senator Bernie Sanders—to see whether they'll follow Warren's lead; they did not respond to requests for comment.
"Warren and Sanders are the only ones who can be absolutely confident they can raise tens of millions of dollars from small donors," Mayersohn said. Unlike Warren, Sanders has done it on the national level: Small contributions counted for almost 58 percent of his total campaign funds in 2016. In comparison, only 35 percent of Harris's career contributions are from small-dollar donations; for Booker, it's 12 percent.
Of course, candidates can just as easily counter Warren's announcement with their own kind of purity test. Any of them could announce tomorrow, for example, that they won't accept money from health-insurance companies, as the conversation about the future of American health care heats up ahead of the 2020 election. "There's a million different pledges [a candidate] could make," Mayersohn said. "It's like a game of poker where everyone keeps tossing in their chips." With nearly a year to go before the Iowa caucuses, voters can expect a lot more chips.