The Democrats' New Voting-Rights Moment
The party hopes to restore and extend key provisions of the Voting Rights Act.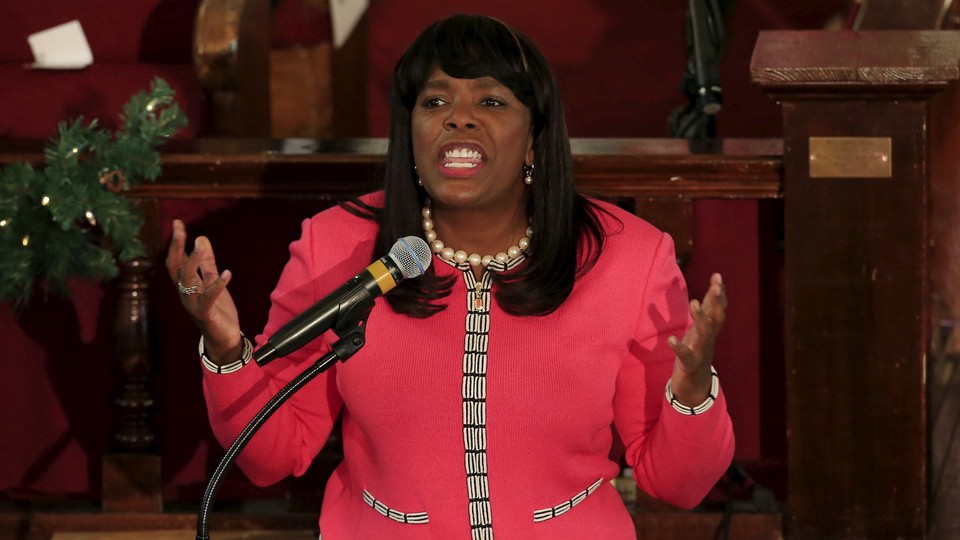 The third time will certainly not be the charm for the Voting Rights Advancement Act. The bill was introduced Tuesday in the House by Representative Terri Sewell of Alabama and in the Senate by Patrick Leahy of Vermont, and it seeks to restore and extend key provisions of the Voting Rights Act that have been neutralized. Sewell has championed the bill and introduced it in 2015 and 2017, but with a Republican-controlled Senate and President Donald Trump in the White House, the 2019 version also has no chance of becoming law.
But that doesn't mean that this time around is purely symbolic, either. This incarnation of the VRAA comes during a time when voter suppression against black, Latino, and indigenous populations has substantially altered elections and politics since the 2013 Shelby County v. Holder decision, which defanged key portions of the 1965 Voting Rights Act. The bill's introduction also comes shortly after an election cycle in which Democrats fared well by championing voting rights and mobilizing unlikely voters. And, as big, new progressive ideas like the Green New Deal, Medicare for all, and reparations permeate the 2020 presidential-primary conversation, the reality for Democrats is that voting rights could be the only thing everyone agrees on—and the thing necessary for all of the other potential policies to ever become reality.
The Voting Rights Advancement Act is written to "restore and bolster the Voting Rights Act, and undo the damage done by the Shelby County decision," Sewell said in a press release. In that decision, Chief Justice John Roberts invalidated the Voting Rights Act's "coverage formula," a list of jurisdictions that had to seek federal preclearance for any changes to elections laws. In Roberts's reckoning, racism in the country had been pared back, and continuing to require special scrutiny of those jurisdictions—despite the numerous laws they proposed over the years that failed preclearance tests and resulted in litigation—was unconstitutional.
Since then, voting-rights advocates and several Democrats argue that the country has been mired in a new—and predictable—age of accelerated voter suppression and restrictive voting laws. "We've just seen since Shelby an onslaught of more restrictive voting laws," Sewell told me a few weeks ago in her office.
She often speaks on the voter-ID laws in her home state. They have grown tighter over time in ways that seem to uniquely disadvantage elderly black voters, who may not have or need a driver's license, and who, having grown up in the rural Jim Crow South, may not have ever had the official documentation to get some strict forms of ID. Sewell cites her own father, who died in 2017 and had a series of strokes that left him wheelchair-bound near the end of his life. "He didn't have a driver's license but he had been voting—until Alabama changed its law in 2014—with a validly issued federal ID called a Social Security card," she told me.
Alabama is one of several states that have rapidly created more restrictive voting laws post–Shelby County, and also where gerrymandering, voter purges, and zealous campaigns against the specter of noncitizen voting by a wave of pro-Trump state attorneys general and secretaries of state have dominated the political process. In North Carolina, GOP legislators have fought to maintain power with gerrymandered maps, enacted a voter-ID and elections-law package that one federal court said discriminated against black people "with almost surgical precision," and have leveraged just about every antidemocratic measure to maintain power. The past few months in North Carolina have culminated in a so-called legislative coup by the GOP, aimed at disempowering a newly elected Democratic governor. The State Board of Elections decided last week to redo the congressional race in the Ninth District in light of evidence that election fraud on behalf of the Republican candidate Mark Harris influenced the result.
Not to be outdone, Georgia Governor Brian Kemp won his election against Democrat Stacey Abrams after a mass campaign of voter suppression, including hundreds of thousands of voter purges that disproportionately affected people of color—in an election that he administered as secretary of state. In Texas, gerrymandering, voter-ID laws, and court rulings have been at the center of politics for years, and almost got the state placed back under federal preclearance. A North Dakota voter-ID law in place in 2018 seemed to specifically target the state's Native American population. Former Kansas Secretary of State Kris Kobach, an architect of the post–Shelby County Republican elections-law strategy, lost his bid for governor after facing allegations of voter suppression. And places like Maricopa County, Arizona, have seen purges and Election Day lines over the years that have disproportionately affected Latinos and other minorities at incredibly high rates.
These advancing practices form what Carol Anderson, the author of One Person, No Vote and an African American–studies professor at Emory University, refers to as "Jim Crow 2.0," or a campaign to "frustrate people out of their basic right." According to advocates, these practices mostly avoid breaking the letter of the law and targeting voters of color in favor of more subtle machinations that indirectly or merely disproportionately affect those voters. They're exactly the kinds of machinations that the Justice Department was prepared for by recalcitrant Jim Crow states after the VRA was passed in 1965. And they're exactly the kinds of things that federal preclearance was intended to stop.
As Sewell outlined to me, the VRAA would reestablish this intentional scrutiny of more subtle elections-law changes, and it would update them for a new era. "At the end of the day, the Shelby decision was really a call to action for Congress to come up with a modern-day formula," Sewell said. That modern formula would dictate that any state or district with 15 or more voting-rights violations over the past 25 years would be subject to 10 years of federal preclearance. The requirement would be lowered to just 10 violations if any of them were committed by the state itself. The law is designed to specifically counter Roberts's critique of the old VRA coverage formula, and to provide what Sewell calls a "living, breathing policy." It would cover almost a dozen states, including South Carolina, Florida, Alabama, California, Texas, Georgia, Louisiana, New York, Virginia, Mississippi, and North Carolina.
The law is also designed to meet specific political goals. In countering the main legal argument against existing VRA protections, Democrats force Republicans who almost certainly won't vote for the update to come up with a new public rationale for refusing to defend the law. And that comes as opinion polls, including an October 2018 Pew Research poll, indicate that large majorities of Americans favor making voting easier. Senate Majority Leader Mitch McConnell has already fallen into the trap; in his remarks over H.R. 1—another Democratic measure that would implement national automatic voter registration, limit gerrymandering, and create an Election Day holiday, among other things—he called the bill a "power grab," which Democratic lawmakers took as an admission that allowing more people to vote favors Democrats. As Sewell explains, the introduction of the VRAA is also intended to create a "drumbeat" of steady action on the voting-rights front, and to capitalize on the modern moment, when the 2018 controversies and the messaging successes of people such as Abrams are still fresh in the public memory.
At a press conference in the Capitol on Tuesday, Democratic leadership seemed well aware of the significance of the moment. Sewell found herself flanked by an all-star group, including House Speaker Nancy Pelosi, Senate Minority Leader Chuck Schumer, the Georgia representative and civil-rights legend John Lewis, House Judiciary Chair Jerry Nadler, Representative Jim Clyburn of South Carolina, and Senator Doug Jones of Alabama. "There is nothing more bedrock in America than the right to vote," Schumer said. "There is nothing more despicable in America than denying the right to vote." Schumer also called the 2013 Shelby County decision one of the worst that the Supreme Court has ever made.
Clyburn was more blunt in his assessment. "What we have seen displayed very publicly and openly has been elections fraud," he said. He specifically named Georgia and North Carolina among the places where elections have been fraudulent. "What can be more evident of what's wrong with our system than to see elections officials elected, appointed, and hired to suppress votes?" Clyburn's framing made clear that the VRAA is not solely a defensive measure. It's intended to be punitive, to deter people who take advantage of the fact that there are few real consequences for officials found in violation of the Constitution. The VRAA would add teeth that the VRA didn't have even at full strength.
But the unity on the podium underscored another thing: The VRAA and H.R.1, both core pieces of the Democratic voting-rights and good-governance platform, may be the only things that the different ideological wings of the party can agree on right now. As the Green New Deal, Medicare for all, reparations for black Americans, and even foreign-policy concerns have become the key issues of the 2020 Democratic presidential primary, they have widened rifts within a party that has naturally become more ideologically diverse as it has captured more seats in the House. McConnell is even attempting to exploit those rifts in a gambit to potentially bring the Green New Deal to a floor vote before August, a move that the GOP seems to hope will force Democratic senators—including several presidential hopefuls—to put their support or lack thereof on the record. Expansion and protection of voting rights is one of the few issues that both the leftist and moderate wings of the Democratic Party have begun to prioritize recently.
More importantly, they've begun this prioritization because of a tacit calculus acknowledged by both parties: A larger electorate generally favors Democrats, and a more racially representative electorate does so even more. The two major factors behind the GOP's ability to function as a de facto party of white people have been the historically high turnout of white voters and tactics such as gerrymandering, the creation of at-large districts, purges, and racially polarized voting that preserve and amplify the power of that turnout.
Candidates such as Abrams have shown the value of pushing against those tactics and using the basic math of demographics in their favor. So if Democrats want to control the House, Senate, and White House to turn these big ideas into big policies, it behooves them to first apply their newfound legislative strength to the issue of voting rights.
Sewell summed that strategy up during her remarks Tuesday. "The people's agenda really depends upon democracy," Sewell said. "And the base of the democracy is the right to vote." Sewell will probably have to give quite a few more addresses like this before anything even remotely similar to the VRAA becomes law, but she's closer now than ever, and now the Democratic Party might share her urgency.